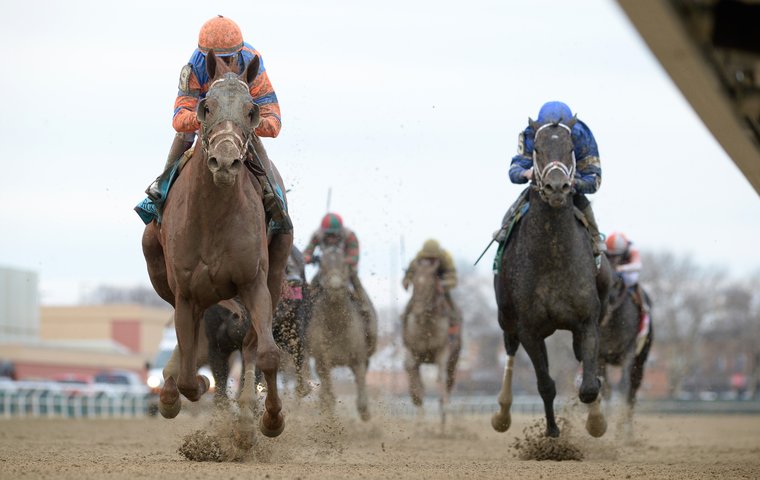 TRC analyst James Willoughby, who is assessing the key trials on the Road to the Kentucky Derby, turns his attention to last Saturday's Wood Memorial at Aqueduct.

ROAD TO THE KENTUCKY DERBY 2018
Episode 24: Wood Memorial (April 7, Aqueduct, Grade 2, 9f)
Winner: Vino Rosso
Jockey: John Velazquez (TRC Global Rank #21)
Owner: St Elias Stable Et Al (#54)
Trainer: Todd Pletcher (#10)
Sire: Curlin (#12)
Result: click here
Vino Rosso – yet another Derby trial winner for Messrs Pletcher and Velazquez – was a big eye-catcher in the Sam F. Davis Stakes at Tampa. But, in the regional Derby itself down there, he barely lifted a leg. One race too late for some of his backers, he showed the impression that he is a long-winded stamina-glutton was spot on after all.
The son of Curlin – also responsible for Blue Grass winner Good Magic – does not do anything quickly. From this standpoint, the race could not have been drawn up better: when a speedball called Old Time Revival clicked off 22.96 for the first quarter at a track that is usually far removed from glib, it had to be the prelude to a meltdown (see video below).
Runner-up Enticed deserves a ton of credit here; given the pace he attended in second, he emerges as having put in easily the best effort. As we have repeatedly pointed out, his form is really solid and he looks sure to run well at just below the top level. The problem is, he finds himself in a vintage year.
With his choppy stride and slightly ungainly way of going, no horse on the Triple Crown trail gets over the ground like Enticed, but then few horses deserve as much respect as him either. He overcame an inadequate mile to win the Gotham, then found himself used up here in a stronger race. When Vino Rosso drew away from him in the closing stages, it didn't seem fair.
The winner could have gone round again. He is out of a Street Cry mare and looks as if he can run all day – in his own time, perhaps. It is necessary to be cold-hearted here and point out that the data emanating from this contest – described by fractions of 22.96 – 23.72 – 24.76 – 25.54 – 12.81 (pro-rated 25.62) for a final time of 1:49.79 is short of classic standard, but both the first two have outlying capabilities if they encounter another race run like this without the parade of stars likely at Churchill Downs.
Previously in this series
1. Sham Stakes (McKinzie)
2. Lecomte (Instilled Regard)
3. Jerome (Firenze Fire)
4. Smarty Jones (Mourinho)
5. Holy Bull (Audible)
6. Withers (Avery Island)
7. Robert B Lewis (Lombo)
8. Sam F Davis (Flameaway)
9. Risen Star (Bravazo)
10. Southwest (My Boy Jack)
11. Fountain of Youth (Promises Fulfilled)
12. Road to the Kentucky Derby Stakes (Gronkowski)
13. Patton Stakes (Mendelssohn)
14. Fountain of Youth (Bolt D'Oro)
15. Gotham (Enticed)
16. Tampa Bay Derby (Quip)
17. Rebel (Magnum Moon)
18. Louisiana Derby (Noble Indy)
19. Florida Derby (Audible)
20. UAE Derby (Mendelssohn)
21. Burradon Stakes (Gronkowski)
22. Santa Anita Derby (Justify)
23. Blue Grass Stakes (Good Magic)