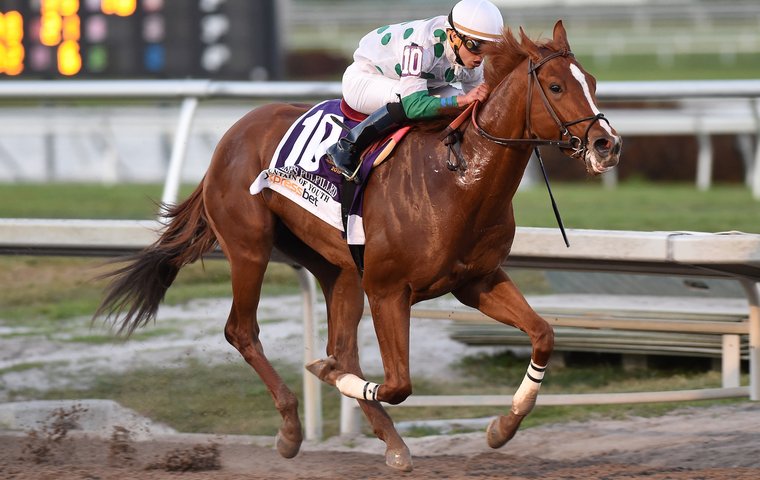 TRC race analyst James Willoughby, who is assessing the action on the Road to the Kentucky Derby, gives his verdict on Saturday's Fountain of Youth Stakes at Gulfstream Park.

ROAD TO THE KENTUCKY DERBY 2018
Episode 11: Fountain of Youth Stakes (March 3, Gulfstream Park, Grade 2, 8.5f)
Winner: Promises Fulfilled
Jockey: Irad Ortiz Jr (TRC Global Rank #22)
Owner: Robert J Baron (Unranked)
Trainer: Dale Romans (#80)
Sire: Shackleford (#176)
Result and video: click here
The return of Breeders' Cup Juvenile winner Good Magic dominated pre-race talk, and his defeat in third led to intense speculation as to the cause. Did he need the run? Is the Del Mar form trustworthy?
First things first. Though Beyer Speed Figures pegged the win of Promises Fulfilled here at 96 – three points less than Audible's Holy Bull – for our money it is a better race. Perhaps it is also the best race of 2018 so far on the Road to the Kentucky Derby.
En route to his victory on February 1, Audible closely attended a pace of 23.59 – 47.14 – 1:12.00 – 1:35.89 and finished in 1:41.92. By contrast, Promises Fulfilled made all in 23.80 – 48.39 – 1:12.60 – 1:37.59 and finished in 1:44.17.
Clearly, the track was a lot slower for the latter's win. And, as a result, as a front runner, he distributed his energy less evenly because speed was not holding so well: the last half-furlong Promises Fulfilled clocked was 0.55sec slower than Audible, yet his first full furlong was only 0.21sec slower.
Moreover, Promises Fulfilled had to cross and clear from post position nine – a notoriously difficult feat from a wide gate over the mile-and-sixteenth trip at Gulfstream, owing to a short run to the first turn.
On board, Irad Ortiz – for whom the winner was one of three Graded victories at Gulfstream over the weekend – was brilliant, and his influence over the result did not end there: halfway down the back straight, he alertly shut off seventh-placed Storm Runner, who was attempting to sneak up his inside.
Prior to this, Promises Fulfilled had finished third to Godolphin's Enticed in a crowd scene at the end of the G2 Kentucky Jockey Club Stakes at Churchill Downs. This form has not worked out well, but Promises Fulfilled broke awkwardly and might have tweaked something there, for he was hanging right throughout.
Hopefully, that situation does not recur, for this was a smart performance which leaves him bang in the mix.
Runner-up Strike Power was a good winner of the G3 Swale and ran a cracker up in distance, chasing the winner throughout. He should continue to progress.
Good Magic finished only third as the odds-on favourite. He should not be written off for a second on his comeback, but this does increase the probability that the strongly-run Juvenile around those tight Del Mar Bends made him look a shade better than he truly is.
We should learn more about the veracity of that opinion next time.
Previously in this series
1. Sham Stakes (McKinzie)
2. Lecomte (Instilled Regard)
3. Jerome (Firenze Fire)
4. Smarty Jones (Mourinho)
5. Holy Bull (Audible)
6. Withers (Avery Island)
7. Robert B Lewis (Lombo)
8. Sam F Davis (Flameaway)
9. Risen Star (Bravazo)
10. Southwest (My Boy Jack)