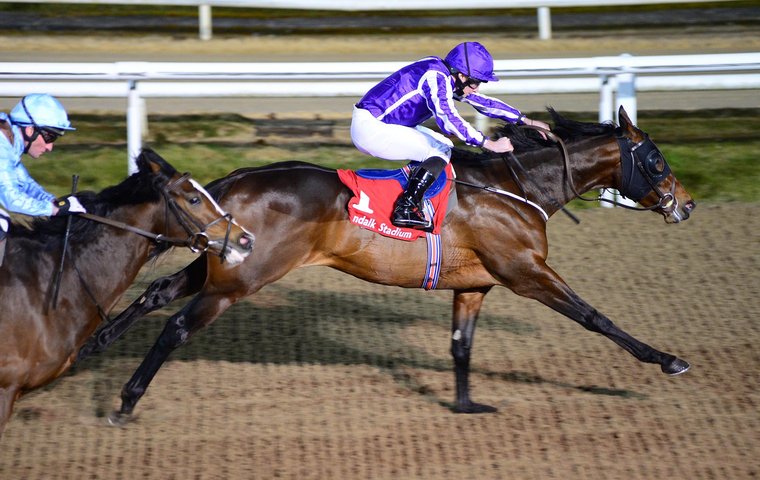 So is Europe's short series of trials likely to produce a viable candidate for Churchill Downs on May 5, and did the two key races over the past few days (one in England, one in Ireland) tell us anything new? In truth, the focus was largely on one horse, the Coolmore-owned Breeders' Cup winner Mendelssohn, a half-brother to Beholder. What did TRC analyst James Willoughby make of his performance and the those of the other runners at Kempton and Dundalk?

ROAD TO THE KENTUCKY DERBY 2018
Episode 12: Road to the Kentucky Derby Stakes (March 7, Kempton Park, Britain, conditions race, 1m)
Winner: Gronkowski
Jockey: Jamie Spencer (TRC Global Rank #88)
Owner: Phoenix Throughbreds (Unranked)
Trainer: Jeremy Noseda (Unranked)
Sire: Lonhro (#97)
Results and video: click here
This was the first of three 2018 events that decide the European Road To The Kentucky Derby and confer a place in the starting gate at Churchill Downs for the winner. The final leg is on March 30 at Newcastle.
Gronkowski held off the John Gosden-trained Court House by under a length, a margin that would definitely have been reduced had the latter enjoyed a clear run, and that might even have been reversed had a stronger gallop been on.
Then again, the winner did so much wrong here and still prevailed. Of most concern was his tendency to take a strong hold, and it was either this, or a concern over the slow pace, that led jockey Jamie Spencer to allow him to loop the field on the turn to gain a stalking position turning in.
Gronkowski still didn't seem particularly complicit as he made his way home, tending to idle and wander. It was only his fifth race, and he has now won three in a row, but it is surely a journey of a lot more than 4,000 miles between here and the winner's circle in Kentucky.
In any case, Gronkowski's explosive traits are much more associated with the turf horse than the stoic animal ready to run ten furlongs in little over two minutes. He has now won three on synthetic surfaces, but trainer Jeremy Noseda – experienced in the ways of U.S. racing – plans to run him in the Blue Grass Stakes or Wood Memorial next, where a second-place finish would be enough to get him into the Derby.
In terms of racing character, the runner-up is more the relentless type one might be looking for, but he's a son of another turf stallion, Cape Cross. The form of this race is a long way short of what is required, and, in the unlikely event that a winner of the Derby resides in Europe, the chances are that he was chewing hay at Ballydoyle as the winner flashed past the post here.
Episode 13: Patton Stakes (March 9, Dundalk, Ireland, listed race, 1m)
Winner: Mendelssohn
Jockey: Ryan Moore (TRC Global Rank #1)
Owner: Coolmore Partners (#1)
Trainer: Aidan O'Brien (#1)
Sire: Scat Daddy (#8)
Results and video: click here
Mendelssohn won by just less than a length, but this was a highly propitious performance by the Breeders' Cup Juvenile Turf winner. Make no mistake: this colt is seriously talented and could do great things as a 3-year-old.
The key to a proper understanding of this race is the pace. The opening few stanzas were solid, but the pace slackened off considerably mid-race and a sprint finish ensued. With his long action and likeable way of doing things, Scat Daddy's son had to really turn on the jets, but he never looked like being beaten and he is deserving of a bigger figure here than the facts allow.
When a horse has to sprint, each length is harder to gain than at the end of a strongly-run race. Mendlessohn was conceding 5lb to the runner-up Threeandfourpence, a stablemate who earned a lofty figure of 111 from handicappers for his 2-year-old exploits.
Mendelssohn has not yet run on dirt, but he has so much to recommend him as a dirt runner. He shows a well-balanced, athletic stride with knee-curl to break open the surface, he has plenty of front-running speed, and he has the stomach for a fight, as he showed at Del Mar.
Trainer Aidan O'Brien - who saddled yet another 1-2-3 here - was understandably pleased with his charge, and reported he will go for the G1 UAE Derby on World Cup night at Meydan on March 31, when he will meet Godolphin's highly promising Gold Town head on in one of those clashes that used to define the state of play between racing's superpowers.
That race will tell us a lot more. This one told us that Mendelssohn is deserving of the very highest respect.
Previously in this series
1. Sham Stakes (McKinzie)
2. Lecomte (Instilled Regard)
3. Jerome (Firenze Fire)
4. Smarty Jones (Mourinho)
5. Holy Bull (Audible)
6. Withers (Avery Island)
7. Robert B Lewis (Lombo)
8. Sam F Davis (Flameaway)
9. Risen Star (Bravazo)
10. Southwest (My Boy Jack)
11. Fountain of Youth (Promises Fulfilled)