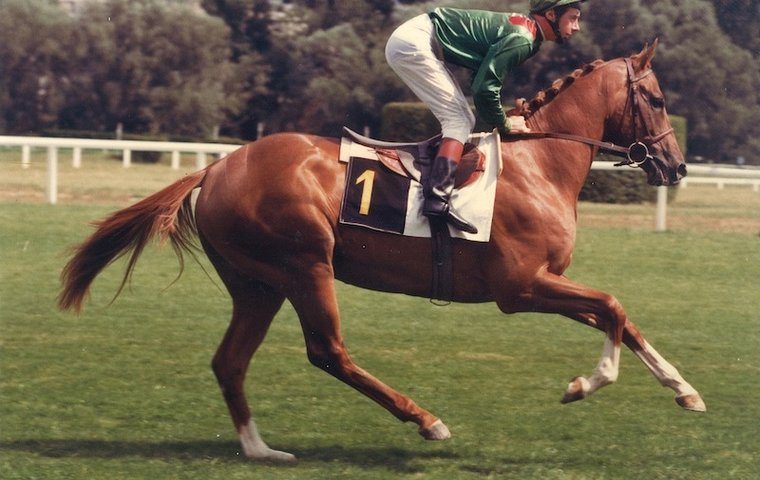 Renowned bloodstock writer Tony Morris with the 12th in his series celebrating 100 horses instrumental in shaping the Thoroughbred.

Blushing Groom, ch, 1974, Red God – Runaway Bride, by Wild Risk
Wild Risk was just a respectable stayer on the flat, notching four wins from 22 starts between a mile and a half and two and a half miles, but over hurdles he proved a top-class performer, winning nine of his 14 races.
With that background and an unimpressive physique, which included a club foot, he seemed a longshot to excel at stud, but he surprised by proving a great success. Notable among his progeny were Worden, who won a Washington International, Vimy, who triumphed in a King George VI & Queen Elizabeth Stakes, and Le Fabuleux, impressive victor of the 1964 Prix du Jockey-Club.
Wild Risk was the chosen mate for the Aga Khan's regally-bred Aimee in 1961, but the outcome of their union, a rangy, angular filly, straight in front and club-footed, was swiftly culled. Early impressions of Runaway Bride were confirmed when she failed to win in 11 starts, her best efforts producing three placings at a mile and a half in minor events as a 4-year-old in Ireland.
However, Runaway Bride was to redeem herself as a broodmare, delivering better physical specimens than herself. Her Red God colt of 1971 realised 12,000gns as a foal, bought by agent Keith Freeman on behalf of the Aga Khan. Named Bayraan, he won G3 contests at two and three, so, when his full brother appeared in Tattersalls' 1974 December catalogue, it was obvious that he would attract attention. Unsurprisingly, the same agent and client made the purchase, this time at 16,500gns.
The bonny chesnut, Blushing Groom, small but strong and well-made, was to become a much more significant athlete than his brother in two fruitful campaigns from Francois Mathet's Chantilly stable. Although Red God was remembered in England as an irresolute performer when in training with Cecil Boyd-Rochfort at two, he generally got stock without any quirks. Blushing Groom had no temperamental issues, being notably placid and tractable, and his trainer soon recognised his talent.
The colt showed plenty at home before his debut, which Mathet expected him to win easily, and it was probably all about inexperience when he finished third. He soon left that form behind, beginning a skein of seven victories with a runaway score in the Prix de Rochefort at Evry.
Ahead of him now were the Group 1 races that constituted France's so-called Juvenile Quadruple Crown – the Prix Robert Papin at Maisons-Laffitte, the Prix Morny at Deauville, the Prix de la Salamandre and the Grand Criterium, both at Longchamp. In the first, he won cosily by three-quarters of a length, he took the second emphatically by three lengths, and he was at long odds-on when collecting by two lengths in the third.
The challenge of J O Tobin
There was clearly no worthy French-trained individual who might pose a threat in the Grand Criterium, the mile race that generally determines the identity of the season's champion, but there was a contender from England in J O Tobin, whose Goodwood and Doncaster victories had excited all observers. He arrived from Newmarket, along with supporters who could not contemplate his defeat.
The visitors went home sorely disappointed. Blushing Groom bounded clear of his rivals on the turn from home to win, virtually unchallenged, by four lengths, while J O Tobin lost second place to Amyntor by a neck. There was now no doubt as to who was Europe's champion juvenile.
Blushing Groom returned at three in the G3 Prix de Fontainebleau over a mile at Longchamp in April. The ground was heavy, but that proved no hindrance as he won comfortably by more than two lengths. That performance suggested that the G1 Poule d'Essai des Poulains – France's 2000 Guineas – three weeks later over the same course and distance would be just a formality, and such proved to be the case, the 10/1 on favourite beating Pharly by three lengths.
Working with Exceller
Blushing Groom had ruled as favourite for the Derby ever since his Grand Criterium victory, and the original idea was for him to take in the Prix Lupin, over ten and a half furlongs, en route to Epsom. That plan was ditched and instead the colt was tested in a racecourse trial at Chantilly over the Lupin distance with three stable companions, and reports indicated that he won it well on terms worse than weight-for-age, his runner-up being the distinguished 4-year-old Exceller.
So Blushing Groom arrived at Epsom as a firm 9/4 favourite, his confident supporters apparently careless of the fact that Red God had never sired a winner at any level over a mile and a half. The 1977 Derby kept that statistic intact, his superstar son patently running out of stamina in the straight while battling on for a highly creditable third place behind The Minstrel and Hot Grove.
What turned out to be Blushing Groom's last race – and his only start against older horses – was the G1 Prix Jacques le Marois over a mile at Deauville in August. It seemed that the jockeys of all seven contenders had received orders to ride a waiting race, which resulted in a desperately slow pace, bunching, a four-furlong dash, and – probably – a misleading outcome. In the tightest of finishes among six of the runners, Blushing Groom wound up second, half a length behind 4-year-old classic-winning filly Flying Water.
$6 million syndication deal
There might have been further objectives over a mile in France and/or England for Blushing Groom, but he had been the subject of a $6 million syndication deal before the Derby that would take him to Gainesway Farm in Kentucky for his stud career. When an outbreak of contagious equine metritis occurred, the American authorities set a date by which all male horses scheduled for importation had to arrive. Autumn races were no longer an option for Blushing Groom, his Derby conqueror The Minstrel and Caro, among others.
Blushing Groom covered his first book of mares at a fee of $35,000 in 1978, and 32 live foals resulted. The market for the 16 auctioned yearlings from that crop was strong, with a top price of $650,000 for his daughter out of Best In Show, but those who expected an outstanding 2-year-old champion to deliver star juveniles were disappointed. That would come in time, but the first runners did not distinguish themselves in their initial season at the track.
However, several of the 1979 foals blossomed famously at three, not least that top-priced yearling, now named Blush With Pride. She notched a G1 double in the Santa Susana Stakes and Kentucky Oaks, and two others claimed top-level victories, Too Chic in the Maskette Stakes and $39,000 bargain buy Runaway Groom, who had the distinction of beating all the 1982 Triple Crown winners when he collected the Travers Stakes. There were also three Pattern winners in Europe, including Rosananti at G1.
Blushing Groom's second crop numbered 52, the star turn being Crystal Glitters, who won the G1 Prix d'Ispahan at three and four. The dirt runners in the States made little impact, but Nassipour eventually came to the fore in North American turf races as a 5-year-old, his most notable win coming in the Canadian International Championship Stakes.
Stock who excelled over further
For his third season at Gainesway, Blushing Groom was raised to $50,000. Of the 55 resulting foals, five became Graded winners on dirt, most notably the high-class sprinter Mt Livermore, but the best from that crop was a European star in Rainbow Quest, a $950,000 yearling purchase who achieved the unprecedented feat of earning an annual Timeform rating of 130 or higher in each of three seasons. He peaked at four, assessed at 134, in a campaign that brought him top-level victories in the Coronation Cup and Prix de l'Arc de Triomphe, the latter on the disqualification of his narrow conqueror, Sagace.
Rainbow Quest showed that, although Blushing Groom had failed to get a mile and a half himself, he could get stock who excelled over that distance in the best of company. Spicy Story, a contemporary of Rainbow Quest, won the G3 Doncaster Cup at two and a quarter miles.
There were no Graded scorers on dirt among the 36 foals from Blushing Groom's fourth crop, conceived at $60,000. The best were European-based Al Bahathri, who claimed a classic triumph in the Irish 1000 Guineas, and Baillamont, whose three G1 victories came in the Prix Jean Prat at three and the Prix Ganay and Prix d'Ispahan at four. Ifrad made his mark on U.S. turf courses as an older horse, his top performance coming at five in the G1 Arlington Handicap.
The most disappointing of all Blushing Groom's crops was his fifth. None of the 40 foals notched a win at the highest level, and of the three who notched minor honours in Pattern or Graded company, one did so at four, the other pair at five.
Meanwhile the successes of the earlier crops had prompted a substantial increase in fee for the 1983 season. The best of the 42 foals conceived at $150,000 proved to be Groom Dancer, who won the G1 Prix Lupin, along with four scores in G3 company. None of the crop won a Graded race in the States.
A further hike in the charge for Blushing Groom's services followed in 1984, when he covered at $250,000. The standout performer among 42 foals was Blushing John, who proved adept on both grass and dirt, registering wins at the highest level on both sides of the Atlantic. In France, he won the Poule d'Essai des Poulains before he returned to the land of his birth as a 4-year-old to take top honours in the Hollywood Gold Cup Handicap. Another effective on both surfaces was diminutive Rahy, who ran second in the G1 Middle Park Stakes at two and came back after injury for a G2 success in the Bel Air Handicap as a 4-year-old.
Epsom classic double
Blushing Groom's fee reached a new peak of $275,000 in 1985, and it was held at that sum in the following year. The crop foaled in 1986 included just a couple of Stateside Graded winners, but among the five European Pattern scorers were Nashwan and Snow Bride, the former successful in the 2000 Guineas, Epsom Derby, Eclipse Stakes and King George & Queen Elizabeth Stakes, the latter winner of the Epsom Oaks following the disqualification of Aliysa.
Thanks largely to Nashwan and Snow Bride, Blushing Groom reigned as champion sire in Britain and Ireland in 1989, and he remains the last American-based stallion to head that list.
In 1995, he topped the table of broodmare sires, an accomplishment earned through the victories of Snow Bride's son, Lammtarra, in the Derby and King George VI & Queen Elizabeth Stakes.
There were no Pattern winners in Europe among the 41 foals of 1987, but his one Graded scorer in the States was a grass-course performer in Fire The Groom, whose biggest win came in the 1991 G1 Beverly D. Stakes.
The 42 foals of 1988, conceived off a reduced fee of $175,000, included a pair of Graded winners in America, Fancy Ribbons on dirt and Maxigroom on turf, but the best of the cop was French-trained Sillery, whose most notable triumph came in the G1 Prix Jean Prat.
A champion juvenile emerges
The long wait for a colt to emulate Blushing Groom as a champion 2-year-old ended in 1991 with the emergence of Arazi, who managed to improve on his sire's record at that age and was hailed as the best on two continents. One of 45 foals bred on a $160,000 fee, Arazi collected wins in the same four major races in France before a venture to Churchill Downs for a spectacular success in the Breeders' Cup Juvenile.
The Stateside performance looked too good to be true, and the colt's second season suggested that it had been just that. His Kentucky Derby challenge proved disappointing and his only win at three came at G2 level in France, where Rosefinch was a G1 winner in the Prix Saint-Alary. The best American-based runner from the crop was You'd Be Surprised, a dual G1 scorer on dirt as a 4-year-old.
Blushing Groom covered reduced books following the removal of a cancerous testicle, and only 27 foals resulted from the second crop at $160,000, born in 1990. The best in Europe was Gold Splash, who earned G1 wins in the Prix Marcel Boussac at two and Coronation Stakes at three, but she was eclipsed by an outstanding performer in Sky Beauty, who won nine times at G1 level. She was a Filly Triple Crown winner at three and champion older distaff runner at four.
Blushing Groom was advertised to cover limited numbers at $225,000 in 1990, and, from a crop of ten, two developed late to notch G3 victories, Parme in France at four and Blushing Flame in Ireland at five. He served only 18 mares in 1991, nominally at a fee of $175,000, but he failed to get any of them in foal. He was promptly retired from stud duties and was put down in 1992.
Plenty of Blushing Groom's sons met with a measure of success at stud, Rainbow Quest earning most respect as sire of Arc winner Saumarez and Epsom Derby hero Quest For Fame, but it has never seemed realistic to express confidence in the long-term development of his male line. Animal Kingdom might represent a lingering hope in that respect.
But there is more to pedigree than male lines and Blushing Groom's impact on the breed will continue to be expressed in other ways. Meanwhile, we should grant him enormous credit for his record of 18 per cent stakes-winners, a ratio unattainable by 21st century stallions with their three-figure books.
Also in this series
Djebel
Colin
Bend Or
Sultan
Blandford
Son-in-Law
Man o' War
Ribot
Cyllene
Hermit
Highflyer