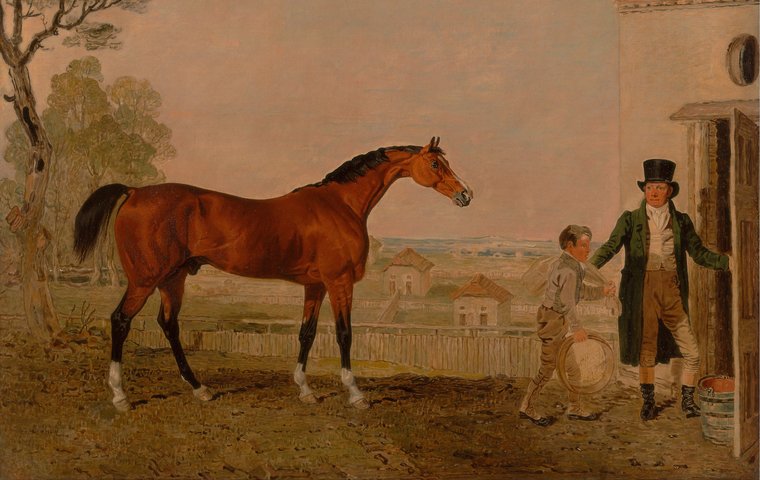 Renowned bloodstock writer Tony Morris with the fourth in his series of articles celebrating 100 horses instrumental in shaping the modern Thoroughbred.

Sultan, b, 1816, Selim – Bacchante, by Ditto
The male line tracing back to the Byerly Turk flourished famously for a long period, dominating while Herod, his son Highflyer, and the latter's son Sir Peter Teazle collected 31 sires' championships between them in the 33 seasons from 1777 to 1809.
But the next horse to notch a lengthy sequence of titles came from a different branch of the Herod line, through his son Woodpecker and Woodpecker's son Buzzard, who got three influential stallions in Castrel, Selim and Rubens, all out of the same unnamed mare by Alexander. Rubens was champion sire on three occasions and Selim only once, but it was Selim who achieved the most enduring impact, principally through his son Sultan, whose dam Bacchante was the most important product of 1803 Epsom Derby winner Ditto.
Sultan was bred by William Crockford, who would ultimately be remembered as the sinister proprietor of a gambling house that brought ruin to numerous young 'swells' and for corrupt dealings on the Turf. But, at the time of Sultan's birth in 1816, he still enjoyed a measure of respectability, and while the horse raced in his colours there was no suggestion of dishonesty about the way he was campaigned.
Derby defeat
Sultan had only one start as a 2-year-old, finishing third behind two fillies in the July Stakes, then Britain's most important juvenile event. He reappeared at three at Newmarket's Craven meeting, where he won two matches over a mile, receiving weight in both; in the second of them his opponent was Miracle, who had beaten him in the July Stakes.
The colt's next start was in the Derby, for which he started second favourite. The Duke of Portland's Tiresias, narrowly preferred in the betting, made all the running and resisted Sultan's late challenge by half a neck in what turned out to be the latter's only start away from Newmarket. The north's great race for 3-year-olds was supposed to represent Sultan's next target, and he arrived at Doncaster as the firm favourite, but an injury incurred in his final gallop meant that the St Leger went by without him.
Sultan was kept in training, his form over the seasons that followed suggesting that he would have been no certainty for that St Leger. His second in the Derby was as close as he ever got to a victory over a mile and a half, and he never won beyond ten furlongs.
He ran ten times in 1820, notching four successes, one at a mile and a quarter, the other three over the TYC (2-year-old course), the sprint course of five furlongs 136 yards. His worst efforts came in true tests of stamina, over two miles and a mile and three-quarters.
In 1821 Sultan seemed better than ever. After a second place in the Craven Stakes, when he failed to concede 41 pounds to a younger rival, he won five out of five. In the spring he won a Gold Cup at a mile and a quarter, and handicaps over a mile (under 9st 12lb) and the TYC (carrying 10st). Crockford then sold him to the Marquis of Exeter, for whom he won twice over a mile in the autumn, first in the Trial Stakes, then in a level weights match for 300 guineas against Banker, a high-class contemporary.
Sultan appeared under different colours again in 1822, recording a win for Lord Foley over the previous year's Derby winner Gustavus in a match for 200gns over the Rowley Mile.
He was scratched from two later engagements that year, but returned to the fray in 1823 for a victory over ten furlongs in a match for 500gns against the smart Godolphin. Curiously, he was later matched three times against the smart Master Henry, over two miles, three miles and the extended four miles of the Beacon course. Master Henry's owner paid forfeit every time.
Racing as the property of the Marquis of Exeter again in 1824, Sultan scored a second victory in the Trial Stakes, but attempts to show that he could win over long distances bore no fruit. He finished second in two King's Plates at three and a half miles, and was easily beaten by his only rival over the Beacon course.
Immediate first-crop success
Having been active for six seasons, and successful 14 times, he was advertised to stand the 1825 season in Newmarket at a fee of £20. He later switched to Burghley, Lord Exeter's seat near Stamford, in Lincolnshire, and the charge for his services would rise to £50.
A handsome bay who sported a distinctive blaze and four white socks, Sultan reportedly was 'a long horse with a lovely head, pretty forehand, long back ribs and muscular quarters, but light of girth'. He had plenty to commend him to breeders, who had no reason to care that extreme distances found him out. After an unusually lengthy career, he had retired sound, and with a well-earned reputation as a competitor who always gave his all. He had shown abundant speed, was up to carrying big weights, and was surely entitled to get high-class performers.
Sultan's first crop reached the races in 1828, and success came immediately with two fillies bred by Lord Exeter displaying high-class form. Green Mantle made a remarkable debut in the July Stakes, forcing a dead-heat for first place with Fancy, another filly. As was often the case in those days, the pair were subjected to a deciding heat, and, as was not so common, Fancy's connections chose to substitute crack jockey Jem Robinson for the less fashionable Patrick Conolly in the re-run.
The switch did no good, as Green Mantle won easily by two lengths, and she went on to underline her class by winning three more times that year, including under a 7lb penalty in the Clearwell Stakes in October. The race before the Clearwell on that Newmarket card was won by Varna, anther Exeter-bred Sultan filly.
First son of real note
Green Mantle and Varna advertised their sire with higher-profile deeds at three in 1829, finishing first and second in the Oaks, and each winning five times. The first Sultan colt of real note, Mahmoud, appeared as a juvenile that year, landing the Prendergast Stakes, and he was again among the leaders of his generation at three, though somewhat overshadowed by another son of his sire in stablemate Augustus.
Mahmoud proved the better of the Exeter-bred pair in Priam's Derby, when they finished third and fourth, but his only victory that season came in the Albany Stakes at Ascot, whereas Augustus became a multiple stakes-winner, collecting the 2000 Guineas (beating a single rival), the Grand Duke Michael Stakes and the Newmarket St Leger, and sharing the spoils in a dead-heat for the Newmarket Stakes.
Of the first-crop filly stars, Varna was now past her best, but Green Mantle added the Port Stakes at Newmarket and the Swinley Stakes at Ascot to her credits, also reaching third place in the Gold Cup and fourth in the Goodwood Cup.
Sultan began his six-year reign as champion sire in 1832, when 13 of his stock won 35 races, his star performers again being a pair of 3-year-olds bred and raced by Lord Exeter.
Galata's five victories included the 1000 Guineas and Oaks, while Beiram bounced back from an indifferent display in the Derby to win the important Drawing Room Stakes and finish second two days later to Priam in the Goodwood Cup, with Derby hero St Giles in arrears.
Growing popularity
The second championship season was secured through the exploits of 20 winners of 47 races, and they were the property of 11 different owners, an indication of Sultan's growing popularity. He was no longer so dependent on the patronage of Lord Exeter, although it was Galata who delivered that season's headline performance in the Gold Cup at Ascot.
Exeter also had Mimosa, whose Lavant Stakes triumph ranked alongside the July Stakes victory of Scott Stonehewer's Zulima as advertisements for the qualities of Sultan's juvenile runners.
Two outstanding sons were eventually responsible for ensuring Sultan's enduring impact on pedigrees.
The first, bred and raced by the 5th Earl of Jersey, was Glencoe, who made a successful debut in the Riddlesworth Stakes in April 1834. Up to and including the previous year, all horses took their age from May 1, but Newmarket then adopted January 1 as the official birthday, so Glencoe was officially a 3-year-old at the time of his first race, and for his follow-up unavailing effort against Plenipotentiary two days later. Indeed, he registered two more wins before April was out, the second of them in the 2000 Guineas.
Glencoe finished third to Plenipotentiary in the Derby, and his owner understandably declined the opportunity to have a third shot at him in the St James's Palace Stakes at Ascot. Plenipotentiary, allowed to walk over for that contest, was in all likelihood the greatest Thoroughbred to race up to that time. But, when the champion was absent, Glencoe flourished. He beat the winners of a Derby and a St Leger when successful in the Goodwood Cup before adding two more victories in a season when Sultan's offspring won 43 races.
Glencoe confirmed his class at four with victory in the Gold Cup, and, when Jersey named him as his candidate for the Whip, no rival accepted the challenge. Jersey also had Sultan's best 3-year-old in 1835, his colt Ibrahim notching five wins, including the 2000 Guineas and the Grand Duke Michael Stakes. The sire's fourth title was secured with 19 individual winners of 46 races.
Sultan's second outstanding son was Bay Middleton, also bred by Lord Jersey, and out of Oaks winner Cobweb. He stood 16.1½ hands and his temperament made him a challenging subject for trainer James Edwards, but Jem Robinson proved the perfect partner in the saddle, and the colt would never know defeat.
Final year at the top
He had seven engagements at three, his only season in racecourse action, defeated all-comers in six and was granted a walkover in the other. His wins included the 2000 Guineas, Derby and Grand Duke Michael Stakes, and his runner-up on two occasions was Elis, who triumphed in the St Leger. Collecting his fifth consecutive sires' title, Sultan was represented by 20 individual winners of 53 races; their earnings breached the £20,000 barrier, a feat not achieved since the progeny of Herod had reached that mark 58 years earlier.
Sultan's final year at the top was 1837, when he lacked a real star performer, but Bay Middleton's brother Achmet did record the fourth consecutive victory for his sire in the 2000 Guineas, a feat that remains without parallel in the history of what we came to recognise as England's classic races.
Sultan was put down at the age of 23 in March 1839; he had suffered a broken thigh in a paddock accident at Burghley. It was widely assumed that he had left a colt who would credit his sire with one more classic win that year, but Caesar – full brother to Bay Middleton and Achmet – instead set a record as the shortest-priced favourite to fail in a classic. He started at 7-1 on when The Corsair thwarted him in the 2000 Guineas of 1839. But the legacy Sultan left was precious.
'Racing's most influential mare'
Glencoe was granted only one season at stud in England before he was sold to America, where he founded the line that flourished most conspicuously through Hindoo, Hanover and Hamburg. But how should one measure his impact in the States compared to the influence exerted by a 62gns filly foal he left behind in England? Pocahontas, foaled in 1837, is still widely regarded as the most influential mare in the history of the Thoroughbred.
There were inevitably high hopes for Bay Middleton, after he retired unbeaten with a fee of 30gns set for his services, but perhaps breeders should have taken more notice of the fact that unsoundness had prevented his reappearance as a 4-year-old. Bay Middleton gave many of his progeny leg problems, and his reputation was on the wane when along came an outstanding son in The Flying Dutchman, winner of a Derby and a St Leger, and famously of a match against Voltigeur, himself hero of a Derby and St Leger.
Bay Middleton would ultimately have a second Derby winner in Andover, who would mean nothing in terms of a contribution to the breed, but The Flying Dutchman experienced a heyday in France through Dollar, and the line would prosper almost to the point of realising dominance in the succession from Bruleur to Ksar to Tourbillon to Djebel.
Sultan was a horse who never received the credit due to him for his importance in the development of the breed. His influence has been overlooked too long and needs recognition.