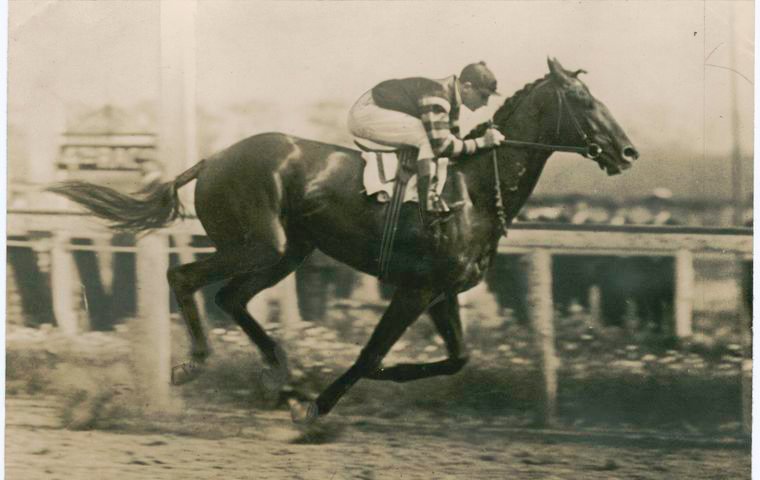 Renowned bloodstock writer Tony Morris with the seventh in his series of articles celebrating 100 horses instrumental in shaping the modern Thoroughbred.

Man o' War, ch, 1917, Fair Play – Mahubah, by Rock Sand
Who was the best horse ever to race in America? Until 1920 that was a moot point, with a case to be reasonably made for several outstanding performers who had dominated their rivals in years gone by.
But the emergence of Man o' War ended all debate. His almost flawless record and the manner of his accomplishments clearly marked him as the champion of champions. Nearly a century later there remains a body of opinion that still ranks him as best of the bests.
The creator of this paragon was August Belmont II, a fabulously wealthy New York financier who occupied a prominent – if not quite entirely dominant – position in racing and breeding circles over many years. He bred and raced both Fair Play, second-best in Colin's generation, and Mahubah, just a maiden winner from five starts; he had imported Fair Play's dam, Fairy Gold, and Mahubah's dam, Merry Token, from England; and Mahubah was by England's 1903 Triple Crown winner, Rock Sand, bought by Belmont for £25,000 to stand at his Nursery Stud in Kentucky.
Pick of the group from day one
In the normal course of events, the chestnut son of Fair Play and Mahubah who was born on 29 March 1917 would have raced in the colours of his breeder, but Belmont had a role to play for his nation after America's entry into the Great War. He resolved to sell all his yearlings of 1918, albeit with some misgivings over the colt who had impressed as the pick of the group from day one. It would have looked bad to hold one back. The gangly youngster, who had already been named Man o' War by Mrs Eleanor Belmont, would have to go to Saratoga with the others.
There were 21 in the Nursery Stud consignment, which sold for a highly satisfactory average of $2,450, more than double that for the sale as a whole. Although others were preferred by the market, Man o' War made just over double the average for Belmont's draft, knocked down for $5,000 to Ed Buhler, acting on behalf of (then) small-time operator Sam Riddle, who had hitherto been more conspicuous in the world of hunting and showing, but who had lately decided he wanted to establish a major flat racing stable.
Riddle headed for Saratoga, aiming to collect up to a dozen yearlings, and he fancied himself as something of a judge. As it turned out, he did buy 11, and ten of them proved to be duds. He bid unsuccessfully well into five figures for two of the Nursery Stud lots, yet the acquisition who would ensure his life would never be the same again came at a significant discount.
There seems no doubt that Riddle bought Man o' War at the insistence of noted horseman Louis Feustel, who had trained Mahubah and was currently training her Fair Play daughter Masda. Feustel accentuated all the positives he could summon to persuade Riddle to make the purchase. He was determined to add that tall, ungainly red chestnut colt to his string.
Man o' War wintered in Maryland before switching to New York in the spring of 1919. Feustel was in no hurry to introduce him to competition, but he soon recognised that there was something special about the long-striding colt.
He was not the only one to notice, and when Fair Play's son went to post for his debut at Belmont on June 6, he was an odds-on chance against six rivals for a five-furlong maiden. Although jockey Johnny Loftus was easing him down towards the finish, the winning margin was six lengths. And Man o' War would never start at odds against.
An opportunity to buy money
Before June was out, he was a four-time winner with three stakes victories to his name. The Keene Memorial (5½ furlongs, Belmont), the Youthful (5½ furlongs, Jamaica) and the Hudson (5 furlongs, Aqueduct) were collected with the minimum of fuss. In the last-named contest, he gave 21lb to his runner-up.
Man o' War remained at Aqueduct for a single start in July, when only two opposed him in the six-furlong Tremont Stakes. If concessions of 15lb to one and 18lb to the other were supposed to even things up a bit, the bettors did not take that view, sending him off at odds of 1-10, and he duly won with any amount in hand.
Five easy wins from as many starts could hardly be faulted, but all New York recognised that Man o' War had yet to contend with a worthy rival. The first serious tests would come in August at Saratoga, starting with the U S Hotel Stakes (six furlongs) on the second of the month.
A field of ten went to post, the conditions stipulating that Man o' War again had to give weight all round, and such was the apparent strength of the opposition that he started at 9-10, just a shade of odds-on. It proved an excellent opportunity to buy money, as the favourite held sway throughout and Loftus could afford to take things easily in the last half-furlong. Whisk Broom's son, Upset, could make no impression as modest second-best, despite his 15lb weight concession.
Tempting providence?
The Thoroughbred Record's reporter, while acknowledging that other promising youngsters may yet come along, was already prepared to award Man o' War the 2-year-old title. He delivered a eulogy that acclaimed the colt's superiority in pedigree, speed, stamina, size and class. There was none, he opined, who could threaten his dominance.
How many would have regarded such enthusiasm as a temptation to providence? Not many at Saratoga 11 days later, when Man o' War went off at odds of 11-20 for the Sanford Memorial Stakes, in which he met Upset on the same terms and at the same distance as before.
Man o' War did not win the Sanford Memorial. He found himself hemmed in on the rail and got out just too late. His strong late charge testified to his gameness, but the aptly named Upset kept going stoutly to score by half a length. A crowd estimated at 20,000 saw it happen, but few accepted the result as a true representation of the principals' merits. The Thoroughbred Record had little to say about Upset's qualities; it referred to the runner-up as a 'truly great racer'.
Of course, no 2-year-old can ever be truly described as 'great', but Man o' War would earn that designation in 1920, when he was required to prove that he was more than just a precocious sprinter, and he did so in a campaign of unparallelled brilliance.
Meanwhile, he confirmed his dominance of the 1919 juvenile ranks, collecting easy victories in two more Saratoga stakes, the Grand Union Hotel and the Hopeful, and another back at Belmont in the Futurity. Upset was a well-beaten rival on all three occasions.
'No' to the Kentucky Derby
Although no official classification of 2-year-old performance would be published until 1933, a Daily Racing Form handicapper ranked Man o' War an unprecedented 16 pounds above the best of his contemporaries.
Sam Riddle never doubted Man o' War's stamina, but he felt that early May was too soon for any 3-year-old to go a mile and a quarter, so he instructed Feustel not to aim his champion at the Kentucky Derby. Paul Jones beat Upset by a head in the Run for the Roses while Man o' War waited for the Preakness, contested ten days later over nine furlongs.
A 4-5 shot at Pimlico, with a new rider in Clarence Kummer, 'Big Red' won as he liked, conceding four pounds to Upset and defeating him by a length and a half, with Wildair (who received 12lb) a well-beaten third.
Back at Belmont 11 days later for the Withers, Wildair faced a daunting task at level weights with Man o' War, who trounced him by two lengths while setting an American record for the mile.
The 11 furlongs of the Belmont Stakes represented a new test for Man o' War, but he had only one obviously inferior opponent and duly notched his second American record in a 20-length romp. It was all too easy again in the Stuyvesant Handicap at Jamaica, in which solitary rival Yellow Hand had the advantage of a 32-pound pull in the weights; Man o' War toyed with the challenger, romping home by eight lengths at odds of 100-1 on.
Serious test
Man o' War had his first serious test as a 3-year-old in the Dwyer Stakes at Aqueduct, for while he once more had only a single rival, that was a proper racehorse in the accomplished John P. Grier, whose trainer Jim Rowe held him in high esteem. His colt was to receive 18lb, which surely gave him a sporting chance.
John P. Grier delivered an outstanding performance, matching Man o' War stride for stride for more than a mile, even claiming a narrow lead at one point, but the last of the nine furlongs found him out, and he was a length and a half down at the finish. His gallant attempt forced the champion to set another American record in order to prevail.
Man o' War had two engagements at Saratoga, the first resulting in a facile triumph over Donnaconna in the Miller Stakes, when he was ridden by Earl Sande, replacing the injured Kummer. But, in the Travers, the colt needed another change of jockey, as Kummer remained out of action and Sande was unavailable, and both Upset (receiving six pounds) and John P. Grier (getting 14) could be considered worthy rivals. Jim Rowe, who handled both challengers, was bullish again.
Rowe soon realised that his optimism was misplaced. Man o' War was away in a flash, remained on top throughout, and Andy Schuttinger, enjoying the luckiest spare ride of his career, was pulling him up as he passed the post in track record-equalling time.
Derby hero no match
New York fans had only two more opportunities to see Man o' War in action, and both produced bloodless victories. He started at 100-1 on in both the Lawrence Realization (13 furlongs) and the Jockey Club Stakes (12 furlongs), setting American records at both distances. His winning margins were recorded as 100 lengths and 15 lengths respectively.
Man o' War's first serious training had been at Havre de Grace in Maryland, and it was there that he had his penultimate start in the Potomac Handicap over eight and a half furlongs. Hefty weight concessions to three rivals, including 24lb to Kentucky Derby hero Paul Jones, proved insufficient to create a meaningful race. The champion won in track record time.
What was left for Man o' War to prove? The one glaring omission from his record was a test against an older horse, and for some time Riddle had been under pressure to commit him to a match race against 4-year-old Sir Barton, the winner in 1919 of all the races that would later become bracketed together as the Triple Crown. Kenilworth Park, in Windsor, Canada, secured the honour of staging the event, putting up $75,000 and a $5,000 Gold Cup as prize for the winner.
It was a strange match with the favourite at 20-1 on, and it duly turned out to be an uncompetitive affair. Man o' War soon bounded clear, always had matters all his own way, and won by seven lengths, knocking more than six seconds off the ten-furlong track record.
Man o' War remained sound and could have raced on at four, but he would have been assigned enormous weights in handicaps, so he retired as winner of 20 out of 21 starts, universally accepted as the greatest equine athlete in American history.
What could he now contribute to the American thoroughbred through his genes?
Man o' War had 22 seasons at stud, all but the first two at Faraway Farm, near Lexington, and never covered a book greater than 25. He headed the North American sire list in 1926, when his oldest crop were only 4-year-olds, allowing the hope that there would be many more titles to come, but that proved to be his only season at the top. However, he ranked second three times and figured in the top ten on five other occasions.
That record might seem disappointing, but a tally of 17 per cent stakes-winners to foals – unheard of in the 21st century – tells a different story.
Mates of modest distinction
In truth, Man o' War was a remarkably successful sire, particularly as the quality of his mates generally left a lot to to be desired. Riddle, friends and family did not own outstanding broodmare bands, but they routinely featured prominently among breeders with access to the horse. Commercial breeders who managed to buy nominations did rather well with the yearlings they marketed in the early years, but that did not last for obvious reasons. Between 1924 and 1943 a total of 45 yearlings went to auction, and only three contrived to win at stakes level.
As with Secretariat half a century later, too much was expected of Man o' War at the outset of his stud career. It is widely recognised now that no truly exceptional racehorse can get a runner as good as himself, a fact explained by regression to the mean. Mates of modest distinction do not help.
There were winners of the Belmont Stakes in American Flag and Crusader from each of Man o' War's first two crops, but the sons who ultimately mattered most were products of his 13th and 17th crops – War Admiral and War Relic.
War Admiral famously won the 1937 Triple Crown and ingloriously turned in a feeble effort in his 1938 match against Seabiscuit, who was on all known form clearly his inferior.
In our book A Century of Champions, John Randall and I rated War Admiral only 5lb lower than his sire. He became an accomplished sire as well, and earned further celebrity as maternal grandsire of Buckpasser.
Was he America's greatest runner?
War Relic, the best of three stakes-winning full siblings, scored his biggest victory in the Massachusetts Handicap as a 3-year-old. His stud career proved inconsistent, but there were notable highlights in such as Battlefield, Intent and Relic, the last-named an important stud influence on both sides of the Atlantic.
Man o' War covered his last mares in 1942 and afterwards was a much-visited pensioner at Faraway Farm, where he died on 1 November 1947.
Such was Man o' War's enduring reputation that in 1999 a panel of authorities brought together by The Blood-Horse added to his legend by honouring him as America's all-time best runner.
John Randall and I took a different view. While recognising him as a performer who had plainly surpassed the achievements of all his predecessors, we believed that the American Thoroughbred had made significant progress since the 1920s, and in our book Secretariat ranked clear best.
Also in this series
Djebel
Colin
Bend Or
Sultan
Blandford
Son-in-Law