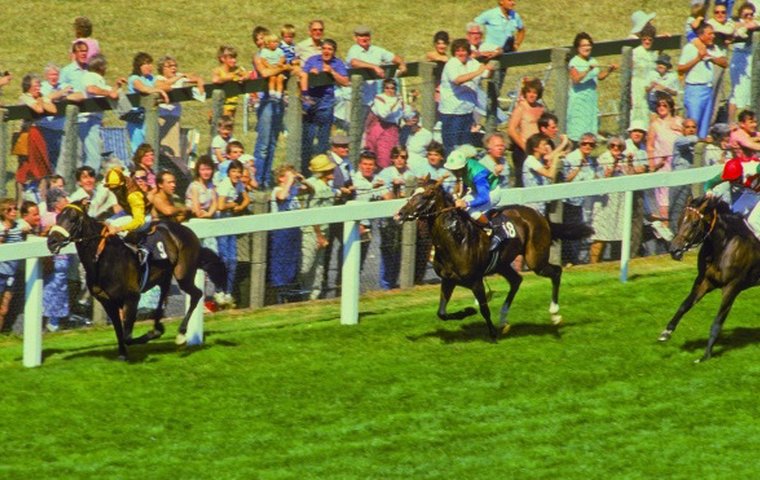 Renowned bloodstock writer Tony Morris with the second in his series of articles celebrating 100 horses instrumental in shaping the Thoroughbred.

Colin, br c, 1905, Commando – Pastorella, by Springfield
The best son of 1901 Belmont Stakes victor Commando, Colin was bred by James R. Keene out of the imported mare Pastorella, who had won her first races as a 2-year-old, at York and Ascot, and was taken out of training after finishing down the field in the 1,000 Guineas of 1895.
Pastorella was to produce 11 foals in all, but only one really mattered – the colt who impressed many good judges as the best runner bred in the U.S. up to his time. He ran 15 times and won 15 times, eclipsing the record of his breeder's earlier champion, Sysonby, who suffered just a single loss in his own 15-race career.
Trained by James Rowe, who had handled both Commando and Sysonby, Colin made his debut in a Belmont Park maiden special weight at the end of May, readily accounting for 22 rivals by two lengths and more. Four days later he won the National Stallion Stakes, clocking 58 seconds for that five-furlong test, and four days after that he took the Eclipse Stakes in the only close call of his juvenile campaign; Beaucoup, getting 8lb, was gamely resisted by a head, the pair finishing ten lengths clear of their nearest pursuer.
Faultless
By the end of June, Colin was a three-time stakes-winner, having collected the Great Trial at Sheepshead Bay, and before July was out he had added the Junior Stakes at Brighton. In the Saratoga Special, he repelled a solitary foe decisively, and four days later, over the same track and distance, he won the Grand Union Hotel Stakes, hard held by two lengths over Jim Gaffney, who was receiving 15lb.
Back at Sheepshead Bay Colin annexed the Futurity Stakes, and a week later the Flatbush Stakes, giving Celt 15lb and trouncing him by three lengths. In a division of the Produce Stakes at Brighton and the Matron Stakes at Belmont, he was opposed by the excellent Fair Play, the future sire of Man o' War going under by five lengths when receiving 6lb on the first occasion and by three lengths with a 7lb concession on the second. The champion signed off for the season with a six-length romp over a solitary challenger in the Champagne Stakes, again at Belmont.
Faultless in a dozen starts at two, Colin was to make only three more appearances at the track. Having never run beyond seven furlongs, he still had something to prove, and he duly showed that he was more than a sprinter. In May, he took the one-mile Withers Stakes easily by two lengths over Fair Play before following up in the 1m3f Belmont Stakes, in which his margin over the same rival was no more than a head.
Never wholly sound again
Heavy rain and fog so hampered visibility that day that no time was taken, and there were conflicting arguments about the tight finish. Colin was supposedly five lengths clear two furlongs out, and some thought that jockey Joe Notter had taken things too easily, misjudging the finish, but more likely he was nursing the colt home, aware that something was amiss. It is certain that Colin was never wholly sound again.
No sooner had America's invincible champion notched his 14th victory than the sport was thrown into turmoil; it was suddenly a criminal offence to bet on horseracing in New York.
Defiantly, Keene declared that Colin would contest the Tidal Stakes at Sheepshead Bay, and predicted that there would be a capacity crowd to cheer on his paragon, despite the fact that no betting was allowed. In the event, the attendance figures were unremarkable, but those on hand did witness another all-the-way victory, albeit in less than spectacular fashion. A fully fit Colin would have romped home against obvious inferiors; he was visibly tiring at the end of the ten furlongs.
That was not supposed to mark the end of Colin's racing career, but that was how it turned out.
The anti-gambling legislation put paid to further racing in New York, but there could be opportunities elsewhere; hopeful that the colt might excel as a 4-year-old in a different environment, Keene dispatched him to England, where Sam Darling had trained Oaks winner Cap And Bells for him in 1901.
Darling had no doubts about Colin's merit after watching him give 14lb and a length-and-a-half beating to Jack Snipe in a trial over six furlongs on the Beckhampton gallops. Jack Snipe, also four, was that season's winner of the July Cup, England's most prestigious sprint, so there might have been rich pickings for Colin, if Darling had been able to keep him sound, but foreleg problems made that a forlorn hope.
Shunned by British breeders
Colin retired to the Heath Stud in Newmarket for the 1910 season, priced at only £98. British breeders were not enthused, giving him scant patronage, and they shed no tears when he returned to the land of his birth.
Although he was in stud service for 23 years, he got no more than 81 foals and at no time enjoyed a high profile as a sire. Yet, for all that, he did sire 11 stakes winners, a commendable 14 per cent, the best of them being On Watch, who would briefly have some modest success at stud, but it was the last of them, from Colin's 16th crop, who would ultimately prove the most significant.
That was a colt saddled with the plebeian name Neddie, who won five of 14 starts, including two stakes as a juvenile. The victory that gave him most licence for a berth at stud came in the 1928 Eastern Shore Stakes over six furlongs at Havre de Grace in Maryland, but it was hardly to be expected that he would achieve high rank as a sire. Nor did he, but like Colin, he got one son who would matter in the long term.
Neddie's tally of nine stakes winners from a total of 215 foals represented a miserable four per cent, but the first of them would ultimately become a surprising notable achiever. His name was Good Goods, and his ten wins from 53 starts included the Havre de Grace Handicap at four and the Governor's Handicap at Narragansett Park as a 5-year-old. Those performances did not suggest that he was destined for a stellar career at stud, and he duly turned out to be a dire flop, with only five stakes winners among his 173 foals, a pathetic three per cent. But one of the quintet was rather special, product of a mare who ran eight times and won nothing.
A son of real consequence
His name was Alsab, and as if being named champion 2-year-old was not enough, he repeated as champion at three, winning the Preakness between seconds in the Kentucky Derby and Belmont Stakes. In all he won 25 of 51 races.
Alsab had to be regarded as a chance-bred racehorse who would fail in the ranks of stallions, and his record of 16 stakes-winners out of 260 foals proved in line with expectations – a modest six per cent. He had only one entire male with six-figure earnings among his progeny, but that was Armageddon, who had victories in the Champagne and Withers, among other stakes, to flaunt.
Armageddon, in his turn, was no great achiever at stud – five per cent stakes-winners, just one an earner in six figures. That was Battle Joined, who had only ten starts, with the Champagne Stakes at two and the Lawrence Realization at three among seven victories. He was an honest enough performer, if some way below the top of his class, and he merited respect, but stardom at stud seemed unlikely.
Sure enough, Battle Joined fell short as a stallion, delivering only one son of real consequence. But that was Ack Ack, a special horse who, as a 5-year-old, ruled as Horse of the Year while heading the standings as both sprinter and handicap horse. A top-level performer at several distances, he was one of the most versatile performers of the post-war era in the States. His like are no longer seen there, and he tends to be unfairly overlooked when the stars of the 60s and 70s are recalled.
Triumphant result
Ack Ack earned early recognition in Europe as the sire of Youth, a big, long-backed boat of a horse, who offended the eye in repose, but impressed as a formidable galloper over middle distances when he had conditions to suit him. Breeders generally did not want to produce stock who resembled Youth, so many avoided using him.
Eric Moller took the risk and achieved a triumphant result in Teenoso, who won a Derby and a King George, but was rapidly written off as a sire prospect in England.
Ack Ack was perceived principally as a sire for North America, and he compiled a commendable record there, but only one son proved a convincing heir – the Santa Anita and Suburban Handicap hero Broad Brush, who ruled as champion sire in 1994, a feat to which Breeders' Cup Classic victor Concern was a major contributor.
But Concern, a great public favourite for his exhilarating come-from-behind style, was unable to replicate his success at stud, which left Pimlico Special winner Include as the only credible son of Broad Brush to carry on the line. Include has had his moments as a sire, but the respect he has earned is due more to his daughters than his sons.
The tenuous male line from Colin, extended by a single son in each of seven consecutive generations, may finally have reached the end of the road as a source of top-class performers.
Also in this series
Djebel