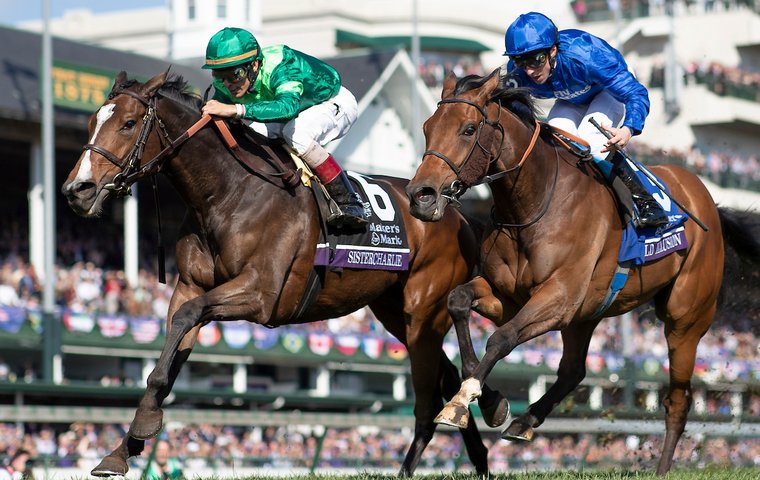 With Khalid Abdullah's Juddmonte team leading the way, transatlantic transfers have become fairly commonplace in the modern era of international flat racing. What follows is a list of ten of the most successful switches since the 1970s, featuring only horses who either won a North American championship or were inducted into the Hall of Fame.

To be eligible for inclusion, a horse has to be have officially represented a U.S.-based trainer, which rules out the likes of renowned equine pioneer All Along, handled by Patrick Biancone for an unprecedented six-week international spree in 1983 that resulted in North American Horse of the Year honours. That formidable filly remains the only European-trained horse ever accorded the ultimate honour in North American racing.
For all her admirable exploits in the Washington DC International when trained by Maurice Zilber, the great Dahlia is another to miss out because she was a shadow of her former self by the time she joined Charlie Whittingham.
Similarly, horses who jetted in and out of Europe to claim championships thanks to their exploits at the Breeders' Cup are also ruled out, even if they left an indelible impression on U.S. racing by their exploits (think Miesque, Goldikova and Ouija Board, among others).
Finally, only racing (not breeding) achievements in North America (not Europe) have counted for the purposes of this list, which is in chronological order.
So here you go: let the arguments commence!
1. Snow Knight
foaled 28 Feb 1971
ch c Firestreak - Snow Blossom
Owner: Windfields Farm (E.P. Taylor)
Trainer transfer: Peter Nelson to Jim Bentley to Mack Miller
Europe: 3 wins from 10 races
North America: 6 wins from 12 races
U.S. honours: Champion turf horse (1975)
Fractious colt overcame injuries in early career to become one of the biggest shock winners in Derby history with a 50/1 victory at Epsom under Brian Taylor; only other British victories had come in minor events.
Sold for a reported Can$1 million to E.P. Taylor, he did not thrive in three runs at Woodbine before moving across the border, where famously patient U.S. trainer Mack Miller worked his magic on the highly strung individual to the extent that he won the Man o'War and a division of the Manhattan before beating Arc runner-up Comtesse de Loir on a return to Toronto for Canada's greatest race, the Canadian International - then it was one of the most competitive international races in the world.
2. Exceller
foaled 12 May 1973
b c Vaguely Noble - Too Bald
Owner: Nelson Bunker Hunt
Trainer transfer: Maurice Zilber to Charlie Whittingham
Europe: 7 wins from 15 races
North America: 8 wins from 18 races
U.S. honours: Hall of Fame (1999)
Top-class middle-distance/stayer when trained in France, Exceller was the champion without a championship, attaining lasting celebrity when beating a pair of Triple Crown winners in a historic Jockey Club Gold Cup at a muddy Belmont in 1978. Switching between dirt and grass as a 5-year-old in the States, he ran up a string of victories before his famous Jockey Club success, where he closed from miles back – 22 lengths according to the chart – and then just touched off the courageous Seattle Slew, with Affirmed fifth with a slipped saddle.
Despite six G1 wins in 1978, was never rewarded with a year-end championship; did enough, though, to be voted into the Hall of Fame two decades later and feature at No.96 in Blood-Horse magazine's Top 100 Racehorses of the 20th Century.
3. J.O. Tobin
foaled 28 March 1974
br c Never Bend - Hill Shade
Owner: George A Pope Jnr
Trainer transfer: Noel Murless to Johnny Adams to Laz Barrera
Europe: 3 wins from 4 races
North America: 9 wins from 17 races
U.S. honours: Champion sprinter (1978)
American-bred colt shocked the racing world twice: firstly when he was transferred to the States following the retirement of legendary trainer Noel Murless, for whom he looked a superstar juvenile, then again as he ended the unbeaten run of Triple Crown hero Seattle Slew when making all in a breathtaking eight-length win in the Swaps Stakes (then a G1) at Hollywood Park in July 1977.
Belongs to an elite group in having become a champion on both sides of the Atlantic, having excelled on both turf and dirt, where brilliant speed made him a danger at the top level in the U.S.
Named America's champion sprint horse for 1978 (alongside Dr. Patches) when he won six of his 11 starts, mainly ridden by the 'Kentucky Kid' Steve Cauthen for trainer Laz Barrera, the jockey/trainer combination behind that year's Triple Crown winner, Affirmed.
4. Theatrical
foaled 13 March 1982
b c Nureyev - Tree Of Knowledge
Owner: Bertram Firestone/Allen Paulson
Trainer transfer: Dermot Weld to Bobby Frankel to Bill Mott
Europe: 3 wins from 8 races
North America: 7 wins from 14 races
U.S. honours: Champion turf male (1987)
Notable for being handled by a trio of training legends, Theatrical was already established as a leading middle-distance performer in Ireland before his permanent move to the States.
Placed in three G1s for Bobby Frankel (including a narrow defeat by Manila in the notorious Breeders' Cup race where Dancing Brave was only fourth), he joined Bill Mott for a magnificent 1987 campaign in which he either made the running or raced prominently to win no fewer than six Graded stakes from nine starts. Victories included the Sword Dancer (via DQ), Turf Classic and Man o'War in New York before a triumphant return to California in the Breeders' Cup Turf, where he defeated Arc winner Trempolino.
5. Steinlen
foaled on 14 March 1983
b c Habitat - Southern Seas
Owner: Daniel Wildenstein
Trainer transfer: Patrick Biancone to D Wayne Lukas
Europe: 4 wins from 10 races
North America: 16 wins from 35 races
U.S. honours: Champion turf male (1989)
After a series of minor victories, soft ground was to be Steinlen's undoing when his sights were raised in France. Already a mature horse, he was shipped to the States for his 5-year-old campaign and was kept typically busy across three seasons with D Wayne Lukas, landing a string of Graded stakes, most notably via a five-race winning streak in 1989, during which he won the Arlington Million and Breeders' Cup Mile at Gulfstream Park (had been second to Miesque 12 months earlier). Further successes followed as a 7-year-old before he was retired after coming fourth in Royal Academy's Breeders' Cup.
6. Kotashaan
foaled 4 May 1988
br c Darshaan - Haute Autorite
Owner: La Presle Farm (Wertheimer Et Frere)
Trainer transfer: Criquette Head to Richard Mandella
Europe: 3 wins from 8 races
North America: 7 wins from 13 races (also 2nd in Japan Cup)
U.S. honours: Horse of the Year (1993), champion turf male (1993)
Though he was consistent enough in minor French Group company as a 3-year-old, nothing in Kotashaan's European resume would have suggested he would end up winning North American racing's most senior accolade as Horse of the Year in 1993.
Transformed as a 5-year-old in Californian turf races, winning six of ten starts (plus three seconds). Habitually rallying from well of the pace, he won major races on the west coast from 1m1f to 1m6f, his final success coming in the Breeders' Cup Turf, where leading Europeans Opera House and Hernando were among the vanquished. Sold to Japanese interests for stud duties, he was unlucky to finish second to Legacy World on his final start in the Japan Cup as his jockey misjudged the finishing line.
7. Intercontinental
foaled 19 March 2000
b f Danehill - Hasili
Owner: Juddmonte Farms (Khalid Abdullah)
Trainer transfer: Andre Fabre to Bobby Frankel
Europe: 4 wins from 9 races
North America: 9 wins from 13 races
U.S. honours: Champion female turf horse (2005)
Several other Juddmonte transfers may have had more class and achieved more throughout their entire career (notably Quest For Fame and Banks Hill, two among many) but surprisingly few of them were U.S. champions after the move and few can have progressed quite as much.
Never successful above listed company in Europe, this blue-blooded Juddmonte homebred (full-sister to fellow champion Banks Hill and Dansili, out of arguably the most successful producer of the modern era in Hasili) capped an excellent 5-year-old campaign by beating Ouija Board at the Breeders' Cup. Having won the G1 Matriarch in 2004, she won five out of seven the following season, landing Graded stakes in Kentucky and California before securing her championship at Belmont. Three-time G1 winner Wandesta, U.S. champion turf female in 1996, was of similar ilk.
8. Main Sequence
foaled 13 Feb 2009
ch g Aldebaran - Ikat
Owner: Flaxman Holdings (Niarchos Family)
Trainer transfer: David Lanigan to Graham Motion
Europe: 4 wins from 14 races
North America: 5 wins from 6 races (plus unplaced in Dubai)
U.S. honours: Champion older male (2014), champion turf male (2014)
Second to Camelot in Derby at Epsom after winning first four starts and progressing from handicap company but did not win again in Europe. After a winless four-year-old campaign following a gelding operation, this slow-starting, tail-swishing chestnut was sent to Graham Motion and went on to compile a flawless campaign at five, going unbeaten in four races, all of them G1s, culminating in the Breeders' Cup Turf. Won again in G2 company at the start of 2015 before an unavailing trip to Dubai and was retired after tearing a tendon in his final start.
9. Flintshire
foaled 4 April 2010
b/br c Dansili - Dance Routine
Owner: Juddmonte Farms (Khalid Abdullah)
Trainer transfer: Andre Fabre to Chad Brown
Europe: 3 wins from 14 races (plus a win and 2nd in Hong Kong and Dubai)
North America: 4 wins from 7 races
U.S. honours: Champion turf male (2016)
Rather like his mentor, Bobby Frankel, European imports have always been an integral part of Chad Brown's operation. Honest, tough and sound, Flintshire became the trainer's highest-profile recruit so far when he made the typical Juddmonte switch for his 6-year-old campaign, by which time he was already firmly established as one of the best horses in Europe and a major player on the international stage.
Looked a cut above the U.S. crop in winning his first three starts (including a repeat victory in the Sword Dancer) but soft ground was his undoing in the Joe Hirsch Turf Classic before he was second (a position he often filled), a beaten favourite behind Highland Reel in the Breeders' Cup Turf (where he was also second in 2014).
10. Sistercharlie
foaled 13 March 2014
b f Myboycharlie - Starlet's Sister
Owner: Peter M Brant
Trainer transfer: Henri-Alex Pantall to Chad Brown
Europe: 3 wins from 5 races
North America: 4 wins from 6 races
U.S. honours: Champion turf female (2018)
Cannot yet be regarded as the best of Chad Brown's imported European fillies – a top Racing Post Rating of 115 puts her well behind Stacelita and below even Zagora - but last year's Breeders' Cup Filly & Mare Turf winner has arguably achieved more since her move Stateside.
Runner-up in the Prix de Diane, she was narrowly beaten in that year's Belmont Oaks Invitational before really coming into her own as a 4-year-old, when but for a head she would have gone unbeaten in five starts. Still won four G1s, generally overwhelming her rivals with an irresistible late drive in the stretch.
Honorable mention
Cardmania
foaled 8 Feb 1986
b g Cox's Ridge - L'Orangerie
Owner: Jean Couvercelle
Trainer transfer: Myriam Bollack-Badel to Derek Meredith
Europe: 11 from 43 races
North America: 6 from 33 races (plus 4th in Hong Kong)
U.S. honours: Champion sprinter (1993)
Hardly looked a world-beater across four busy seasons in minor French company, his most noteworthy success coming only towards the end of his 5-year-old campaign in a heavy-ground G3 barely worthy of the status in Italy.
Showed aptitude for dirt by adding a couple of G3s to his CV, but did not win again after his permanent move until a hat-trick in 1993, when he landed a last-gasp five-wide victory in the Breeders' Cup Sprint for U.S.-based Welshman Derek Meredith. There can be few more unlikely champions: Cardmania was seven at the time and won only one more race before being retired aged nine.