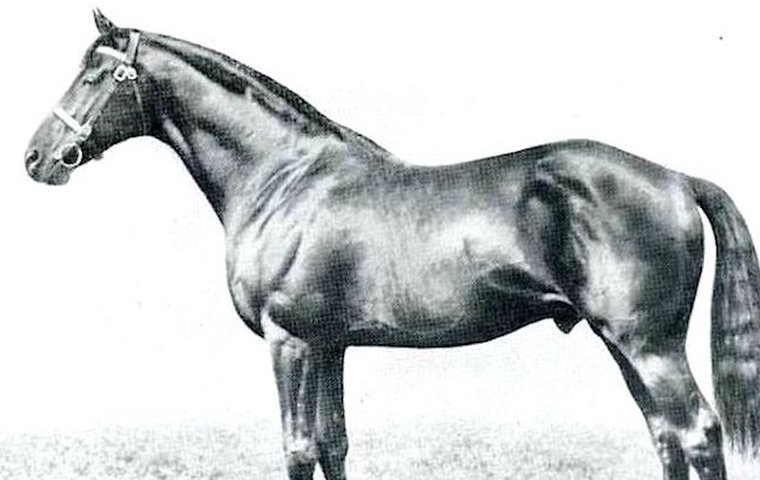 Renowned bloodstock writer Tony Morris with the sixth in his series of articles celebrating 100 horses instrumental in shaping the modern Thoroughbred.

Son-in-Law, br, 1911, Dark Ronald – Mother in Law, by Matchmaker
Sir Abe Bailey, a native of South Africa, was a prominent owner and breeder in Britain for well over 40 years. He had his first winner when Gazeteer won a handicap at Hurst Park in 1895, but it was the victory of his 1,300-guinea yearling purchase Dark Ronald in the 1909 Royal Hunt Cup that led to his becoming a major player.
Dark Ronald, backed down to 4/1 favourite in a field of 23, landed a massive gamble for his owner at Ascot, winning decisively by two lengths, and thereafter Bailey's colours – black and gold hoops – were a familiar sight on English racecourses.
Among the mares who visited Dark Ronald in his first season at Tickford Park Stud in 1910 was the 4-year-old Mother In Law, who had been a multiple winner at two and a serial loser at three. The brown colt who resulted from that mating on 22 April, 1911, was listed as bred by Bailey, and always raced in his livery, but Tickford Park's owner, Donald Fraser, was a partner throughout.
Early evidence of his sire's merit
Son-in-Law went into training with Reg Day at Newmarket and made his debut in a six-furlong optional selling race at his home course on the last day of September 1913. Unquoted in the betting and a slow starter, he ran far above expectations, failing by only a short head to concede 10lb to a colt making his 11th appearance. He finished unplaced in two subsequent races before Day put him away for the winter.
By the time Son-in-Law came back with a tame effort in the Wood Ditton Stakes over the Rowley Mile in mid-April, his sire was covering mares in Germany. Dark Ronald had covered books of respectable sizes in his four seasons in England, but there was still no evidence of his merit as a sire. He became a huge influence in his adopted country, heading the sires' list for five consecutive seasons.
Son-in-Law was about to hint that Dark Ronald's departure might represent a loss to British breeding. In the opening race on 1000 Guineas day, he led all the way for an eight-length win over a mile and a half, and fourth of five in the Newmarket Stakes subsequently was no disgrace against classic-calibre rivals such as Corcyra and Hapsburg.
The colt's first venture away from Newmarket brought him a ready victory over a mile and a half in York's Londesborough Plate. Reverting to a mile for a maidens-at-closing event at Kempton was a mistake – fifth the best he could manage – but, back at 12 furlongs in the Newbury Summer Cup, he finished a respectable third against older rivals.
He had his first attempt at two miles in the Gold Vase at Royal Ascot, where fifth place as an unfancied 14/1 shot did him credit.
Son-in-Law was set a stiff task at the weights for the Dullingham Plate back at Newmarket, so three of his four opponents were preferred to him in the betting, but he battled bravely to land that mile-and-a-half prize by a head. He had the same margin to spare at the end of the Goodwood Cup, having made every yard of the running over two miles five furlongs.
Day asked a lot of the colt on several occasions, the Prince Edward Handicap at Manchester a notable instance. Son-in-Law was not just the highest-weighted 3-year-old in that two-mile event, he was also set to concede weight to five older horses. To nobody's surprise, he finished way back. It was a different story in the Jockey Club Cup, where he had only one challenger, the 4-year-old gelding Gondovar. Son-in-Law ended his busy 11-race campaign with an easy triumph, leading every step of the two miles two furlongs.
A non-trier and a duped public
Son-in-Law ran only three times in 1915. He began in the June Stakes, a substitute event for the Coronation Cup, and was quite obviously a non-trier, a circumstance often tolerated by the authorities of the day. The 12-furlong trip was now inadequate for him and, ignored in the betting at 25/1, he was never put into the race by jockey Frank Bullock, coming back a distant seventh. But the 4-year-old looked a different horse in the autumn, when he completed a remarkable double after racecourse rumour had suggested that Day had been unable to subject him to a proper preparation.
A week before the Cesarewitch, Son-in-Law could be backed at 20/1, but his owner was advised that the colt was actually fully fit and could be backed with confidence. Bailey, absent in South Africa, set his agents to work, laying out hefty sums at fancy prices before the public realised they had been duped. Conceding weight to 26 of his 30 rivals, Son-in-Law duly landed the spoils by half a length. Two weeks later, over the same two and a quarter miles, he collected his second Jockey Club Cup impressively by four lengths to earn recognition as the nation's premier stayer.
A stayer of outstanding ability
Son-in-Law consolidated that reputation in his only start as a 5-year-old. Nobody doubted that he was the best horse among the 14 declared for the two-mile Warren Hill Handicap, but the weights set him such a daunting task that he could be backed at 5/2. Gameness as well as class were conspicuous as he claimed his final victory by a neck, giving 43lb to runner-up Chelsho.
A wartime substitute for the Gold Cup had been staged at Newmarket in 1915, but there was no such race in 1916. Had there been one, Son-in-Law would certainly have been a leading contender. Although some of his best performances came in handicaps, he was a class above what that might imply, truly a stayer of outstanding ability.
Well patronised in his first book
Son-in-Law's second career began at his first home, Tickford Park, where the charge for his services was only £98. He was well patronised, with Derby and Oaks heroine Signorinetta among his first book of mares. The outcome of that union, The Winter King, became a useful winner who would earn distinction as sire of Grand Prix de Paris victor Barneveldt, himself sire of Pont l'Eveque, the substitute Derby hero of 1940.
Another from Son-in-Law's first crop was Bucks, whose victory as a 3-year-old in the Goodwood Cup provided early proof that he could transmit stamina and class to his progeny.
Son-in-Law had numbers and quality in his second season, and the trust placed in him by breeders is perhaps best illustrated by the fact that he was the chosen mate for Lady Josephine, winner of a pre-war Coventry Stakes and now a highly regarded broodmare at Sledmere, the nation's most prominent commercial stud. That consequential mating resulted in Lady Juror, who sold for 3,000gns as a yearling, won the Jockey Club Stakes as a 3-year-old, and was to prove a hugely important matriarch at stud, most famously as dam of Fair Trial and granddam of Tudor Minstrel. Her achievements at stud rivalled those of her great half-sister, Mumtaz Mahal.
With three crops racing in 1922, Son-in-Law ranked eighth on the sires' list, and in the following year, when he moved to Terrace House Stud in Newmarket to stand at 200gns, he rose to sixth. In 1924, when Straitlace became his only English classic winner in the Oaks and added victories in the Coronation Stakes and Nassau Stakes, he took the first of his two sires' titles. (His son, Law Suit, was to win the Irish St Leger in 1928.)
The pick of the crop foaled in 1922 was Foxlaw, who won the Northumberland Plate and the Jockey Club Stakes as a 4-year-old and capped his career with a triumph at five in the Gold Cup. That last performance earned him a berth alongside his sire at Terrace House, and his time there proved notable for a son, Foxbridge, who would head the sires' list in New Zealand for 11 consecutive seasons.
The spring after Son-in-Law's first championship naturally brought him a strong book of mares. Lord Derby sent Selene's dam Serenissima, who duly delivered Bosworth, runner-up in the St Leger and winner of the 1930 Gold Cup. Lord Durham's Trimestral became the dam of Trimdon, who would win the Gold Cups of 1931 and 1932. Frank Curzon's Comedy Star, a half-sister to Call Boy, produced Northumberland Plate heroine Show Girl. Abe Bailey committed Foxlaw's dam, Alope, whose daughter Aloe kept good company, but failed to win.
Bosworth was to sire St Leger winner Boswell and, more importantly, Jockey Club Stakes and Coronation Cup winner Plassy, who would become paternal grandsire of the great French champion Herbager. Trimdon's fame at stud rested chiefly on the relentless stayer Marsyas, four-time winner of the Prix du Cadran, successful additionally in the Goodwood and Doncaster Cups.
One of the greatest tap-root mares
Show Girl, who was a granddaughter of Alope, would become the dam of Dancing Time, heroine of a 1000 Guineas, but in the long term Aloe earned far more distinction, hailed as one of the great tap-root mares in the history of the breed. Her descendants in the tail-female line include Alcide, Aureole, Deep Impact, Gone West, Highclere, Hypericum, Known Fact,Nashwan, Parthia, Pebbles and Round Table, to name just a few of a host of outstanding performers.
Bosworth and Trimdon featured among the 4-year-olds whose earnings contributed to Son-in-Law's second sires' title in 1930, but it was the Aga Khan's 3-year-old, Rustom Pasha, who stood out, his victories including the Eclipse Stakes and the Champion Stakes; he also ran third in the St Leger, in which Parenthesis, another colt by Son-in-Law, finished second.
Also among the sire's 1927 crop was a colt out of the Polymelus mare Cinna, who had won the 1000 Guineas and Coronation Stakes in 1920. Named Beau Pere, he won a modest handicap over a mile at Yarmouth as a 3-year-old, and, after his purchase for 700gns on behalf of King George V, similarly uncompetitive events over a mile and three-quarters at Newmarket and Doncaster at four.
A hopeless reject who thrived down under and in the U.S.
Beau Pere was obviously a racehorse of modest ability and a dubious stallion prospect, but he had two seasons at stud in Newmarket at a fee of nine guineas. From six mares sent to him in 1932, only two filly-foals resulted. His book in the following year was down to five, and he was gone before the three who got in foal had each produced fillies. Who would want such a liability as Beau Pere at the 1933 December Sales? Late in the evening, with Tattersalls' ring virtually deserted, he was knocked down for 100gns to the British Bloodstock Agency.
Remarkably, the apparently hopeless reject would reign as champion sire in New Zealand in the 1938-39 and 1939-40 seasons, and as champion in Australia in 1939-40, 1940-41 and 1941-42. His early successes down under made him a target for American studs and, in 1941, Louis B. Mayer took him to California for a reported $100,000. Beau Pere thrived there as well, notably as sire of top-class racemare Honeymoon and of Iron Reward, who became the dam of Swaps.
Son-in-Law featured 13 times among the top ten sires, the last occasion being in 1936, when Fet became his second consecutive Cesarewitch winner, emulating the achievement of Near Relation in the previous season. His last major successes came through Epigram, who ended his career with victories in the 1938 Goodwood and Doncaster Cups.
When breeders were eager for stamina
No stallion in the history of the breed rivalled Son-in-Law as a dependable transmitter of stamina, a quality shunned in the modern era, but one eagerly sought by the breeders of his time. Yet, for all his successes with his staying progeny, it should not be forgotten that he was also able to sire high-class precocious stock such as Scamp (1921 New Stakes, Gimcrack Stakes), Tricky Aunt (1922 Windsor Castle Stakes), Knight Of The Garter (1923 Coventry Stakes), Heirloom (1927 Woodcote Stakes), Young Lover (1932 New Stakes, Gimcrack Stakes), Maureen (1933 Queen Mary Stakes) and Hilla (1934 July Stakes).
Although he ceased to feature as a male-line progenitor in the second half of the 20th century, he remained a factor in pedigrees well into the 21st, most significantly through the descendants of his daughters Lady Juror and Aloe.
Blessed with a tremendous constitution, Son-in-Law was never sick or sorry until he collapsed and died in his paddock at Terrace House at the age of 30 in May 1941.
Also in this series
Djebel
Colin
Bend Or
Sultan
Blandford