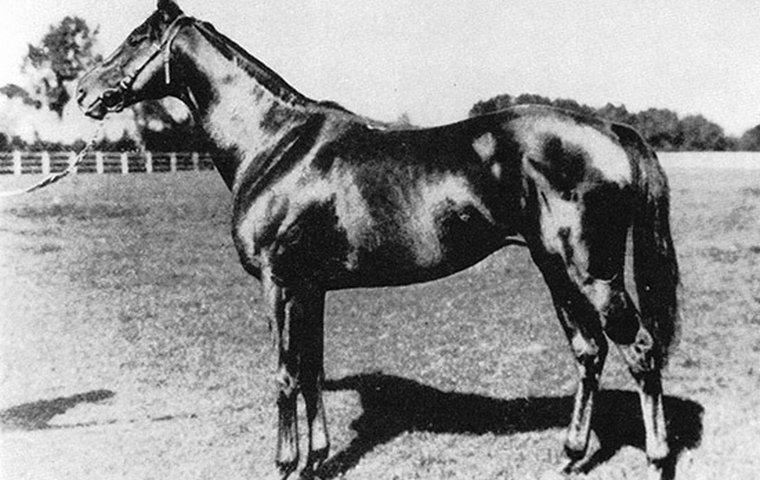 Renowned bloodstock writer Tony Morris with the first in a new series celebrating 100 horses instrumental in shaping the Thoroughbred of today.

Djebel, b c, 1937, Tourbillon – Loïka, by Gay Crusader
There seemed to be little to recommend the ten-year-old mare Loïka when she appeared at the 1936 Newmarket December Sales. Just a minor winner at two herself, she had produced only one equally insignificant winner, a colt born in 1932. Her recent record was dismal – barren in 1933 and 1935, a dead foal in 1934, and slipped twins in 1936.
She was now heavy in foal to the 1931 Prix du Jockey Club victor Tourbillon, whose current 2-year-olds included Gimcrack Stakes hero Goya, but that was not enough to impress British breeders, and she failed to reach a modest reserve.
Marcel Boussac, already France's dominant breeder, took his mare home and never regretted the failure to sell her. In January 1937, she delivered Djebel, who would become a champion racehorse and sire, a mainstay of his breeder's Haras de Fresnay-le-Buffard.
Djebel went into training with Albert Swann at Chantilly and had five starts as a juvenile. Runner-up to the odds-on Lighthouse at his home course on debut, he next won the Prix de Chatou at Longchamp by three lengths, then collected two more second places, back at Chantilly behind Lighthouse again in the Prix d'Aumale, then at Deauville in the Prix Morny. Champion filly Furane beat him there, but Lighthouse was now back in fourth.
Outstanding 2-year-old career
There was no more racing in France after the end of August in 1939, but some major races in England survived the outbreak of war, one being the Middle Park Stakes, albeit at the late date of November 1 on Newmarket's July Course. Djebel was sent for the contest and won easily by two lengths from Tant Mieux, who was subsequently named England's champion 2-year-old. On the strength of that performance Djebel was ranked top of his class in France.
The war inevitably caused considerable disruption to racing on both sides of the English Channel in 1940.
Djebel won on his seasonal debut at Longchamp in March and followed up with a facile win in the 2,000 Guineas, staged on May 1 over Newmarket's July Course. He was scheduled to return for a Derby bid and would surely have started favourite, but the fall of France meant his trip had to be cancelled.
He ran only twice more that year, winning the Prix d'Essai (a substitute event for both mile classics) in late October before a disappointing effort as third in the race staged at Auteuil that served as replacement for the Prix du Jockey-Club.
Having begun his 4-year-old campaign with three victories, Djebel took second place behind Maurepas in both the Grand Prix de Saint-Cloud and the Prix de Chantilly. He started favourite for the Prix de l'Arc de Triomphe, but could manage only third place, two lengths behind unbeaten 3-year-old Le Pacha and Nepenthe, who were separated by a short head.
Training revisions paid off
A record of eight wins, five seconds and two thirds from 15 starts over his first three seasons read well enough, but Charles Semblat, the former jockey who now became his trainer, felt that Djebel might do even better if he was subjected to stronger work at home. The revisions to his routine paid off famously, as he completed a flawless campaign at five that added seven more victories, all at Longchamp.
April brought wins in the Prix des Sablons and Prix Boïard, he added the Prix d'Harcourt in May, the Prix d'Hédouville in June, and the Grand Prix de Saint-Cloud (in which he ended Le Pacha's unbeaten sequence) in July.
Rested then until an easy score in the Prix de Chantilly in early September, he arrived at the Prix de l'Arc de Triomphe in tip-top condition, but only as second favourite, punters believing that Le Pacha would avenge his earlier defeat. The market was wrong. Djebel won with total authority by two lengths, and Le Pacha under-performed in sixth place.
Djebel had been a high-class performer throughout his career, but at five he was exceptional, an outstanding champion. He retired to Fresnay-le-Buffard at the height of his fame in 1943, and, if his wiry physique might be termed more workmanlike than conventionally handsome, he had other impressive attributes in soundness, consistency of performance – never worse than third in 25 races – and an equable temperament that set him apart from his notoriously hot sire, Tourbillon.
First-crop winners
Djebel's first three crops were conceived in difficult wartime conditions, and it was hardly ideal that he began his stud career with the implied stigma that he and his descendants were ineligible for inclusion in the General Stud Book under the terms of the so-called Jersey Act. But that controversial ruling, in force since shortly before World War I, did not involve any restriction on racing such supposedly tainted stock, many of whom had proven their merit at the highest level.
There were eight individual winners among Djebel's first juvenile runners in 1946, including Clarion and Le Lavandou, both of whom would enjoy successful stud careers in due course, the former represented best by Poule d'Essai des Poulains hero Klairon, the latter by a similarly distinguished miler in Le Levanstell.
In October that year, three of his initial crop won races at Newmarket, most notably Djerba in the Cheveley Park Stakes. One of the others was the diminutive Djelal, who would return in the following year to notch victories in the Diadem Stakes at Ascot and the Select Stakes on the Rowley Mile. He was destined for stud duty in Kentucky, but went berserk on one of the first transatlantic horse flights in November 1948 and was killed.
First sires title
In 1947, Djebel had only 2- and 3-year-olds to represent him, but both generations excelled to the extent that he earned the first of four French sires' titles, his initial classic success coming courtesy of Montenica in the Prix de Diane. Djelal, though successful over a mile and a half in the Prix du Lys, was most accomplished as a sprinter, while his outstanding contemporary Arbar only began to warm up after 12 furlongs; his best win at three came over two miles in the King George VI Stakes at Ascot, and at four he was Europe's champion stayer, winning the Prix du Cadran and the Gold Cup to earn an annual Timeform rating of 135.
The star turn among 1947's 2-year-olds was the English-trained Lerins, who reeled off five consecutive wins, signing off with an impressive display in the Champagne Stakes at Doncaster. He returned at three with a new name, and as My Babu won the 2,000 Guineas and Sussex Stakes to rank as champion miler, failing to stay as fourth in the Epsom Derby in between.
The triumphs of Arbar and My Babu helped Djebel to reach fifth place on the 1948 sires' list in Britain, while he secured his second title at home.
It was much the same in 1949, when Djeddah's victories in the Eclipse and Champion Stakes provided a significant contribution to his sire's fifth place in Britain, while the third consecutive championship in France owed much to the exceptional filly Coronation, who romped home in the Arc to earn a 135 rating from Timeform.
Important factor
Taller than most of Djebel's stock, she also stood out as an extreme example of Marcel Boussac's inbreeding policies, Tourbillon featuring as both paternal and maternal grandsire. The numerous attempts to produce a foal out of Coronation all proved fruitless, though her full-sister Ormara had no such problem.
Djebel finished only second in the French sires' table in 1950, but it was a great year for Boussac, who headed the owners' and breeders' lists in both France and England, helped significantly in the latter case by the victory of Djebel's son Galcador in the Epsom Derby.
In the years that followed, the stallion continued to prove an important factor in major European races, with such as Djebellica and Hugh Lupus notching classic wins in Ireland, Djelfa, Arbele and Cordova distinguishing themselves at home, while Argur (Eclipse Stakes) and Atlas (Doncaster Cup) collected prestige prizes in England.
If Djebel's impact appeared to be waning when his French runners in 1954 and 1955 gave him a lower profile, he bounced back to earn his fourth title in 1956, with Apollonia (Poule d'Essai des Pouliches, Prix de Diane), Floriados (Prix Hocquart) and Janiari (Prix Vermeille) as the star turns.
At the time of his death, in July 1958, Djebel had more than 30 sons at stud in various parts of the world, and many were to flourish for a while, but his branch of the line leading back to the Byerly Turk has been dwindling dramatically in recent years. Although he never ranked higher than third in the French broodmare sires' list, it is through his daughters that he features most in pedigrees these days.