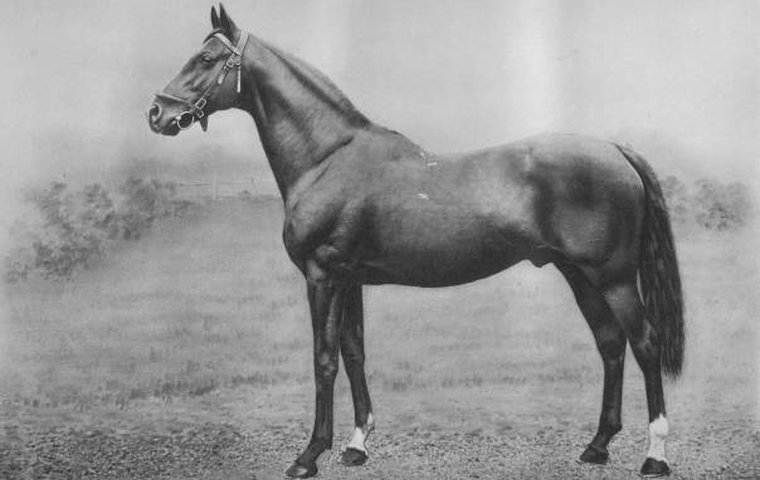 Renowned bloodstock writer Tony Morris with the ninth article in his series celebrating 100 horses instrumental in shaping the modern Thoroughbred.

Cyllene, ch c, 1895, Bona Vista – Arcadia, by Isonomy
An over-achiever on the racecourse, Cyllene progressed to surpass expectations again as an outstanding sire on two continents.
Bred by Charles Day Rose at his Hardwick Stud in Berkshire, Southern England, he was the product of parents who had both proved successful in Rose's blue, black and red colours – Bona Vista most notably in the 2000 Guineas of 1892, Arcadia in her first two starts as a 2-year-old in 1889. Bona Vista had been a yearling auction purchase for 1,250gns from his breeder, the 5th Lord Rosebery, who would win the 1895 Epsom Derby with Sir Visto, his half-brother by Barcaldine.
The mating allowed Rose high hopes, but the foal did not arrive until May 28 and was still small and backward as a yearling, when nominations to the 1898 classic races had to be made. Much to his subsequent regret, his breeder chose not to make the entries.
Blossoming early
Rose sent Cyllene into training with William Jarvis at Newmarket, where the late foal blossomed early. He was ready for a run on Grand National day at Aintree on March 26; he started at odds-on in a field of first-time starters and won easily by three lengths. He was at odds-on again for his second race at Gatwick in May, and the concession of 9lb to all his four rivals presented no problems.
At Royal Ascot in the Triennial Stakes, he was opposed by only two fillies, set to concede 3lb to Nun Nicer – herself already a two-time winner – and 9lb to Demonette; he swept them aside by three lengths and five. The runner-up would win the 1000 Guineas the following spring.
Cyllene was aimed next at the National Breeders' Produce Stakes, the most valuable juvenile contest of the season, and it was at Sandown that he had his first close call, prevailing by a head over Ebba, a filly with 7lb advantage at the weights.
Was there a better 2-year-old in England in 1897? Cyllene had his fifth and final race at two in the Imperial Produce Stakes at Kempton Park, and it was considered such a competitive renewal that the Rose colour-bearer started at a shade of odds against for the first time. It also produced the colt's first reverse, but, as he was giving 10lb to the winner, Dieudonne, and failed by only three-quarters of a length, the result did nothing to damage his reputation. Dieudonne's subsequent victory in the Middle Park Plate advertised the form.
Having won four times over five furlongs and proved best at the weights over six, Cyllene was confirmed as a precocious sprinter, but there was always going to be more to him than that.
For his first start at three, at his home course, he was presented with an apparently easy task in the Column Produce Stakes over a mile, but, having started at 11/2 on, he turned in an uncharacteristically poor performance in third place, albeit while giving 21lb to the winner and 13lb to the runner-up.
Cyllene's three subsequent races in 1898 showed him in a much more favourable light. The bookmakers perhaps felt that he was already a back number, because they let him go off at the generous odds of 9/2 in the ten-furlong Newmarket Stakes. He trounced ten rivals by four lengths and more, his victims including fifth-placed Jeddah, who would win the Derby on his next appearance.
No contest
More than four months passed before Cyllene was seen in action again. His reappearance came over the same course and distance as the Newmarket Stakes in the Jockey Club Stakes, a race considerably more valuable than the Derby. Among his rivals this time were two filly classic winners in Chelandry (1897 1000 Guineas) and Airs And Graces (1898 Oaks), but a more significant foe was 4-year-old Velasquez, a half-brother to Bona Vista by Donovan; on his latest start he had won the Eclipse Stakes, the season's richest race. In receipt of 12lb for the year's difference in their ages, Cyllene was the 5/2 favourite with Velasquez held at 3/1, but the predicted close contest did not materialise, the 3-year-old stretching six lengths clear of the older colt.
Cyllene signed off for the season in the Sandown Foal Stakes with his third victory at ten furlongs. Set to give solitary rival Pie Powder 17lb, the outcome was so obviously predictable that he started at 33/1 on before giving the filly a four-length drubbing.
There was plenty of evidence to suggest that Cyllene had been the best of his generation at two and three, but his absence from the classics and the fact that he had never won beyond a mile and a quarter might tell against him in the minds of some breeders. He needed to come back at four and win the Gold Cup.
Jarvis prepared him with just that end in view and sent him out for two engagements at Ascot. On the first day of the meeting, his target was the Triennial Stakes over two miles, and the weight concessions he was required to make to three opponents seemed highly unlikely to trouble him. Sure enough, he romped home by two lengths, the exercise tuning him up nicely for the more consequential test to come two days later.
Career best performance
French stables routinely targeted the Gold Cup at that period, and Gardefeu, winner of the previous season's Prix du Jockey-Club, promised to be a formidable challenger for the 1899 renewal. But the punters retained their faith in Cyllene, who started a warm favourite at 6/4, Gardefeu being sent off second best at 3/1. It turned out to be no contest, Cyllene dominating in an eight-length triumph, while Gardefeu could manage no better than third, three more lengths adrift. By general consent, his Gold Cup performance ranked as his career best.
In a career of 11 races over three seasons Cyllene had notched nine wins, a second and a third, his earnings amounting to £25,567. Though deprived of a classic campaign, he numbered classic winners among his victims, including the English and French Derby heroes of his generation. It was no surprise that his owner-breeder could soon announce that his champion was fully booked for 1900 and 1901 at a fee of 150gns. (Of course, 'full' did not imply large numbers in those days. Most stallion owners chose not to over-tax their horses, particularly in their first season.)
Cyllene had nine seasons at stud in England, beginning back at Hardwick, his first home. He did not start well, his first auctioned yearlings failing to impress, and his first runners – 2-year-olds of 1903 – contrived only two wins in modest company between them.
Significant developments came along in 1905. Rose reduced the horse's fee to 100gns, and in May sold him to William (later Sir William) Bass for 30,000gns. The buyer had cause for celebration when shortly afterwards Cyllene's second crop son Cicero won the Derby. In September, the stallion was represented prominently at classic level again with the second place of Polymelus in the St Leger.
In spite of that forward showing at Doncaster, Polymelus was not really a stayer, and his achievements at four, after his auction purchase at 4,200gns by Solly Joel, illustrated the point. An autumn hat-trick of victories in the Duke of York Handicap at Kempton, the Champion Stakes and the Cambridgeshire – the last-named under a 10lb penalty – brought Polymelus plenty of kudos, while raising the profile of his sire to new heights.
It was now apparent that Cyllene had been under-rated and was entitled to better patronage. That is what he duly obtained, but in January 1908 Bass allowed himself to be persuaded to part with the horse who might have served as an enduring money-making machine for him. Argentina's renowned Ojo de Agua Stud made a speculative offer of 25,000gns and was delighted to learn that it was acceptable.
But Cyllene could not depart for South America just yet. Rose had sold the horse to Bass on the understanding that the buyer would stand him in England for at least three years. That was fine; Bass would have the income from the 1908 matings, and the Argentinians could wait until the end of the breeding season before they claimed their prize.
Cyllene sailed from Southampton in July, and he was to achieve fresh fame in South America – champion sire in 1913, second in 1921, and third in both 1915 and 1916. He survived to reach 30, dying early in 1925.
Notable consequence
More notable distinction was to be achieved at home. In 1909, Cyllene was represented by Derby hero Minoru, and in 1910 by Derby hero Lemberg. Those Classic triumphs were instrumental in assuring their sire of champion status in both years.
The necessity for Cyllene to remain in England for the 1908 breeding season had a notable consequence, one of the results of that year's matings being Tagalie, successful in both the 1000 Guineas and the Derby.
Cyllene's feat of getting four Derby winners (1905, 1908, 1909, 1912) in eight breeding seasons was remarkable. There had been nothing comparable since the achievements of Sir Peter Teazle (1798, 1799, 1803, 1806) and Waxy (1809, 1810, 1814, 1815), and only two stallions have since been responsible for four Derby winners – Blandford (1929, 1930, 1934, 1935) and Montjeu (2005, 2007, 2011, 2012). No stallion to date has sired five Derby winners.
In an era when we rarely concern ourselves with names beyond the fifth generation, we hardly ever encounter Cyllene. He is further back in pedigrees, and it is no exaggeration to state in all pedigrees. His Derby winners played their part, but the star turn was unquestionably Polymelus, five times champion at stud and sire of Phalaris, the most influential of all 20th century stallions.
Cyllene's dominant displays over a variety of distances suggest that, had he been granted the opportunities, he might well have won a Triple Crown. But it is sufficient to celebrate him as the lifetime over-achiever who became a staple ingredient of the breed.
Also in this series
Djebel
Colin
Bend Or
Sultan
Blandford
Son-in-Law
Man o' War
Ribot