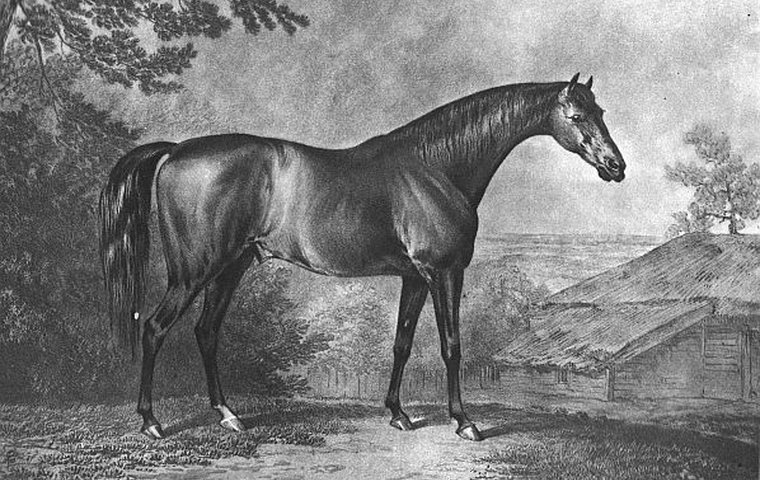 Renowned bloodstock writer Tony Morris with the 11th article in his series celebrating 100 horses instrumental in shaping the modern Thoroughbred.

Highflyer, b, 1774, Herod – Rachel, by Blank
There were only ten years between the birth of Eclipse and that of the next paragon, Highflyer, but there was a significant difference about their racing careers.
The older horse, in common with many others of his era, did not appear on the racecourse until he was five years old. The younger horse came along when a trend towards earlier competition was beginning to become in vogue. He made his debut at three, and his 5-year-old campaign was his last.
Highflyer was certainly the best racehorse since Eclipse, and some have been inclined to feel that his achievements surpassed those of the earlier champion. All we can be definite about is that both were exceptional athletes, who invariably crushed their opposition.
Both also went on to outstanding stud careers, becoming hugely important as influences on the breed. While Eclipse's renown would be recognised most obviously as male line ancestor of 95 per cent of the 21st century's Thoroughbreds, Highflyer's fame rests on his record as the most dominant sire of the 18th century, clearly superior to Eclipse in the period when their respective progeny were in opposition.
Sold at a dinner party
Highflyer was bred by Sir Charles Bunbury, Steward of the Jockey Club and, effectively, Dictator of the Turf for half a century. He owned Diomed, the first winner of the Derby, and he was owner-breeder of two others who won that classic, Eleanor (the first successful filly) and Smolensko. But none of that celebrated trio could hold a candle to Highflyer.
Unfortunately for Bunbury, the best horse he ever bred never carried his colours. The story goes that, at a dinner party he hosted, he sold the colt – then a foal – to Frederick, the 3rd Viscount Bolingbroke. The youngster acquired his name through having been foaled in a paddock where some highflyer walnut trees stood.
Bolingbroke must have felt he had reason for optimism over Highflyer. The colt was by Herod, who had been a prominent runner and was showing promise as a sire – he would later be champion for eight years in a row – and was out of Rachel, a mare by Blank who had already produced one high-class performer in Mark Anthony.
Highflyer went into training with Thomas Robson and was supposed to be well short of peak fitness when he turned out for his debut in a sweepstakes over two miles at Newmarket in October 1777. Though only third favourite at 4/1 in a field of five, he came home an impressive winner.
Bolingbroke raced no horses under his own name after April in 1778, Highflyer appearing always in the name of his betting confederate Henry Compton. The colt's first start as a 4-year-old came in May in a valuable sweepstakes over the Beacon Course (nearly four and a quarter miles) at Newmarket for which he started at 6/4 on. A ready victory over Ilmio and two others enhanced his reputation, which would only grow higher as the season unfolded.
All Highflyer's later engagements that year were over the same Beacon Course, and he was always far too good for his rivals. In July he won the Grosvenor Stakes at 4/1 on, he was 9/1 on when he accounted for old rival Ilmio again in September, and things were much the same in October.
The Racing Calendar quoted 'very high odds on Highflyer' when he won the Weights and Scales Plate, he had a payday for no effort in a Post Sweepstakes, the owners of all the other entries paying forfeit rather than take him on, and he ended the campaign by winning a match for 500gns against 5-year-old Dictator, a six-time winner earlier in the year. Dictator was almost certainly the best horse to oppose him to date, but Highflyer was still at 2/1 on to beat him.
Having the best horse in training and earning good prize money were not enough for Bolingbroke. In fact, owning Highflyer was nothing but frustration to a man who got his buzz from gambling; the horse was never going to represent any kind of betting proposition.
Tattersall's foresight
Richard Tattersall, founder of the bloodstock auction firm that bore his name, was not interested in betting, and nor, in normal circumstances, would he be that keen on becoming a racehorse owner. But he was a shrewd businessman, and when he learnt that Bolingbroke was willing to part with Highflyer for only £2,500 he jumped at the chance. The deal was soon done, Tattersall took delivery of the horse on 3 April, and seven days later saw his new acquisition, at 4/1 on, beat solitary rival Magog over the Beacon Course.
Highflyer had been entered for that race and a sweepstakes on May Day over the same course and distance by Henry Compton, so he ran on both occasions in his name. In the second of them, again at 4/1 on, he trounced Dorimant and Dictator, and that was the last time he competed at Newmarket.
The horse's next engagement was at Nottingham in early August, but it turned out to be a non-event. There were 21 subscribers, and 20 of them withdrew their entries, leaving Highflyer to walk over. There was a similar situation at York, where all opposition in a subscription plate dried up, but at the same venue on the following day he at least had one to beat. He duly despatched that rival, Venetian, at odds of 20/1 on.
Highflyer's last race, at Lichfield in September, provided a new experience. He had never run in a King's Plate – a 100gns contest which carried some prestige – and here he met two rivals in an event staged over two three-mile heats. Starting at 9/1 on, he brushed the pair of them aside in the first heat, and only one tried again with a futile effort in heat two.
Highflyer had run 12 times and won 12 times. There was an air of invincibility about him, just as there had been over Eclipse a decade earlier. But, just as there had been regrets that Eclipse had never been tested against another top-class runner in Goldfinder, it seemed a shame that Highflyer had never faced Potoooooooo (by Eclipse) and Woodpecker (another by Herod), stars of the generation that preceded his.
However, Highflyer fulfilled every engagement ever made for him; he was always there to be shot at, ready to meet any challenge. It seemed a shame that on the occasion of his last appearance at Newmarket, Potoooooooo and Woodpecker were in action on the same card, the trio in three different races.
Tattersall installed Highflyer at stud near Ely, in Cambridgeshire, and for his first nine seasons there he covered at 15gns, always below the charge for the services of Eclipse. The best son of Herod commanded respect, and his owner was not one to discourage breeders who wanted to use him. While we cannot be confident that the first volume of the General Stud Book told the whole story about stallion activity, there is evidence to suggest that Highflyer was busier at stud than others of his time.
We know that Highflyer had at least five crops in the 40s and one in the 50s, and that his tally of foals over 14 seasons was not less than 523. Among the most influential stallions of later eras, St Simon got 554 foals over 22 seasons, with no crop larger than 40, and Northern Dancer's score of 634 foals was the product of 23 seasons with no crop above 36.
Not the least remarkable fact about the stud careers of Eclipse and Highflyer was that, while they had made their mark on the racecourse over extreme distances, they were adept at siring stock well suited to the shorter trips that came into vogue after their retirement. Indeed, Highflyer's first winner was a filly who scored over Newmarket's sprint course (5 furlongs 136 yards) as a 2-year-old.
Following his father's footsteps
In 1784, when Highflyer's first 3-year-olds appeared, he was responsible for nine individual winners of 12 races, with Omphale's St Leger triumph the stand-out performance. The money they earned was enough to place him fifth on the sires' list. Two others from that initial crop who came to prominence later were Delpini, who won nine races and earned some distinction as a sire, and Rockingham, who was credited with 17 wins as a 6-year-old.
Herod's eight-year reign as champion sire ended in 1784, and it was his best son who succeeded him at the head of the list. A second St Leger-winning filly in Cowslip was the headline act among 22 Highflyer products who accounted for 53 victories. Verjuice recorded no wins, but was placed third in both the Derby and the St Leger. One who contributed a single success worth £80 was an unnamed grey filly who later received the unimaginative name Grey Highflyer and earned renown as the dam of Hambletonian, the best runner of the last decade of the century.
The 86 races won by Highflyer's progeny in 1786 included the Derby, in which the unfancied Noble contrived to defeat a far better racehorse in Meteor, who was otherwise unbeaten that season. When the pair met again at Ascot, Meteor was a ready winner, while Noble, carrying 4lb extra for his victory at Epsom, finished a modest third.
Highflyer became the first stallion to sire the winners of the Derby and the St Leger in the same season, when Sir Peter Teazle scored at Epsom and Spadille at Doncaster in 1787, those successes contributing to a third consecutive sires' title.
His best runner
While Spadille had just the one moment of glory, Sir Peter Teazle was the best runner Highflyer ever got, a top performer over three years in training. Unbeaten at three, he wound up with a record of 13 wins and two seconds out of 16 starts; his only real failure came when he broke down on his final appearance.
The colt's 3-year-old campaign brought him wins from a mile to two miles, and over the following two seasons he trod the old-fashioned route taken by his forefathers, excelling over Newmarket's Beacon Course. Such a gifted all-rounder was bound to excite breeders, and he duly repaid their confidence, collecting multiple sires' championships.
Contemporary with Sir Peter Teazle and Spadille was a filly bred by Sir Charles Bunbury, who neglected to give her a name. After she passed into the stud of the 5th Duke of Bedford she produced the 1793 Oaks winner in Caelia and the colt by Fidget who won the 1797 Derby and would remain unique as the only winner of that classic who never acquired a name.
Highflyer was represented by his fourth St Leger winner in five years when Young Flora captured the 1788 edition. Another filly from that generation to make her mark later was the unnamed dam of Derby-winning half-brothers Spread Eagle and Didelot. Also from the same crop was the colt Escape, a talented winner of nine races best remembered as the horse whose in-and-out running led to the Prince of Wales becoming exiled from Newmarket.
The crop foaled in 1786 included Highflyer's third Derby winner, Skyscraper, who was out of a daughter of Eclipse. His form at three – unbeaten in six starts, received forfeit in his seven other engagements – suggested he might be on a par with Sir Peter Teazle, but he was never so good afterwards, raced until he was eight, then went to stud at a fee of 5gns, achieving nothing in that role. The less celebrated Walnut, out of a Matchem mare, won eight races and made a better fist of his stallion career.
One of history's most influential mares
The most notable female from that crop was Maid-of-all-Work, who would become dam of Oaks winner Meteora, and the next two crops also produced fillies who became distinguished broodmares. Foaled in 1787, Huncamunca, a half-sister to Oaks victress Trifle, earned her renown as dam of Champion, who in 1800 became the first winner of both Derby and St Leger. But, if Huncamunca was a special mare, what epithet is appropriate for Prunella, who arrived in Highflyer's 1788 crop?
Prunella was not just the most influential of her sire's daughters. She was unquestionably one of the most influential mares in the history of the Thoroughbred, standing at the head of a family that proved a rich vein of racing class for numerous generations. There had been no mare to make a comparable impact before her, and there have been precious few to compare with her since.
She was recognised as a phenomenon in her own 23-year lifetime – dam of Oaks winner Pelisse and Derby winner Pope, grand-dam of Derby winner Whalebone – and her legacy, including another Derby winner in Whalebone's brother Whisker – became ever more obvious as her daughters and grand-daughters delivered quality offspring as routine.
Prunella's initial impact was all about making the 3rd and 4th Dukes of Grafton the most successful breeders in Britain, but it soon spread to other studs. Logic tells us that a mare, who can never have more than one foal a year, should never wield the kind of influence imparted by a stallion, whose tally per annum would tend to be in dozens at the end of the 18th century and in hundreds in our era of excess.
Be that as it may, Prunella exerted more influence on the breed than all but a few stallions, of her era or ours. Her record demands that she has a feature to herself in this series. That will come, offering the opportunity to compare her with the likes of Pocahontas in the 19th century, Pretty Polly and La Troienne in the 20th, and Urban Sea in our own.
Line now virtually extinct in Europe
In 1790 Highflyer was credited with the winners of 109 races, the first three-figure tally since Herod's score of 112 in 1783. It was a total he would never match again, but his 1789 crop included a future Oaks winner in Volante, out of an Eclipse mare, and the same cross yielded St George, who won 18 races and became the sire of 1808 Derby winner Pan.
It was another Eclipse mare, Queen Mab, who produced Oberon, the best from Highflyer's 1790 crop, and the only really significant product to follow was Evelina, a foal of 1791 who became the dam of Orville, a St Leger winner and important sire over a long period. He was 24 years old when his most significant son, Emilius, won the Derby.
Highflyer, whose fee peaked at 50gns but had finally come back to 30gns, died on 18 October 1793, when he still had three more years to rank as leading sire.
Richard Tattersall was the first to admit that Highflyer had transformed his life. The horse was a more substantial earner for him than his auctioneering firm, and the mansion he built for himself near Ely was named Highflyer Hall.
The horse was buried there, with a dozen lines of doggerel committed to the headstone over his grave. The words survive, but unfortunately there is now no trace of the exact burial.
There were enough good colts among the progeny of Highflyer and that of Sir Peter Teazle to allow the belief that their branch of the Byerly Turk line would flourish in perpetuity, but in fact it petered out quickly, and it was left to Woodpecker to represent Herod in later generations. The line lasted into the 21st century, but is now virtually extinct in Europe.
Also in this series
Djebel
Colin
Bend Or
Sultan
Blandford
Son-in-Law
Man o' War
Ribot
Cyllene
Hermit