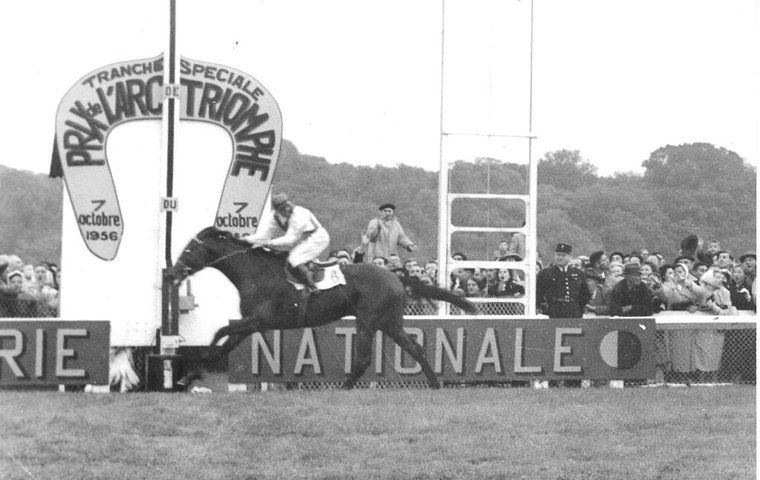 Renowned bloodstock writer Tony Morris with the eighth article in his series celebrating 100 horses instrumental in shaping the modern Thoroughbred.

Ribot, b, 1952, Tenerani – Romanella, by El Greco
Any debate over the identity of the greatest breeder of the 20th century would surely soon centre on the claims of three men who enjoyed huge success over long periods, including many years as rivals at the top level of European competition.
Edward Smith Stanley, 17th Earl of Derby, dominated the scene in England, while industrialist Marcel Boussac ruled no less emphatically in France, and sometime cavalry officer and amateur rider Federico Tesio governed comprehensively in Italy. All three bred stock that were to wield enormous influence globally.
Uniquely among the trio, the last-named was a consummate practical horseman. He personally selected the females who became his foundation mares, generally bought cheaply at sales in England; he devised all the matings for his broodmare band, as a master – rather than as a student – of pedigrees, developing hugely successful families; and, moreover, he was always his own trainer, proving supremely gifted in that multi-discipline role as well.
Tesio set records in Italy that would stand for all time, not least as breeder of 22 winners of the Derby Italiano. One of them, unbeaten Nearco, was sold after his victory in the 1938 Grand Prix de Paris, his subsequent achievements establishing him as the most significant import to Britain since the Godolphin Arabian nearly two centuries earlier.
He was never to know
When the famous 'Wizard of Dormello' died on 1 May 1954, the obituarists could reflect on a lifetime of unprecedented success, but they could not know that the maestro's best creation was yet to appear. Tesio's 85 years were insufficient to enable him to witness the performances of the horse all the world came to recognise as his masterpiece.
Ribot was still two months away from his racecourse debut.
Trying to read the mind of a genius is generally a futile occupation, and such is the case in the matter of Tesio and his mating plans. Many have professed, not very convincingly, to understand his modus operandi in certain individual instances, but I am content to remain ignorant while recognising only that his invariable intention was to produce a superior racehorse.
Ribot's dam, Romanella, was a daughter of El Greco, a winner of 17 of his 21 races, albeit one markedly inferior to his contemporary stable companion Donatello. She was out of Barbara Burrini, bought at Newmarket by Tesio for 350gns as a foal in 1937.
Romanella proved speedy and precocious, collecting five wins, including the Criterium Nazionale, as a juvenile of 1945, but she ran unplaced in her only start beyond six furlongs, in the Gran Criterium, when some detected a want of enthusiasm. Whatever, Tesio did not persevere with her and put her to stud at three.
Romanella's 1951 mating was with Tenerani in his third and last year at stud in Italy. A grandson of Try Try Again, who had cost Tesio no more than 140gns as a yearling at Doncaster, Tenerani won only three of seven starts as a 2-year-old, but was much improved at three, when he became his breeder's 15th Derby Italiano winner, also scoring in the Gran Premio d'Italia, the Gran Premio di Milano, the St Leger Italiano and the Premio del Jockey Club.
He was better again at four, when he won the Queen Elizabeth Stakes at Ascot and ended his career with a victory over Arbar at the extreme distance of two miles, five furlongs in the Goodwood Cup.
Tenerani was leased to England's National Stud in 1952, and Romanella made a return visit to him at the West Grinstead property, where she delivered the bay colt who would come to rule Europe on February 27. By a dour, tough stayer out of a precocious, perhaps somewhat jady sprinter, the youngster might turn out to be anything.
Tenerani had three crops at the races when Ribot was a yearling, and nothing of any real consequence had emerged to advertise him. The colt who would change perceptions, smallish and slow to come to hand, was considered too backward to warrant an entry in the Derby Italiano when the nominations became due, though it was later claimed that Tesio had begun to detect some promise in the little fellow once he turned two.
Leader of the juvenile crop
Ribot did not have a strenuous first season, making just three well-spaced starts, all in Milan. On debut in early July he won by a length from stable companion Donata Veneziana in the Premio Tramuschio. Late September found him a ready two-length winner of the Criterium Nazionale over Zenodoto, and four weeks after that he added a victory in the Gran Criterium, with just a head to spare over Gail.
The bare form looked solid, and was confirmed when Zenodoto won the Premio del Dado and Gail defeated older horses in the Premio Chiusura. Ribot was already recognised as the leader of his crop.
Returning early in March with a trip away for the Premio Pisa, Ribot coasted to a six-length win over old rival Donata Veneziana. In mid-April, back at San Siro, he was set a seemingly more difficult task in the important Premio Emanuele Filiberto, only to romp home with ten lengths to spare over Gail and five more over his stablemate Derain.
Derain was Ribot's only rival in the Premio Brembo in mid-July, and though the margin was no more than a length the issue was never in doubt. A truer measure of their respective merits came in the first week of September, when Ribot trounced Derain by ten lengths in his first start over a mile and a half.
The Prix de l'Arc de Triomphe would obviously represent a different sort of challenge, and punters at Longchamp did not know quite what to make of the Italian upstart who was now unbeaten in seven races, but whose performances in small fields against presumed obvious inferiors might not amount to much. He had faced a total of 21 rivals in those seven starts, and now he would be tested by 22 opponents in Europe's most prestigious contest.
Converting the non-believers
They let him go off at odds of 9/1, and were converted into true believers as they watched him romp home by three lengths.
A fortnight later, Ribot was back on home territory for the Premio del Jockey Club, Italy's counterpart of the Arc, and France sent four in the hope of exacting revenge, her team headed by Norman, who had won the race in each of the two previous seasons. After nine of the 12 furlongs there was still a chance for the raiders, but then Enrico Camici asked Ribot to pick up and the race became a procession. Norman gave valiant pursuit and stretched six lengths clear of German contender Stani, but he was himself 15 lengths adrift of the rampant Ribot.
How was one to express the merit of a horse who had ended his second season with two apparently exceptional achievements at the top level of international company? Timeform, the British firm most experienced in assessing performance, uncharacteristically opted not to make a firm judgement. Its mark of 133 – very good, but by no means exceptional – was qualified by a symbol denoting that the rating was derived from official French data rather than its own tried and trusted formula.
Timeform, and European racegoers, needed to see more of Ribot to determine just how good he was.
Fortunately, he returned for a third season to provide the evidence that was needed – not that his first four races in 1956 helped in that regard. We already knew that he was easily the best horse in Italy, so victories in May and June at San Siro – by four lengths in the Premio Giulio Venino, by 12 lengths in the Premio Vittuone, and by eight lengths in both the Premio Garbagnate and Gran Premio di Milano - told us nothing that was new beyond the fact that he had no trouble staying 15 furlongs.
Tesio would have relished a challenge for the King George VI & Queen Elizabeth Stakes at Ascot, and his surviving business partner, the Marchese Incisa della Rocchetta, was no less keen to avail himself of the opportunity to show the British what Ribot could do. As it turned out, jockey Camici felt he had to apologise to Ascot racegoers for an indifferent performance by the 4-year-old on unsuitable sticky ground. And that after a victory by five lengths on a surface that, if it didn't help, certainly didn't hinder him!
After 14 unblemished races, Ribot had matched Nearco. There were two more targets on his schedule, providing the opportunity for this 20th century phenomenon to equal the achievement of Ormonde, victorious in all 16 of his starts while establishing himself as the champion of the 19th century.
To record victory number 15, Ribot had to revert to nine furlongs, a shorter distance than he had tried since his seasonal debut at three. No problem, he trounced Magabit by eight lengths.
Bit-part players
The planned finale was always a second Arc de Triomphe bid, and this time the Longchamp crowd found fewer reasons to doubt the invader from Italy. Ribot was at 3/5 this time around, and 19 rivals in heavy ground were not going to bother him. Camici had him prominent from the start, never sat worse than third, and early in the straight he turned the favourite loose.
Supposed top-class horses from England, France and America were reduced to bit-part players as Ribot won by six lengths without ever having to move up a gear.
(Watch the movie newsreel below, taken from YouTube.)
Timeform took a considered view about Ribot now, advancing his rating to 142, but did that really do him justice? When John Randall and I came to re-assess ratings for our Century of Champions book, we raised him to 143. And, for some authorities, that would not have been high enough.
Almost all those privileged to have seen Ribot in action, including many of long experience, unhesitatingly declared that he was the best middle-distance performer they had ever seen in Europe. They had no plausibly sound reason for revising that opinion until Sea-Bird came along, and some were never to be converted.
Ribot served at stud in three countries, spending his first season (1957) at Woodland Stud in Newmarket, the following three at home in Italy, and thereafter at Darby Dan Farm in Kentucky. There was supposed to be a limit to his term in the States, but, when the time for his planned return to Dormello arrived, the Americans argued that the horse had become difficult temperamentally and could not be guaranteed to survive the long journey. It was no wonder his Kentucky connections were reluctant to part with him; his stock on two continents had established him as an exceptional sire.
Ribot was never an imposing specimen and might be said to have written his own pedigree; a workmanlike individual of average size, he was the only son of his sire to truly excel as an athlete. Top racehorses had failed at stud before, including many from indifferent backgrounds, so it was understandable that numerous breeders had their doubts over what he might achieve at stud.
The doubts did not last long. The crop conceived in England included Molvedo, an Italian-trained colt who famously defeated French champion Right Royal in the 1961 Arc. And there were stars from the crops he sired in Italy – European champion miler Romulus, foaled in 1959, the Irish Derby, King George, St Leger and Eclipse hero Ragusa in 1960, and a second Arc winner in Prince Royal in 1961. A year after Ribot's switch to America he reigned as champion sire in Britain and Ireland.
Outstanding progeny at Darby Dan
The first crop conceived at Darby Dan included an Oaks winner at Epsom in Long Look and, more significantly, a champion 3-year-old in the States in Tom Rolfe, whose many successes included the 1965 Preakness Stakes.
The outstanding product of the second American crop was Graustark, a lightning-fast colt who was favourite for the Kentucky Derby until an injury incurred in his first defeat brought a premature end to his career.
Mining and metals magnate Charles Engelhard, having enjoyed success with Romulus, targeted other sons of Ribot at US auctions, his acquisitions including Ribocco and Ribero, full brothers who each notched victories in the Irish Derby and the St Leger – wins that helped to ensure further Anglo-Irish sires' titles in 1967 and 1968.
Engelhard was also the purchaser of Ribofilio, who reigned as England's champion juvenile in 1968 and who in the following year started favourite for four classics and contrived to win none of them. But Ribot did have an exceptional 3-year-old in 1969, that being Arts And Letters, North America's Horse of the Year. After second places in the Kentucky Derby and Preakness Stakes, he notched six consecutive victories, including in the Belmont, the Travers, the Woodward and the Jockey Club Gold Cup.
Stakes-winners continued to emerge from all Ribot's subsequent crops, the highlights including an Irish Oaks triumph by Regal Exception and a fourth score in the St Leger, courtesy of Boucher. Those successes came in 1972, the year of their sire's death, which resulted from a twisted intestine.
Hoist The Flag to Danehill
Of Ribot's sons based in Europe, Ragusa did best, with a Derby winner in Morston, but that branch soon stalled. Molvedo was an under-achiever, and Ribero made little impression. Less important as runners, Latin Lover and Con Brio had their moments as sires, the former getting a dual Melbourne Cup winner in Rain Lover, the latter figuring significantly in Argentina after a decent start in Britain.
Arts And Letters proved somewhat disappointing in America, where Tom Rolfe and Graustark proved much more effective. Tom Rolfe was sire of the outstanding juvenile champion Hoist The Flag and top grass performer Run The Gantlet, both of whom had their own impact at stud, the latter being responsible for an excellent stayer in Ardross.
Meanwhile, Hoist the Flag got Alleged, who emulated his paternal great-grandsire by winning Arcs de Triomphe at three and four. The chesnut Graustark proved a good sire, getting high-class performers on two continents, notably Key To The Mint in the States and Caracolero in France, but he turned out to be a dire sire of sires, and was ultimately overshadowed by his bay brother His Majesty.
Although less talented as a runner, His Majesty actually had a season at the head of North America's sires' list, thanks largely to a champion son in Pleasant Colony, who won the Kentucky Derby and the Preakness before proving an effective sire in his own right, responsible for a champion older horse in Pleasant Tap.
Cormorant was another son of His Majesty to make a mark, getting a Kentucky Derby winner in Go For Gin, but the male line soon seemed to be going nowhere and the chances of a revival seem remote.
In 21st century pedigrees, Ribot is most commonly encountered through His Majesty's daughter Razyana, whose son Danehill has become a staple ingredient of the breed in both hemispheres.
Also in this series
Djebel
Colin
Bend Or
Sultan
Blandford
Son-in-Law
Man o' War