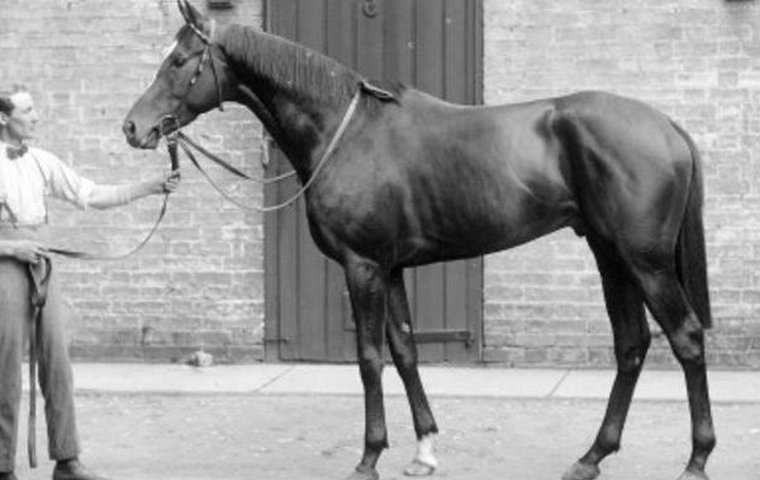 Renowned bloodstock writer Tony Morris with the fifth in his series of articles celebrating 100 horses instrumental in shaping the modern Thoroughbred.

Blandford, br c, 1919, Swynford – Blanche, by White Eagle
To say that William Hall Walker was not a typical owner-breeder of Thoroughbreds would understate the case. Perhaps his most eccentric trait was his insistence that foalings on his stud at Tully, in Co. Kildare, should be meticulously recorded to the precise minute of birth. The information thus gathered was forwarded to an astrologer, who compiled a detailed horoscope of every foal and gave predictions as to what each would achieve in its racing career.
Perhaps some of the lady's predictions had turned out well in the first decade of the 20th century, as Walker certainly maintained his belief in astrology into the second decade. I have the book of horoscopes for the foals of 1911, which contains not a single example of an accurate judgement.
But for all his weird notions, this wealthy scion of a Liverpool brewing family and Member of Parliament for Widnes bred plenty of good horses, including winners of all the classics and the Gold Cup. Among them was the 2000 Guineas and Epsom Derby victor Minoru, who was leased to race in the colours of King Edward VII. It was probably no coincidence that William Chismon and Harry Sharpe, accomplished horsemen of that era, were associated with the stud.
Transferred to the National Stud
Walker was not an easy man to get along with, apt to change his trainers regularly, and in 1915, upset over the running of his colt Let Fly in the 2000 Guineas and Derby, he decided to give up the Turf. A deal was eventually done to transfer ownership of the Tully property and all the stock resident there to the British government. From 1916, the foals were bred in the name of the National Stud, and in 1919 William Hall Walker became Lord Wavertree.
Among the mares included in the transfer was Blanche, a daughter of Walker's home-bred stallion White Eagle out of Black Cherry, whose successful offspring included the dual classic-winning filly Cherry Lass.
Blanche was probably given a positive write-up by the astrologer, because she had five races, always in good company, as a 2-year-old. She finished fourth in the first four of them, including the Coventry Stakes at Royal Ascot, and signed off as a distant sixth in the Cheveley Park Stakes.
It seems reasonable to assume that Blanche would have been capable of winning a race at two, if she had not not been tried so highly, but she was to remain a maiden after five further efforts over a variety of distances as a 3-year-old. Her form did not warrant a run in the Oaks, and by beating four of her ten rivals she exceeded expectations, but she had presumably trained off completely when finishing only ninth in the Newmarket seven-furlong plate worth £176 to the winner that closed her career.
Blanche was barren to Royal Realm in her first season at stud, and to her second covering by Jaeger she produced a filly called Bendis who ran unplaced in selling company as a 2-year-old before being sold for 75gns and exported to Spain.
In 1918 she visited Swynford, who had won the St Leger of 1910 and the Eclipse Stakes in the following year, when he ranked as the best older horse in training. The stallion, based at Lord Derby's Woodland Stud, had yet to rise to the eminence he would attain as a sire.
Attacked by carthorses
In the ordinary course of events the brown Swynford – Blanche colt would have featured among the National Stud's draft at the yearling auction staged at Newmarket during the July meeting, but he had not enjoyed an ordinary upbringing. In the spring, a number of carthorses had broken into his paddock and attacked him, inflicting serious injuries. Some of his muscles were so badly affected that he had to be raised to take food from the hand.
Restored to full fitness, the colt was submitted at the December Sales, where he was acquired for 730gns by the brothers Sam and Dick Dawson, and placed in the care of the latter at Whatcombe, in Berkshire.
In a formal trial staged early in the following June, he gave 23 pounds and a beating to a filly who had already won a race, with the result that he started a well-backed second favorite for his debut in a field of 20 for the Kennett Stakes at Newbury a few days later. He won easily by three-quarters of a length. That performance justified a venture to Royal Ascot for the Windsor Castle Stakes, where he failed by a neck to concede ten pounds to the winner on ground described as hard. He returned shin-sore and did not appear again at two.
Having run unnamed – as the Blanche colt – in both juvenile starts, it was as Blandford that he reappeared the following April in the ten-furlong Paradise Stakes at Hurst Park. He won easily, giving 13 pounds to his runner-up, Captain Fracasse, who was to win five races later that year. Third-placed Spike Island went on to success in the Irish Derby.
Forced into retirement
Blandford himself had only one more outing, recording a smooth victory over 4-year-old Silver Image in the Princess of Wales Stakes, before bowing a tendon and being forced into retirement.
It was hard to determine just how good Blandford was, but Dick Dawson would always insist that, if he had been able to train him for the Derby, he, rather than Captain Cuttle, would have been the winner. It was a conviction he based on the fact that Blandford had beaten the 4-year-old Franklin at even weights in a trial shortly before the latter's victory in the 1922 Coronation Cup.
(It should be noted that entries for the Derby had to be made some weeks before the Dawsons acquired Blandford, and he had not been nominated, so there was no question of his being able to contest the race. He probably would not have been sound enough at the time in any case.)
Blandford started his second career in 1924 at the Dawsons' Cloghran Stud, a few miles north of Dublin, his fee fixed at £148. A big, somewhat heavy-topped horse, with short, rather upright pasterns, he had obviously experienced soundness issues in training, so he was not every breeder's idea of a future champion sire. His first book numbered only 20, and just 11 foals resulted.
Limited enthusiasm
It became evident early that he was not the most virile and fertile of stallions. He seemed to have limited enthusiasm for the job and sometimes, when particularly uninterested, he was given stimulants to encourage him to perform. His demeanour in the covering shed was virtually the antithesis of most other stallions, something Dick Dawson's daughter Eleanor put down to 'an extremely laid-back attitude to life'. She recalled sitting on him bare-back when a small child.
Blandford's second and third books, 34 and 41 mares respectively, were initially notable for their unsatisfactory returns, in each case more mates proving barren than conceiving. But a Derby winner was to emerge from both crops, ensuring that he would never again lack the patronage of leading breeders.
Although his first yearlings – mostly from mares of indifferent quality – created no excitement at the sales, a pair of colts from that initial crop advertised him well when they reached the racecourse. After October 1927, when Buland won the Imperial Produce Stakes at Kempton and Athford notched his third success in the National Produce Stakes on the Curragh, horsemen began to take Blandford seriously.
Athford's full brother, Trigo, earned recognition at two as winner of the Phoenix Plate and Anglesey Stakes, and he could be excused his failure to give 14 pounds to the filly Soloptic in the Railway Stakes, as he came down with a cough shortly afterwards. While he was clearly among the best of his generation at two in Ireland, nobody could then anticipate his rise to the top in England as a 3-year-old.
Transferred to Dick Dawson's stable in the spring of 1929, he promptly won a Newbury handicap in such good style that he was backed down to third favourite for the 2000 Guineas, but ninth place there proved a severe disappointment.
In the Derby, dismissed as a 33-1 chance and supposed inferior to stable companion Le Voleur, he won comfortably by a length and a half. He subsequently won the St Leger in a much tighter finish, then took in Ireland's final classic en route to his first home. He stood alongside his sire at Cloghran for the first time in 1930.
The 1930 Derby had an outcome that in several ways mirrored that of 1929. The winner was again the supposed second string from Dick Dawson's stable, and again a son of Blandford who had been rejected by jockey Michael Beary. Joe Marshall had profited from Beary's lack of faith in Trigo, and Harry Wragg came in for the ride on Blenheim, whose four previous victories had all been over five furlongs at two and who had finished fourth under Beary in the 2000 Guineas. Blenheim proved his class and stamina at Epsom, but was unable to run again.
Two Blenheims
Blandford was the sire of two colts named Blenheim, the second foaled in the States in 1928 and winner of the Aqueduct and Brooklyn Handicaps of 1932. He ranked highest among his sire's stock in that crop, which was down in numbers and the products of mares of mostly modest character.
Having enjoyed a rising profile with the Derby winners of 1929 and 1930, Blandford had a wretched season with his home-based 3-year-olds of 1931, failing to make the top 20 on the general sires' list.
The best of the crop foaled in 1929 was Udaipur, who provided Blandford with his first filly classic triumph in the Oaks and followed up with a Royal Ascot score in the Coronation Stakes. As the stallion's fee had risen to 300gns in 1930 and advanced again to 400gns the following year, there was expectation that he would get better stock from better mares in due course, but meanwhile there were some lean times with the progeny at the races.
Of the crop born in 1930, Statesman was probably best in England, at least judged on his third in Hyperion's Derby, but major wins eluded him. The best in Ireland was Harinero, successful in the Curragh's Derby and St Leger. One of Trigo's full siblings, he was out of Athasi, who was covered by Blandford in 11 of his 12 seasons at stud.
The incredible crop of 1931
The largest books Blandford ever covered were those of 1930 (44) and 1931 (48) in the seasons after the Trigo and Blenheim Derbys. Rather neatly, each resulting crop would deliver another Derby winner.
The results achieved by the crop foaled in 1931 were sensational – on a level with what Northern Dancer would achieve half a century later. It numbered 33, the largest in the sire's career, and ten, five of each sex, became winners of major races.
The group's successes opened with the 2-year-olds of 1933. In France, Brantome collected the Prix Robert Papin, the Prix Morny and the Grand Criterium in a title-winning unbeaten season, while Mrs Rustom notched a double in the Gimcrack Stakes and the Dewhurst Stakes in England and Kyloe won the Railway Stakes in Ireland.
As 3-year-olds, Windsor Lad and Brantome attained superstar status, the former with triumphs in the Derby and St Leger, the latter retaining his flawless record while adding the Poule d'Essai des Poulains, the Prix Lupin, the Prix Royal-Oak and the Prix de l'Arc de Triomphe.
Other Classic successes that year were earned by Campanula (1000 Guineas), Kyloe (Irish 1000 Guineas) and Primero (dead-heat in Irish Derby, Irish St Leger).
Also contributing to a season that provided Blandford with his first sires' title and record progeny earnings of £75,707 were Badruddin (Sussex Stakes), Dalmary (Yorkshire Oaks), Umidwar (Jockey Club Stakes, Champion Stakes) and Zelina (Nassau Stakes). The previous record (£61,391) had belonged to Stockwell since 1866.
Unique achievement
Blandford's champion 3-year-olds of 1934 collected more honours at four, Windsor Lad in the Coronation Cup and Eclipse Stakes, Brantome chiefly in the Prix du Cadran. Their deeds helped towards a unique achievement by their sire: in 1935 Blandford reigned as champion sire in both Britain/Ireland and France.
Blandford's largest book did not result in his largest crop, as 19 of his 48 mates proved barren, one slipped twins and another had a dead foal. Of the 27 live foals only ten were colts, but among them was undefeated Bahram, who looked top-class when winning the Gimcrack Stakes, Middle Park Stakes and National Breeders' Produce Stakes, and proved top-class when adding the 2000 Guineas, Derby, St James's Palace Stakes and St Leger. He was the first peacetime British Triple Crown winner since Rock Sand in 1903 and the last until Nijinsky matched the feat in 1970.
Ankaret (Coronation Stakes) and Bokbul (Prix Royal-Oak) were the only other notable winners from the 1932 crop, but the one that followed included 2-year-olds who made important contributions towards the sires' titles on either side of the English Channel.
Harina, another of note out of Athasi, won the Imperial Produce Stakes, Midstream dead-heated in the Criterion Stakes, and Bala Hissar landed the Dewhurst Stakes, while Mistress Ford became a champion in France, courtesy of her victories in the Prix Robert Papin, the Prix Morny and the Grand Criterium.
Last hurrah
Mistress Ford was a leading achiever again as a 3-year-old, taking the Prix de Diane and the Prix Vermeille, but others developed more slowly, including Blenheim's brother, His Grace, who dead-heated in the Coronation Cup as a 4-year-old, and Isolater, whose several stakes victories in North America were capped by one in the Brooklyn Handicap as a 7-year-old.
Suffering another season without a top 3-year-old to lead his team in 1936, Blandford failed to make the top 20 in the sires' list once more, but there came a better showing in 1937, when he ranked third, and a last hurrah as champion in 1938, when Pasch won the 2000 Guineas and Eclipse Stakes.
Pasch was the best son of his sire conceived at Whatcombe, which became his home in 1933 after the Irish government instituted a tax that – unintentionally, but effectively – discouraged British breeders from using stallions in Ireland.
A lot of Blandford's success came posthumously. He had covered 24 mares in 1935 before he was diagnosed with pneumonia on April 22. He died only two days later, a week before Bahram's 2000 Guineas triumph.
Loss deplored by the industry
Blandford died at the height of his fame, and his loss at the early age of 16 was deplored throughout the breeding industry. His four Derby winners equalled the record shared previously by Sir Peter Teazle, Waxy and Cyllene. It was not matched again until Montjeu achieved the feat with Motivator (2005), Authorized (2007), Pour Moi (2011) and Camelot (2012).
Of Blandford's sons at stud, Blenheim and Bahram proved the most significant, though neither ever really promised to establish a vibrant, enduring branch of the Irish Birdcatcher line that descended via Oxford and Sterling.
The Aga Khan sold Blenheim, Bahram and Blenheim's son Mahmoud to the States in 1940, much to the chagrin of European breeders, but none of them flourished there for long. Bahram was a complete flop and continued to feature in pedigrees only through a few of the progeny he left at home. His male line persisted nowhere except Germany until early in the 21st century, when Monsun, against all the odds, revived it internationally.
The best of Blenheim's sons to remain in Europe was Donatello, whose influence was noted through Alycidon and Crepello, but their branches became associated primarily with stamina, when breeders were looking for other qualities.
It might be argued that Blenheim's best gift to the breed was Mumtaz Begum, the dam of Nasrullah.
And hindsight might just persuade us that none of Blandford's progeny has been more significant in the long term than his daughter Dalmary, ancestress of Nureyev, Sadler's Wells et al.
Also in this series