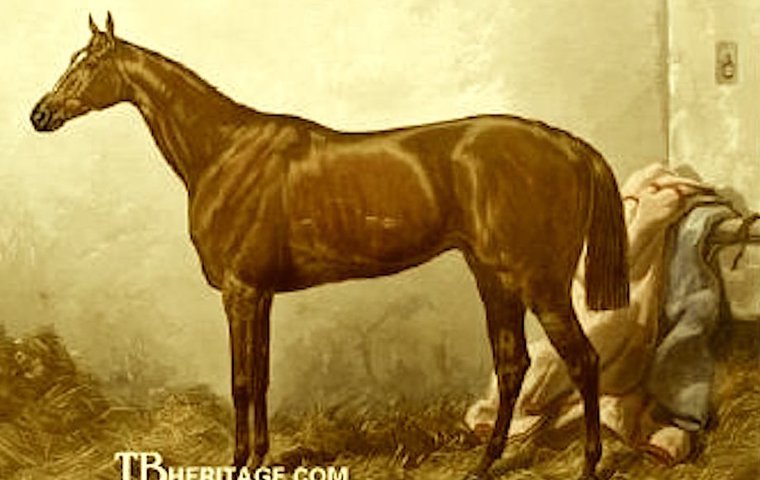 Renowned bloodstock writer Tony Morris with the tenth in is series of articles celebrating 100 horses instrumental in shaping the Thoroughbred.

Hermit, ch c, 1864, Newminster – Seclusion, by Tadmor
It is said that truth is stranger than fiction, and the story surrounding Hermit might be cited as compelling evidence for the precept. There was so much that was remarkable about his life and his human connections, it would have been impossible to make it up.
Hermit was a chestnut colt, foaled on 25 March 1864 and bred by William Blenkiron at his Middle Park Stud at Eltham, a Kent village long since absorbed into south-east London. Blenkiron was the leading commercial breeder of his age, hosting an annual sale of yearlings that invariably attracted England's foremost owners and trainers.
At the June 1865 auction, Hermit was catalogued as lot 27, and he took the fancy of Henry Chaplin and his racing manager, James Machell. Chaplin was in his mid-20s, having inherited vast estates and a considerable fortune at the age of 19, and he already had a high profile as a big spender on the Turf.
Machell bid on Chaplin's behalf for Hermit, whose sire Newminster (a son of the celebrated mare Beeswing) had already headed the list of stallions on two occasions, suggesting that the colt would find keen demand. And so it turned out, the hammer eventually falling in Machell's favour at 1,000gns.
Sensational society scandal
Henry Blyth, in his account of the sale, featured in a colourful 1960s book entitled The Pocket Venus, asserted that the under-bidder at 950gns was the Marquess of Hastings, a young man as rich and irresponsible as Chaplin, but contemporary records provide no confirmation.
What can be said with certainty is that Chaplin and Hastings had been rivals, and not just on the Turf. In 1864, Chaplin had been engaged to the noted beauty Lady Florence Paget, daughter of the Marquess of Anglesey, and plans for their wedding were at an advanced stage. In the sensational society scandal of the season, Florence gave an excuse for a shopping trip to Marshall and Snelgrove's Oxford Street store, entered by one door and left by another, en route to St George's Hanover Square, where she became the Marchioness of Hastings.
Hermit was put into training with George Bloss at Newmarket, and it was there that he made his debut in a four-furlong dash at the First Spring meeting of 1866. Starting favourite at 5/4, he was beaten three-quarters of a length by the filly Cellina, who had the benefit of two previous runs.
The pair met again in a similar race at Bath in May, and this time Hermit, conceding 3lb, had a neck to spare over his rival. A week later, at Epsom in the Woodcote Stakes, he finished second, three lengths behind an exceptional filly in Achievement, who would complete her season with a record of 11 wins from 13 starts.
Hermit would have a much shorter campaign, winning all of his three subsequent races – the Biennial Stakes at Ascot, the Biennial Stakes at Stockbridge (odds-on in a field of 16), and the Troy Stakes, at Stockbridge again two days later. He started at 5/2 on that time and won impressively by a length and a half.
The colt's season was over, and it was still only mid-June. He had yet to race over as far as six furlongs, but he had earned a reputation as one of the best in his crop and was already talked about as a likely Derby contender. His sire had been a St Leger winner, so why wouldn't he stay a mile and a half?
Other possible contenders had a longer first season, the likes of Marksman (who had been lot 28 at the Blenkiron yearling sale), Vauban, Julius and The Rake soldiering on until October. Marksman won five of his 14 starts, Vauban seven out of 15, and Julius two out of five, while The Rake was unbeaten in two efforts, the second producing a comprehensive defeat of Achievement in the Middle Park Plate, the race sponsored by William Blenkiron to promote his stud.
One man who did not have a credible Derby candidate for 1867 was Harry Hastings, who, perhaps understandably, envied Chaplin's apparent good fortune, and who, somewhat irrationally, set about laying Hermit to large sums at fancy prices. Chaplin and Machell were among those who accepted wagers from him.
Hastings convinced himself that Hermit could not win the Derby, and the result of the 2000 Guineas helped to confirm him in that view. The Newmarket classic was won by Vauban, trained by John Day at the Danebury stable where the Hastings horses were prepared, and the victory was sufficiently emphatic to suggest further glory at Epsom.
But the Guineas runner-up, Knight Of The Garter, was owned by James Machell, so the Bloss stable had a line to the form, and it was one that allowed confidence in Hermit's chance. However, nine days before the Derby, there came another twist to the tale, when Hermit's final trial ended disastrously, the colt bursting a blood vessel and pulling up in severe distress. The gallop had supposed to be secret, but all Newmarket knew of the mishap before Hermit's connections could hedge their Derby bets.
Chaplin was inclined to scratch Hermit, but Machell persuaded him to defer a decision while the colt's recovery was monitored. It was eventually determined that Hermit should be allowed to run, as there were no more accidents along the way. Stable jockey Henry Custance had understandably begged off the mount, who had drifted from single-figure odds to become a rank outsider, and it was only on the day of the race that a replacement was found in the unfashionable 20-year-old John Daley.
A crushing blow
On a bitterly cold fourth Wednesday in May, when Epsom even experienced snow flurries, Daley executed Machell's orders to perfection, bringing Hermit along with one long run in the straight, and no sooner had Vauban faltered to cede the advantage to Marksman than the 66/1 shot passed both of them, the margins being a neck and three lengths.
Chaplin won a fortune and Hastings lost one, though the latter was among the first to congratulate his old adversary and put a brave face on a turn of events that brought him close to ruin. Aware of what a crushing blow Hastings had suffered, Chaplin told him that he was in no hurry to collect the debt owed to him.
Hermit had eight further outings as a 3-year-old and never finished worse than second. On consecutive days at Ascot he won the Biennial Stakes and the St James's Palace Stakes, both contested at a mile. He had the rest of the summer off, returning at Doncaster to chase Achievement home in both the St Leger and the Doncaster Cup. An hour and a half after the latter race, he won a three-runner contest over the St Leger course.
Back home at Newmarket, Hermit ran second to Friponnier (who received 7lb) in the Grand Duke Michael Stakes over ten furlongs and was soundly beaten by the same colt in a mile sweepstakes at a difference of five pounds. His campaign ended when he failed to concede 14 pounds to Longchamps in the Newmarket Derby, a race that preceded by an hour a remarkable six-furlong match race in which Harry Hastings's juvenile filly Lady Elizabeth won for the 12th time, short-heading the 3-year-old Julius.
Last words of Hastings
Lady Elizabeth, the apple of her owner's eye, was supposed to revive the Hastings fortunes in the 1868 Derby, starting a hot favourite at 7/4. But she came back in a dismal 14th place, and three further losses followed, including seventh of eight in the Oaks and last of eight in the Prince of Wales's Stakes at Ascot. By then, Hastings was in the grip of money-lenders and broken in health. He died in November at the age of 26, and legend says that his last words were: "Hermit's Derby broke my heart. But I didn't show it, did I?"
Hermit's 1868 campaign proved scarcely more productive than Lady Elizabeth's. He began as half-length runner-up to Julius at Newmarket's Craven meeting, and met defeat against the same rival in a match at the First Spring fixture. Both races were at around two miles. Two days later, Chaplin paid forfeit rather than contest a ten-furlong match in which Hermit was engaged against The Palmer. The pair were matched again over the same course and distance in October, and once more Chaplin paid forfeit.
Between those two non-events, Hermit appeared twice in handicaps when he was set to concede great lumps of weight all round. He started favourite for both the five-furlong Portland Plate at Doncaster and a £100 plate over a mile at Newmarket, finishing down the field on both occasions. He was unplaced again when he closed his season in the Houghton Handicap over five furlongs at Newmarket. It had been a curious campaign over a variety of distances.
Hermit had three runs as a 5-year-old, failing to distinguish himself in any of them. It was hard to know what was the point of delaying his retirement to take in a mile-and-a-half handicap at Epsom, the Royal Hunt Cup (a mile) at Ascot, and the Stewards' Cup (six furlongs) at Goodwood. His starting prices were respectively 20/1, 25/1 and 50/1, so he was clearly not expected to achieve much. In fact, all the exercise achieved was to ensure that Hermit ended his career with 11 consecutive defeats – no kind of advertisement for a horse about to begin a stud career.
Doubted by many breeders
That long losing streak and the well-publicised burst blood vessel before the Derby inevitably meant that a lot of breeders had doubts over whether Hermit merited serious patronage as a stallion. But the Epsom victory and his consistent performances over his first two seasons could not be ignored, and he had improved as a physical specimen, standing 16 hands and filling the eye as he had not done in his Derby year. Moreover, he had to be considered the best son of his successful sire, and he was available for the pittance of 20gns.
Who could imagine that the time would come when breeders were happy to fork out 500gns for a nomination?
Nothing of much consequence emerged from Hermit's first crop but, among the second, Holy Friar made a mark at two as winner of the Gimcrack Stakes, Per Se was runner-up in the following season's 1000 Guineas, and Trappist proved a notable sprinter, collecting the Stewards' Cup at three and the July Cup at six. Here was evidence of the old horse's ability to get sound and successful progeny, and breeders in increasing numbers began to take notice.
Hermit first featured among the leading sires in 1876, when he reached seventh place on the list. He filled the same berth in the following year and rose to third in 1878, when Middle Park Plate winner Peter provided his best advertisement. His drop to eighth in 1879 was just a temporary setback, as by then he had products of better mares in the pipeline, and improved results were to be expected.
Breakthrough season
The improvement actually exceeded all expectations, as he would top the table in 1880, and that was to be the first of seven consecutive seasons when he ranked as number one.
Highlights of his breakthrough season included a significant double at Ascot, where L'Eclair won the Coronation Stakes and Zealot the Prince of Wales's Stakes. Another 3-year-old, The Abbot, registered third places in both the 2000 Guineas and the St Leger, while St Louis led his sire's juvenile team with a victory in the Middle Park Plate.
Hermit's first successes at classic level as a sire came in 1881, when Thebais won the 1000 Guineas and Oaks, and, in the following year, that filly dead-heated in the Champion Stakes with Tristan, the best of Hermit's sons from the same crop. He would go on to win the Champion Stakes again at five and six – on the latter occasion in another dead-heat – and took the Gold Cup as a 5-year-old.
In 1882, for the first and only time, all five English classics were won by females, with daughters of Hermit contributing three of the triumphs. Shotover won both the 2000 Guineas and the Derby, and St Marguerite – sister to Thebais – the 1000 Guineas. This was emphatically Hermit's annus mirabilis, as his stock won 77 races and more than £47,000 in stakes, while his impact at classic level was further underlined by St Marguerite's second place in the Oaks, Marden's third in the 2000 Guineas, and Nellie's third in both 1000 Guineas and Oaks.
A full brother to Thebais and St Marguerite was one of Hermit's standout performers from the crop foaled in 1880. That was the unbeaten Clairvaux, whose principal victory came as a 3-year-old in the July Cup, but he had to yield precedence to St Blaise, who became his sire's second Derby winner.
There were no classic winners in the following crop, but a colt and a filly both made an impact at that level, St Medard finishing second in the 2000 Guineas and Queen Adelaide, who had won the Dewhurst Plate at two, reaching second in the 1000 Guineas and third in both Derby and Oaks.
Hermit sired the first two home in the 1885 Oaks, Lonely scoring by a length and a half over St Helena, who was to gain consolation with wins in the Coronation Stakes and Yorkshire Oaks.
Among the following crop, St Mirin was placed in Ormonde's Derby and St Leger, while Gamin broke new ground as a dual classic winner in France, taking the Poule d'Essai des Poulains and the Prix Royal-Oak. Another to make an impact abroad was Gay Hermit, who won 14 times in England before export to Argentina, where he added the Gran Premio Carlos Pellegrini.
The two best males from the 1884 crop were Brio, who emulated Gamin in the Poule d'Essai des Poulains, and Timothy, successful at four in the Gold Cup. The pick of the females was Heloise, sister to Thebais, St Marguerite and Clairvaux, who won the Coronation Stakes.
The influence of his daughters
Hermit dropped to second on the sires' list in 1887, but that was the year when he was represented by the colt who was generally regarded as the best 2-year-old he ever got. Friar's Balsam won all seven of his races, including the Middle Park Plate and Dewhurst Plate. Such was his reputation that he was installed as 3/1 on favourite for the 2000 Guineas of 1888, but shortly before the start an abscess on his gums burst and blood oozed from his mouth. The decision to let him run was ill-considered, as he beat only one home and was unable to race again until the autumn. Then he was back to something like his best, earning a half-length decision over Minting in the Champion Stakes.
Hermit was 26 years old when he died 'of natural decay' on April 29, 1890. Five days later, his son Heaume, bred on the same cross as Friar's Balsam, won the Poule d'Essai des Poulains. He later added the Prix du Jockey-Club, and a remarkable season in France was capped by the Prix Royal-Oak success of Hermit's daughter Alicante.
The sale abroad of such as St Blaise, St Mirin, Candlemas and Gay Hermit seriously depleted the ranks of Hermit stallions in Britain, so his male line seemed to be in a precarious state soon after he died. But it kept going for a long time in France, through Heaume, Le Roi Soleil, Sans Souci, La Farina, Bubbles, and the last-named's sons Ocarina and Guersant. The line was re-introduced to England with the importation of Ocarina's son Lauso, winner of the 1961 Derby Italiano, but the experiment bore little fruit. The victory of Precipice Wood in the 1970 Gold Cup represented the last hurrah.
But, if his male line never flourished by throwing out successful branches, his influence through his daughters was marked from the outset. When still at a rock-bottom fee, he sired Moorhen, who would become dam of Gallinule, and among many others who delivered important winners and sires were Novitiate, the dam of Marco, and Cinderella, whose mating with Commando resulted in Peter Pan.
Also in this series
Djebel
Colin
Bend Or
Sultan
Blandford
Son-in-Law
Man o' War
Ribot
Cyllene