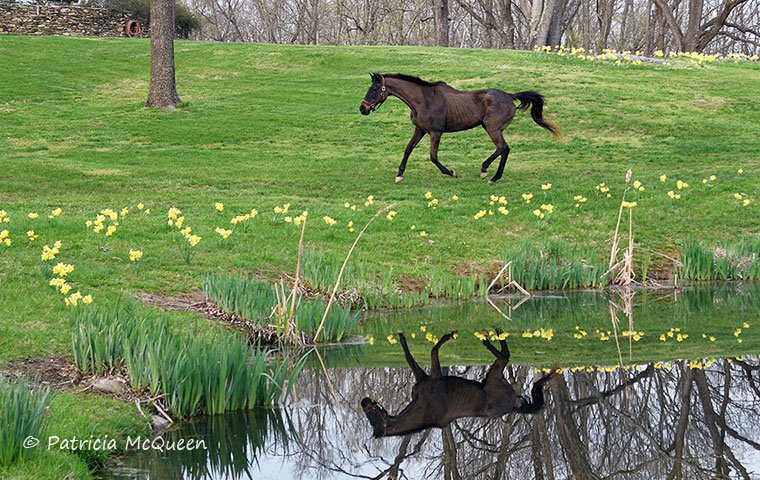 A new 2018 calendar featuring magnificent photographs of the last living sons and daughters of the great Secretariat has gone on sale, with the proceeds to benefit equine industry groups. The group of living legends is headlined by the ageless General Poppy, who will officially turn 35 years old on January 1.

The calendar is part of a research project by writer/photographer Patricia McQueen. McQueen has written on TRC about many of the horses featured the calendar.
As well as General Poppy, others included in the collection are:
Stakes winner Fast Market (turning 32), who started more times (144) than any other Secretariat.

Torbay (turning 31), a full brother to two-time Pacific Classic winner Tinners Way.

Stakes-placed Border Run (turning 30), a full brother to Terlingua and Pancho Villa.

Albany's Secret (turning 30), a mare who was rescued after being abandoned and is now a pampered star.

The $1.15 million yearling Innkeeper (turning 30), the only stallion in the group.

Time Alert (turning 29), who with his last race on May 1, 1999, became the very last Secretariat starter.

The last-crop Secretariats Fire (turning 28), who is likely the last Secretariat mare to produce a foal.

Secret Of The Sea (turning 28), one of the final Secretariat foals born in the spring of 1990.

"I call them living legends because they are treasured as the last direct connections to their illustrious sire," said McQueen, who created the calendar as a fundraiser and to share these horses with Secretariat fans everywhere. "All the current owners have taken wonderful care of them, as evidenced by their advanced age. Some have had one owner for their entire post-racing lives; others found their forever homes fairly late in life."
All profits from the sale of the calendar are allocated to three organizations, each of which has been taking excellent care of one of these legends.
Bright Futures Farm, an equine rescue and sanctuary accredited by the Thoroughbred Aftercare Alliance;

Victory Alliance Ranch, an equine rescue and sanctuary supporting veterans and special needs children;

Virginia Techs MARE Center, an equine research and teaching facility.
"I have seen first-hand how hard these organizations work for the welfare of all horses," said McQueen. "It has been so much fun visiting with these special elderly Secretariats and learning their stories; this is my way of giving a little back."
McQueen asks anyone who knows of other living sons and daughters of Secretariat to reach out to her so she can honor even more of these horses of distinction.
The calendars, which will start shipping in early January, are available for $25 each through the Bright Futures website. Click here for details.