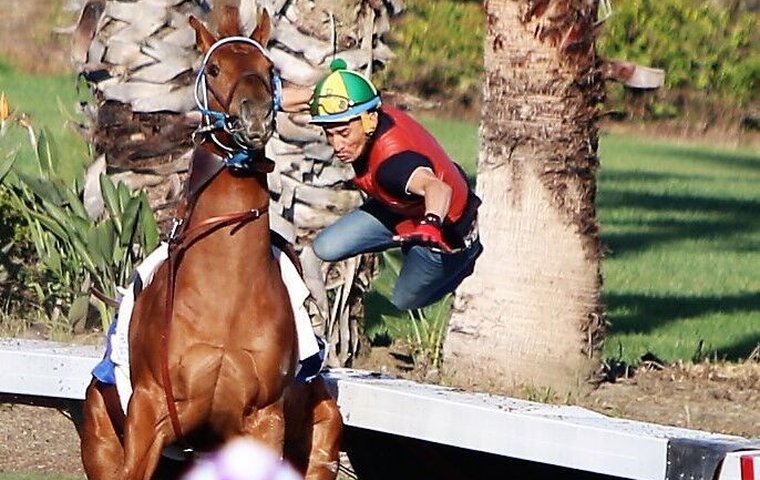 In the final part of his special investigation into the controversial issue of workers' compensation, Daniel Ross gives his thoughts on what needs to be done to provide a system that's fair, affordable and reliable for everyone across the U.S. racing industry.

In few industries is danger as ever-present as in horseracing, where the events of a moment can lead to a glancing kick or a crushing fall, to broken bones and to shattered hopes. Within seconds, a whole life can alter course, terribly and irrevocably. Just ask Shelly Stone.
Nearly seven years ago, a snapped stirrup leather left her wheelchair bound, and in need of 24-hour nursing care. In less time than it takes to fill a kettle with water, Shelly's whole world was changed in ways you and I daren't imagine.
Which is why many of us who have worked in the industry in some capacity or other have wondered at some point this: when injury occurs — a case of when, not if — how will I be looked after? Will I still be able to make ends meet?
Burden on families and taxpayers
The answers, as I've discovered on this U.S. workers' compensation series, are a mixed bag depending on many variables, with plenty of blame and recrimination to pass around. It's important to note, however, that the industry's problems should be framed against the ever-changing landscapes of the nation's healthcare and workers' compensation systems.
While premiums have on the whole been on a downward trend for some time, this offers little relief for the high-risk racing industry, where trainers, struggling and not, are left to find coverage at the most expensive end of the market. The end where premiums aren't falling.
But a general trend of decreasing premiums means there's simply not enough money being injected into the system to properly care for injured workers. As a 2015 U.S. Department of Labor/Occupational Safety and Health Administration report points out, the costs of workplace injuries are being increasingly carried by injured workers, their families and the nation's taxpayers.
'Workers ultimately pay the costs'
Here's what Dr. Emily Spieler, a former West Virginia workers' compensation commissioner, told a major workers' compensation conference in Boston last year: "Every economist I know, irrespective of their political proclivities, thinks that workers ultimately pay the costs of the compensation system."
Stark reading indeed for employees everywhere, including those working in racing.
Nevertheless, there are solutions that the industry can and has taken that address the fractured silo system that constitutes the industry's general approach to the issue. The self-policing nature of California's Finish Line and Post Time programs, for instance, has tightened the relationship between the racetracks, the insurance industry and medical providers.
Case managers who understand the sport monitor injured employees' recoveries, making it that much harder for people to exploit the system for personal gain. Tracks are incentivized to improve safety standards. And, by linking fees to stall numbers, payroll abuse is circumvented.
Self-funded workers' compensation programs require what has been referred to as a marriage between "money and politics". You'll need to pass legislation at the state level to allow it. You'll need a rich sponsor to collateralize it.
But, as John Unick, SVP and managing director of Insurance Office of America, and the author of the plan that brought about workers' compensation reform in California nearly 20 years ago, sees it, California's "burden" of carrying the costs associated with running a "responsible program that shields employers and trainers from liability," isn't really a burden at all.
"That's why Shelly Stone would not have had any issues with medical care had she been injured at a California track," he added.
Unconscionable
In the meantime, triage is imperative. Tracks can much better ensure trainers on their grounds not only have coverage, but have workers' comp coverage adequate for all their employees. That there are racetrack employees performing their duties right now who aren't covered by workers' compensation is unconscionable.
Triage - like tackling racetrack safety. Yes, programs like the National Thoroughbred Racing Association's Safety and Integrity Alliance have done stellar work in this regard. But the truth of the matter is, horse racing is still something of an anachronism when it comes to occupational safety - the whole backstretch culture has one foot planted firmly in its antebellum past.
It's more than making sure riders obey the rules of the track of a morning. That tack isn't worn out. That shedrows are tidy, hazard-free. It's getting to serious grips with things like the sport's drink and drug problems. If a sweep were done right now around the nation's backsides, I wonder how many bottles of beer would be found stashed at the bottom of shed-row ice chests.
Tackled head-on
That said, accidents are going to happen, no matter what precautions are taken, and that's why the industry simply has to do better at looking after its own, at least until workers' compensation has been tackled head-on, properly and comprehensively. According to Bobby Lillis, executive director of the Maryland Horseman's Assistance Fund, the industry nationwide is doing workers "a gross injustice" in this regard.
As recent events illustrate, the will is there. Just look at the way the sport rallied around the San Luis Rey refugees. But how many injured workers who don't enjoy strong support from family and friends, or wide visibility through online GoFundMe accounts, slip through the cracks?
The consequences of inaction are grim. Too many trainers are being crushed beneath the weight of workers' compensation costs. Too many workers, like Shelly, aren't getting the medical care that they need and deserve.
As John Unick points out, workers' compensation reform is a burden the industry should have to bare, or else it should "face the liability associated with its inactions".
The question now is: just how desperate are we to make those changes?