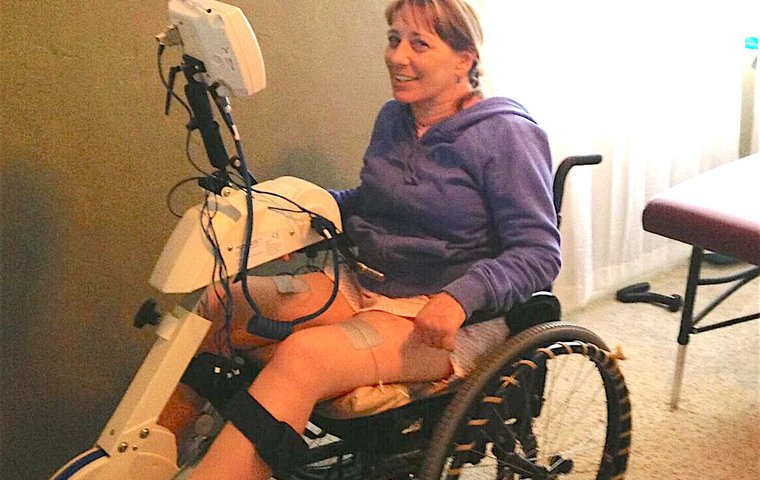 It's one the biggest challenges - if not the biggest - facing racing in the United States today: compensation for injured backstretch workers. Insuring they are provided for properly is an absolute need, but the cost is almost impossible to bear for the industry. This is the first of a major three-part report on the issue by Daniel Ross, during which he meets a wheelchair-bound former exercise rider whose ongoing plight will leave many lost for words ...

In the early hours of February 18, 2011, Laurel Park racetrack was typically cold and overcast. And under the heavy gun-metal grey sky draped over the barns and the trees that ringed the track, exercise rider Shelly Stone was in a hurry.
The track was about to close for the renovation break, and Shelly needed to beat the clock with a strapping but bloody-minded young colt. Typically, she would take him out with another horse for company, but on this particular morning she was on her own. They did find another horse briefly at the start, but Shelly and the colt were too fast for their company, and quickly they were out alone.
When they reached the top of the turn not far from the inner rail, the colt propped and wheeled. Shelly's left stirrup broke, and she was pitched over the rail onto the cold hard ground. Shelly landed on her knees, hunched forward, her head tucked up beneath her in a grim parody of an Ostrich.
"I knew something bad had happened because I couldn't feel anything from the neck down," she said. "I was fully awake the whole time, but I was trying to stay calm because I knew if I got upset then I wouldn't be able to breathe."
Agonizing cramps
Shelly suffered a broken neck, which has left her in a wheelchair with partial paralysis. Because her spinal cord wasn't entirely severed, she suffered what is called quadriparesis, meaning that her body and all four limbs were severely weakened.
Shelly, 56, does have feeling in her limbs, but she still can't stand unsupported, and, while she has use of her arms, her hands don't function properly. The most painful vestige of the injury is the agonizing cramps she suffers daily due to spasticity – a condition where the atrophied muscles stiffen and contract.
"That's how people end up bed-ridden with bed sores in an awful condition," Shelly said. "It's unbelievably painful."
To this day, almost every day, Shelly endures hours of painful rehabilitative exercises just to stop her body from contracting into a ball. She describes the process as "a constant battle". But this hasn't been the only battle Shelly has been drawn into since her accident. For she was locked for years in a tug-of-war with Tower Insurance Co. of New York, the company responsible for covering her medical expenses.
Tower Insurance repeatedly threatened to curtail or cut completely some of Shelly's vital therapy treatments and medical services, like her rehabilitative care, state records show. The company also repeatedly delayed payment, sometimes for weeks at a time, of these same medical treatments, prescriptions and services – sometimes refusing to pay them at all.
Vital physio program
Delays that could have proven life-threatening had her friends and family not intervened on her behalf.
On multiple occasions, Shelly's lawyers demanded emergency hearings before the Maryland Workers' Compensation Commission. At each hearing, the commission ruled in Shelly's favor, records show.
The company that owns Tower Insurance declared bankruptcy early last year, leaving Maryland's state fund — the Property and Casualty Insurance Guarantee Commission (PCIGC) — responsible for her care. Until recently, PCIGC pursued legal action, just as Tower Insurance had done, that could have seen Shelly's therapy regime reduced, even though multiple doctors have insisted her current physio program is vital for her physical needs.
Shelly's friend, Maryland lawyer Suzanne Berger, is deputy director of Human Resources for Baltimore County. She's been involved in hundred of workers' compensation cases over the years, but she describes Shelly's treatment by Tower Insurance as, "worse than anything I've ever seen – by far."
As for Shelly, the last nearly seven years have been a long, long trial of resilience and perseverance. "It's been insane," she said.
------------------------------
Tougher and tougher for trainers
Shelly's story illuminates more than just the plight of one individual. It brings to the fore an issue that Alan Foreman, a leading racing law attorney in the U.S., calls "absolutely, without question" one of the single biggest challenges the industry as a whole faces: workers' compensation.
Across the sport, everyday expenses are on an ever-upward trajectory. But it's rising workers' compensation premiums in particular that make it "tougher and tougher" for trainers, small and large, to afford coverage for their hotwalkers, grooms and exercise riders, he said.
The ramifications of the issue are easy to grasp. Rising premiums impact all sectors of the industry. Indeed, after Shelly's accident, Tower Insurance wouldn't allow her employer, John Salzman Jr., to renew his policy, forcing him to seek coverage under a carrier that charged considerably higher premiums.
"Two years ago, I was almost done," Salzman added. "I couldn't afford it. I was down on horses, and I was paying more on workers' comp than I was making."
Dig down the weeds, however, and the root problems are myriad and complex. Which is why there are "no quick fixes", said Foreman. "And no one should expect quick fix solutions."
Likened to a 'runaway locomotive'
Virtually all states require employers to provide workers' compensation coverage in some form or other (Texas is one of those outliers, which I'll discuss in part two of this series on Wednesday). But the legal specifics when it comes to things like independent contractors, part-time workers, and the number of employees can differ drastically from state-to-state.
Even though some places, like California and Louisiana, have passed legislation at the state level that opened the door to self-insured workers' compensation programs (more on that in the third part of this series), the bulk of the industry struggles with a system that some experts liken to a runaway locomotive, with workable solutions hampered by things like legislative handcuffs and the ubiquitous problem of dwindling funds.
"It's not a big enough industry anymore to keep costs down," said John Unick, managing director of Equine and Self Insured Risk at IOA Insurance Services.
The problem facing most trainers, therefore, is stark. Those unable to afford coverage through a commercial carrier can find it through one of only two avenues - state compensation insurance funds (a program where the state is the underwriter), or from a carrier in an assigned risk pool. An "insurer of last resort", said Unick.
'People who cheat'
And, with fewer and fewer insurance carriers willing or able to cover backstretch workers, those that do are forced to jack-up premiums – a problem exacerbated by rising healthcare costs and poor case management practices, as well as the professional and ethical behavior of certain individuals within the sport.
"In any industry when the rates get to be a lot more than they should, there are a lot of people, certainly not my clients, but a lot of people who cheat," said Richard Hoffberger, president of the Hoffberger Insurance Agency, who provides coverage for a number of trainers.
Typically, workers' compensation payments are linked to a percentage of payroll per $100 - typically between 14 to 20 percent, though sometimes higher. In those states in which it's costlier to do business, therefore, trainers with a large staff can see annual workers' compensation costs well into the six-figure mark.
And so, to cut costs, some trainers pay their staff cash. Some let their coverage lapse. Or, as Hoffberger said, "they'll say, 'my payroll's $100,000,' when it's really $200,000. Because at 20 percent, they can't afford to pay $40,000 a year in premiums."
'What's the most expensive part of training a racehorse? The answer is workers' compensation'
Rising premiums impact trainers in myriad ways. Smaller outfits, for example, by virtue of their precarious financial positions, would rather burn holes in their own pockets than pass on additional costs to owners for fear of driving them to other barns. While larger so-called 'super trainers', by virtue of their size, face mammoth monthly bills.
"What's the most expensive part of training a racehorse? The answer is workers' compensation," said New York-based trainer Tom Morley. Morley is one of those whose annual workers' compensation premiums top the $100,000 mark – a cost he partially absorbs himself, even though his financial footing isn't necessarily sound enough for him to do so.
"It's getting to a stage where it's almost unviable for many people to stay afloat," Morley added.
Which is why Mike Musto, executive director of the New Jersey Thoroughbred Horsemen's Association, calls workers' compensation the "number one killer" in racing. "It takes guys out – they just can't afford it," he said.
But that doesn't excuse those trainers who fiddle the payroll numbers to depreciate workers' compensation premiums, said Musto. "I understand that it's expensive, but you've still got to do the right thing," he said.
What about those who are supposed to be policing the system? Individual tracks are typically charged with ensuring trainers stabled there are properly covered. But few racetracks employ an effective system for monitoring what insurance coverage trainers stabled on their grounds possess week-by-week, month-by-month.
"There's virtually nothing," said Maryland Jockey Club general manager Sal Sinatra, about the workers' compensation monitoring program in place at Laurel Park, for example.
"The only system is that they require a copy [of insurance coverage] when trainers apply for stalls, which we do three times a year," he said. "So, it does open the door to lapsed time in between that we'd be unaware of."
'It's not a one-size-fits-all situation'
What's more, not every racing commission requires proof of insurance when it issues a trainer's license. And fewer still follow up between instances when licenses are issued and re-issued.
"It's not a one-size-fits-all situation," said Ed Martin, director of the Association of Racing Commissioners International, who added that individual commissions are limited in what they're able to enforce by state law.
Nor are workers themselves immune from blame. For the vast majority of industry employees passionate about their work, an injury is something to be overcome quickly, so as to return to work as swiftly as possible.
But human nature is anything but inviolable. And there are some who exaggerate their injuries in order to milk the system – yet another way that costs are driven upwards, putting the burden on those on the right side of the legal and ethical divide.
"I don't want anybody to get hurt," said trainer John Salzman Jr. "When they do get hurt, like Shelly got hurt, they deserve workmen's comp. That's what it's here for," he said, adding that, in Shelly's case, because of her catastrophic injuries, she deserves "everything she can get" in terms of proper medical treatment and care.
"But too many people are abusing the system," he added. "Something needs to be done."
------------------------------
'I'll sometimes pass out for a while when I get home'
Nearly seven years have lapsed since Shelly's accident, and her days now have an order and rhythm to them that's disrupted by the degree of pain she's in, which can fluctuate on a day-by-day, hour-by-hour basis.
Shelly requires round-the-clock attention by nurses and health aides who help with the minutia of everyday life, the brushing of teeth, of dressing and undressing, trips to the shops, showers, meals, making sure Shelly receives her laundry list of daily medications on time.
Inserted into her routine is a seven-days-a-week therapy program designed to tackle her crippling and painful spasticity by essentially ironing out her muscles, a grueling series of workouts that she says leave her "wiped out" at the end of the day. "I'll sometimes pass out for a while when I get home."
The regime looks something like this: aqua therapy for about an hour; 30 minutes on a fixed exercise bike, with electric muscle stimulators on her legs; a workout on the 'Total Gym' at her home, and time on a 'Stander', which supports Shelly as she stands upright; back on her bike for a further 30 minutes; then back to the therapy pool, not for a workout, just a stretch and relaxation from the day's exertions.
The importance of aqua therapy
Aqua therapy, said Shelly, is the exercise most integral to keeping her pain-free. "With it, I can walk in the water," she said, describing how, with help, she can slowly shuffle across the bottom of the pool. "My legs get the memory of walking." And because water offers a very low-gravity environment, "you can do things there that you can't do on land."
Shelly's father, Stephen, an exercise physiologist, lives near his daughter in Tuscon, and has overseen her physiotherapy since 2012. Both Stephen and Shelly's brother, Andy, a sports coach at a private school in Virginia, are certified aqua therapists. They traveled to Boston to train with Igor Burdenko, a famed Russian specialist in sports injuries, who once nursed Olympic ice-skater Nancy Kerrigan back to fitness.
"He's a character. Amazing," said Andy, about Burdenko. "For anybody with a spinal cord injury, aqua therapy is so important. Not many know how to do it, or many places that do it."
But Shelly's aqua therapy has been at the heart of her problems for some time.
In 2016, Tower Insurance sought to transition Shelly to a home therapy regime, a case it lost before Maryland's Workers' Compensation Commission. Tower Insurance appealed the decision, and PCIGC pursued the appeal until only recently.
Hampered Rehabilitation
While Stephen admits that typically someone with Shelly's injuries wouldn't receive the same intensive degree of physio, multiple doctors have agreed that it's vital for her health. Experts warn that a reduced therapy program could also see Shelly rely more heavily on pain medications as a result, an undesirable outcome for her long-term mental and physical wellbeing, her family argue.
According to Andy, many who have suffered similar injuries to Shelly choose instead to have a 'baclofen-pump' administered, a device that pumps drugs straight into the body to help with the painful spasticity. Only, this type of pain management "deadens everything, so that the person can't move very well", said Andy.
"I think the insurance company would have been happy to put her in an electric wheelchair with a baclofen-pump and just sit her in front of the TV," Andy said. "But she refuses to do this." Indeed, about 18 months after her accident, Shelly was standing and able to take steps with the aid of a walker.
Her rehabilitation, however, has been hampered on numerous occasions through illnesses and medical problems associated with her paralysis. The first time Shelly was able to stand, she contracted a bad urinary tract infection that left her bed-bound for two months. Just last year, an awful bout of pneumonia knocked her for six once again.
"So, I've been starting to do it all again," she said. "I've just got to keep at it."
Yet, for all the physical obstacles that Shelly has had to overcome, it has been her ongoing legal battles that have taken the greatest toll. "I've just had to keep on going," she said. "What choice did I have?"
Note: Tower Insurance declined to comment for this series.
In part two on Wednesday, Daniel Ross delves into Shelly Stone's battles with the insurance carrier responsible for her treatments. He also breaks down some of the complications the racing industry faces as each state grapples with the unwieldy issue of workers' compensation.