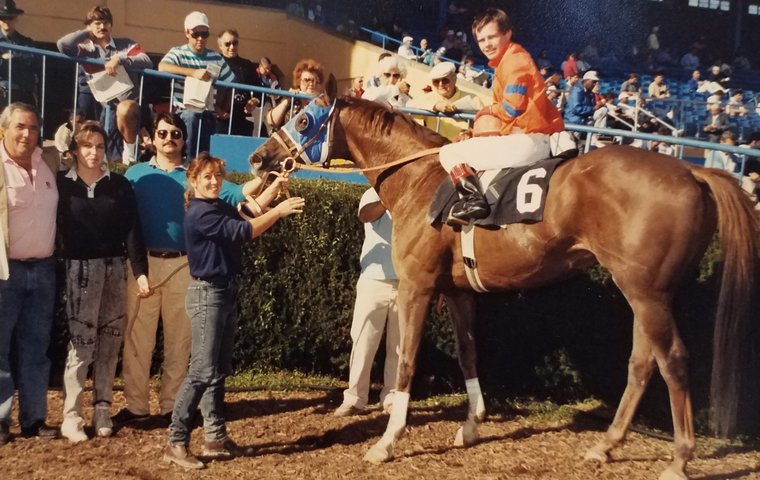 This is the third part of a special report on one of the biggest challenges facing horse racing in the United States - workers' compensation. In parts one and two, Daniel Ross told the story of Shelly Stone, a former exercise rider who, nearly seven years ago, was left wheelchair-bound after a riding accident during training at Laurel Park. Her story highlights some of the glaring cracks in America's workers' compensation system.

Here he explores the toll the accident has taken on Shelly and her family. He also looks at some of the self-insured programs implemented around the country, and asks the question: can and should these same programs be adopted in other states?


Shelly Stone wasn't born into the sport. Her parents didn't own horses. Her father, Stephen, was a doctor. Her mother was an administrative assistant at a local court house. But Shelly couldn't have been engineered any better for the game.
Even at her adult riding weight, she clocked in at a feather-light 103 lbs. As Shelly's brother, Andy, describes it, "she was a great athlete and she was a great rider. She had nerves of steel and she was really strong."
Indeed, Shelly was a precocious athlete. At four, she could walk on her hands. "She was a phenomenon," said Stephen, now an exercise physiologist who oversees his daughter's therapy.
Racetrack life
The horse bug bit Shelly young - the racing fever settled in soon after. She started riding when she was ten. And, though Shelly enjoyed something of a nomadic childhood, the Stones settled in Maryland when she was 13, just down the street from the now defunct Bowie racetrack, where "everyday" she saw the racehorses on the merry-go-round of racetrack life.
"And so, for whatever reason," she said, "I decided that's what I wanted to do."
Shelly started as a hotwalker before veteran handler Roy Peacock taught her to ride racehorses. "Back then, you could do that – learn to ride on the racetrack," she said. "Now, you've got to go to a farm."
Pint-sized and tough as conkers, it was almost inevitable that Shelly's thoughts would turn to race-riding, and, in her late 20s, she spent a couple of years riding at the weekend fair meets in Arizona. She rode a handful of winners. "And I was getting better," she said. "Some guy once said to me, 'I want to take you to Maryland [to ride].' And I said, 'I've just come from Maryland!'"
But this was a time when female jockeys were even less ubiquitous than they are now. "The only female jockey doing any good was Julie Krone. That was it. There weren't any others around except at the cheap racetracks."
Standards of horsemanship
And so, Shelly turned her sights to training, though she never had more than a handful of horses at a time. One of the first horses she owned and trained herself was an old injured former stakes-race performer called Cywan, who she nursed back to health and sent to Delaware Park to win at long odds.
"I remember that day because my father-in-law bet on him, and he won a lot of money," said Shelly, who described the economic environment for small trainers back then as being, "tough, but even tougher for women."
Still, Shelly wouldn't compromise her standards of horsemanship. She never used corticosteroid injections when her horses had sore joints. She always found a home for them when it was time to put their careers to bed.
"She was an excellent rider. Good hands. Loved her horses," said the executive director of the Maryland Horseman's Assistance Fund, Bobby Lillis – someone who has been instrumental in rallying industry support around Shelly. "She always had a smile on her face. Always happy."
Not long before the accident, Shelly gave serious thought to winding down her riding career. "I was getting close to 50 then, and I was thinking that I would back off, get on some of the easy ones and take over helping on the shed row, but still getting on horses. And I was thinking about it, talked to my father about it, and sure enough…" she said, letting the thought taper off.
Since that cold February morning nearly seven years ago, Shelly has returned to the racetrack only once, not long after the accident. She gets emotional, even now, when talking about her old life.
"I loved riding more than anything. I just loved the feeling," she said. "I miss it. I mean it drives me crazy. I can't stand not being able to do it. Horses were my whole life."
——————————————————
Marrying the seemingly incompatible
The marketplace for workers' compensation has only become more precarious in the years since Shelly's accident, as highlighted in the first two parts of this series, where mention of the issue is often accompanied by much browbeating and gnashing of teeth.
But it's not a uniformly desperate state of affairs.
Despite having to overcome no inconsiderable obstacles, some states appear to have pieced together programs that go some way towards marrying the seemingly incompatible: affordable rates, comprehensive coverage and an efficient case management system designed to prevent waste and abuse.
Trainers stabled at Monmouth Park, for example, are exempt from having to pay for individual workers' compensation coverage through a program organized by the New Jersey Horse Racing Injury Compensation Board.
"It's been a very successful program," said Mike Musto, executive director of the New Jersey Thoroughbred Horsemen's Association. "It's a great thing that horsemen enjoy."
A four percent slice of purse revenue is removed to pay for the program, which covers all backstretch workers. If that four percent slice doesn't cover all medical expenses at the end of the year, the board will make an additional cut from the purse structure.
While Monmouth Park's program is restricted to that track alone, however, some jurisdictions like Louisiana and California have implemented statewide self-funded programs.
'I tell all my clients to have a base in Louisiana'
"I know a lot of our horsemen would struggle to actually provide workers' comp coverage were it not for our program," said Ed Fenasci, executive director of the Louisiana Horsemen's Benevolent and Protective Association (HBPA).
Up to two percent of Louisiana's betting revenue is sliced off to supplement the program, though currently, one percent supplements the worker's compensation program and one percent supplements a trainer's pension program.
The rest comes from a per-runner fee. All trainers pay $65 per start, and they make a $1000 down-payment when they arrive in Louisiana, which goes towards their workers' compensation expenses.
What's more, Louisiana-based trainers, or those who make more than 50 starts per year in the state, are covered by the program when they run horses out of state, at an extended $85 rate per start. This, however, doesn't apply uniformly across the nation - as detailed in part two, some jurisdictions like Ohio require state-specific coverage.
Still, according to Pete Belanto, an accountant who manages the books for a number of trainers, he actively encourages his clients to maintain a solid presence in Louisiana. "For a stable of about 100 horses, it can save them between $40,000 to $60,000 a year," he said. "It's a no-brainer."
Case management
Integral to the financial viability of all self-funded programs are efficient systems of case management that streamline the whole process, cutting waste and preventing abuse at all levels.
In Louisiana, for example, each track has a field office manned by two personnel, and, when an accident occurs, these employees follow the incident from start to finish, filing everything from the initial report to following-up with the injured employee, ensuring their recovery remains on track.
"We just basically make sure everyone's doing their duty," said Cindy Leigh, lead field office manager at Evangeline Downs.
Field office personnel also perform routine barn inspections, checking on "anything hazardous", Leigh said. "Barn inspections are done every day," said added, "and each barn gets an inspection every month."
California being California, however, their self-funded insurance program operates with a few differences from Monmouth Park and Louisiana.
'I think it's the answer'
Back in the early noughties in California, the situation had reached breaking point. Trainers large and small were being crushed beneath the weight of workers' compensation premiums offered through the state fund that were spiraling out of control.
"It was highly exorbitant," said former trainer Jay Robbins, who conditioned Tiznow to consecutive wins in the Breeders' Cup Classic. "You couldn't have kept owners if you billed them the actual costs. It was practically impossible to keep going."
So, in November 2005, to tackle the problem head-on, the Finish Line Self Insurance Group was launched. Money pours into California's self-funded program from three avenues. One is a slice of the handle in the state. Another is a premium that owners pay per jockey starts. The third comes from a premium the trainers pay per stall - the same for every trainer, irrespective of success or years spent training.
"You can track stalls easier than you can track trainers," said Michael Lyon, president of the Finish Line Self Insurance Group. "It's an easily verifiable system to use."
For claims over $1 million, Finish Line partners with an excess carrier called Midlands Management Corporation.
Like the other programs, good case management is integral to Finish Line's success. "The challenge is to find dedicated claims adjusters who are interested in the field and the industry," said Lyon.
"Once you know what's going on, on the backstretch, how the claims need to be managed, who's really hurt and who isn't hurt, it makes it a lot easier than someone sitting in an office 100 miles away," said Lyon. "Finish Line itself is very financially sound. I think it's the answer."
'It's put a lot of people out of business'
Which begs the question: if the Finish Line program is indeed the answer, why don't other states follow suit? According to Richard Hoffberger, president of the Hoffberger Insurance Agency, the obstacles are like "most things in the world – money and politics".
In most states, adoption of similar programs would require a change in state law, or the approval of an insurance commission. "It's been done legitimately in the few states that it's been done, but a lot of people lose business," said Hoffberger, pointing out how self-funded insurance programs circumvent, of course, the commercial market.
Anyone thinking of starting their own self-funded insurance program should also find a benevolent soul or organization with deep pockets willing to collateralize the policies, said John Unick, managing director of Equine and Self Insured Risk at IOA Insurance Services..
To help establish Finish Line, for example, Los Alamitos racecourse owner Dr. Edward Allred put up several million dollars of his own money. He also had to prove that his annual income totaled at least $500,000.
California state regulations changed earlier last year, whereby now a program like Finish Line no longer requires the backing of a benefactor like Allred, as long as the program proves it can stand on its own financial legs. Indeed, last year, the California Thoroughbred trainers launched their own version of Finish Line – the Post Time Self Insurance Group.
But these sorts of well-regarded programs aren't immune from criticism.
'We as an industry have to have control of our destiny'
Racing's worker's compensation program in Washington State is integrated into the state's Department of Labor and Industries (L&I), an agency described on a state website as being, "similar to a large insurance company, providing medical and limited wage-replacement coverage to workers who suffer job-related injuries and illness."
Though the program as it relates to racing has changed shape over the years, currently, it looks like this: trainers pay a per-horse, per-day fee of $1.40 that covers pony and exercise riders, while a monthly premium of $159.35 is charged per groom. A separate per-day fee is charged for grooms that help out only occasionally.
"It's a lot of extra work for us as a commission because we're tracking this, monitoring it, collecting fees," said Doug Moore, executive secretary of the Washington State Horse Racing Commission. "We're not compensated for our extra work, but we've been charged with this duty, and we're happy to do it."
I was recently approached, however, by a jockey who has suffered a number of workplace injuries in recent years during morning training at Washington State's Emerald Downs. The rider, who wishes to remain anonymous, claims that her workers' compensation cases have been repeatedly mismanaged. And, while this series has focused on hotwalkers, grooms and exercise riders only, I have decided to include her story as she earned more as an exercise rider than a jockey at the time.
According to the rider, multiple benefit overpayments have resulted in abrupt demands for the money to be paid back, some of her medical expenses not being covered, and her wage benefits being under-calculated, so that she's not receiving the amount to which she's entitled. The Jockeys' Guild is currently "reviewing the circumstances" surrounding the rider's injuries and "how it has been handled by Workers' Comp", guild attorney Mindy Coleman wrote in an email.
An L&I representative said that the agency was unable to comment officially because of the confidential nature of certain aspects of the case, though he added that "we do our best to resolve claims in the most appropriate way we can." The Washington State HBPA failed to respond to multiple requests for official comment, though the organization's president, Pat LePley, wrote, "The HBPA has limited say with respect to how the state chooses to manage claims."
Then there's John Unick, who has certain reservations about the long-term financial viability of the programs in Monmouth Park and Louisiana as they're currently structured. But he believes the Finish Line and Post Time programs in California offer a solid blueprint for others to follow.
"It is so obvious to everybody in the industry that workers' comp is a massive problem, but it's no longer a massive problem in California because it's a death and taxes issue," said Unick.
"We've owned our own risk, and we're being adults about it," he added. "We as an industry have to have control of our destiny. And we can."
——————————————————
Unflinching family support
Until the industry takes control of its destiny, as Unick says, accidents will continue to happen, premiums will continue to rise, and some backstretch workers injured on the job will find themselves, like Shelly, mired amid the bureaucratic quagmire of the nation's workers' compensation system.
Only, not all of the injured workers will have, like Shelly has, the unflinching support of family and friends as a safety net. Shelly's 78-year-old father, Stephen, put his therapy business largely on hold to care for his daughter. "He basically gave his whole life up to help me," Shelly said.
Not that Stephen has any regrets. "I've been treating people with spinal cord injuries for 50 years," he said, "but this is the most important thing I've ever done."
Still, it has been hard to watch a person who was always "so tough, so fit, so strong - someone who put so much time and care into being so good at what they did", morph into someone else, said Shelly's brother, Andy.
"She didn't make much money, and she only had a few horses, but she was great at what she did. Seeing her lose all that, and then seeing her struggle [with Tower Insurance], it was hard to see," he said. "She was very depressed. Very down. It was devastating."
Shelly's ambition
That said, "it's just been within the past year that you see sparks of what she used to be like come back," said Andy, who explained how he and the rest of Shelly's family are in the process of thrashing out with PCIGC — the Maryland state fund now responsible for Shelly's care — a long-term payment and treatment program for Shelly when her father is unable to care for his daughter.
But Shelly's sights are set on a future geared not just to her physical needs, but to her mental and, in many respects, spiritual needs, too.
About two years ago, for five months Shelly rode horses every week at the nearby Therapeutic Riding of Tuscon (TROT) center, which caters to people with disabilities.
"A horse took off with me once at a trot, and I pulled him into the fence," said Shelly, about an incident that gave her instructor a "heart-attack", but rekindled the old fires in Shelly's stomach. "I guess it scared her, but it didn't me."
And it's these same fires that drive Shelly's desire to one day work again with horses – not simply riding the ordinarily quiet horses at TROT, but to return to the track as a trainer with a handful of horses of her own, just as she had before her accident. The happiest years of her life.
"Just training even, being back around horses, that would make me so happy - you couldn't understand how happy that would make me," she said. "I just wish I could work with them again – that's what makes me so sad. Most people give up. But not me."
On Friday, Daniel Ross gives his thoughts on what needs to be done to make workers' compensation fair, affordable and reliable for everyone across the U.S. racing industry.