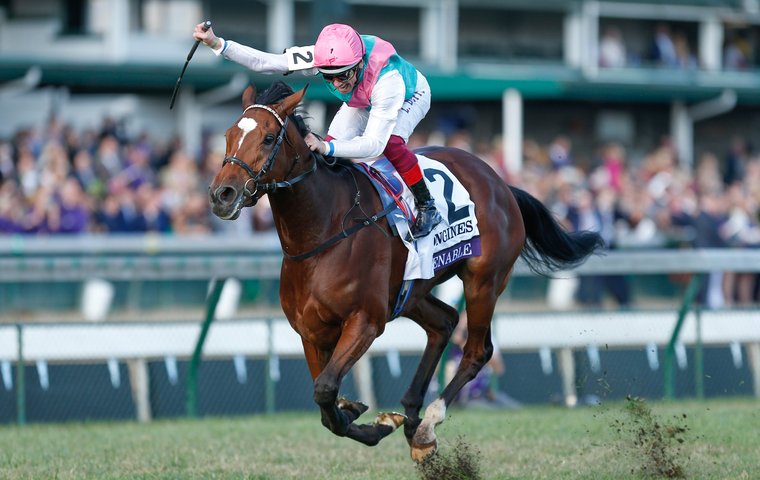 Europe's Horse of the Year for 2018 will be announced at the 28th Cartier Racing Awards in London tomorrow.

Seven other equine awards will also be presented at the Cartiers, Europe's equivalent of the U.S. Eclipse Awards, which are handed out in Miami in January. The destination of each Cartier is decided through points earned by horses in Pattern races (30 percent) combined at the end of the season with the opinions of a panel of racing journalists and handicappers (35 percent) and votes from readers of the Racing Post and The Daily Telegraph plus ITV Racing viewers (35 percent).

Horses trained by John Gosden in Newmarket have won the Cartier Horse of the Year Award three times in the last four years - Kingman (2014), Golden Horn (2015) and Enable (2017). And the chances are very high that the current British champion trainer will make it four out of five tomorrow - he has four of the five nominations.

The nominations for each of the eight categories were unveiled yesterday. Here TRC editor Chris Smith reveals which horses he would like to see win them.

Horse Of The Year
Nominations (in alphabetical order)
Alpha Centauri
Cracksman
Enable
Roaring Lion
Stradivarius
My choice
I feel I should be lobbying for this to go to Stradivarius, but now cold, hard decision time has come round, no matter what he has achieved in a staying campaign to top all staying campaigns, you just can't make him horse of the year above all these. The dream is that one day the stamina division will once again be as celebrated as any other, but it is nowhere near that just yet, despite the marvellous efforts of Weatherbys Hamilton and Stradivarius himself.
I joined the Roaring Lion camp after he completed the sweep of three great ten-furlong Group 1s (Coral-Eclipse, Juddmonte International, Irish Champion) and stayed firmly in it after his heroic triumph in the October mud in the Queen Elizabeth II Stakes at Ascot on British Champions Day.
But let's get real. She may have run only three times this year, and one of those may have been in a four-runner G3 on the all-weather at Kempton, but Enable must win this again.
No horse has ever won the Arc and the Breeders' Cup Turf before - well, not in that order anyway.
You can argue that Sea Of Class should have beaten her in the Arc, and that she didn't beat much in the Turf (which is a rubbish argument because it doesn't begin to acknowledge what a good horse Magical has become and how far the pair of them were ahead of a perfectly respectable set of also-rans), but it's such a sublime achievement (it also made her Europe's all-time leading money earner) that it trumps anything the others have done.
Further reading: Which of Gosden's fantastic four should be horse of the year?
Cartier Older Horse
Cracksman
Enable
Lightning Spear
Poet's Word
My choice
Let's do something unconventional here - and not something we will see happen tomorrow evening. Enable is my horse of the year, right, but she doesn't have to win this as well. Poet's Word had a pretty amazing year too, peaking in the height of the summer to annex two of Britain's mightiest races, the Prince of Wales's Stakes at Royal Ascot (beating Cracksman) and the King George on the same track a few weeks later. He was a match for anything on those days.
Surely he deserves some recognition, some appreciation of his superb, consistent merit over a season bookended with runner-up finishes in the Dubai Sheema Classic in March and the Juddmonte International in August. He isn't actually nominated to be horse of the year, although I'd still give that one to Enable even if he was.
Cracksman was pretty good too, but any case for him to be considered for one of these awards rests entirely on that Champion Stakes victory on soft going at Ascot. He left them for dead, for sure, but be honest, this was a field of horses largely past their use-by date for the season and fairly uniformly unhappy on the ground. Which is why I think the world joint-leading mark of 130 Cracksman has been given in the latest Longines World's Best Racehorse Rankings is far too high. I'm not saying he's not as good as Winx, just that he didn't prove it on British Champions Day.
Cartier Three-Year-Old Colt
Masar
Roaring Lion
Sands Of Mali
Saxon Warrior
My choice
The case for Roaring Lion outlined above applies in spades here. It's a body of work that far outstrips anything any other 3-year-old colt has achieved.
Cartier Three-Year-Old Filly
Alpha Centauri
Laurens
Sea Of Class
Wild Illusion
My choice
Well it has to go to Alpha Centauri, don't you think? If James Doyle had got Sea Of Class going a bit earlier at ParisLongchamp on the first Sunday on October, it might be different, but he didn't.
Cartier Sprinter
Battaash
Mabs Cross
Merchant Navy
Sands Of Mali
My choice
I have to throw out Battaash because he didn't win a Group 1. The others all won one each, but Merchant Navy only raced twice in the Northern Hemisphere and was off to stud after Royal Ascot. Sands Of Mali emerged as a contender only after winning the British Champions Sprint last month and still has something to prove on decent ground, so it has to be Mab's Cross. She ran seven times, was never out of the first four, took in the top five-furlong races and won her Group 1 in the ultra-prestigious Abbaye on Arc day.
Cartier Stayer
Holdthasigreen
Kew Gardens
Stradivarius
Vazirabad
My choice
No contest: Stradivarius
Further reading: What this magnificent Thoroughbred has achieved could have a lasting impact on the breed
Cartier Two-Year-Old Colt
Advertise
Quorto
Ten Sovereigns
Too Darn Hot
My choice
You could try to make cases for Quorto and Ten Sovereigns, but you wouldn't convince anyone. Too Darn Hot is the only option. (That makes it four of the eight awards for Gosden, although he will probably win five tomorrow night - the voters are unlikely to place Poet's Word ahead of both, or either, Enable and Cracksman.)
Cartier Two-Year-Old Filly
Fairyland
Hermosa
Pretty Pollyanna
Skitter Scatter
My choice
Skitter Scatter went from strength to strength over seven outings from her March debut to her final run of the year, a win in the G1 Moyglare Stud Stakes at the Curragh in September. She just shades it over Fairyland.
Further reading: All Skitter Scatter needed to do was win one race

In addition to the eight equine awards, the Cartier/Daily Telegraph Award of Merit will be presented to the person or persons who, in the opinion of the special 15-strong Cartier Jury, has/have done the most for European racing and/or breeding either over their lifetime or within the past 12 months. The ten latest recipients have been Sir Michael Stoute, Aidan O'Brien, Jack Berry, Sheikh Hamdan Al Maktoum, Jim Bolger, Team Frankel, Barry Hills, Richard Hannon, John Oxx and Sheikh Mohammed.