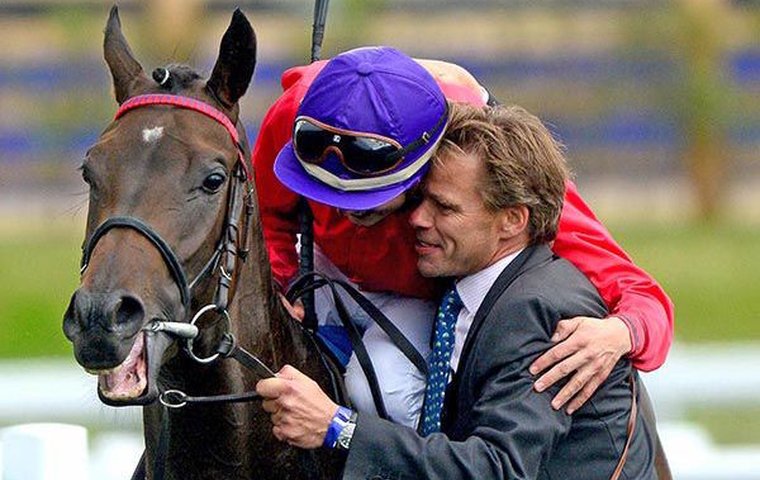 Strange the way things can go full circle. Airlie Stud bred Dane Street, in partnership with Three Chimneys Farm. They had already bred Intense Focus out of their Danehill mare Daneleta, who was bred by Jim Bolger, and who was trained by the Wexford man to win a fillies' maiden at Tipperary in June 2001.

The Jim Bolger connection runs deep. Bolger trained the Airlie-bred Margarula to win the Irish Oaks in 2002.
Intense Focus was bought as a yearling at Goffs in 2007 by Bolger, who trained him to win the G1 Dewhurst Stakes at Newmarket in October 2008. That was just four and a half months before Dane Street was born. By Street Cry, out of Daneleta. Full circle.
Airlie Stud, in County Kildare, is steeped in history. Established by the late Captain Tim Rogers just after the war, it has been run for the last 30 years by Sonia Rogers, who took over the running of the farm after the death of her husband in 1984. She was joined in 1996 by her son, Anthony, who brought back to Airlie the wealth of experience that working in different sectors of the bloodstock industry all over the world brings.
Dane Street didn't meet her reserve at Tattersalls in October 2010, so Anthony Rogers took her back home with him.
Doing the right thing
"We put what we thought was the right reserve on her," recalls Anthony now. "We thought that 80,000 guineas was fair. But that was in 2010, they were tricky times, and that was a tough sale for everybody. If she didn't meet her reserve, she didn't meet it. We tried to sell her, but we weren't going to let her go for any less than what we thought her value was."
These are the breaks, and you ride them. You trust your judgement. Airlie could have sold the mare for less than they thought her value was, but you have to do what you think is the right thing.
They put the mare into training with Jessica Harrington, and she didn't do badly. She won a maiden at Fairyhouse and she won a handicap at Leopardstown, both over ten furlongs. They put her into the Keeneland November sale in 2016, and they bought their American partner out.
Skitter Scatter was seven months old by then. Of course, she wasn't Skitter Scatter then, she was a filly foal out of the Street Cry mare Dane Street, by Scat Daddy.
"There was a bit of talk about Scat Daddy then. He was only $30,000, but he was full. It wasn't easy to get into him. They knew that something was brewing. But nobody could have imagined that he would turn out to be the stallion that he was. He was value all the way through his life, and it's not often that you can say that about a stallion."
Skitter Scatter was entered in the Keeneland September Sale in 2017, but the vets had an issue with her x-rays, so she never got to the sales. Anthony and his mother Sonia decided that they would race her.
"We put her into training with Patrick Prendergast, whose remit was to win a race. Just win a race. She was out of a young mare, so if she could win a race, that would be job done. With any horse going into training, your first hope is that they will win a race. When you've been around long enough, that's all you hope. Then, if you are lucky enough to win a race, you start to get greedy."
Skitter Scatter did not win a race at her first attempt – a maiden at Dundalk last March – but she ran well to finish a close-up third. Everyone was buoyed. Patrick Prendergast told Anthony that he thought she could be listed class. She went back to Dundalk two weeks later for another maiden. It looked like she was up against it, taking on a highly regarded Aidan O'Brien-trained Scat Daddy colt, a $1.1 million yearling named Sergei Prokofiev, but she scrapped it out and got home by a short head.
Drinks all round
"That's one of my favourite races of hers," says Anthony, pointing to a photograph on the bookshelf. The diminutive filly on the far side, side on, stretching her neck out, with the colt on the near side towering over her.
"She proved her toughness that day. Mum and I were away on business, but we convinced the owner of the pub that we were in to put it on the telly. We had to buy drinks for everyone afterwards. Fortunately, there weren't too many people in the pub! That was a big day for the filly. That was the day that we started to think that she could be very good."
But the Moyglare Stud Stakes in September was the pinnacle. It is the definitive juvenile fillies' race in Ireland. Just take a cursory glance at the roll of honour: Habibti, Park Appeal, Sayyedati, Sky Lantern, Misty For Me, Minding. Now add Skitter Scatter.
The Airlie Stud's filly had already won the G3 Silver Flash Stakes and the G2 Debutante Stakes. These are the races that funnel to the Moyglare. Even so, it took a while for the market to conclude that she should be sent off as favourite. It wasn't the first time that she was underrated.
"We stood in the place that we had stood for the Debutante Stakes. Same place. Just beside the winning post, by the rail. That hadn't worked out too badly for us in the past. But we couldn't see the race very well. It was difficult to tell how well she was travelling from the big screen, and then, she whizzed past us. When she won it, I picked Patrick up. I actually lifted him off the ground. People were looking at us. We didn't care."
The enormity of the achievement was not immediately apparent to Anthony. It took a while. You go the to races in hope, but you don't allow yourself to think of the implications of winning a Group 1 race. Then, when you do win it, it takes time for it all to sink in.
"That was my best day's racing. Unquestionably. Mum had some great days with Dad in the past, but for me personally. I've been working with horses for 29 or 30 years, and it was my best day at the races by far. And it was brilliant for Mum too. For her to lead the filly into the winner's enclosure, at the Curragh, a Group 1 winner, a Moyglare winner. That was a special day."
There have been offers for Skitter Scatter. No real surprise there. They started in earnest after her win in the Silver Flash, and they continued and grew after she won the Debutante. But Sonia Rogers decided no. Let's keep her. Let's enjoy her. Let's dream.
"We have her mother. We have a lot of the family. We have her grandam. Daneleta is in foal to Gleneagles. And it's the type of family that we love. It's those really good families that you've had a bit of luck with, that you can persevere with. Keep the odd filly. And start the whole thing off again."
There's that full circle again.