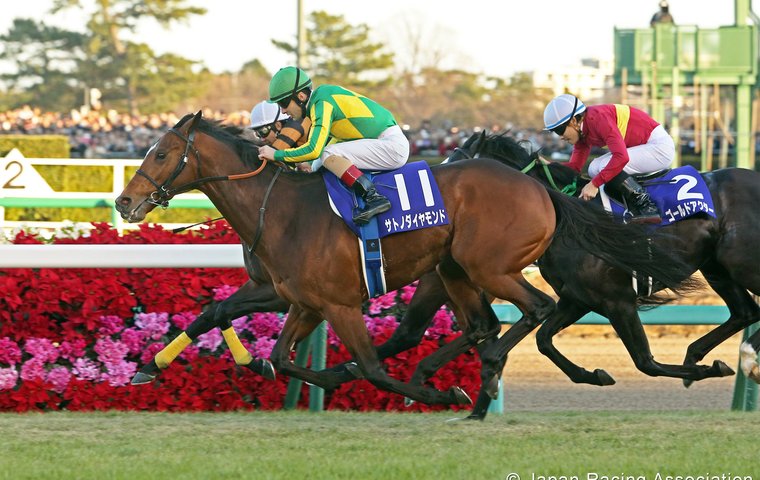 Just under two years ago, we ran an article about the 'golden generation' of jockeys in France. Led by Christophe Soumillon (ironically, a Belgian), more and more French-based riders were being recognised internationally for their considerable talent in the saddle - and consequently getting the call for the world's greatest races. That momentum has only increased in the meantime.

Chantilly-based writer John Gilmore's article actually neglected two significant members of the band, but then Florent Geroux and Flavien Prat, both former champion French apprentices, have been riding in the U.S. for quite a while now and they're both regarded practically as Americans.
They've had considerable success too - East Coast-based Geroux has had a fabulous season and is world #8 in the TRC Global Rankings (and #2 U.S.-based rider) while California-based Prat is a highly respectable #56 (and 14th in the U.S. rankings) despite a fall that left him with a punctured lung and five broken vertebrae and kept him out of action for more than three months.
One man Gilmore didn't ignore, though, was Christophe Lemaire, who at the time was finding it tough after losing his job as first jockey to the Aga Khan. But it was around then that Lemaire jumped ship and moved his family to Japan. He has not looked back.
In the two seasons since, the Frenchman has become a superstar in his adopted country - and even something of a celebrity when he returns to ride in France - and there has never been a better illustration of his now undeniable status among the world elite than his performance in the two big Group races at Nakayama on Sunday (Christmas Day).
Let's get the mere details out of the way. Lemaire won both of them - the G2 Hopeful Stakes (a mile-and-a-quarter test for 2-year-olds) and the $4.5 million G1 Arima Kinen, which is the world's biggest betting race and, alongside the Japan Cup, the most valuable race in that country.
In doing so, it made him the joint biggest gainer of the week in the TRC Global Rankings, moving him up four places to world #21 in the jockeys' standings (he's #5 in the Japanese list).
Look at these YouTube videos of those two races - and check out the different way Lemaire rode in each of them. First the Hopeful:
Here the Frenchman is on an odds-on favourite, the King Kamehameha colt Rey De Oro (#2, black cap). Imagine the kind of confidence you need to drop out the way Lemaire does a horse most of the vast crowd will have invested in heavily. Watch him gradually position the favourite on the heels of the leaders. There's no gaps appearing, but he's in a good spot. He's not panicking. He knows the horse, knows he doesn't need much of a gap. And then it's there, Rey De Oro is through, and the race is over.
This looks a horse we'll be hearing a lot about in 2017.
The Arima Kinen (above) is very different. The Deep Impact 3-year-old Satono Diamond (#11, green cap), who was beaten just a nose in the Japanese Derby in May, isn't a push-button horse like Rey De Oro. He's a stayer - he won the Japanese St Leger last time out - and he's up against one of the most fearsome mile-and-a-half runners in the Far East in Japan Cup winner Kitasan Black, a strong, seasoned 4-year-old by Black Tide (a full-brother to Deep Impact).
Lemaire knows he can't afford to be too far behind the powerful-striding Kitasan Black when things get serious. If Satono Diamond is to prevail, it will be his stamina that gets him there (the Arima Kinen is half a furlong longer than the mile-and-a-half Japan Cup).
Satono Diamond isn't away too well, but Lemaire doesn't worry. He balances the horse, gets him into a rhythm, then works him forward so that he's stalking on Kitasan Black's shoulder at halfway. There's still work to be done, though.
Lemaire has to keep urging and cajoling Satono Diamond just to stay in touch as the pace quickens, and indeed it appears a furlong out that third is the best he can hope for as Kitasan Black seems to have stretched into a winning lead. But Lemaire knows that last half-furlong still has to be endured, and he keeps his horse balanced and persistent, and eventually Kitasan Black can't resist.
For the record, the other significant move in the TRC Global Rankings last week came from Satono Diamond's owner, Hajimi Satomi, who is now up to #8 in the TRC owners' standings after winning a major G1 for the third week in succession (his Satono Crown won the Hong Kong Vase on December 11 and he took the big 2-year-old race at Hanshin, the Asahi Hai Futurity Stakes, with Satono Ares seven days later).
Click here for a list of the week's biggest points gainers in TRC Global Rankings.