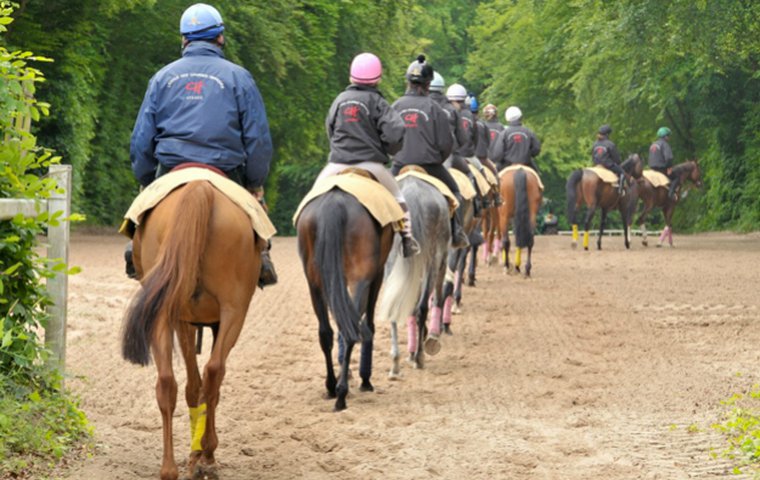 You may not have noticed, but the past few decades have brought a notable increase in profile in French racing in one key area - jockeyship. Whereas once France could boast really only two riders who could attract any attention beyond its shores, nowadays a host of jockeys based there are in demand all over the world.

In the '60s, '70s, and '80s, Yves Saint-Martin and Freddie Head were highly regarded throughout international racing. And that was basically it. Today hardly a big race goes by without one of eight or nine Frenchmen called up to ride a leading contender. Riders such as Christophe Soumillon (a Belgian), Christophe Lemaire, Olivier Peslier, Gerald Mossé, Mickael Barzalona, Ioritz Mendizabal (a Spaniard), Maxime Guyon, Thierry Jarnet, and Stéphane Pasquier form the backbone of what has become France's golden generation.
So why the turnaround? There are four contributing factors:
There's more racing in France nowadays
The increased daily racing programme throughout the French regions, which includes five all-weather tracks for winter racing, have given jockeys more opportunities to practise their trade. Now, there is racing most days, instead of just three or four days a week.
The way races are run
The style of racing in France -- generally geared to timing the horse for a finishing effort over the last two furlongs -- has proved adaptable to top international races and is well appreciated by trainers as it is kinder on horses than racing flat out throughout and helps maintain their form for a longer career.
The lasting influence of Cash Asmussen
The American jockey, brother of trainer Steve, won 55 G1s, including the 1991 Arc on Suave Dancer, and was French champion five times during the 18 years he was based in France after being brought over by leading trainer Francois Boutin as a retainer for owner Stavros Niarchos.
His crouch riding style and race tactics have left an indelible mark. Leading jockey Olivier Peslier, who has always been a fan of Asmussen, said: "My short riding style, like many others, was based on Cash, who was a top jockey in France at this period [when Peslier started in the late '80s] and often rode for his [trainer] Patrick Biancone. I admired his judgment of pace in a race and he was always very helpful to me at the beginning of my career and other up-and-coming jockeys asking for advice."
The French training program
Stable staff and jockey training has been backed up by five specialist training schools run by the Association de Formation et d'Action Sociale des Écuries de Course (AFASEC), offering residential courses during the school year (September-June).
The schools were introduced 40 years ago. Three of them have courses linked to flat racing and two are exclusively for trotting.
Gouvieux, next to Chantilly, the leading training centre dedicated exclusively to flat racing, is close to the renowned Les Aigles gallops, while Mont-De-Marsan, in the Landes region of South West France, and Cabries, in the south near Marseille, offer both flat and trotting courses. In total, 312 students currently attend the flat courses at these three centres.
Boys or girls can begin from the age of 14. Education and practical courses for the racing industry, linked to the French Education Agricole program, go on for up to four years, but usually three, depending on academic or equestrian ability, with the possibility of obtaining one qualification that can lead to employment as stable staff, work rider or jockey, or another aimed at teaching students how to organise and manage a training yard.
The pass rate is nearly 90 percent.
The centres at Gouvieux and Mont-De-Marsan also offer courses for adults.
The courses are split with 15 days each month at the school and 15 days with a trainer. The €3,500-a-year fee covers full board and lodging in both locations. Social aid with the fees is available for those coming from low-income families. Teaching staff are paid by funding from France Galop and other overheads, covering the 22 stabled horses and facilities, are aided by regional funding, donations, and contributions from trainers.
The overall objective is to equip the students to be confident communicators, have a varied cultural knowledge and understanding of riding and racehorse care, and to be able to speak well in French and English. They are backed up by professional teaching staff.
"Students come from all walks of life, not necessarily with previous riding experience. The main objective when interviewing them is their motivation," said Penny Johnston, responsible for communications at AFASEC Gouvieux.
"At Gouvieux, we have 180 students, of which 65 percent are girls. Everybody dreams of being a jockey, but only 2 to 5 percent ever make it, so it's essential that they have all-round academic and horse-riding and care skills. The centre has its own stable of 22 retired racehorses and six mechanical horses to practise riding movements, complemented by their practical period with a trainer to equip the students to be able to eventually find a job in a racing stable."
Gouvieux-based students have a choice of doing their 15-day a month working practice at either Chantilly, Maisons-Laffitte, or Deauville, while the other two centres at Mont-de-Marsan and Cabriès have similar arrangements with their own regional training yards.
"In total, we have 300 trainers on the books for flat and trotting at the five centres willing to take students for working practice," Johnston said.
"There is also a short stint in England each year as part of the course, for a handful of selected students to spend a week at Newmarket with a trainer, gaining valuable experience of riding out each morning on the famous gallops and working in an English stable," said AFASEC Director Didier Budka. "A future project is to open an AFASEC school in Morocco, and we are always looking at ways to improve the quality and standard of our courses."
Notable jockeys who have passed through AFASEC include Christophe Soumillon, Mickael Barzalona, Ioritz Mendizabal, Olivier Peslier, Maxime Guyon, and Stéphane Pasquier.
During training, students are not paid, but the trainers pay AFASEC a fee for each student.
Each year a number of non-betting races are organised by AFASEC on the track specifically for budding jockeys on the courses (they are selected by their working practice trainer and should have spent at least six months at the school) enabling them to obtain valuable experience - and giving trainers the opportunity to assess them in race conditions. Those they consider to have the potential may be taken on as apprentices between the ages of 16 and 18.
Peslier was first spotted by trainer Patrick Biancone winning pony races as a youngster. "In 1987, aged 14, I took up his offer to attend the AFASEC training course at Gouvieux and two years later became one of his apprentices," Peslier said. "At AFASEC, I learnt about horse science and the various jobs associated with a racing yard, which was then put into practice during my period with the trainer."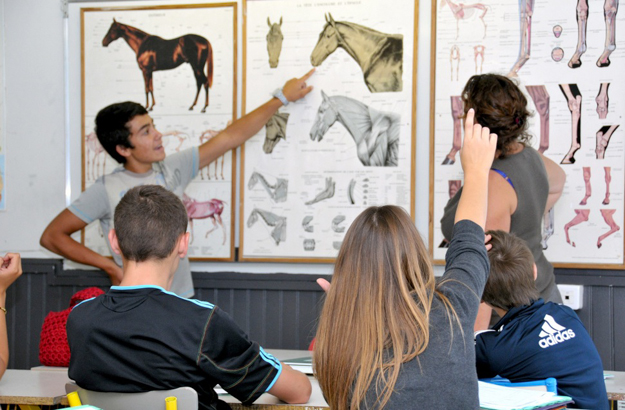 Spanish-born Ioritz Mendizabal attended the AFASEC school in Mont-de-Marsan aged 14 in 1988, and was attached to trainer Michel Laborde at nearby Dax for his work experience. He had his first winner at Gemozac in the Charente-Maritime region as an apprentice in 1990 and, a year later, came knocking on the door of Jean Claude Rouget's powerful stable at Pau in South West France. He has been with him ever since, and has been champion jockey four times - in 2004 and 2008-2010 inclusive.
"I was first taught how to race-ride by a great trainer in Michel Laborde and, coupled with my AFASEC experience, this helped me obtain a contract to ride for Jean-Claude Rouget, who has since had a big influence on my professional career," Mendizabal said. "I can still remember the first good advice Michel Laborde gave to me on the gallops - I was 'too nervous and needed to relax on the horse.'"
He added: "I think the relationship with different trainers was much better before than it is now. For the past several years, all leading jockeys work with agents for more rides outside their stable contracts, and there is not the same personal contact as the agents contact trainers directly."
Triple Arc-winning trainer Criquette Head-Maarek said: "The horse racing school develops outstanding professionals through teaching and work placement experience with a trainer, and each year students earn a diploma and find employment in the racing sector.
"It's soon evident when you see the youngsters working on the gallops who has the feeling to be a jockey, but there are many other job opportunities in the yard for those that have a passion for working with racehorses, for either boys or girls, and in this profession there is no problem with unemployment."
Yves Saint-Martin compares the eras
Saint-Martin was champion 15 times during a career spanning 30 years. He retired at 46 in 1987 and is acknowledged as one of France's greatest jockeys, thanks to his trademark ice-cool nerve, great judgement of pace, fantastic rhythm, and timing in a finish.
"As a child, I was always interested in dogs and horses as a future career but chose horses as there was no real work with dogs," Saint-Martin said. "I was fortunate in having a friend working at [leading trainer] Francois Mathet's yard in Chantilly who advised me to write a letter to him for a young apprentice position, which was accepted when I was 14 in 1955."
His first success came on July 26, 1957, on Royalic for owner Suzy Volterra at Tremblay.
The conditions of employment in France were somewhat different in those days. Teenagers were leaving school at 14 to work in a stable and some even younger were riding out first lot before going to school.
"There are more facilities available nowadays to continue schooling and learn to be a jockey, or perform other stable jobs through AFASEC," Saint-Martin said. "That did not exist when I started out, but I don't think the overall standards are any better. The trainers and key staff who taught jockeys and other stable skills in my time were just as competent at the job as the skills, like today, were handed down through different racing family generations, and I learnt from a real professional in Francois Mathet.
"Racing has now become more international and French jockeys get far more opportunities to ride and practise, with meetings all the year round. When I was riding, racing took place only three or four days a week, with a break [in the Paris region] from the first weekend in December until the last weekend in February."
Saint-Martin won 117 G1s in his career, including four Arcs, all the English classics, and four top races in the U.S.
"Relko gave me a lot of pleasure when winning the [Epsom] Derby in 1963 and Match II was a very good horse when winning both the 1962 King George at Ascot and the Washington D.C. International in the states, but Allez France's victory in the 1974 Arc was always something special as I had just come back from an injury."
Saint-Martin is remembered also for some close battles with British contemporary Lester Piggott, notably when Sassafras and Saint-Martin just touched off Nijinsky in the 1970 Arc and when Akidya did the same to the Piggott-ridden Ardross 12 years later.
"We both had a certain professional respect for each other when competing in the top races in Europe and travelling to international ones," Saint-Martin said.