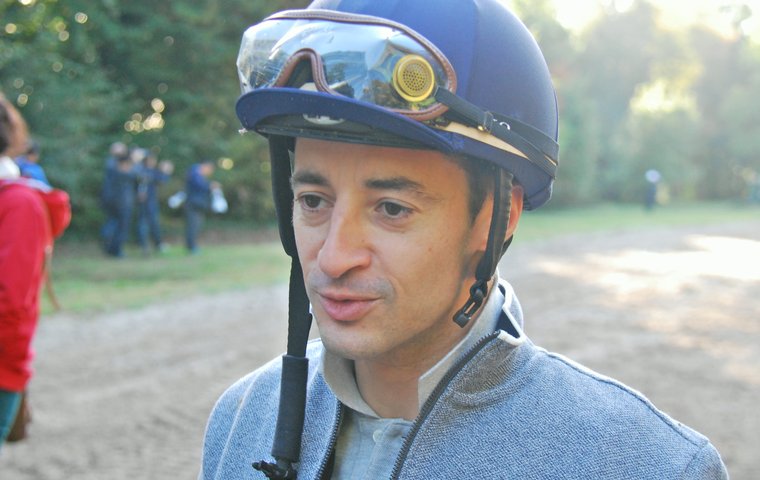 Less than two years ago he was the forgotten man of the French weighing room, a jockey so apparently out of favour in his home country that he left to try his hand in a different jurisdiction halfway around the world. But Christophe Patrice Lemaire has just been back again, and France's media couldn't get enough of him.

Lemaire's fortunes have experienced one of the great turnarounds in world racing. It didn't take long for the rider unwanted at home to become a superstar in Japan, regularly mobbed by fans and autograph hunters when out in public.
He was back in Paris for two brief trips to ride the great Japanese hope Makahiki, firstly in the G2 Prix Niel at Chantilly last month and, on Sunday, in the race the Niel was a rehearsal for - the Prix de l'Arc de Triomphe at Chantilly.
After getting up in the final strides to win the Niel, the Japanese Derby winner was strongly fancied to become the horse to finally satisfy his countrymen's obsession with winning the Arc.
Just five days before the great race, Lemaire was surrounded by TV crews and reporters, the French media hanging on his every word, after dismounting from the son of Deep Impact after an impressive final training gallop at Les Aigles in Chantilly.
Arc disappointment
The gallop took less than two minutes, but the interviews lasted the best part of three hours.
Lemaire took it all in his stride, switching confidently from Japanese to French to English as he answered a variety of questions. He was also confident about Makahiki's chances in the Arc, but of course the race didn't follow the script, the colt finishing 14th of the 16 runners as Found led home an Aidan O'Brien 1-2-3.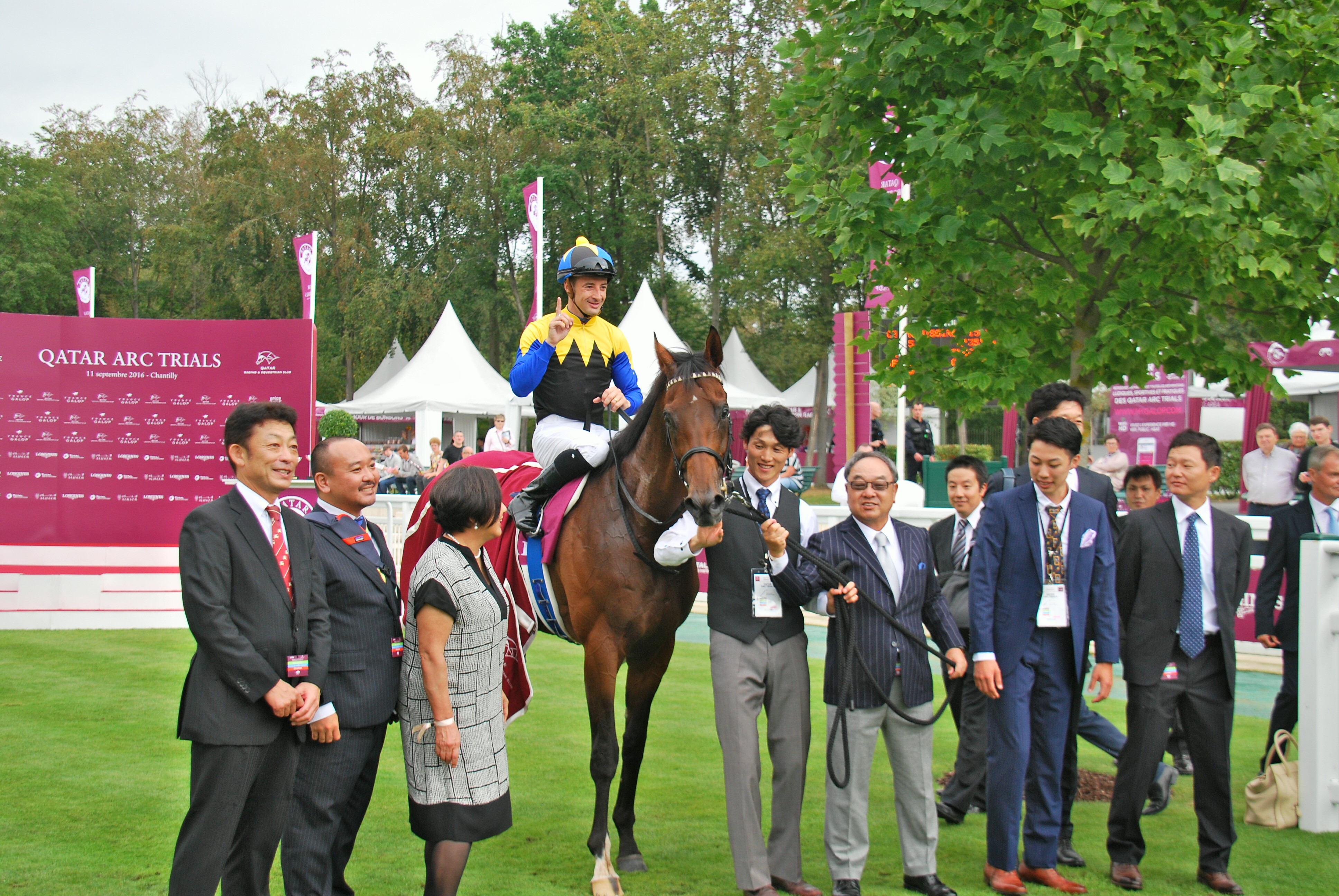 "The horse pulled in the race and didn't have any acceleration when I asked for an effort," Lemaire said later.
After talking the day after the Arc with Lamorlaye trainer Satoshi Kobayashi, whose stable had been temporary home for Makahiki for a month, he said: "The horse was checked over this morning and has no physical problems. His performance was very strange."
He added: "The exceptionally fast time on good ground, with a bit of soft in parts on the outside, could have been a factor as, apart from his last win in the Prix Niel on good ground, all his previous wins were on firm."
Out of favour
Back in 2014, when Lemaire last rode in France, regular mounts were hard to come by after his contract with his the Aga Khan was not renewed at the end of 2013 after four years.
Certain trainers used him from time to time, including Fabrice Chappet, Mathieu Boutin, Tony Clout and Pascal Bary, but a top contract with a leading owner was not forthcoming. Even a chance ride on Spiritjim, trained by Pascal Bary to win the G1 Grand Prix de Saint Cloud that June, when Lemaire timed his finish to perfection, didn't change his fortunes.
"This is part of the sport you have to accept," Lemaire told me this week. "There are highs and lows and nothing is ever sure. When I left for winter racing in Japan at the end of 2014, I was a bit down. People lose interest, you're not in favour. When it happens, you begin to have doubts about your ability. But it was my duty. I had to do something in the interest of my family."
But, just when Lemaire needed a break, one came along. For the previous 13 years, he had ridden on a regular winter stint in Japan on a temporary three-month licence. At the end of 2014, he was made an offer ...
"The Japan Racing Association offered myself and [Italian jockey] Mirco Demuro the chance to obtain a full-time jockey's licence in Japan through taking the two-part test, with one section in English. We both passed it in February 2015," said Lemaire. "It was a great opportunity and adventure to move to Japan, and experience another culture, for my family, with which my wife Barbara was in full agreement, especially as I had no real prospect of a contract with top owners in France.
Better prospects
"I had experience of the Japanese way of life and racing through riding each winter since 2002, in particular for top owner-breeder Teruya Yoshida of Shadai Farm.
"It was never difficult to adapt to Japanese rules of racing as they don't allow any contact or crossing, though the races are run a bit faster than in Europe. I could nearly be sure at the time that it offered me better prospects on a full-time basis in Japan than in France, and that has proved to be the case."
As Satoshi Kobayashi pointed out there is an added bonus: "Minimum-level prize money for ordinary races at JRA tracks is the equivalent of €70,000 to the winner." Put in perspective, a Group 3 in France would carry €80,000 in total prize money, with €40,000 to the winner.
Riding for a major owner in Japan on a regular basis, and also getting outside rides for other leading owners, has given Lemaire a new lease of life, which showed to good effect when he finished the Japanese 2015 season in fourth place in the jockeys' championship with 112 winners - despite missing a month in March after being suspended for 30 days by the JRA racing through using Twitter the night before a meeting at Hanshin racecourse. JRA regulations ban all outside contact by jockeys from 9pm the night before racing until they have ridden their final race of the day.
In the JRA standings so far this year, Lemaire lies second with 128 winners behind Keita Tosaki (145).
Japanese passion for racing
Lemaire lives with his wife and two children in Kyoto, a city of nearly 1.5 million people, in the central part of the island of Honshu. It's racecourse stages both dirt and turf racing throughout the year. Japan has 25 racecourses, 10 owned by the JRA.
"There are two or three meetings each weekend in Japan and no meetings during the week on JRA tracks," he said. "For smaller meetings at Kyoto, around 30,000 people come to see the racing, but for the really big race days you can expect to practically fill the 120,000 capacity and the atmosphere is fantastic."
Horseracing, in fact, has phenomenal popularity in Japan, among both women and men, in huge contrast to France, where most people wouldn't know the name of the Arc winner, or be able to name two or three jockeys.
"There are fewer sports to bet on in Japan, with just horse racing, cycling and powerboat racing," said Lemaire. "Racing is given wide TV and media coverage throughout the year, something you don't see in France, and that's encouraged both men and women to have a passion for the sport.
"It's why Japanese jockeys are superstars and household names. I regularly get fans wanting to take my picture on the street, in restaurants any time of the day, or asking for autographs. I think it's great for the sport and something you never see in France."
Huge TV audience
Not surprisingly, the Japanese love to bet - they wager around 20 percent of the world's total on racing.
This love of the sport is why several thousand Japanese fans flew over to watch Makahiki run in the Arc. For them the Arc is the most famous race in the world, and they want to savour every second. For those staying at home, an army of Japanese camera crew, photographers and journalists travelled over to cover the race.
Around 30 million people are believed to have watched the race live on TV in Japan (nearly a quarter of the 127 million population). This year, for the first time, they were able to bet on the race. And how they did! On just the Arc, the equivalent of €37 million was wagered. A further €5.3 million was wagered on the Arc and one supporting race, the Prix de l'Opera, in Hong Kong. This compares to €17 million on the PMU in France.
Being a full-time jockey in Japan has enabled Lemaire to experience a totally different lifestyle. "Race riding only at weekends, where a meeting has 10 races a day, and riding out each Wednesday at Ritto [one of the JRA's two training centres] on horses running the following weekend gives me far more free time than I ever had in Europe," he said. "I have the opportunity during the week to spend more time with my family, take my kids to school, play golf and eat at nice restaurants."
Better quality of life
Lemaire and wife Barbara have made a lot of friends in Japan, not only within racing, but also through the school their children attend. "There is quite a large international community in Kyoto and the city has two schools where lessons are taught entirely in French. My children go to one of the French private schools, where there are just 100 children for all the classes," he said.
"Through taking our children to school and participating in parent meetings, my wife and I have made friends with plenty of people outside racing. I also play golf regularly with my friend Mirco Demuro, which keeps us both fit, and we have become friends with other members of the golf club."
Lemaire is an admirer of the Japanese lifestyle. "The quality of life is much better. You feel more secure and safer on the streets. There is no violence and people respect each other," he said. "It's something I particularly like. It is ingrained in the parents' culture and education of the children. It shows when they attend school, arriving on time and having respect for the teacher in class."
Lemaire considers that, at 37, he has about 10 more years as a jockey before retiring. "I am not sure if I would then want to come back to Europe," he said. "It would depend on what we as a family wish to do at the time and what other opportunities are open to me. I would like eventually to be involved in promoting horse racing in some way, but it could be in any country."