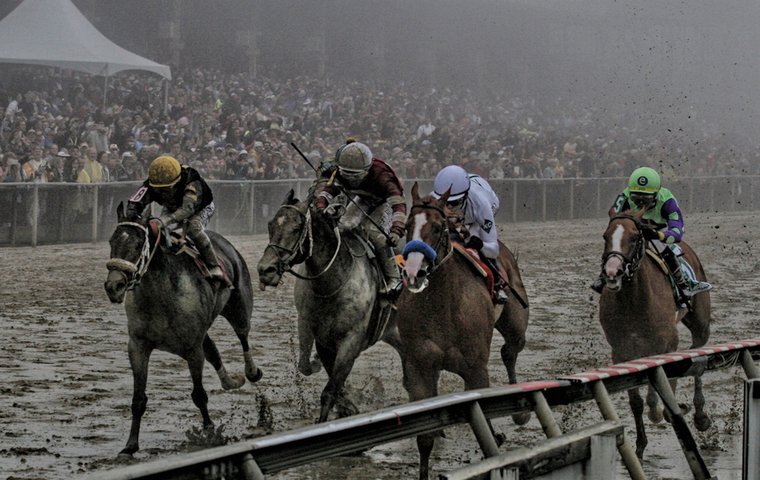 In three weeks' time, we'll know if the 143rd Preakness Stakes will be remembered simply as a race with odd and freakish circumstances, or whether it will be recalled as the day when a true champion came charging out of the Baltimore fog to prove his greatness.

Mired in early evening fog thick enough to rival one of those famed days in London, Justify faced the biggest challenge in his brief, five-race career and responded with the kind of performance that separates good horses from special ones.
The chart of the Pimlico race will show the plain facts that the undefeated Justify posted a half-length victory and put Hall of Fame trainer Bob Baffert on the doorstep of a second Triple Crown sweep heading into the Belmont Stakes on June 9.
If you watched the race, or checked out a video clip of the race (like the one below), part of it was left to your imagination to fill in the blanks as even state-of-the-art High Definition television cameras were no match for the blanket of fog that obscured parts of the race.
Yet woven into all of that was a performance by Justify even more impressive than his 2½-length triumph two weeks earlier in the Kentucky Derby. In the Derby and his trio of wins by a combined 19 lengths before the first Saturday in May, Justify raced in a comfort zone. He cruised along, either on the lead or sitting just behind an overmatched rival, and in both the Kentucky Derby and Santa Anita Derby, he had plenty of reserve energy left to fend off a single, determined challenge at the top of the stretch and pull away to a clear victory.
Then on Saturday, in the $1.5 million Preakness, over a racetrack reduced to a sea of goo by week-long rain in Baltimore, Justify faced a far greater challenge.
Much like the way champions such as Affirmed and Sunday Silence had to work significantly harder in the Preakness to beat the Derby runner-up, Justify was pushed harder than ever before, and like Affirmed and Sunday Silence, he responded with the heart of a champion and gave Baffert a record-tying seventh Preakness victory.
It was no surprise that jockey Mike Smith broke from post seven with Justify and set sail for the lead. Yet it probably caught some in the crowd of 134,487 at Pimlico Race Course off-guard – if they could see it - that 2-year-old champion Good Magic would rush up along the inside and quickly engage Justify in a battle for the lead.
In the Derby, Good Magic was fifth in the early stages and then launched a promising bid on the final turn that Justify turned aside. Now, in the Preakness, jockey Jose Ortiz had Good Magic inside Justify as the two raced as a pair toward the first turn.
They remained together down the backstretch, separating themselves from the rest of the field by about three lengths through testing fractions of 47.19 seconds and 1:11.42 on the sloppy track. Good Magic gave Justify everything he had and at each call it was the 2-5 favorite from Baffert's barn that held a narrow lead.
'To do what he did is unheard of
Finally, when they exited the fog and entered the stretch, it was Justify ($2.80) who began to inch clear of Good Magic. By the eighth pole, Justify clung to a half-length lead over Good Magic, but then two other figures emerged from fog with dead-aim on the leader.
Fortunately for the financial well-being of the New York Racing Association, the wire arrived in time as Justify had a half-length on 15/1 shot Bravazo, who in turn had a neck on 26/1 Tenfold, who was a neck ahead of 7/2 second choice Good Magic.
"He's the best 3-year-old I've ever ridden," Smith said. "I've been blessed to ride some great older horses, but, man, at such a young age and having raced only five times, to do what he did is unheard of."
The first four finishers were separated by about a length. Yet more than the what-ifs about Bravazo's late charge or kudos for the way Good Magic helped to make the race exciting, it was the way that Justify faced a stern test early and then late and had enough class to prevail in a manner that made this Preakness a classic. It also bodes well for Justify's chances of duplicating American Pharoah's 2015 sweep for Baffert and becoming the 13th Triple Crown champion.
"We needed an extra five yards from him and we got it. I'm so proud of him," Baffert said about the son of Scat Daddy, owned by a consortium of WinStar Farm, China Horse Club, Starlight Racing and Head of Plains Partners. "What he's done in five starts is incredible. It takes American Pharoah-like talent to do that. American Pharoah's Derby was a lot like this Preakness. He had to really work at it. Then he came into the Preakness and he showed us what he was. Today Justify had to gut it out. It's good for these horses. It's the first time he's really had to lay it down, and he came through.
"It took a lot of me," he added later, "but I'm just glad. Everyone came to see a good horse race. They saw a great horse race. Good Magic, I tip my hat to him. He made us really work. He's a really good horse … It was almost like Sunday Silence and Easy Goer [in the 1989 Preakness]. They didn't give it away. He was going to make us earn it and I wasn't liking it down the backside … but luckily that's what makes horse racing so great. These great horses, they just define themselves when they get in that situation and today he showed not only is he a big, beautiful, gorgeous horse, but he is all racehorse, and that's what it took to win today."
More on the Preakness ...