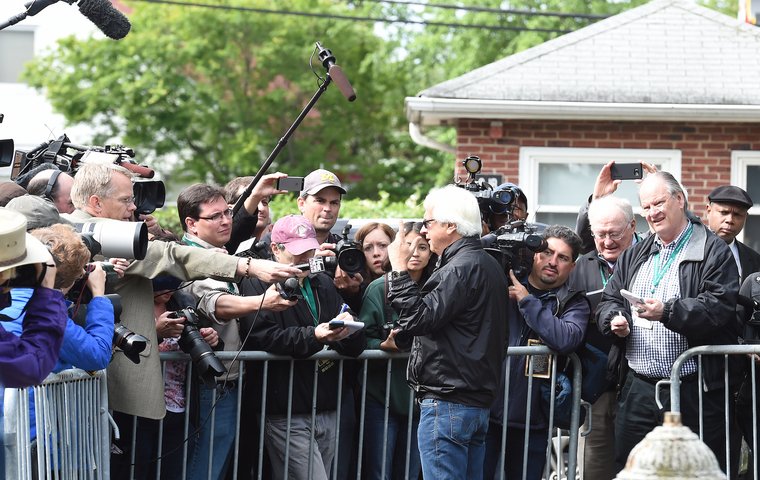 There's an old saying – and a song by Meat Loaf – that two out of three isn't – or ain't – bad, but Baffert has taken that concept to an unfathomable level.

Saturday's win in the Preakness was not only his record-matching seventh in the middle leg of the Triple Crown (the mark was set in 1888 by R.W. Walden), it also gave him 14 Triple Crown wins, tying the mark of D. Wayne Lukas, who nearly racked up his 15th classic win with Bravazo.
Woven into those dozen-plus-two wins in the Derby, Preakness and Belmont Stakes is the fact that Justify, Baffert's fifth Kentucky Derby winner, is also his fifth Kentucky Derby winner who triumphed in the Preakness.
That adds up to five Triple Crown bids by Baffert's horses, a feat that may last as long as trainer Woody Stephens' five straight wins in the Belmont Stakes (1982-1986). The proof is that, going back as far as 1930, there are only three trainers with more than one Triple Crown bid and each of them won the Derby and Preakness in the same year twice. The most recent trainer, other than Baffert, to pull off that feat was Henry Forrest in 1966 and 1968.
Even Lukas, with those 14 Triple Crown wins, had only one Triple Crown candidate in Charismatic, whose bid for a sweep was thwarted by a career-ending injury suffered while finishing third in the 1999 Belmont Stakes.
Justify vs. 'The Curse of Assault'
In the Kentucky Derby, Justify put the boots to 'The Curse of Apollo' by becoming the first Kentucky Derby winner who did not race at two since Apollo in 1882. Now, in order to become the 13th Triple Crown champion, he will have to erase another lengthy hex in the less renowned 'Curse of Assault'.
It seems that, since Assault completed his Triple Crown sweep in 1946, the next five Triple Crown champions (Citation, Secretariat, Seattle Slew, Affirmed and American Pharoah) were all champions at two.
The logic here is that, in order to sweep the Triple Crown, it takes a special brand of horse: The kind who was good enough to be a champion at two and remain the best of his generation through the Kentucky Derby and Preakness, as opposed to a horse that blooms in the spring of his 3-year-old season.
The possible antidote for the curse is that, in Baffert, Justify has not only a trainer who is heading to the Belmont in search of a Triple Crown for a fifth time, but one who solved the Riddle of Sphinx and guided American Pharoah to the first sweep in 37 years.
"We know what we're going through. We know what to expect," Baffert said. "It's the same thing. It's my job to have him ready [for the Belmont]. With [assistant trainer] Jimmy Barnes and everyone else who works for me, we have a great team and we know what to do."
More on the Preakness ...