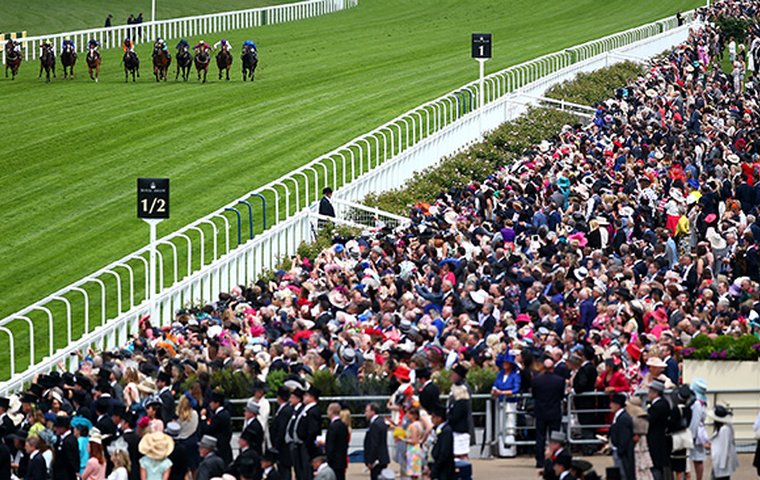 Royal Ascot 2017, which gets under way today, promises to be the biggest and best edition of the great meeting yet, with more prize money on offer than ever, more people watching it around the world - and the strongest challenge so far from the United States.

The hugely prestigious five-day meeting will be broadcast in 175 territories with a reach of 650 million households, the racecourse announced yesterday. This is through Ascot's media rights arrangements with global sports marketing agency Pitch International and Britain's Racecourse Media Group (RMG).
Prize money of £6.665 million is up for grabs across 24 races. Tomorrow's ten-furlong Prince Of Wales's Stakes is the richest, with a £750,000 prize fund, followed by the today's opener, the Queen Anne Stakes (one mile), and Saturday's feature, the Diamond Jubilee Stakes (six furlongs), both worth £600,000.
Royal Ascot's five other Group 1s - tomorrow's five-furlong King's Stand and one-mile St James's Palace, Thursday's Gold Cup (2½ miles) and Friday's Commonwealth Cup (six furlongs) and Coronation Stakes (one mile) - each have prize funds of $400,000.
America's Day One challenge
Six American challengers are running today, and four of them - all trained by Wesley Ward - are among the market leaders. Lady Aurelia, a winner at the Royal Meeting last year, is likely to go off favourite for the King's Stand, while Ward's 2-year-olds Arawak in the G2 Coventry Stakes and Nootka Sound and Elizabeth Darcy, both in the listed Windsor Castle Stakes, all appear to be strongly fancied.
However, the U.S. runners in the Queen Anne - American Patriot and Miss Temple City - are both relatively unconsidered at 20-1 or higher with British bookmakers. The race was won by the U.S. mare Tepin last season.
Uniquely in Britain, every race will be carried live on terrestrial broadcaster ITV1, with the programme hosted by Ed Chamberlin and Francesca Cumani. Irish viewers can see the meeting on free-to-watch television channel TV3.
In the U.S., the agreement with NBC aligns Ascot with a globally-renowned broadcasting powerhouse, while also doubling the reach of Ascot in that market. Last year NBC was the only network in the U.S. to achieve viewership growth (up eight percent and in the 18-49 demographic (up three percent). The main NBC channel reaches 97 percent of U.S. households, while its cable sports channel - NBC Sports Network (NBCSN) - is in 78 million homes.
Royal Procession on U.S. TV
There will be over four hours of coverage daily on NBCSN, while the Royal Procession and fashion highlights will feature in the main network's flagship Today morning programme.
Occasional TRC contributor Nick Luck will front the NBCSN programme from Ascot. Also on course will be an array of presenting talent from the Middle East, reflecting the importance of Royal Ascot to that key market.
The MENA (Middle East and North Africa) region will be served by live coverage from Dubai Racing Channel, Abu Dhabi Sports, BeIN Sports and Al Kass.
Deals in markets such as Russia (Match TV), Sub-Saharan Africa (Kwese) and China (Sina) take Ascot out from behind paywalls in some of the largest markets. In China, the Sina deal not only makes Ascot available to over 200 million broadband households, but will also promote the event to social media platform Sina Weibo's 600 million active users.
Exposure through the Eurosport TV channel across Europe and Asia also maximises reach (over 150 million households). Eurosport.com with over 33 million monthly unique users is Europe's most visited sports website, while its mobile app generates 16 million downloads per day and its social media accounts have over 10 million followers.
Broadcasting to overseas troops
British Forces Broadcasting Service (BFBS) will ensure that over 20,000 British troops and personnel serving overseas will be able to watch ITV's output.
SNTV (Sports News TV), a leading sports news video agency, will distribute coverage to news outlets around the world, while Sky Sports News, BBC News and various overseas news crews will also be on site. CNN is covering the meeting for its World Sport and Winning Post broadcasts.
More than 40,000 betting shops across 43 countries will show the action, while 40 online bookmakers will stream live coverage. RMG's TV channel, Racing UK, will also show the race to 50,000 subscribers and in 6,000 pubs and clubs in the UK and Ireland.
BBC Radio 5 Live and talkSPORT radio, including the Alan Brazil Breakfast Show, will be on site broadcasting live coverage. Racing UK Radio, which syndicates audio on behalf of Ascot Racecourse, will distribute to regional, national and international news stations and BBC Radio Berkshire will be based on site all week giving extensive flavour of the event from a regional perspective.
A first for ITV
Ascot Racecourse will be streaming its own live behind-the-scenes coverage on its website (ascot.co.uk) and Facebook page (Ascot Racecourse) across all five days from 11am until 1.30pm, when the ITV programme begins. Further news, reviews and highlights will be featured throughout the afternoon.
"We are delighted to be hosting ITV at Royal Ascot for the first time in their history and particularly pleased that every stride of every race will be available to the British public, free to air on the main channel," said Juliet Slot, Commercial Director at Ascot.
"The meeting will be shown extensively around the world, which has been a key strategic move for us as we continue to grow our brand internationally.
"We are delighted with the response from so many broadcast platforms, and we are particularly excited to be working with NBC, with potentially 14 U.S. runners taking part this week. For the daily Today show audience of five million to witness the Royal Procession live is particularly exciting for us."
A minute's silence
After the arrival of The Queen and the Royal Party in the parade ring today, a minute's silence will be observed across the racecourse in memory of the victims of the Grenfell Tower fire tragedy and the recent terrorist attacks in London and Manchester.
The racecourse is making a donation of £100,000 to the British Red Cross UK Solidarity and London Fire Relief funds and various charities to support those affected. Exit collections on all five days of Royal Ascot will be available to enable racegoers to contribute.
Johnny Weatherby, Chairman of Ascot Racecourse, said: "We have all been deeply saddened by recent tragic events around the country. At the beginning of this important week for racing, we at Ascot Racecourse wish to pay our respects to the victims and offer support to the families who have been so terribly affected."