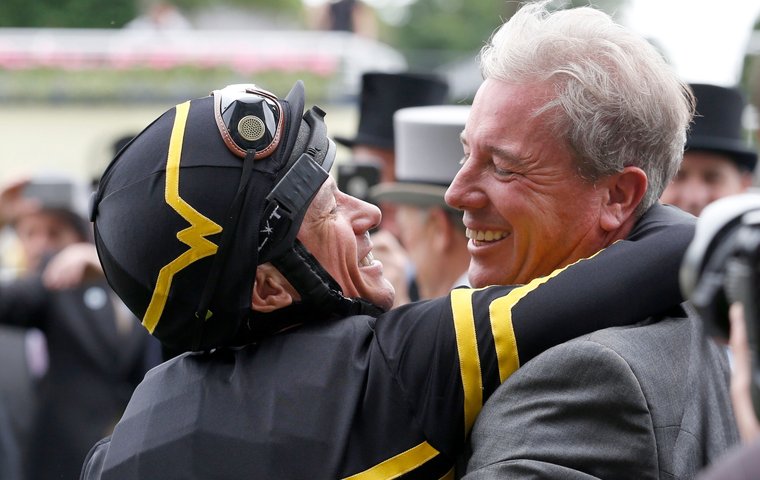 What is it about dear old Blighty that holds such allure among those from its former colony?

Years before Boston Harbor was littered with large chests of tea, triggering a series of events that ended very poorly for a certain mad king, founding father Benjamin Franklin, who lived for spells in London, wrote how the working class in Britain "eat the fat, and drink the sweet" better than those in any other nation in Europe.
Multiple U.S. administrations have gushed about their "special relationship" with the UK. Anglophile and writer Bill Bryson extols Britain's countryside - "the most reliably beautiful countryside of anywhere in the world," he reckons. (Bryson does bemoan the "rarely discussed subject of cow attacks" in England, but that's for another story).
So, when Wesley Ward says that the Brits are "so accommodating and helpful, it just makes you want to go back", his comments hardly emerge from a vacuum.
Special relationship aside, however, no one would blame the Brits if the welcoming handshake extended Ward had in recent years lost some of its warmth. Since 2009, the American trainer's arsenal of flaming arrows has turned his near-annual Royal Ascot invasion into more of a Viking-styled smash-and-grab of some of meet's richest spoils.
To this day, Ward's haul of plundered swag from the royal vaults looks like this: three G2 Queen Marys, a couple of Windsor Castle Stakes, a G2 Norfolk Stakes, a G1 Diamond Jubilee, a clutch of near misses, and a whole bounty-full of praise and plaudits.
Stabled this year at the National Stud in Newmarket, Ward's raiding party is ten-strong, and includes last year's Royal Ascot heroine, Lady Aurelia, who scampered away with the Queen Mary like a moon-lit Paul Revere hot-footing his way towards the Lexington Minutemen (see YouTube video above).
"I'm thinking that all of my horses are going to have big chances," said Ward over the phone, the day after his Royal Ascot class of 2017 had completed their last serious works at Keeneland. "And that's what you need. Things happen in a race. Things happen to a horse. So, if you bring a bunch of them with big chances, you increase your chances to get lucky and win."
'I thought it was mad, to be honest with you'
There was a time, before the start of Royal Ascot 2009, when the idea of an American — and an American hitherto absent from the international stage — turning England's most decorated meeting into a personal benefit elicited more than the odd snort of derision, even among those on the home team.
"I thought it was mad, to be honest with you," said Blake Heap, Ward's California-based long-time assistant, about his early expectations. "Yes, I told him that."
Frankie Dettori, who has struck such a successful partnership with Ward in recent years, alludes in slightly more diplomatic fashion to the same thing when he said that the American's two victories in 2009 made the Brits "sit up and take notice".
Ward himself admits that some of his owners weren't exactly sold on the trip. "Even the eventual winning owners were reluctant to go, and did not want to go," he said.
Luckily, Ward held shares in some of the horses, giving him "a little bit of a strong hold" when it came to twisting arms. That, and in Ken Ramsey, owner of Cannonball (who finished sixth in the G1 King's Stand, then a neck second in the G1 Golden Jubilee four days later), he had the support of "a guy who swings for the fences".
"He's a sportsman, very game guy," said Ward, about Ramsey. "He was willing to take a chance."
'I was just winging it'
Ward remembers "vividly" the build up to Royal Ascot that year. "I was quietly confident," he said, "thinking I was going to have a good showing. I had some quality horses."
Needless to say, Ward isn't the first trainer with a taste for foreign plunder. For decades, Dermot Weld has returned from as far afield as Hong Kong and Australia with wads of dollars in his pocket. Ballydoyle has surely racked up enough airmiles to consider free Martian landings.
And so, I asked Ward whether he turned at the beginning to some of his fellow Phileas Fogg-inspired peers — like the Welds and the Ed Dunlops and the O'Briens — for pointers.
"I was just winging it," he replied, with a sizeable dollop of self-deprecation (deflecting, in the process, the truth - more on this in a bit). "I just got what needed to be done."
Not surprisingly over the years, he's honed his pre-Ascot preparations, identifying and sharpening what works, and eschewing what doesn't.
In the beginning, for example, Ward flew his string over as close to their intended targets as possible. Whereas now, the runners will complete all serious workouts in the States, then fly over a couple of weeks before, to acclimatize and to adapt to their new environment.
The horses thrive in England, he said, and "actually gain weight". Blake Heap blames the inescapable sea of lush grass for the expanding waistlines. "The horses can't get enough of it," he said.
The trick, then, is to maintain their edge in an environment foreign to them in every sense of the word.
Horses conditioned in America, of course, are as a rule unaccustomed to the broad open spaces of England's training centers, with gallops weaving up and down, this way and that. As such, it can be all too easy, Ward said, to over-cook horses already near boiling point.
"You look at a beautiful place like Manton and all the other different places I've been, you really want to utilize the facilities. Although it looks like, 'wow, this looks something great,' you've got to be careful not to do too much, and injure your horses that aren't accustomed to that," Ward said. "The horses are using different muscles. You've just got to be very, very careful."
'There's a bit of an art to training 2-year-olds'
This part of the puzzle can't be overestimated.
Take California Chrome. His attempt at the G1 Prince of Wales Stakes at the 2015 Royal Ascot festival was aborted due in part to being trained prior to the race over the rolling hills of Newmarket, admitted the two-time Horse of the Year's handler, Art Sherman.
"You're using different muscles over there," Sherman told TRC later that same year. "When you're going uphill, you're pushing with your hind legs. Here, on a flat surface, we don't need to do that. They don't need to be built up like they are over there."
Then there are those freak, unforeseen events that scupper even the best laid plans. Just ask trainer Kenny McPeek, whose Daddys Lil Darling turned to dust her connections' dreams — and no small financial outlay — when she bolted on the way to the start of the Epsom Oaks (as lightning cracked overhead) earlier this month before being scratched from the race.
Which leads to Ward's protestations of just "winging it" when preparing for his first Royal Ascot invasion, back in 2009. For, in saying that, Ward downplays the attention to detail needed to pull off any successful Transatlantic raid, and glosses over a hands-on approach to training uncharacteristic among the training rank and file.
To explain why Ward's been such a whizz with the 2-year-olds, much has been written about the way he conditions his young horses.
At his farm in Florida, he closely oversees the breaking of the yearlings, often jumping on them himself, something he's been doing since he was a single digit of a kid. For him, "it's just something that comes natural, getting them prepared, and mentally prepared. It's something that's really helped me in my career."
Nor will you find much cotton wool at the Ward ranch. His youngsters are kept busy being broken, learning the ropes, galloping, swimming. They're shipped around to different tracks. They train and work over different surfaces. And, in doing so, Ward affords himself a comprehensive study of their talent, temperament, and physical toughness.
"There's a bit of an art to training 2-year-olds where you need to get in the work, and they need to get their air to run. Yet, one wrong move knocks you out of the race," he said. "You're dealing with soundness issues with the babies – they're very delicate and fragile."
'I'm really, really excited about this colt'
And so, I had to ask Ward: would you have enjoyed the same Transatlantic success without being so hands-on during your horses' formative years?
"No, I would not," he said, emphatically, using as an example one of the horses he's sending over this year – a 2-year-old called McErin.
A dirt-bred by Trappe Shot, McErin has raced twice, both times on the dirt - first time at Keeneland, when he won, and the second time finishing a bang-up third in a minor stake at Churchill Downs.
Dirt bred. Dirt raced. And stake-placed already. Yet, McErin is being aimed at the G2 Norfolk Stakes this year, where the dirt is nicely hidden beneath a thick carpet of green stuff. That's because "you could tell the horse was going to be a grass horse, just by the way he moved, even when he was being broke", said Ward.
"You throw a fish to water and they swim right off. That's what this horse is like when you put him on the grass," he added. "I'm really, really excited about this colt."
The gist of Ward's reasoning is simple. Had he not witnessed personally McErin's first baby steps as an athlete, the horse's aptitude for the turf might have gone unrecognized, at least in time to formulate a trip to England at two, when any physical advantage he might have over his European peers is arguably at its most pronounced.
Sifting through the horses, selecting the right races, sending them over safely – these are all important components of a larger whole. For racehorses are nothing if not a mercurial bunch, some with egos that need careful assuagement.
"I've sent McErin's rider, too – an old cowboy type of guy who's been with me 27 years, breaking and galloping horses," said Ward. "McErin has got some antics the normal exercise boy couldn't handle. Things would go sideways if he didn't go with that particular horse."
'He has great backroom staff'
Others have their own ideas as to why Ward's European experiment has delivered so strikingly.
"He's a smart guy - he remembers everything," said Blake Heap, who's known Ward for decades. A trainer in his own right, Heap travels with Ward's horses, and is largely responsible for their day-to-day wellbeing when on the road.
"Wesley's had thousands of horses run over the years, he remembers every one of them – what they did, why they won, why they got beat. He's very sharp in that way."
The term workaholic gets bandied around as well - by Heap, when he says that "all day, Wesley's thinking of his horses. He gets up and goes until he drops, ten at night, doing nothing but horses".
… and by Frankie Dettori, who said about Ward: "You can't take it away from him – he works."
"He has great backroom staff, too," Dettori added. "The grooms that come over are top class. They take great care of the horses."
The two have forged in less than a handful of years a pretty lethal combination. Since 2014, Dettori and Ward have teamed up to win a G1 Breeders' Cup Juvenile Turf (with Hootenanny), a brace of Queen Marys (Acapulco and Lady Aurelia) and a G1 Prix Morny (Lady Aurelia).
It helps, one would think, that the two appear to be temperamentally well matched.
"You couldn't find a more positive guy in the world," said Dettori, about the American. "He's very positive around everything. He's full of energy, and is a very outgoing person. And you kind of feed off it. We've got a good chemistry."
'When you can do that, you're gonna have success'
For his part, Ward said that he will "forever be indebted" to Dettori for his role in delivering Undrafted —a "funny horse" who only runs for certain jockeys — with pristine timing in the 2015 G1 Diamond Jubilee.
"Without him on that horse, Undrafted, I do not win. He rode a magical race."
Prior to 2009, it seemed probable Ward would eventually break into the upper echelons of the sport, and snag nice prizes like a Diamond Jubilee, but the proof was still in the eating.
Between 1991 and 2008, his annual prize money hauls were steadily increasing, he'd scored 12 graded stake victories, but the G1 register was still stuck at zero.
Ward admits that, since his Royal Ascot exploits, the quality of horse in his barn has improved appreciably – something borne out by his trifecta of Queen Mary-winning young starlets.
Ward's first Queen Mary winner, Jealous Again, cost only $30,000 at the sales. Compare that to Acapulco, who came with a $750,000 price-tag at the 2-year-old sales. His Queen Mary winner of last year, Lady Aurelia, cost a handy $350,000.
Ward's keen on Lady Aurelia's chances in the G1 King's Stand this year. "Obviously, she likes the course, and she's had a good winter off and a fantastic prep comeback at Keeneland. Her last couple of works have been tremendous, so she's got to have a big, big chance."
Ward is particularly keen on Sandringham Handicap-bound Con Te Partiro, a stake-winning 2-year-old last year by Scat Daddy, who made a nice debut this year, when fourth at Belmont Park.
"She absolutely outworked Undrafted in a breeze, yesterday," said Ward. "And to watch it was wow."
Bound For Nowhere, two-for-two this year, goes for the G1 Commonwealth Cup. Had Bound For Nowhere run last year, Ward said, he may have proven himself "just a little better" than Lady Aurelia. "I'm thinking he's gonna run big," Ward added.
Then there's the 2-year-olds.
This year's batch, he said, is as strong as previous ones – an ominous statement, given what's come before, and given how he's perfected his formula over the years.
"You're learning by your mistakes, and you move forward, and you try to eliminate the mistakes," he said. "And when you can do that, you're gonna have success."