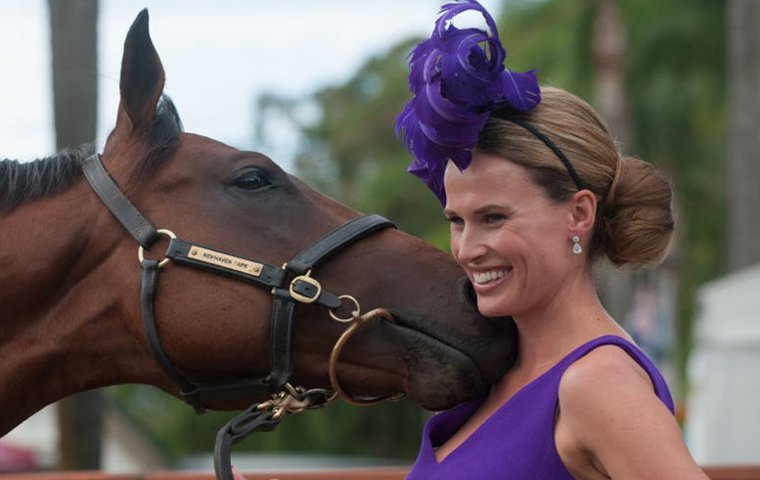 It's just three weeks now before the next significant development in Britain's TV racing coverage: the arrival of Francesca Cumani. Readers in the UK will know her as the daughter of Newmarket trainer Luca Cumani, but she is much better known in Australia - where she has been bringing poise and insight to televised racing for the past eight years. Steve Moran asked her how she feels about the challenge of becoming one of the faces of British TV racing.

Francesca Cumani knows the racing animal, and that's chief, but not lone, among the assets she will bring to ITV's flat racing coverage in the summer.
The accomplished rider, TV presenter, wife and mother of 10-month-old Harry is delightfully self-effacing. She laughs at the notion that she's something of a 'star' in Australia and certainly better known than at 'home'. "It is a bit funny," she said, 'but I don't do it for some sort of recognition. I do it because it's my job and my passion."
That notoriety may not quite have her the centre of attention outside the 'theatre' in Melbourne or Sydney on a Saturday night, but let me assure you there's not a racing fan in Australia who wouldn't know of her, likewise for the majority of casual racegoers. She'd be 'mobbed' in the nicest possible way, I'd hope, were she brave enough to catch the raceday train from Flemington to the city during Melbourne Cup week.
Of course, she didn't set out to have a career in racing television, nor seek the accompanying attention. It all happened rather by chance.
'Rabbit in the headlights'
She recoils at the memory of her first day on air in Australia and sees the irony in that the fact that she will now have to 're-familiarize' herself with English racing after facing the daunting task of understanding Australian racing and form, which was totally unfamiliar when she began with Channel 7 on (Australian) Derby day in 2009.
"I felt a bit like a rabbit in the headlights on that first day," she said.
She was, of course, not without some knowledge of the local racing, having accompanied her father's two Melbourne Cup runners, Purple Moon and Bauer - both agonisingly beaten into second place - in the two previous years, 2007 and 2008.
But the form, the jargon and the key players were largely unknown. "What's this first-up and second-up mean, I was wondering? They're not terms we'd use in the UK … and why is this horse dropping back from a mile and a half to seven furlongs? It wouldn't happen in England?," she said.
Cumani's TV career was as much a surprise to her as anyone else. "I got a call out of the blue from Andy Kay at Channel 7 and it's gone from there. I had no media training but felt that at least I knew my subject.
Easy manner
"Obviously I'd watched a lot of live TV racing coverage and observed people like Clare Balding, but there was a lot to learn. You certainly try not to fill the air just for the sake of it, but often there's a void and you have a producer wanting you to fill it or you're thrown an unexpected question.
"It can be quite draining, but generally the adrenalin and the excitement of live television will get you through. At the end of the day, you certainly don't feel like talking anymore."
Okay, let's deal with the elephant in the room. She is attractive, and that might have afforded her an opportunity that may not have come to others. That's the nature of television; applies to men as well. But it hasn't secured her tenure.
She brings a comfortable, easy manner to Channel 7's coverage of the biggest race meetings in Australia. She brings a degree of charm plus genuine knowledge, which juxtaposes well against the more hard-edged and male-dominated analysis of the form and the betting.
In Australia, Cumani's primary television role is to provide an assessment of each horse as it paraded pre-race, but the ITV job description has her more as a co-host with Ed Chamberlin when she begins her 50-raceday contract with ITV on Guineas weekend - May 6 and 7.
'Dream come true'
"I've been getting the feeds from ITV and watching the coverage. The emphasis seems to be, from the parade, covering the main chances in the betting, whereas we'd do every horse in every race in Australia. I'd imagine I'll do a little of everything for ITV as I ease into the role of co-host," she said.
This an opportunity she describes as something of a dream come true - to expand her professional development in the country of her birth.
Cumani's development has been fostered by Channel 7's racing host, Bruce McAvaney, who is widely regarded as the nation's number one sports broadcaster.
"Bruce has had the most significant effect on her career and now I'm sure she'll also learn from Ed (Chamberlin), who is a very professional operator. The opportunity with ITV is the obvious next extension of her career," says her manager, James Henderson, whose DSEG group also looks after a number of sports and entertainment figures, including former Australian cricket captain Ricky Ponting.
Channel 7 sports and racing producer Andrew Hore-Lacy says Cumani will have no difficulty coping with a hosting role. "We see her more and more as a co-host as she has progressed over the past couple of years.
"She came to us knowing a lot about racing and very little about television but is now an extremely talented media performer. I think she'll take the experience and knowledge gained with us and CNN and flourish in her role with ITV," he said.
Riding out for Dad
Cumani admits she's not a punter but does do the form. "I think my strength is bringing some insight into the animal, but I do do the form and then marry that with what you physically see in the horse," she said.
Hore-Lacy says: "She works hard. She can't be found on a Friday, which she calls 'form study Friday'," he said.
She also admits she's not met Chamberlin. "But we've had a lot of correspondence via email and spoken on the phone. He's a very passionate racing guy and very professional and I'm looking forward to working with him," she said.
Cumani plans to return to her father's Newmarket yard with her son and her husband, polo player Rob Archibald, and, if time permits, she'd like to ride out for the stable. "If I don't tip the scales too high, I'll definitely ride out," she said. 'I'm not joking, Dad forbids me to ride if I'm too heavy."
Cumani's love for racing stems from her association with the animal and she says the passion won't be dulled by a significant workload in two countries.
"I can't complain, I'm very fortunate. Summer in the UK with all the good races and the other major events at that time and then return to Australia, after it's winter, for the Melbourne spring carnival.
Media-savvy trainers
"I'm already getting my head around the English form and looking forward to interacting with the trainers and jockeys, many of whom I know and some I don't. There hasn't been much change to the names at the top of the training lists since I've been away, but there's younger trainers like Ed Walker, Charlie Fellowes, Hugo Palmer and Amy Murphy doing well. Amy worked for my dad for some time and also had a stint with Gai Waterhouse in Sydney.
"The industry participants in Australia are very obliging and I think we're seeing now that the younger English trainers are much more open to the media, more media-savvy and understand the advantages of good PR," Cumani said.
She will remain in the UK until Qipco British Champions Day on 21 October, which, this year, clashes with the Caulfield Cup in Melbourne. This, of course, means she will not be available for two of the biggest days of the Melbourne spring carnival - Guineas and Cup day at Caulfield - but this has not caused any angst, according to her management.
Cumani will undoubtedly face intense scrutiny from the hard-nosed English punters, but the general view in Australia is that she 'knows her stuff' and has added value to the racing coverage.