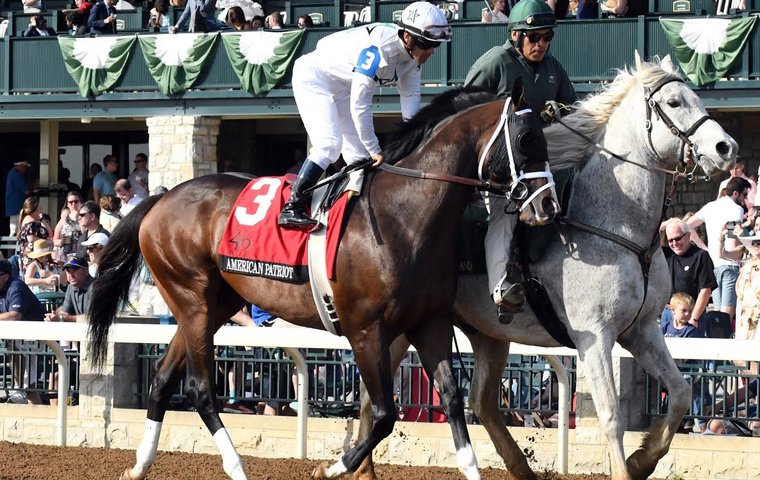 It takes a great deal of confidence to ship a horse overseas to compete on one of the largest stages in racing. When it comes to American Patriot, the decision to send him to Royal Ascot to run in the G1 Queen Anne Stakes next Tuesday is simply WinStar Farm's latest show of faith in the regally bred colt.

American Patriot started making a name for himself last year when he won the G3 Kent Stakes and finished third in the G1 Secretariat Stakes. This year, he notched the biggest victory of his career to date in the G1 Maker's 46 Mile Stakes at Keeneland (see YouTube video below).
That race has proven to be a worthwhile springboard for such an attempt, considering the 2016 winner was Miss Temple City, who will be competing at Royal Ascot for the third time this year.
With his G1 score, American Patriot convinced those at WinStar that he deserved the chance to run in Europe. However, while that victory was a key part of the decision, it was not the only one.
"He's on top of his game and undefeated this year, he's really doing well, he's by War Front, and his mother's full brother won the Dubai World Cup," said Elliott Walden, WinStar's president and racing manager. "From a heritable standpoint, his whole family top and bottom has travelled very well. I think there is something to that. It just made sense to try it."
Coming together
American Patriot's running style and preferences also put Royal Ascot on the radar. For starters, his connections believe the more challenging course he is going to face in England will actually benefit him more than a flat mile in the United States.
"From a physical standpoint, we felt like the uphill mile, which is a bit more demanding, would suit his strengths," said Walden. "From a distance standpoint, we feel like he is a tick better at a 1 1/16 or 1⅛ distance than he even is at a mile in the United States, but this race is a demanding mile and will suit him."
Another thing that Walden feels will prove beneficial to the 4-year-old colt is the fact that the Queen Anne is a straight mile.
"He is a horse that does not switch his leads very well in the stretch," said Walden. "He will hang on his left lead for a long time. If you go back and watch the Kent and the Secretariat, and even the Maker's Mark, he is on his left lead all the way down the stretch.
"I felt like the straight mile would also lend itself to that because leads are not nearly as important on a straight as they are when you are going around two turns."
It also doesn't hurt that American Patriot is trained by Todd Pletcher and will be ridden by Frankie Dettori in the Queen Anne, even though, like a lot of American runners in Britain, he is dismissed by British bookmakers, who price him as high as 25-1 to claim victory.
Full of faith
WinStar's confidence in American Patriot is nothing new. The homebred colt's pedigree alone is a tip off that expectations were always going to be high.
War Front is one of the world's leading stallions, and getting into his book is no easy feat. American Patriot is out of the Tiznow mare Life Well Lived, who is a full sister to Well Armed. In 2009, Well Armed romped to a 14-length score in the Dubai World Cup, and his margin of victory remains a record to this day.
"We have been very confident in American Patriot from the start," said Walden. "He has been a very good horse right from the beginning. As a foal, he had a lot of character, charisma and class. He was always easy to spot because he has a big white blaze, and when you saw him in the field he just stood out."
That ability to stand out in a crowd is even more notable given that American Patriot's favorite paddock mate growing up turned out to be Outwork, winner of the 2016 G1 Wood Memorial Stakes.
American Patriot was sent to auction as a yearling, but he carried a hefty reserve. Offered as Hip No. 34 at the 2014 Keeneland September sale, he failed to sell when bidding stopped at $850,000. When that happened, it was an easy decision to take him home.
"We offered him for sale like we do all of our good horses, and we put a price on him that we thought was fair, but we just didn't get it done," said Walden. "He was our best yearling of the crop. We wanted $1 million for him, which didn't seem outrageous at the time because he was so good looking, is by War Front, and is out of that family.
"One million is a lot for a horse, I am not downplaying that, but if you have an operation like WinStar, and it is our best, it should be worth somewhere in that range."
World stage
Three years later, the major players at WinStar (currently ranked #20 in the world owners' standings) are looking forward to the journey to England. Walden will be in attendance, as will general manager David Hanley and farm owner Kenny Troutt, along with members of their families.
"The important thing for us at WinStar is to compete on the biggest stages," said Walden. "We feel like we have had tremendous success in North America and now we are branching out. We are also doing some things in Australia, and we had our first Grade 1 winner down there with a horse named Invader [a son of Snitzel who won the Inglis Sires' on day one of The Championships at Randwick in April].
"The reality of where we are today is that Thoroughbred racing is an international sport. Our customers at public auctions are international, so it makes sense for us to branch out."
That said, Walden is realistic about taking an American turf horse overseas and knows that it takes a special athlete to get the job done.
"We are at a little bit of a disadvantage because we are playing into their strengths," said Walden. "I think overall, as a whole, European turf racing is five lengths better than American turf racing. Similar to when they come over here, they have to have the right horse to do it on the dirt.
"What gave us confidence are the likes of Tepin and a few of the other horses who compete in America and then have gone over to Royal Ascot and done well. It gives you confidence to go ahead and try it. We are excited and feel really good about it."