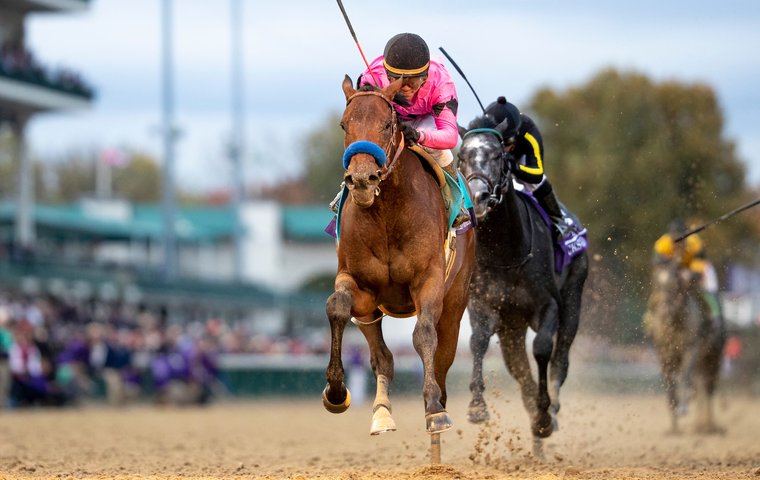 This is the biggest weekend of trials, with the G1 Santa Anita Derby, G2 Wood Memorial at Aqueduct and G2 Bluegrass Stakes at Keeneland looking sure to refine the picture for Churchill Downs a great deal. James Willoughby examines all three races in his ongoing analysis of the Kentucky Derby trail.

As mentioned before, it is expected that the nine-furlong distance of this races gives stronger staying horses the chance to emerge. Races over an extended mile are still often within the range of sprinter-milers, but the extra half-furlong around two turns gives Derby-type horses a chance to run down the speed.
For each race, we present a look at the likely favourite together with a suggested value play. The record of value plays for all races so far in this series is:
Limonite (G2 Risen Star) 5th, 17.5-1
Bourbon War (G2 Fountain of Youth) 2nd, 4.3-1
HAIKAL (G3 Gotham) WON, 4.4-1
Outshine (G2 Tampa Bay Derby) 2nd, 6.1-1
Galilean (G2 Rebel Stakes Div 1) 3rd, 3.6-1
OMAHA BEACH (G2 Rebel Stakes Div 2) WON, 4.4-1
Spinoff (G2 Louisiana Derby) 2nd, 4.3-1
MAXIMUM SECURITY (G1 Florida Derby) WON, 4.8-1
RACE: $1,000,000 G1 Santa Anita Derby
TRACK: Santa Anita, California
DISTANCE: One mile, one furlong
DESCRIPTION: Regional final fed by G3 Sham (January 5) and G3 Robert B Lewis (February 2). Other races cancelled due to ongoing problems surrounding safety for the horses at the track
Top choice: GAME WINNER
Unbeaten as a juvenile, when he won three G1s including the Breeders' Cup Juvenile, Game Winner is a top-class horse and will be hard to beat here. He lost his first race last time in division two of the G2 Rebel Stakes when unable to run down the highly talented Omaha Beach – a horse who could be a serious threat to all in the Derby itself.
On that occasion, Game Winner found the test of stamina inadequate, given that the winner raced closer to a near-perfectly rated 23.54 – 23.75 – 24.53 – 24.57 – 6.03 (pro-rated 24.12). You can easily make a case that Omaha Beach and Game Winner are the best two 3-year-old colts in America, given that they pulled more than eight lengths clear of the rest despite not having a searching pace to extend the distances.
If that opinion is valid, and given that Game Winner will relish the slightly longer trip here, he is very much the one to beat.
Value pick: NOLO CONTESTO
When today's opponent Roadster beat NOLO CONTESTO by two and a half lengths in an allowance race over a mile at Santa Anita a month ago, there were extenuating circumstances for the runner-up.
First, jockey Joel Rosario reported that Nolo Contesto did not enjoy being in tight quarters towards the inside. More significantly still, it was an odd race in terms of pace: fractions of 23.75 – 24.10 – 25.31 – 12.26 – 12.11 (pro-rated 24.22) describing a most untypical dirt race run more like a race on grass with a mid-race lull and a fast finish.
Roadster was impressive, and we could find out here that he is worth the reputation he has long enjoyed, but his wind has been less than perfect and he still carries his head at a slightly awkward angle.
Making excuses for a horse is generally not that profitable an exercise, but Nolo Contesto has stronger claims to fall back on than his last race. In his maiden on January 4 – notably two months prior to the allowance-race blip – he found himself in an eerily similar position to Game Winner in the Rebel; he was tasked with running down Omaha Beach as the latter turned for home in front.
Where Game Winner failed, Nolo Contesto succeeded. Racing towards the outside this time, he ran down Omaha Beach and won by half a length.
After that, the son of Pioneerof The Nile remained on the work tab – firing a couple of sharp works immediately before the clash with Roadster. Where others shipped outside California to continue their preparation during the hiatus at Santa Anita, John Sadler waited with Nolo Contesto. This may be the day when he takes a serious step forward.
RACE: $750,000 G2 Wood Memorial Stakes
TRACK: Aqueduct, New York
DISTANCE: One mile, one furlong
DESCRIPTION: Regional final fed by G3 Gotham (March 9) and G3 Withers (February 2).
Top choice: TACITUS
The beautifully bred Tacitus is by Tapit out of the top-class Close Hatches, who won five G1s for Juddmonte Farms, the owners of Tacitus. Last month, son took his first steps towards emulating mother when winning the G2 Tampa Bay Derby in determined style.
Tacitus is a very strong stayer. He is not quick and he looks in some trouble approaching the home turn at Tampa Bay. But the chances are he was still green, and one had to be really impressed with the way he battled on to defeat our Value Pick that day, Outshine, who reopposes here.
With that third career start under his belt, Tacitus returns to Aqueduct where he broke his maiden last October. He has obviously taken some time to develop, and there is a strong chance plenty more is to come. He deserves to be favourite here.
Value Pick: HOFFA'S UNION
This gelding reminds the author of War Emblem, the 2002 Derby winner, in the way he goes after the job. Obviously, that comparison is offered highly speculatively at this stage, more to suggest he has distance potential as a strong-galloping prominent racer who hits the line hard.
HOFFA'S UNION has run only once, winning a Laurel Park maiden by more than 15 lengths in 1:43.61. You can watch him do it here:
Now, this time demands some context beyond the observation that it translated to a very useful speed figure. In the race immediately before, the two-length winner of a third-level allowance with an optional $50,000 tag went 0.4sec slower in fractions of 24.22 – 24.33 – 24.07 – 25.11 – 6.28 (pro-rated 25.12). Even though the winner of that race was off those fractions, the tempo up front represents a much smoother distribution of energy than Hoffa's Union, who broke the beams in 23.71 – 24.94 – 24.17 – 24.57 – 6.22 (pro-rated 24.88) – unusually faster both early and late with a slackening mid-race that would have compromised the event as a time trial. This is serious stuff.
The first two dams of Hoffa's Union could really run, and their descendant is a fascinating prospect in the big time here. It is a big ask, sure, on only his second start and first over the Aqueduct surface which takes a bit of knowing. But this colt may have serious talent. After the race, he was bought by some shrewd people too.
RACE: $1,000,000 G2 Toyota Blue Grass Stakes
TRACK: Keeneland, Kentucky
DISTANCE: One mile, one furlong
DESCRIPTION: Regional final fed by G2 Tampa Bay Derby (March 9)
Top choice: VEKOMA
According to TRC Global Rankings, Candy Ride is currently the most effective sire in the world on dirt. This series of races gives him the chance to prove it, with Game Winner the one to beat in the G1 Santa Anita Derby and Vekoma looking to hold sturdy claims here.
Vekoma, trained by George Weaver, was having only his third career start when finishing a fine third in G2 Fountain of Youth Stakes at Gulfstream last month. That form took a bit of a battering in the G1 Florida Derby, but Vekoma can move forward off the effort and, in common with most of Candy Ride's stock, should appreciate the chance to tackle nine furlongs.
Not that this race will be easy. It's a big field of 14 and not every horse makes a smooth transition to the dirt surface at Keeneland. But, Vekoma has a bit more seasoning against black-type horses than many, having won the G3 Nashua at Aqueduct before his Gulfstream defeat.
Another one with strong claims towards the head of the market is Win Win Win, who could not conjure an outside run in the G2 Tampa Bay Derby but was wildly impressive in a fast time on his previous start there.
Value pick: SOMELIKEITHOTBROWN
To obtain value at the windows, it is necessary to take a chance on something, right? Most times, that is ability, but that is less of a problem for the really talented SOMELIKEITHOTBROWN than suitability to Keeneland's dirt surface.
The son of Big Brown has not run on a conventional main track since being thrashed on his debut at Saratoga as a 2-year-old. At least that was on a sloppy track, which provides some hope.
Since then, he has looked mighty good on turf and synthetics, and we have already seen War Of Will show the benefit of that on this Triple Crown trail. Somelikeithotbrown, for whom the inside stall is a help in a big field, won a maiden at Saratoga by eight lengths, which you do not see a lot on the grass. He went on to finish third in the Breeders' Cup Juvenile Turf – with War Of Will two places behind – which is actually the best form on offer here in terms of merit, if not reliability.
Somelikeithotbrown really took to Turfway Park's synthetic surface – maybe Animal Kingdom-style – on his last two starts, overcoming trouble to win the listed John Battaglia readily, then hosing up in the G3 Jeff Ruby Steaks (sic) when he produced a brazen display of speed and would have won by further, apart from wandering in the straight on a day with a strong headwind.
Previously in this series
Who might have learned enough to shine in the Risen Star?
Hidden Scroll must show he's up to it between the ears
Can Instagrand repay some welcome independent thinking?
Is this a Bob Baffert benefit?
Now the better stayers start to come into their own
Can Hidden Scroll take his second chance?