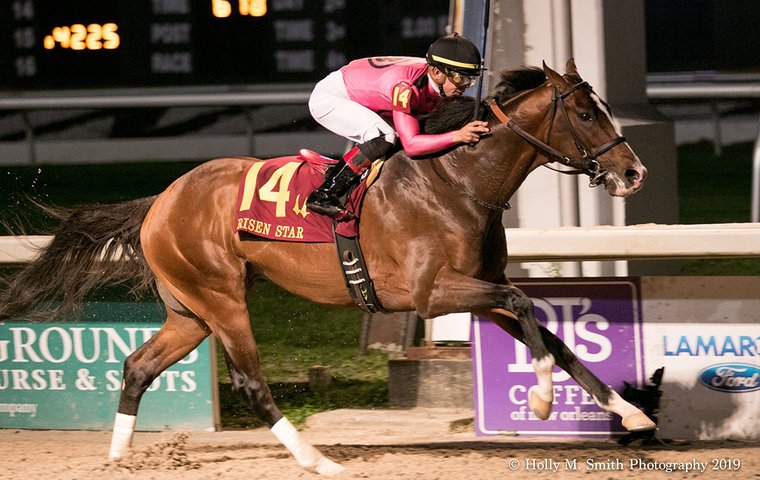 James Willoughby's ongoing analysis of the Kentucky Derby trail via the perspective of TRC Global Rankings switches up a gear with a look at the G2 Louisiana Derby at Fair Grounds, the first of the 100-qualifying-point races. It is also what we call a 'regional final' in the spirit of March Madness, the ongoing NCAA basketball tournament.

As far as handicapping is concerned, it is from now on that value can be found from paying heed to long-winded horses, the staying types who have been running out of ground in races at around a mile.

In Europe, the difference between nine furlongs and a mile is far less in terms of the demands on stamina. In the U.S., where races on dirt are run in a contrasting fast-slow pattern, the difference can be profound.

RACE: $1,000,000 G2 Louisiana Derby
TRACK: Fair Grounds, New Orleans
DISTANCE: One mile, one furlong
DESCRIPTION: Regional final fed by G2 Risen Star (Feb 16) and G3 LeComte (Jan 19)
Top choice: WAR OF WILL
A total of 11 3-year-olds will go to post for the Louisiana Derby, but one colt stands head and shoulders the best in terms of exposed form. That runner is War Of Will, winner of the G2 Risen Star here by more than two lengths from Country House. Not only does the runner-up re-oppose, but back for another shot come Roiland (third), Hog Creek Hustle (fourth), Limonite (fifth) and Mr. Money (seventh).
Breaking from post 14, War Of Will made short work of them all. He found it easy to take up a position on the shoulder of the leader, went on before the turn for home and was ridden out to prevent him idling. Although Country House looked as if he might be able to lay down a challenge in the straight, he did not keep a straight line and was comfortably held.
We thought War of Will an interesting horse heading into the Risen Star because of his turf foundation. It's not surprising that world #17 trainer Mark Casse tried him on turf, given that he is by War Front out of a mare by Sadler's Wells. In the rolling three-year window of results we consider for TRC Global Rankings, all but six of War Front's 44 Group and Graded winners have come on turf.
War Of Will has adapted well to dirt, but there's another factor he must habituate to here: longer distances. His sire was a sprinter, but, if we break down our global ranking of sires into three buckets of 'short', 'medium' and 'long' distance races, the son of Danzig would currently rate #54, #11 and #680 respectively. Note that the 'medium' bucket is races from 7.5f to 11f on turf, or 7f to 8.5f on dirt; in other words, War Front horses are most often milers.
For his part, War Of Will is plenty free-going. This is one of the reasons he has made such a ready switch to racing on dirt, for a tendency that needs to be curbed in turf races can now be unshackled.
But what of a greater test of stamina than the Risen Star? As a 2-year-old, War Of Will lost the one-mile G1 Summer Stakes on the Woodbine turf after being clear early in the straight. The colt that beat him, Fog Of War, hasn't had a chance to show it since, but he is very good and perhaps just outran our hero, rather than outstayed him.
War Of Will has so far aced the G3 LeComte and the G2 Risen Star and is very much the one to beat here. He is very good, and with seven races under his belt now will not fail for lack of conditioning in this competitive affair.
This horse really looks the part as well. He has a physical presence and can impose that on his rivals better on dirt than turf. The chances are he is getting stronger by the race.
Value pick: SPINOFF
So far in this series, the value picks have been:
Limonite (G2 Risen Star) 5th, 17.5-1
Bourbon War (G2 Fountain of Youth) 2nd, 4.3-1
HAIKAL (G3 Gotham) WON, 4.4-1
Outshine (G2 Tampa Bay Derby) 2nd, 6.1-1
Galilean (G2 Rebel Stakes Div 1) 3rd, 3.6-1
OMAHA BEACH (G2 Rebel Stakes Div 2) WON, 4.4-1
Limonite, who carried our cash in the Risen Star, ran okay off the layoff that day and could be entertained again here, especially as it will not cost much to find out whether he can improve for the extra distance. He was stopped three times in the run last time but did not finish with enough energy to believe he is a top horse.
It is going to take a very good horse to beat War Of Will, but SPINOFF looks exactly that and is well worth a bet. Racing in the colours of the Wertheimer Brothers – more often seen in European Group races on the back of horses like Goldikova – Spinoff ran a truly remarkable race in a Tampa Bay allowance, which you can view here by entering 'February 22, Race #2' into the relevant dialogue boxes.
The son of Hard Spun ran a time of 1:40.25 (which rightly enthused caller Richard Grunder) for one mile and 40 yards, and the way he did it was exciting. The splits were 22.68 – 23.20 – 25.09 – 26.94 – 2.34 (pro-rated 25.64) after emerging from hard duel that forced him to be switched off the inside halfway down the back.
Amazingly, Spinoff came back on the bridle turning for home and unleashed a long stride to storm nearly 12 lengths clear of a Godolphin runner who had sat off the pace early. Here, the colt showed strong stamina, also suggested by his third in the 6.5f G2 Saratoga Special on his previous outing, last August.
Thanks to the laws of physics, we can project that Spinoff should be able to run significantly faster than he did at Tampa.
What has to be feared is that Spinoff will show some physical regression. He has managed only three starts so far, and who knows whether he can stand racing. But this is a horse who has flashed top-flight ability and is out of a mare who was herself an easy G1 winner in the 2008 Acorn Stakes. And the price will compensate us for the risk.
Previously in this series
Who might have learned enough to shine in the Risen Star?
Hidden Scroll must show he's up to it between the ears
Can Instagrand repay some welcome independent thinking?
Is this a Bob Baffert benefit?