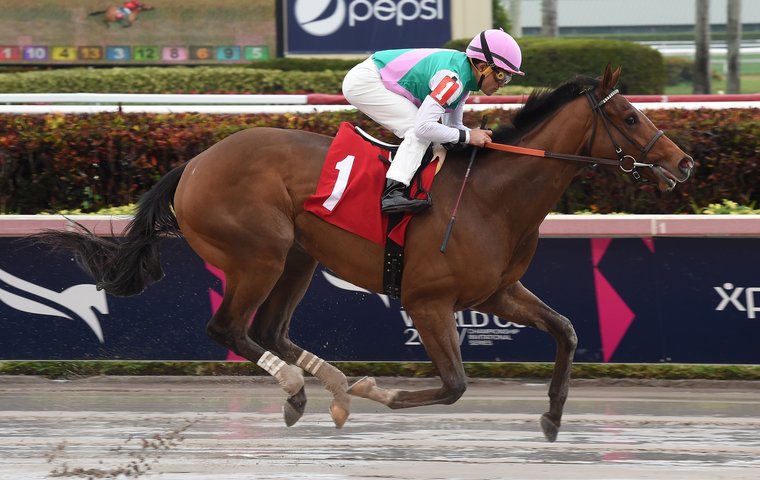 In his second stop on the 2019 Kentucky Derby trail through the perspective of TRC Global Rankings, James Willoughby studies Saturday's Fountain of Youth Stakes.

Race: $400,000 G2 Fountain of Youth Stakes
Track: Gulfstream Park, Florida
Distance: One mile and half a furlong
Description: Lead-up race to $1,000,000 G1 Florida Derby, March 30

TOP CHOICE: Hidden Scroll
ANALYSIS: Millions of Americans have been pondering the reliability of evidence this week. The question they must answer is fundamental, and it will never go away: just how much can you trust a huge figure on a sloppy track?
Hidden Scroll faces a congress of talent in the G2 Fountain of Youth Stakes on Saturday night. Do we trust the specifics of what first impressions indicate? Or, do we generalise from past experience of similar types?
As a handicapper, I don't normally look for redemption from a $6 horse in a situation as contentious as this one. The only name I want on my ticket at that price is the original Big Red.
After all, I have been burned by many horses like Hidden Scroll coming off one sensational appearance. Sometimes, however, when the established order is not exactly unimpeachable, it pays to take notice.
What Hidden Scroll did in the fourth race of the rain-lashed Pegasus World Cup card suggests he has more talent than many horses already Graded stakes-placed. Okay, when a colt dons those Juddmonte colours, it makes it easier to view him as a generational talent. And, true enough, sloppy-track figures can sometimes mislead, but many people said the same about Ghostzapper's win in a muddy G3 at Monmouth back in 2004, and he turned out okay.
Often, the deciding factor is the substance between a horse's ears. On anybody's figures, Hidden Scroll's 1:34.82 for a mile here first up was exceptional, but he was only strutting his stuff with no real opposition. How does he react now when given the office? It's a very different scenario, replete with opponents who know how to act.
From what you can see in the video below, Hidden Scroll looked a push-button horse. He was not the quickest away, but that is only to be expected from a debutant, and it makes his performance even better when factored in. After that, however, he quickly and adeptly took control, slicing up the inside to clear the pack and literally kick sand in his opponents' faces.
Hidden Scroll is by Hard Spun out of an Empire Maker mare. Juddmonte never knowingly breed cheap horses, and when their produce wins a maiden race by 14 lengths, it multiplies the probability of a black-type win.
In general, my reading of last year's juvenile form in the U.S. suggests there is room at the top. I am not convinced it was a vintage generation, though, if the evidence changes, I will change my mind.
Apart from Hidden Scroll, the Fountain of Youth offers the unbeaten Global Campaign, a colt with one more outing than the top choice and equally distinct in natural ability, if not achievement against the clock. He is more of a hard-charging type, however, and I fear for him barrelling into the first turn.
VALUE PICK: Bourbon War
The value-hunter really ought to be getting involved here, seeing as though a chunk of the market will be taken up by horses with no experience at this level to their name. So, it might pay to go with Graded winners Vekoma or Signalman, or even Code Of Honor, who was a G1-second in the Champagne Stakes last fall.
The horse I am betting is Bourbon War. And the reason is acclimation. I have made more bets on races at Aqueduct than any other circuit in the world, and it always pays to trust home-court advantage. If a horse doesn't act there, the surface can turn champions into also-rans.
When Bourbon War turned up on the Florida worktab for the winter season, he was on my shortlist of horses who could easily take off. The Remsen Stakes in January was not his true running, even though it was a fairly sturdy race. He is a lot better than the fourth place suggests; they crawled early, kicked on down the back straight with him still off the pace, and he had no chance to loop the field from lane four.
There was more to it than that, however, for he barely picked up his feet, but there have been many horses who have done that on a cold day in January who soon put it behind them in sunnier climes.
With fast-rising world #14 Irad Ortiz in the plate, the son of former world #3 sire Tapit gets the vote.
Previously in this series