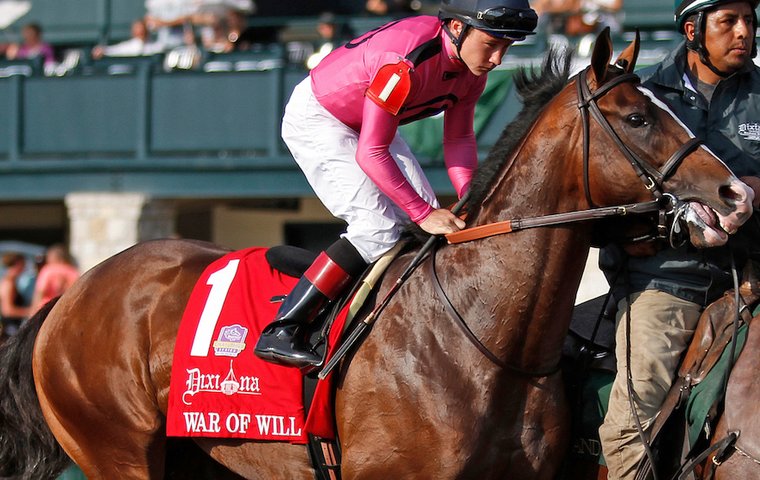 James Willoughby makes his first stop on 2019's Kentucky Derby trail via the perspective of TRC Global Rankings with a look ahead to Saturday's Risen Star Stakes, the first of the 50-pointers (races for which the winner will receive 50 qualifying points for the great race itself).

Race: $400,000 G2 Risen Star Stakes
Track: Fair Grounds, New Orleans
Distance: One mile, half a furlong
Description: Lead-up race to $1,000,000 G2 Louisiana Derby, March 23
TOP CHOICE: War Of Will
ANALYSIS: The key point about War Of Will from the standpoint of TRC Global Rankings is his turf foundation. Turf racing in the U.S. is getting stronger and stronger on our figures, partly because we reckon the best stallions in the world at present are turf stallions – and leading connections in the U.S. know this too.
When War Of Will switched from a four-race campaign on the grass to make his debut on dirt in a Churchill Downs maiden, his five-length romp signalled an immediate aptitude for the surface. This impression was further bolstered when he romped in the first of the local Kentucky Derby preps down in Louisiana, the G3 Lecomte Stakes on January 19.
In two races, then, War of Will had gone from being a maiden on grass to an impressive Graded winner on dirt. Was his improvement therefore caused by the surface? It ain't necessarily so.
War Of Will owns two cracking pieces of form on grass. The two horses who won those races arguably stand far above any other he met in the LeComte and are likely better than anything ranged above him here.
The ethos of TRC Global Rankings is to make a mathematical allowance for every factor that separates the context of every Jockey, Owner, Trainer and Sire in the world. In this way, we attempt to extract useful information from the data set of world Group and Graded races – rather than just count up winners or aggregate prize money as everyone else does. This task isn't easy, and our research will never end, but the more you attempt to clean a signal of noise, the more you believe in what remains.
In the case of the world's best stallions, what remains seems like an immutable truth: Dubawi and Galileo, our world #1 and world #2 stallions, are head-and-shoulders more dominant than any other sires in the world. Our index of performance for these turf-oriented leviathans is 1081 and 1067, while the sires we think are most potent on dirt – Quality Road, Candy Ride and Curlin – rank #7, #11 and #11 on 1027, 1019 and 1019.
This is no function of the number of races on turf and dirt, nor their locations. Nor is to do with some a priori belief of ours that European racing is superior to that in the U.S. The truth is that Dubawi and Galileo and several other turf-oriented stallions are much further from the average stallions on turf than the leading dirt sires are from their surface-related mean. In statistical parlance, Dubawi and Galileo own much bigger z-scores, a de facto correction for context.
Just as the world's elite stallions were once the likes of dirt horses Northern Dancer, Danzig and Mr Prospector – and European racing very much benefited from the crossover in bloodlines – it is a good bet that we are about to enter an era which is the echo of this.
The best turf horse trained in the U.S. last year was the truly exceptional filly Newspaperofrecord – an Irish-bred filly by Lope De Vega purchased by Chad Brown at Newmarket sales. And, as the effect of sturdy European bloodlines, with their stronger link to classic stamina, continues to permeate the U.S., the best turf races may even begin to eclipse their equivalent events on dirt.
When War Of Will ran second to Newspaperofrecord's stablemate Fog Of War in the G1 Summer Stakes at Woodbine last September, he was mauled by a turf monster. The winner – leading a home an exact of sons of War Front out of mares bred on similar lines (Fog Of War is out of a Sadler's Wells mare, War Of Will out of one by Galileo) – missed the remainder of 2018 with a shin injury, but you can make a case with little problem that he was the best colt that War Of Will encountered.
In two more starts on turf, War Of Will did not flatter his conqueror, but he continued to offer up really useful form, running fourth in the G3 Bourbon Stakes at Keeneland and fifth in the Breeders' Cup Juvenile at Churchill Downs after a wide trip. The winner of that latter race was Line Of Duty, a son of Galileo, who outstayed the field late.
War Of Will was defeated in the Bourbon because he raced too freely and tired late after getting clear. This is a characteristic of his that will need to be curbed and was still in evidence in the LeComte. On the plus side, his speed and exuberance does help on dirt in terms of track position, freeing a horse from kickback. He is going to need this quality breaking from the widest post here.
Turf racing does not lend itself to the same breakdown in terms of speed figures as racing on dirt. That is not to say that speed figures do not matter for their utility has been proven in Europe, especially in concert with pace analysis. But turf racing, especially under U.S. conditions, simply does not spread horses out so much at the end of a race as dirt. In the LeComte, War Of Will seemed to benefit from the more expansive arena, even though the pace was nothing like high-end, and his time of 1:43.44 for the extended mile was very good.
From the standpoint of class, however, the race looks even better. To win by four lengths – more readily even than this suggests, extending his stride late – is one thing, but in his wake was Plus Que Parfait, the neck-second in the influential G2 Kentucky Jockey Club Stakes at Churchill Downs, and the fifth in that race, Roiland, as well as several exiles from the G3 Iroquois at the same track.
Strictly from a betting angle, the intuitive player would have reservations about War Of Will here for reasons other than class. We have mentioned the outside post, and his racing style, which could see him over-rev early if he has to be sent hard to avoid racing wide. He also faces a better field than the LeComte. So, from a wagering perspective, who might be worth a bet among his opponents?
VALUE PICK: Limonite
Assuming the Bob Baffert-trainee Kingly scratches, the two highest-ranked trainers represented here are world #17 Steve Asmussen and #18 Brad Cox. The latter saddles Owendale, who is coming off a strong win and has upset potential, but it is the well-bred Limonite who gets the nod in this section.
Limonite's third in the Kentucky Jockey Club was arguably not jockey Ricardo Santana's finest hour. Following the colt's neck defeat by today's opponent Roiland in an allowance race at Churchill Downs, it was clear that Santana was given the job of getting him to rate. He did this alright, but in the process Limonite was left with a great deal to do. It was all he could do to circle the field on the turn and run on well to finish third.
The factor that really appeals here is the freshening. Asmussen is good in this spot, and time off since November really should have benefitted Limonite. He needs the 50 points for Derby qualification badly and is one to be very interested in from a betting angle here.