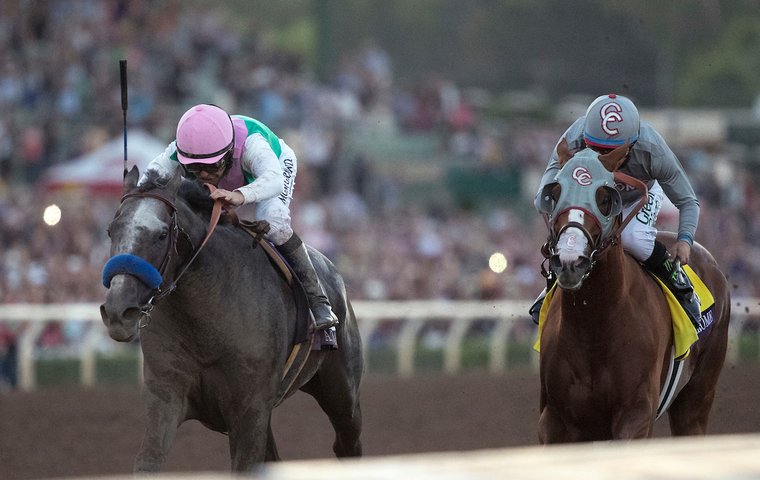 During the week of Dec. 11, TRC presented one of its most ambitious projects in its four-year history. A panel of 45 members of the racing industry, all with considerable experience in their field, was assembled to vote on the Top Ten jockeys, trainers and horses in the U.S. of the last 50 years.

With such a wide scope, it put a legion of the sport's best horses and horse people under a microscope and generated some controversial results, which was hardly surprising. It was actually expected. The intent was to generate the kind of arguments and conversations that enliven any sport, and horse racing proved to be as fertile a ground for debate as any of the mainstream sports.
It wasn't so much the winners that created the raucous responses. In jockey Bill Shoemaker, trainer Charlie Whittingham and Secretariat there were three highly deserving No. 1 choices who prevailed by decisive margins. While there were, of course, those who disagreed with those choices, there was certainly nothing egregious with those selections.
----------------------------------------
Click here to read about the Top Ten horses
Click here to read about the Top Ten trainers
Click here to read about the Top Ten jockeys
----------------------------------------
The legendary Secretariat, the beloved 1973 Triple Crown champion, had more first-place votes (31) and points (423) than anyone else, and that was anything but stunning. Next among horses was Dr. Fager with seven first-place votes, though he finished third overall, and what some might find surprising is that he had as many No. 1 votes as the other three horses with first-place votes combined.
Dr. Fager may have last raced 49 years ago, but the brilliance of the Tartan Stable star still resonated with a large segment of the panel that propelled him into the Top Three.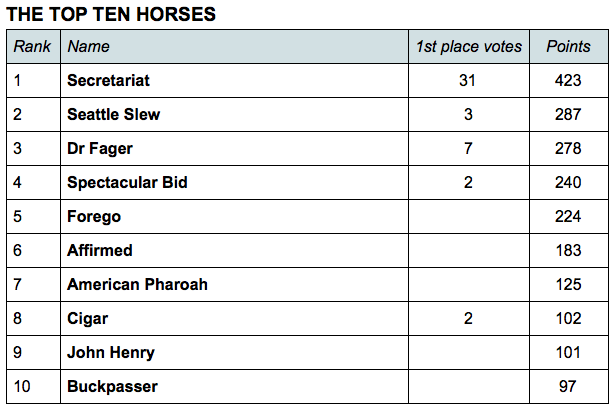 Besides being voted the top horse, Secretariat was also the only individual to be included on all 45 ballots. Even Shoemaker and Whittingham were ignored by a few voters. In a clear showing of respect for the Meadow Stable superstar, Secretariat was listed in the top three by 43 of the 45 voters.
Shoemaker and Whittingham were involved in tighter races, attracting 21 and 15 first-place votes respectively. Yet each finished first by at least a comfortable 42 points, which made sense given their incredible accomplishments.
In Shoemaker's case, he reigned as the sport's all-time leader in wins for 29 years, finishing with 8,833 wins, and had 11 Triple Crown victories.
Whittingham won a small army of stakes in an illustrious, nearly 50-year-long career as best reflected in a combined 16 wins in the Hollywood Gold Cup and Santa Anita Handicap and his ability to win the Kentucky Derby at the golden ages of 73 and 76.
Far more debate centered on the order of those behind the No. 1 choices and who failed to crack the Top Ten.
The trainers category probably had the most curious voting, with eight different trainers receiving first-place votes.
Bob Baffert (248 points), D. Wayne Lukas (230) and H. Allen Jerkens (223) seemed to come out on the short end of the overall voting. Even though they each had six first-place votes, the second-highest total behind Whittingham, they finished fourth, fifth and sixth respectively, behind Woody Stephens (274) and Bobby Frankel (262).
Clearly Triple Crown and Breeders' Cup wins did not play a big role in the outcome as Baffert has 12 Triple Crown wins, including the famous 2015 sweep with American Pharoah, and 14 Breeders' Cup wins, while Lukas has 14 Triple Crown wins and a record 20 Breeders' Cup victories. Combined Stephens and Frankel had just nine Triple Crown wins and six Breeders' Cup victories.
Jerkens, tremendously respected for his ability to take horses with modest amounts of ability and defeat champions with them, did not win a Triple Crown or Breeders' Cup race.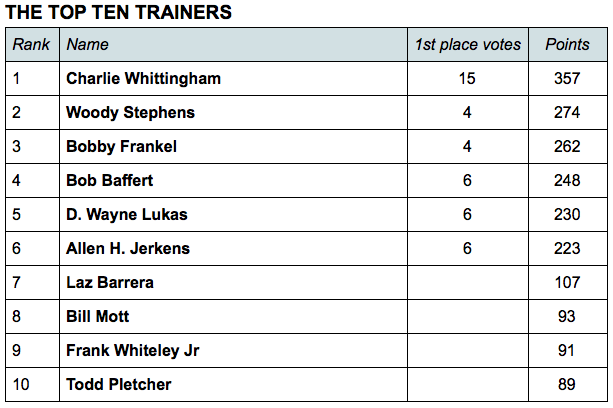 Lukas, in particular, seemed to have a love-hate relationship with the voters. While he had six first-place votes and five second-place votes, an equal number of voters – 11 of the 45 - left him off their ballot completely.
That alone should ignite some debate, which is at the heart of this project. How does someone with 4,792 wins (all stats through Dec. 21) and $277.1 million in earnings fail to crack someone's Top Ten? Sounds odd, doesn't it?
Not to one voter who said, "Wayne succeeded when extraordinary horses came his way, but he couldn't seem to do well with more mediocre stock."
True to any lively debate, it was indeed odd to one Hall of Fame trainer who did not vote in the poll. "Lukas should be No. 2 on the list," he said bluntly.
The perils of a trainer in the prime of his career being compared to legendary figures from the past was reflected in Todd Pletcher. His tremendous success mixed with today's gargantuan purses has made him a runaway leader in all-time earnings with $350.4 million, yet he checked in tenth overall (89 points). That might seem low to some, but given the all-star roster of trainers ahead of him, and that he finished ahead of John Nerud (84), Shug McGaughey (64) and Hirsch Jacobs (53), it's probably not a bad spot for someone who could still be training a decade or two from now, racking up a score of wins and a ton of cash.
In contrast to Pletcher, one of his contemporaries, Steve Asmussen, who is second all-time in wins with 7,875 and has more than 3,400 of them than Pletcher, barely moved the needle, finishing 19th with only 17 points.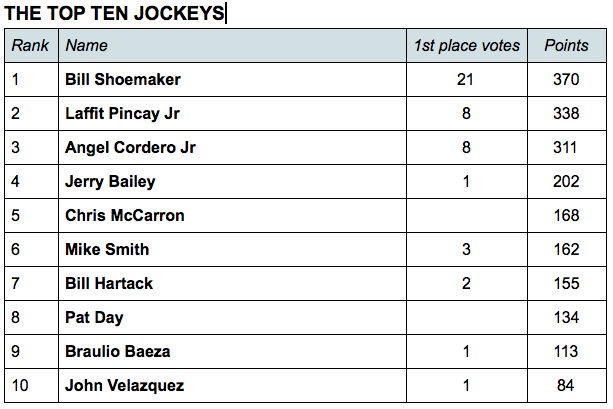 On the riders' side, the jockey who replaced Shoemaker atop the wins list, Laffit Pincay Jr. (9,530), finished second in the poll. He won four Triple Crown races and five Eclipse Awards. Meanwhile, the current wins leader, Russell Baze (12,842), might have more than 3,000 wins than the jockey second on the list (Pincay), but with no Triple Crown or Breeders' Cup wins to his credit, he finished far behind in 18th (16 points) and had only one vote higher than eighth.
Interestingly, John Velazquez, who has been Pletcher's go-to rider for more than 15 years and is also a career earnings leader, also finished tenth. He received 84 points to edge out Gary Stevens (76), who Velazquez called one of his idols when he learned about the poll results, and Eddie Delahoussaye (72), both of whom received plenty of online support for their inclusion in the top ten.
But at whose expense?
Among horses, Dr. Fager had more first-place votes than Seattle Slew (7 versus 3) but the 1977 Triple Crown winner had more overall appeal and finished second ahead of the 1968 Horse of the Year by a relatively slim 287-278 count.
Dr. Fager appeared on 38 of the 45 ballots while Seattle Slew was included on 41 of 45, giving 'Slew' the necessary points to grab the place spot.
One of the most significant placings involved the newest Triple Crown champion, American Pharoah, who was seventh with 125 points. He finished below the other three Triple Crown winners of the last 50 years, which was understandable. He didn't race at four, like Seattle Slew and Affirmed (183 points), and he didn't win the Belmont Stakes by 31 lengths like Secretariat.
Dr. Fager (278), Spectacular Bid (240) and Forego (224) also topped Zayat Stables' champion, which is surely elite company in anyone's estimation, and finishing ahead of Cigar (102), John Henry (101), Buckpasser (97) and Zenyatta (79) is without question a sign of high esteem.
Given that American Pharoah is the lone horse in the Top Ten who raced in the last 21 years and one of two in the last 33 years, he figures to be the horse who will be at the center of the most discussions in future years involving the greatness of horses from now and from the past. In this poll, the 12th Triple Crown champion was ranked as high as second and included on 34 of the 45 ballots.
'A man among boys'
"I ranked American Pharoah as high as I did for several reasons, and one of them is that he is our first Triple Crown winner in 37 years and won the Breeders' Cup Classic as a 3-year-old, even though that race did not come into existence until 1984," said one voter who placed the homebred colt fourth. "Moreover, he won the Preakness, on a sloppy track, the Belmont and the Classic with such ease. In his races in the Rebel, Arkansas Derby and Haskell, he was a man among boys.
"Throughout his campaign, 'Pharoah' was flown back and forth across the country, all the while being subjected to what Bob Baffert termed 'the petting zoo' and this pure professional never seemed to turn a hair. Baffert remarked this horse was 'old hickory', just like the old greats. Nostalgia can color our judgment that the old greats were indeed greater, but this is a damn good horse."

Speaking of Zenyatta, she was the highest ranked filly or mare, edging out Ruffian (70 points, 12th) and Personal Ensign (40, 14th). The poll also offered a stark difference in the way Zenyatta and her rival Rachel Alexandra will be remembered. Rachel Alexandra, who had an utterly spectacular 3-year-old campaign, but won only two of five starts at four, tied for 19th with only 12 points.
And finally, truth be told, the impetus for this poll was Arrogate. Back in the spring, after Juddmonte Farm's Eclipse Award winner had reeled off consecutive wins in the Travers, Breeders' Cup Classic, Pegasus World Cup and Dubai World Cup, the original thought was to assemble a panel before the Breeders' Cup to judge where Arrogate stood among the all-time greats since 1967. The 50-year period was especially compelling because it allowed the great horses of 1967 – Dr. Fager, Buckpasser and Damascus – to be a part of the equation.
Balancing impressions
The panel would then be re-assembled after Arrogate's final race to see where he belonged after all was said and done on the racetrack.
Those plans were changed after Arrogate lost in the San Diego and Pacific Classic. Instead a decision was made to judge not just horses but the best trainers and jockeys as well and to do it after the Breeders' Cup to give Arrogate one last chance to climb the ladder of greatness.
As it turned out, the defending champ disappointed in the Breeders' Cup Classic as he finished in a dead-heat for fifth.
That meant voters and historians had to balance two completely different impressions of Arrogate. One was the horse who put together four of the most impressive stakes wins in decades. The other was the horse who lost his last three races, either because he tailed off or he loathed Del Mar, the site of the trio of losses.
Only three voters included Arrogate in their Top Ten and he wound up 18th with 14 points.
Finishing 18th isn't bad when you consider that Arrogate had more points than horses like Holy Bull, Rachel Alexandra, Beholder, Point Given, Easy Goer and Curlin. Two of the horses he beat, two-time Horse of the Year California Chrome and probable 2017 Horse of the Year Gun Runner, did not receive votes at all.
'Absolute sheer brilliance'
"While any measure of true greatness should surely include the ability to stand the test of time, I was frankly overwhelmed by the absolute sheer brilliance of his wins in the Travers, Breeders' Cup Classic and Dubai World Cup. I think Mike Smith would agree, those performances at Saratoga and in Dubai will likely never be replicated," said one voter who included Arrogate in the Top Ten.
Considering how he seemed like definite Top Ten, and maybe Top Five, material back in spring, it will indeed be interesting to see how history remembers Arrogate. Perhaps if he turns out to be a superior sire, the focus will return to his glory days.
Otherwise, he'll likely be at the center of some fierce debates. Yes, at his best, he was just as good as just about anyone in the last 50 years but does that stretch of four amazing wins trump the last three losses?
Time and only time will tell, as it does in any debate.