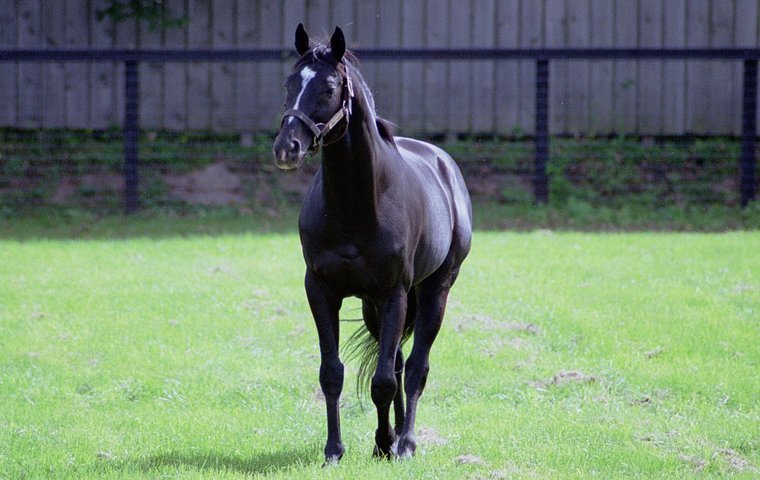 It started with Bill Shoemaker. On Monday, our TRC Industry Poll was launched with the panel's choices for the Top Ten jockeys in the 50-year period covering 1967-2017. We'll reveal the top horses on Friday, but today it's time to look at the great trainers of that era. Our 45 voters have deliberated at length and have decided which ones are special enough to make the Top Ten.

As in the vote for the top jockey, in fairness to those who competed at the far end of the span, anyone who had runners in 1967 had their entire body of work taken into consideration. We also limited the vote to trainers who spent the bulk of their career in the United States.
There's also a grid at the bottom of the story showing all of the 39 trainers who received votes and who comprised the voting panel.
To illustrate the star power of the Top Ten, we'll begin with mentioning that the trainer in 11th was the legendary John Nerud, who trained the great Dr. Fager.
We're counting down the Top Ten in reverse order, so we start with:
10. Todd Pletcher
(active)
89 points
Pletcher has been a trainer for about 21 years, which is less than half the poll's 50 years, but in those two decades he has achieved unprecedented success.
The son of trainer Jake Pletcher, he worked as an assistant to Hall of Famer D. Wayne Lukas before taking out his trainer's license. Somewhat fittingly, Pletcher passed his mentor three years ago to become the sport's all-time leader in earnings. Pletcher's mark has risen to $350,197,904 (all statistics in the story are through Dec. 10), and he is now more than $73 million ahead of Lukas.
That mountain of cash was built for the most part on his 4,442 victories, placing him eighth on the all-time list, and a scroll of stakes wins that could span the stretch at any racetrack.
The 50-year-old native of Texas has been the leading trainer at Saratoga 13 times and is now chasing a mind-boggling 15th straight title at Gulfstream Park's Championship Meet.
He has won the Kentucky Derby twice and the Belmont Stakes three times, winning each of those races this year with Always Dreaming and Tapwrit, and registered nine Breeders' Cup victories, the sixth best figure in the history of the series.
At his best with 2-year-olds and 3-year-olds, Pletcher has won the G1 Champagne Stakes, New York's premier race for juvenile runners, six times.
He has trained ten champions, a group that includes Ashado, English Channel and Rags To Riches, who in 2007 became the first filly since 1905 to win the Belmont Stakes. Thirteen of the horses he has trained have earned $2 million or more.
Putting all of those wins, dollars and respect for Pletcher's accomplishments together, he has received the Eclipse Award as the year's top trainer seven times, a figure unmatched by anyone since the award was established since 1971. He also received the award in four straight years, a feat matched only by Laz Barrera and Bobby Frankel.
9. Frank Whiteley Jr
(deceased)
91 points
Whiteley is credited with winning only 848 races in a 49-year training career, but his stamp was on several of the era's greatest horses.
Known as 'The Fox of Laurel', Whiteley's most famous horse was the ill-fated filly Ruffian. An undefeated champion at two in 1974, Ruffian was put down after suffering a catastrophic injury during a 1975 match race with Kentucky Derby winner Foolish Pleasure.
Even though her career ended so tragically and prematurely, Ruffian, who set or matched a slew of track records in her ten starts before the match race, is still revered as one of the sport's greatest distaff runners.
Whiteley also trained Damascus, who won the Preakness and Belmont Stakes and was named Horse of the Year in 1967.
Damascus, who won the Travers by 22 lengths, posted his most famous win in the 1967 Woodward, when he faced Dr. Fager and Buckpasser, and Whiteley's decision to use a rabbit to challenge Dr. Fager in the early furlongs paved the way to Damascus' ten-length victory.
Inducted into the Hall of Fame in 1978, Whiteley also trained 1965 Preakness winner Tom Rolfe, who finished sixth for Whiteley behind Sea-Bird in the 1965 Prix de l'Arc de Triomphe.
In the latter stages of his career, Whiteley became the trainer of Forego in 1976 and campaigned the gallant gelding through a third-straight Horse of the Year season as well an Eclipse Award-winning year in 1977.
Whiteley retired from training in 1984 and passed away on May 2, 2008 at the age of 93.
8. Bill Mott
(active)
93 points
That Mott was the youngest trainer inducted into the Hall of Fame says a great deal about why he landed among the Top Ten trainers of the last 50 years.
Even more evidence can be found in his 4,800 victories, the sport's sixth best figure, and earnings of $263.1 million, which rank him fifth all-time.
Inducted into the Hall of Fame at the age of 45, Mott held the record for wins at Churchill Downs until it was broken by Dale Romans this past fall and also accumulated nine training titles at Saratoga. He led the nation with 496 wins in 1976.
The trainer of six champions, Mott is best known for his work with two-time Horse of the Year (1995-96) Cigar for owner Allen Paulson. After Cigar was a disappointment on turf, Mott moved him to the main track, a decision that became one of the sport's greatest stratagems.
Cigar earned a permanent spot in racing lore by winning 16 straight races for Mott, including the 1995 Breeders' Cup Classic, the first of Mott's two wins in that rich mile-and-a-quarter test, the Woodward, Jockey Club Gold Cup, Hollywood Gold Cup and Dubai World Cup.
Mott enjoyed even greater success in the Breeders' Cup Distaff, winning it five times, and his total of ten Breeders' Cup wins puts him in a tie for fourth on the all-time list.
Never one to push his young horses, Mott's lone Triple Crown win came in the 2010 Belmont Stakes with Drosselmeyer, but his lengthy list of G1 winners includes Royal Delta, Ajina, Close Hatches, Escena, Flat Out, Fraise, Paradise Creek, Theatrical and Tourist.
Mott has been honored with the Eclipse Award for outstanding trainer in 1995, 1996 and 2011.
7. Laz Barrera
(deceased)
107 points
Barrera started his career in his native Cuba and arrived in the United States in 1948 and did not begin to make a major name for himself until 1971, when he won the Jerome Handicap with Puerto Rico import Tinajero.
After that, Barrera became one of the top trainers in one of the sport's greatest decades.
He played a leading role in those glory days with Affirmed, winning the 1978 Triple Crown with the Harbor View Farm colt after three unforgettable duels with Alydar in the Kentucky Derby, Preakness and Belmont Stakes. The 11th Triple Crown champion and last for 37 years until American Pharoah joined the fraternity, Affirmed broke Kelso's revered career earnings record ($2,393,818) and was crowned Horse of the Year in 1978 and 1979.
Barrera was the Eclipse Award-winning trainer in four straight years from 1976-79, a stretch that also saw him win the 1976 Kentucky Derby and Belmont Stakes with Bold Forbes, a colt who began his career in Puerto Rico and was viewed in some quarters as a top-quality sprinter as opposed to a mile-and-a-quarter router.
On May 8, 1976, the day when Bold Forbes won the Derby, Barrera also won the Illinois Derby with Life's Hope and the Carter Handicap with Due Diligence.
During that period, Barrera also trained a pair of champions in the 3-year-old filly It's In the Year and J.O. Tobin.
In the 1980s, Barrera trained G1 winners Mister Frisky, Tiffany Lass and Lemhi Gold.
Barrera, who won 2,268 races and earned $49,899,056, passed away at the age of 66 in 1991.
6. H. Allen Jerkens
(deceased)
223 points, six 1st-place votes
H. Allen Jerkens was known as the Giant Killer, but he was also a giant in his own right.
Not only did he train horses who beat Kelso three times and Secretariat twice, but a hallmark of his career was taking horses with modest amounts of ability and turning them into G1 winners.
In his career, he trained only one champion (Sky Beauty in 1994), yet his list of stakes winners had few equals and, when he was elected to the Hall of Fame in 1975, he became the youngest trainer to be enshrined until Bill Mott took over that distinction in 1998.
In his career, Jerkens won 3,859 races with earnings of $103,754.915, and some of his greatest success stories were Beau Purple, Prove Out, Onion, Duck Dance, Kelly Kip and Handsome Boy for Hobeau Farm, as well Devil His Due, Society Selection, Classy Mirage and Virginia Rapids.
Jerkens won 14 different training titles in New York, including four crowns at Saratoga, where the trainer's title is named after him and the G1 H. Allen Jerkens Stakes is contested on the Travers card.
He passed away at the age of 85 in 2015.
5. D. Wayne Lukas
(active)
230 points, six 1st-place votes
Few trainers have impacted the sport as dramatically as D. Wayne Lukas.
It was Lukas who made cross-country travel and divisions in different parts of the country fashionable in the 1980s as he transformed the sport and seemed to notch major stakes wins on a weekly basis.
It was 'D. Wayne Off The Plane' as Lukas bought a small army of high-priced yearlings for owners such as Eugene Klein and Bob and Beverly Lewis and then shipped them across the country to pick up major stakes wins.
From 1983-97, with the exception of 1993, led the nation in earnings and dominated the sport in a manner that enabled him to become the first trainer to reach $200 million in earnings.
In a career that started with Quarter-horse racing and turned to Thoroughbreds in 1974, Lukas has won 4,792 races, which is seventh on the all-time list, and his earnings of $277,159,919 trail only those of Todd Pletcher.
He has won more Triple Crown races than any other trainer, with 14 wins in those classics. Four of those victories came in the Kentucky Derby, and though he did not win all three legs of the Triple Crown with the same horse, he won six straight Triple Crown races from 1994-96.
His 20 Breeders' Cup wins are the bar everyone else has to reach, with Bob Baffert behind him in second on 14.
He has trained a record 26 Eclipse Award champions in an illustrious career that earned him Hall of Fame honors in 1999 and five Eclipse Awards of his own as the year's premier trainer.
Aside from his Horse of the Year recipients Charismatic, Criminal Type and Lady's Secret, his roster of champions includes Serena's Song, Thunder Gulch, Will Take Charge, Landaluce, Life's Magic and Winning Colors.
Even now, at the age of 82, Lukas is still finding his way to the winner's circle, a point driven home on closing day at Saratoga when he captured the G1 Hopeful Stakes with Sporting Chance and reminded everyone of those days in 1990s when he was winning Graded stakes at an amazing clip.
4. Bob Baffert
(active)
248 points, six 1st-place votes
That Baffert won the Triple Crown with American Pharoah and ended a 37-year drought is reason enough to make him an icon.
Yet those three glorious days in 2015 do not tell the whole story. They are only Baffert's most famous accomplishment over the course of the last 20 years, during which time he has enjoyed a run of success as impressive as any trainer in the sport's history.
He has won 2,797 races since leaving the Quarter-horse ranks and embarking on a new career with Thoroughbreds in 1991, putting him 32nd on the all-time list. Yet, reflective of the quality of those victories, his horses have earned $267,450,560 to stand fourth on the all-time list.
If there's a major G1 at any track, in any part of the country, there's a good chance you'll find Baffert's name among the past winners.
Included in those glittering career totals are 12 wins in Triple Crown races, topped by six in the Preakness and four in the Kentucky Derby.
The four-time Eclipse Award winner has triumphed in 14 Breeders' Cup races, good for second among all trainers, yet his earnings of $27,605,000 are first by more than $5 million over D. Wayne Lukas, who has 20 wins and $22.5 million.
At the head of the list of those Breeders' Cup wins are three straight wins in the richest race at World Championships, the Breeders' Cup Classic, and each of those victories was recorded by a 3-year-old.
He has won the Dubai World Cup twice - with Captain Steve (2001) and Silver Charm (1998) - when it was the world's richest race, and in January he even won the inaugural edition of the race that has now overtaken it, the Pegasus World Cup, with Arrogate.
Baffert's West Coast barn has been home to 13 Eclipse Award champions, with six of them winning acclaim as the top 3-year-old male – hardly a surprising fact for a trainer who has won the Haskell eight times, the Travers three times and owns a dozen Triple Crowns wins.
Point Given, War Emblem, Real Quiet and Silver Charm each won two legs of the Triple Crown for Baffert and join an array of stars that also includes Collected, West Coast, Lookin At Lucky, Silverbulletday, Hoppertunity, Game On Dude and Bayern.
At Del Mar, Baffert has been an irresistible force, winning seven straight training titles from 1997-2003. Earlier this year, he became the track's all-time leader with his 478th victory, and his more than 120 stakes wins at Del Mar make him a runaway leader in that category.
In particular, the G1 Del Mar Futurity for 2-year-olds has been his playground, with a total of 13 wins, including a streak of seven in a row from 1996-2002.
And, thanks to American Pharoah, Baffert is the one and only trainer with a Grand Slam of the Triple Crown and the Breeders' Cup Classic on a rather peerless resume.
3. Bobby Frankel
(deceased)
274 points, four 1st-place votes
Frankel started out training claimers and then rose to a level where he was training for princes and world-famous stables.
Born in Brooklyn, Frankel shared the 1970 Saratoga trainer's title but elected to move to California in 1972. He trained for the stars and developed dozens of their horses into stars.
Frankel became the all-time leading trainer at Santa Anita with 917 wins, including 146 stakes. At Del Mar, he won 70 stakes.
A trainer of ten champions, Frankel won 26 races with a value of $1 million or more, explaining why he is sixth on America's all-time earning list with $227,912,709.
Frankel won 3,654 races in his career, with six Breeders' Cup victories and a win in the 2003 Belmont Stakes with Empire Maker for Juddmonte Farms, who filled Frankel's barn with regally bred stakes winners.
Thanks in part to Empire Maker, Frankel set a record with 25 G1 wins in 2004 that stood until October, when it was broken by Aidan O'Brien.
He won the Pacific Classic six times, Eddie Read seven times, Woodward Stakes four times, Arlington Million twice and the Japan Cup once.
A five-time recipient of the Eclipse Award as the top trainer, Frankel's best runners included Ghostzapper, Medaglia d'Oro, Milwaukee Brew, Skimming, Ginger Punch, Peace Rules and Starine.
Inducted into the Hall of Fame in 1995, Frankel died in 2009 at the age of 68.
Soon after, Juddmonte named one of their most promising young horses in his honor. Frankel the horse rolled unbeaten through a 14-race career, ten of them G1s, and was named Cartier European Horse of the Year in both 2011 and 2012. Generally considered to be among the greatest horses ever, he is now one of the world's most promising young stallions (already as high as fourth in the TRC Global Rankings).
2. Woody Stephens
(deceased)
274 points, four 1st-place votes
If you met Stephens late in his life, you could count on two things.
You would get a warm welcome and at some point you would hear, "I won five Belmonts, you know."
In a training career filled with fabulous moments, Stephens put the most pride in his stretch of winning five straight Belmont Stakes from 1982-86, a seemingly incomparable feat serving as horse racing's answer to Joe DiMaggio's 56-game hitting streak.
Even more impressively, only one of those five Belmont winners was the favorite in the final leg of the Triple Crown.
But don't let that fool you. As much as Stephens beat staggering odds in the Belmont, for years his barn was filled with some of the best stars of that time.
In a training career that stretched from the late 1930s until 1997, Stephens trained 11 Eclipse Award winners and might have had double that amount if there had been an Eclipse Award for the leading turf female in the 1980s and 1990s.
In the other legs of the Triple Crown, Stephens was relative human. He won the Kentucky Derby twice and the Preakness once, but notched five wins in the Kentucky Oaks and the Jockey Club Gold Cup twice.
He was inducted into the Hall of Fame in 1976, and his best horses included his quintet of Belmont Stakes winners, Conquistador Cielo, Caveat, Swale, Crème Fraiche and Danzig Connection, as well as Forty Niner, Cannonade, Sabin, Bald Eagle, Never Bend, Danzig and Devil's Bag.
Stephens' horses earned $53,014,814 and he won 1,937 races, including five that he treasured.
The beloved trainer was 84 when he died in 1998. Quite fittingly there is now a Graded stakes on the Belmont Stakes undercard named after him.
1. Charlie Whittingham
(deceased)
357 points 15 1st-place votes
Whittingham have may spent the bulk of his training career in California, but the appreciation and respect for him stretched across all region in the TRC poll.
The revered 1974 Hall of Famer received 15 of 45 first-place votes in a contentious vote, receiving nine more than Baffert and Lukas, each of whom had six. Whittingham's name also appeared on 43 of the 45 ballots, giving him more than enough support to earn the title of the top trainer in the last 50 years.
Whittingham started training in 1950 and within three years saddled his first champion in Porterhouse.
That was just the opening furlong in a marathon 49-year career in which Whittingham won 2,534 races, and 252 stakes, earned $109.2 million and became the leading trainer at both Santa Anita and Hollywood Park, which closed in 2013.
Dubbed 'The Bald Eagle', Whittingham dominated many of the West Coast's major races for decades, winning the San Juan Capistrano 14 times, and the Santa Anita Handicap and the Hollywood Gold Cup eight times apiece.
The three-time Eclipse Award winner had little interest in sending horses east for the Triple Crown until the 73-year-old trainer brought Ferdinand to Churchill Downs for the 1986 Kentucky Derby and pulled off a stunning 17-1 upset with the stone-cold closer.
In 1987, Ferdinand was named Horse of the Year after beating Alysheba in the Breeders' Cup Classic.
Whittingham returned to the Kentucky Derby in 1989 and beat odds-on favorite Easy Goer in the Run for the Roses and then the Preakness. Easy Goer thwarted Sunday Silence's bid for a Triple Crown sweep in the Belmont Stakes, but Whittingham's colt gained a measure of revenge by defeating East Goer in the Breeders' Cup Classic and clinching Horse of the Year honors.
A seven-time national leader in earnings, including four straight years from 1970-73, Whittingham was rewarded with three Eclipse Awards as the leading trainer during a career in which he saddled 11 champions and six horses who were enshrined in the Hall of Fame.
Just some of his best runners were Ack Ack, Cougar II, Exceller, Flawlessly, Kennedy Road and Turkish Trousers.
Whittingham was 86 when he passed away in 1999, and many tributes to him have been voiced since then.
Now one more can be added. That he was racing's best trainer of the last 50 years.
The horse in the picture at the top of this article is Sunday Silence, who went on to stand at stud in Japan, where he was largely responsible for transforming that country into a world-class racing power.​
THE TRC INDUSTRY POLL
Top Ten Trainers 1967-2017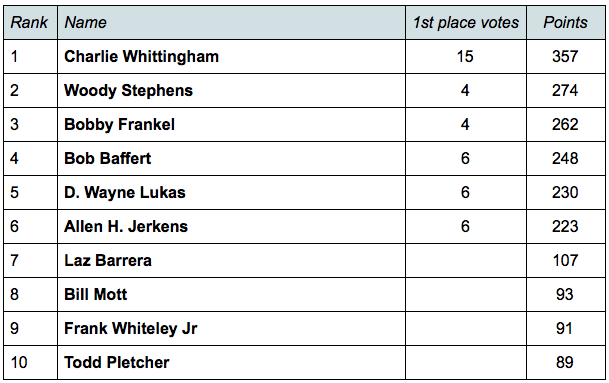 Others who received votes
Points awarded on a 10-9-8-7-6-5-4-3-2-1 basis
The voters
Ed Bowen (Historian, President Grayson-Jockey Club Research Foundation)

Simon Bray (TVG analyst, former trainer)

Caton Bredar (TVG analyst)

Bill Christine (former Los Angeles Times writer)

Gary Contessa (trainer)

Dick Downey (The Downey Profile)

Tom Durkin (former track announcer)

Bob Ehalt (TRC correspondent)

Richard Eng (retired Las Vegas Review-Journal columnist)

Jim Gluckson (Breeders' Cup publicist)

Jane Goldstein (former Santa Anita publicist)

Luis Grandison (Spanish language announcer, NYRA)

Ed Gray (Boston Herald)

Amy Gregory (Keeneland publicist)

Charles Hayward (TRC President, former NYRA President)

G.D. Hieronymus (Director/Broadcast Services, Keeneland)

Barry Irwin (owner, Team Valor International)

Bob Kulina (former Monmouth Park President)

Joan Lawrence (NTRA publicist)

Don Little (owner, Centennial Farms)

Mac McBride (Del Mar publicist)

Ed McNamara (Newsday)

Richard Migliore (XBTV analyst, former jockey)

Bill Nack (former Sports Illustrated writer)

Martin Panza (Sr. VP of Racing Operations, NYRA)

Tom Pedulla (America's Best Racing)

Don Pierce (former jockey)

John Pricci (www.horseraceinsider.com, former Newsday racing columnist/handicapper)

Billy Reed (former Louisville Journal-Courier/Sports Illustrated writer)

Tom Robbins (Executive Vice President/Racing, Del Mar)

Chris Scherf (former Executive VP, TRA)

Todd Schrupp (TVG host)

Andy Serling (racing analyst, NYRA)

Samantha Siegel (owner, Jay Em Ess Stable)

Dan Smith (Del Mar publicist)

Lynne Snierson (former Arlington/Rockingham Park publicist)

Steve Specht (trainer)

Sonny Taylor (NYRA placing judge)

Eddie Truman (trainer)

Jeffrey Tufts (former linemaker, Santa Anita/Del Mar)

Michael Veitch (The Saratogian)

Donnie K. Von Hemel (trainer)

Hank Wesch (former San Diego Tribune writer)

Jon White (handicapper, Santa Anita)

Mike Willman (Santa Anita publicist)