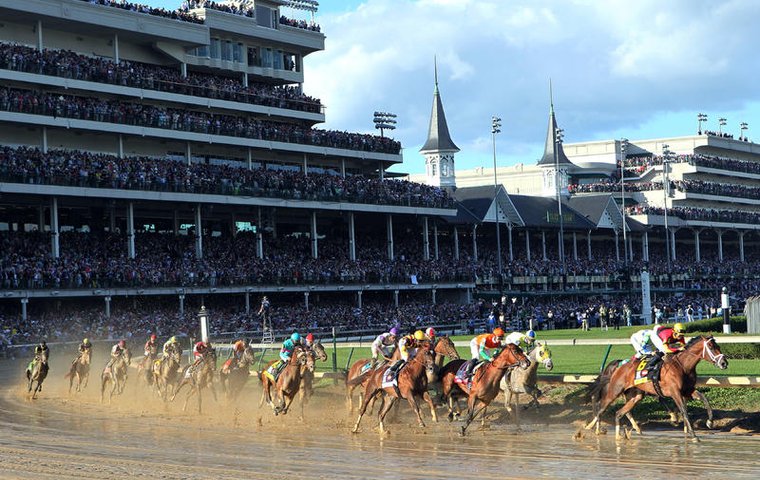 For the past few weeks, Bob Ehalt has been conducting a TRC poll with racing industry insiders to find out who they believe have been the best in three categories - horses, jockeys and trainers - competing in North America over the past half century. The results are now in, and we are revealing them this week, starting today with the industry's verdict on the jockeys.

Debates over the merits of athletes from different decades are the lifeblood of any sport.
Among National Football League fans, there have been countless arguments about whether Tom Brady is a better quarterback than Joe Montana or Johnny Unitas, which is nothing but good for the sport. While there's usually no definitive answer for the question, fans' passion in discussing the possibilities powerfully reflect their interest in the sport.
Horse racing is, of course, no different. In 2015, within seconds of American Pharoah becoming the long-awaited 12th Triple Crown champion and ending a 37-year drought, questions about how he compared with Secretariat, Seattle Slew and Affirmed were raised and partisan opinions offered in a lively manner.
With that in mind, TRC is seeking to raise even bigger questions. Who were the best horses, trainers and jockeys of the last 50 years, from 1967-2017?
How does Todd Pletcher rate in comparison with Woody Stephens? Mike Smith with Bill Shoemaker? Secretariat with Dr. Fager or American Pharoah?
Expect lively debates
For an answer, we have assembled a blue-ribbon panel of 45 voters that encompass the full scope of the racing industry with trainers, former jockeys, owners, racing executives, publicists, media members, handicappers and more, all with extensive experience in the industry. They were charged with selecting their Top Ten jockeys, trainers and horses in the past 50 years, and the consensus of their opinions figure to spark some lively debates about their choices.
To explain the parameters of the vote, in fairness to those who competed at the far end of the span, if anyone competed in 1967, their entire body of work was taken into consideration. This way all of the races and wins by horses and jockeys such as Buckpasser and Bill Hartack are included.
Click here to find out who are the Top Ten trainers
We also limited the vote to horses, trainers and jockeys who spent the bulk of their career in the United States, so don't look for Aidan O'Brien or Goldikova.
Today we will begin to reveal the results, starting with the Top Ten jockeys. The Top Ten trainers and horses will be announced on Wednesday and Friday, respectively.
At the bottom of this story, there's a grid showing all the 33 jockeys who received votes, and all the people who comprised the voting panel.
So let the debate begin!
To better understand the greatness of the Top Ten jockeys during the last 50 years, consider who didn't make the cut and was left on the bubble.
The No. 11 jockey is Gary Stevens, a Hall of Famer with 5,124 wins (all totals in this story are through Dec. 7), $253.3 million in earnings, placing him ninth on the all-time list, 11 Breeders' Cup wins and nine Triple Crown victories.
He's 11th.
As for the Top Ten, we're counting them down in reverse order:
10. John Velazquez
(active) 84 points
one 1st-place vote
Using a football analogy, Velazquez and trainer Todd Pletcher have been racing's answer to Montana and Jerry Rice. A team since 1996, each is the all-time leading money earner in his category. They have won a multitude of a major races together, including this year's G1 Kentucky Derby with Always Dreaming and four Breeders' Cup races over the years.
Velazquez has been remarkably consistent and efficient in his career. He's 20th on the all-time wins list with 5,831 and his earnings of $377.3 million are more than $71 million ahead of runner-up Mike Smith.
This year, when he turned 46, he has not slowed down a bit. Aside from winning the Derby for his fourth Triple Crown win, he captured the Breeders' Cup Distaff with Forever Unbridled and Breeders' Cup Mile with World Approval to give him 15 wins at the World Championships – tying him for second with Jerry Bailey in that category. They were three of his eight G1 wins in 2017.
A 2012 Hall of Fame inductee and two-time Eclipse Award-winner, Velazquez was New York's leading rider in four straight years (2001-4). He has won the Saratoga riding title five times and holds the record for wins at the Spa.
Born in Puerto Rico, Velazquez has a pair of wins in both the Kentucky Derby and Belmont Stakes, winning the Derby with Animal Kingdom in 2011 and the Belmont with Rags To Riches in 2007 and Union Rags in 2012.
9. Braulio Baeza
(retired) 113 points
one 1st-place vote
Class and poise separated Baeza from most of the jockeys of his generation. His mistakes were few and far between and pressure never flustered him.
A 1975 Hall of Fame selection and two-time Eclipse Award winner, the native of Panama started riding in the United States in 1960 and a year later won the 1961 Belmont Stakes with Sherluck at 65-1 odds. He went on to win the 1963 Kentucky Derby with Chateaugay and added wins in the 1963 Belmont with Chateaugay and 1969 Belmont Stakes with Arts and Letters.
Though he won 3,140 races, Baeza was not the kind of jockey who won meet titles by the dozens. Rather, the sport's best trainers sought him out when they had a special horse who needed a special rider. He was the national leader in earnings in five straight years from 1965-69 and during that time won 13 straight races aboard 1966 Horse of the Year Buckpasser.
Baeza, who retired in 1976, had at least one ride on horses who accounted for seven straight Horse of the Year titles, a group that includes Roman Brother, Buckpasser, Dr. Fager, Damascus, Arts and Letters, Fort Marcy and Ack Ack.
The respect for Baeza's talents were best reflected in 1972, when trainer Vincent O'Brien brought him to Ireland to ride Darby Dan Farm's Roberto in the Benson & Hedges Gold Cup and Baeza piloted Roberto to a shock victory over the previously undefeated Brigadier Gerard.
Baeza immediately returned to the United States and the next day was aboard the undefeated Linda's Chief in the Sanford Stakes at Saratoga. Baeza, though, would finished second to a colt who turned out to be a pretty good runner himself. You've probably heard of him. It was Secretariat.
8. Pat Day
(retired)
134 points
Pat Day's rise to fame started in the Midwest, but before his career ended he was a fixture on top contenders in the year's biggest races across the nation and a familiar figure atop the national standings for wins and earnings.
In an illustrious career that spanned 1973 through 2008, Day retired among the Top 5 all-time in wins and earnings. The 1991 Hall of Fame inductee is now fourth all-time in wins 8,803 and third in earnings with $297,914,839.
He won 12 Breeders' Cup races and, though he won the Kentucky Derby only once (1992 with Lil E. Tee), he notched five wins in the Preakness and three in the Belmont Stakes.
Day, who once won eight races on one card at Arlington Park, won 322 or more races in nine straight years from 1982 to 1991, with a high of 453 wins in 1983.
Known for his patience, he rode a who's-who of the era's best horses, including Easy Goer, Awesome Again, Lady's Secret, Theatrical, Personal Flag, Summer Squall, Java Gold, Dance Smartly and Unbridled.
His career started to skyrocket in 1982, when he led the nation in wins, finishing two victories ahead of Angel Cordero Jr. It marked the first of three straight years in which Day led the nation in wins.
In 1984, Day won the first of his four Eclipse Awards (also in 1986, 1987 and 1991) and also captured the inaugural Breeders' Cup Classic aboard Wild Again.
7. Bill Hartack
(deceased) 155 points
two 1st-place votes
Hartack was that rare blend of a tough, hard-nosed, give-no-quarter rider who had few peers in terms of talent and was inducted into the Hall of Fame at the age of 25 in 1959.
He won 4,272 races in a career from 1953-1981 and was at his best in the sport's biggest races. He won the Kentucky Derby five times, tying him with Eddie Arcaro for the most wins in the Run for the Roses, the Preakness three times and the Belmont Stakes once.
The fiery rider was the first jockey to compile earnings of $3 million in a year and even made the cover of Time magazine in 1958.
Hartack was the champion jockey in wins in 1955, 1956, 1957 and 1960 and rode a list of stars that included Northern Dancer, Ridan, Iron Liege and Tim Tam.
Hartack passed away on Nov. 26, 2007, at the age of 74.
6. Mike Smith
(active) 162 points
three 1st-place votes
At the age of 52, Smith's name does not appear in the entries as often now as it once did. Yet, if there's a major race, few jockeys are in demand as much as Smith.
Dubbed 'Big Money Mike' by trainer Bob Baffert, Smith has ridden a parade of the sport's biggest stars in the last two years. He won the Travers, Breeders' Cup Classic, Pegasus World Cup and Dubai World Cup with Arrogate, was the regular rider of Songbird, who won 13 of 15 starts, and recorded 12 G1 wins this year and ten in 2016.
But fame and fortune are nothing new for Smith.
In his career, he has registered 5,431 wins and is second all-time in earnings with $305,392.697. He also holds the Breeders' Cup record with 26 victories, a staggering 11 more than Jerry Bailey and John Velazquez who are next with 15.
A two-time Eclipse Award winner and 2003 Hall of Famer, Smith won 16 straight starts with the great mare Zenyatta from 2008-10 and his list of all-star mounts includes Shared Belief, Lure, Holy Bull, Royal Delta, and Sky Beauty.
In the Triple Crown, Smith won the Kentucky Derby in 2005 with 50/1 longshot Giacomo and triumphed in the Preakness once and the Belmont Stakes twice.
He also been greatly successful on both coasts, making a name for himself in New York in 1990s, when he led New York in wins from 1991-93, and then moving west to California in 2001 and thriving there as well.
5. Chris McCarron
(retired)
168 points
Chris McCarron took the racing world by storm in his youth when he won a record 547 races in 1974 while riding mostly in the Mid-Atlantic region and was honored as that year's Eclipse Award-winning apprentice rider.
When the big fish in a little pond took his tack to California in 1977, he was still as imposing as the shark in Jaws and quickly became one of the circuit's most dominant riders. He won the San Felipe, Clement L. Hirsch and La Jolla Handicap seven times and the Del Mar Handicap, San Diego Handicap, Del Mar Handicap and San Bernardino six times.
Overall, he won 7,141 races through 2002, putting him sixth all-time in that category, and is eighth in earnings with $263,986,005. He won the Kentucky Derby, Preakness and Belmont Stakes twice each and nine Breeders' Cup stakes, riding horses such as Alysheba, Tiznow, Sunday Silence, Touch Gold and Precisionist in those G1 classics.
The Boston native won five of those Breeders' Cup races in the series' richest race, the BC Classic, highlighted by back-to-back wins with Tiznow in 2000-01.
Inducted into the Hall of Fame in 1989, McCarron rode John Henry in the two-time Horse of the Year's final 14 starts, winning five G1 stakes, including the 1984 Budweiser Arlington Million.
4. Jerry Bailey
(retired) 202 points
one 1st-place vote
Jerry Bailey was not an overnight sensation. He was a top-notch rider from the start and won New York's Handicap Triple Crown with Fit To Fight in 1984. Yet it wasn't until the 1990s that he became an elite rider who dominated the sport for more than a decade.
From 1995 through 2003, he won the Eclipse Award as the year's top rider on seven occasions, including four straight times from 2000-03. He won the Saratoga riding title in seven of eight years from 1994 through 2001 and had a record 693 Saratoga wins when he retired in 2006.
In 2003, when he turned 46, he was at his absolute best. He won 206 races, with a record-shattering 26 G1 wins among them, and earned $23,354,969, which stood as a record until 2012.
In a 32-year career, he won 5,894 races and earned $296,188,735, which is fourth all-time.
A 1995 Hall of Fame inductee, he won the Kentucky Derby in 1993 with Sea Hero and 1996 with Grindstone, and also posted two wins apiece in the Preakness and Belmont Stakes.
He is tied for second in Breeders' Cup wins with 15, a figure that includes a victory in the 1993 Breeders' Cup Classic with Arcangues, a 133/1 longshot.
Some of Bailey's best horses include Empire Maker, Medaglia d'Oro, Skip Away, Sea Hero and Saint Liam.
Yet the one that stands out above all the others is Cigar, who he rode to 15 of the horse's 16 straight wins, topped by the 1995 Breeders' Cup Classic and 1996 Dubai World Cup.
3. Angel Cordero Jr
(retired) 311 points
eight 1st-place votes
With Saratoga being the epicenter of New York racing, hearing that some 20 years after his retirement he's still known as 'The King of Saratoga' says all you need to know about Angel Cordero Jr.
One of the most fiercely competitive riders in the sport's history, Cordero was a bear to beat in a $10,000 claimer or a $100,000 stakes. While most of New York's top riders in his era had bonds with the powerful, established stables, Cordero rode for anyone who could put him on a sharp horse.
Needless to say, when those barns needed a rider for a major stakes, they didn't hesitate to enlist Cordero, especially at Saratoga.
'The King' won a still unrivaled 14 Saratoga riding titles, including 11 straight during a spectacular run from 1976-1986.
The 1988 Hall of Fame inductee won the Kentucky Derby in 1976 with Bold Forbes and 1985 with Spend a Buck and posted two wins in the Preakness, including his controversial 1980 victory with Codex over the filly Genuine Risk, and one in the Belmont.
The two-time Eclipse Award winner's total of 7,057 wins, which puts him seventh all-time, includes four Breeders' Cup wins.
2. Laffit Pincay Jr
(retired) 338 points
eight 1st-place votes
No other jockey could match Pincay's brilliant career for the way he mixed a prolific number of wins and an amazing amount of Graded stakes wins.
When Pincay retired in 2003, his sustained dominance of West Coast racing allowed him to leave the sport with a record 9,530 wins and a reputation as one of the sport's most respected jockeys in its long history. Russel Baze broke Pincay's record in 2006, but Pincay's stakes wins put him in a league by himself.
His horses earned $237,120,625, and the 5-time Eclipse Award winner won the Hollywood Gold Cup nine times, the Santa Anita Handicap seven times and the Del Mar Futurity four times.
The five-time Eclipse Award winner posted his lone Kentucky Derby victory on Swale in 1984 and he won the Belmont Stakes three times.
His mastery on the racetrack was also reflected in seven Breeders' Cup wins and the way trainers turned to him to ride famed horses such as Affirmed, John Henry, Conquistador Cielo, Sham, John Henry, Bayakoa and Cougar II.
1. Bill Shoemaker
(deceased) 370 points
21 1st-place votes
For the TRC panel, there was no question about who was the best jockey in the last 50 years.
Shoemaker received nearly half the 45 first-place votes, which was more than the combined 16 for Pincay and Cordero, who were second and third.
Small at 4-foot-10, Shoemaker was a giant on the racetrack. He started riding in 1949 and, when he retired in 1990, he was not just a larger-than-life star but owned the sport's record for wins with 8,833, an honor he held for 29 years.
A year after his retirement, he was paralyzed in a car accident and he passed away at the age of 72 in 2003.
Yet for anyone who followed the sport in the past 50 years, it's impossible to forget 'The Shoe' and what he accomplished with such brilliance during an incomparable career.
Recipient of the Eclipse Award in 1981, he led all jockeys in wins five times and in earnings ten times.
He won the Kentucky Derby four times, the last one in 1986 with Ferdinand when he was 54 years-old. He tacked on five wins in the Belmont Stakes and two in the Preakness.
Shoemaker's ability to bring out the best in his mounts earned him rides on a long list of the best horses of his era on both coasts. Swaps, Forego, John Henry, Damascus, Round Table, Northern Dancer, Buckpasser, Jaipur, Cicada and Silky Sullivan were just a few of the great stars he rode.
The 1958 Hall of Famer won the Santa Anita Handicap a staggering 11 times and was also Spectacular Bid's rider during an undefeated 1980 season that culminated with a walkover in the Woodward.
His best ride may have been the 1976 Marlboro Cup when he drove Forego to a dramatic victory over Honest Pleasure in the final strides.
Then again, when you consider all the great rides in Bill Shoemaker's legendary career, picking the best one of them might be a harder task than deciding who was the best jockey from 1967-2017.
THE TRC INDUSTRY POLL
Top Ten Jockeys 1967-2017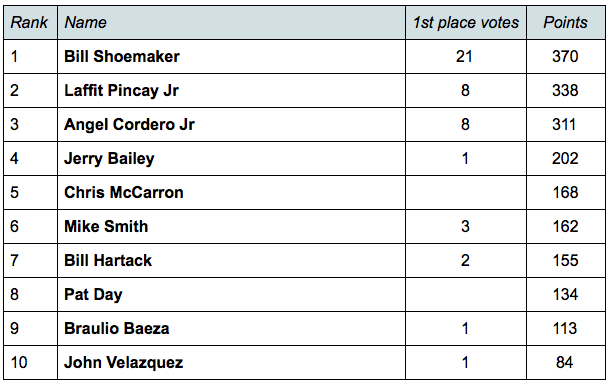 Others who received votes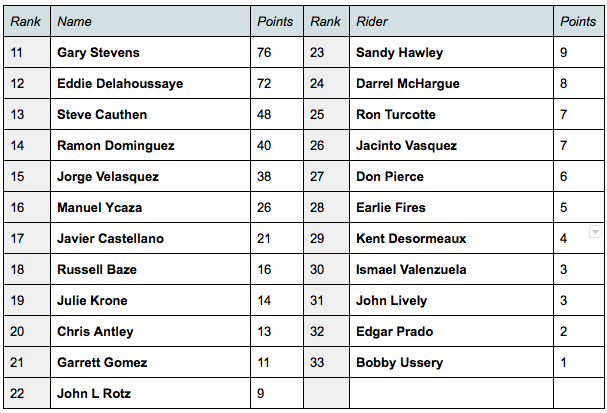 Points awarded on a 10-9-8-7-6-5-4-3-2-1 basis
The voters
Ed Bowen (Historian, President Grayson-Jockey Club Research Foundation)

Simon Bray (TVG analyst, former trainer)

Caton Bredar (TVG analyst)

Bill Christine (former Los Angeles Times writer)

Gary Contessa (trainer)

Dick Downey (The Downey Profile)

Tom Durkin (former track announcer)

Bob Ehalt (TRC correspondent)

Richard Eng (retired Las Vegas Review-Journal columnist)

Jim Gluckson (Breeders' Cup publicist)

Jane Goldstein (former Santa Anita publicist)

Luis Grandison (Spanish language announcer, NYRA)

Ed Gray (Boston Herald)

Amy Gregory (Keeneland publicist)

Charles Hayward (TRC President, former NYRA President)

G.D. Hieronymus (Director/Broadcast Services, Keeneland)

Barry Irwin (owner, Team Valor International)

Bob Kulina (former Monmouth Park President)

Joan Lawrence (NTRA publicist)

Don Little (owner, Centennial Farms)

Mac McBride (Del Mar publicist)

Ed McNamara (Newsday)

Richard Migliore (XBTV analyst, former jockey)

Bill Nack (former Sports Illustrated writer)

Martin Panza (Sr. VP of Racing Operations, NYRA)

Tom Pedulla (America's Best Racing)

Don Pierce (former jockey)

John Pricci (www.horseraceinsider.com, former Newsday racing columnist/handicapper)

Billy Reed (former Louisville Journal-Courier/Sports Illustrated writer)

Tom Robbins (Executive Vice President/Racing, Del Mar)

Chris Scherf (former Executive VP, TRA)

Todd Schrupp (TVG host)

Andy Serling (racing analyst, NYRA)

Samantha Siegel (owner, Jay Em Ess Stable)

Dan Smith (Del Mar publicist)

Lynne Snierson (former Arlington/Rockingham Park publicist)

Steve Specht (trainer)

Sonny Taylor (NYRA placing judge)

Eddie Truman (trainer)

Jeffrey Tufts (former linemaker, Santa Anita/Del Mar)

Michael Veitch (The Saratogian)

Donnie K. Von Hemel (trainer)

Hank Wesch (former San Diego Tribune writer)

Jon White (handicapper, Santa Anita)

Mike Willman (Santa Anita publicist)