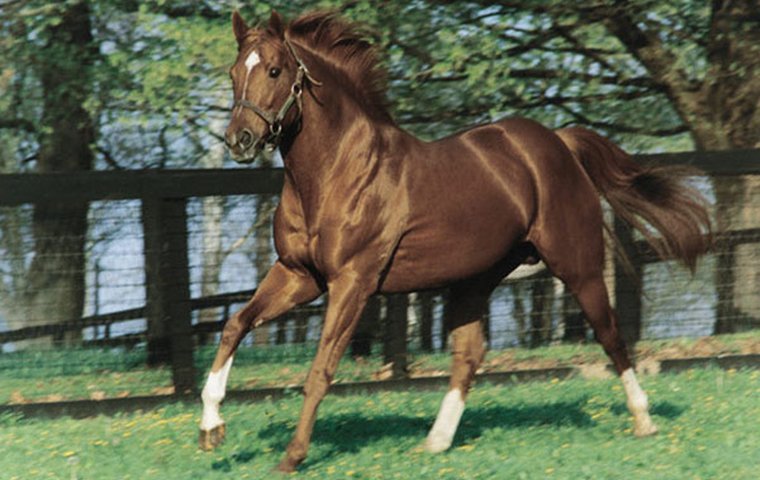 Now it's time for the stars of the show to take center stage. Since the start of the week, TRC has been announcing the results of a poll involving a distinguished panel of 45 voters who were asked to name the Top Ten jockeys, trainers and horses since 1967.

On Monday, Bill Shoemaker was named as the No. 1 jockey of the last 50 years, and on Wednesday the top honor went to trainer Charlie Whittingham.
Today, attention is turned to the charismatic stars at the heart of the sport. They are the horses who have dominated the past five decades and made it such an unforgettable time.
Picking ten of them and crowning one as the grandest of them all was a herculean task given all the great champions who have graced the era.
------------------------------
Race records of each of the Top Ten (courtesy of equineline.com) are available on a special link at the foot of this article
------------------------------
There have been three Triple Crown champions. A Grand Slam winner. Four fillies who have won Triple Crown races. A three-time Horse of the Year and eight who won the title twice. A mare who won 19 straight races, 17 of them in stakes, and a horse who recorded 16 straight victories, 14 in stakes. A horse who earned $17.4 million.
From that pool of talent there was a consensus that placed ten above the rest and elevated those horses to a special echelon.
As proof of that, when the No. 11 horse is Zenyatta, the aforementioned mare who reeled off 19 straight wins, being part of the Top Ten is a supremely prestigious badge of honor. Indeed, there are many illustrious recent champions (including a very recent and very popular dual Horse of the Year) who failed to gain any votes at all.
And now, here's the ten best of the very best, in reverse order:
10. Buckpasser
(1965-67)
Ran 31, won 25, second 4, third 1
97 points
Owned by Ogden Phipps and trained at three and four by Eddie Neloy, who finished 18th in the TRC trainers poll, Buckpasser mimicked a number of legendary champions by losing his first race and finishing fourth. Yet he was a dominant force after that, winning 24 of his next 26 starts.
At two, he won nine of 11 starts, six of them stakes, and was the champion 2-year-old male of 1965. He was a huge favorite for the Kentucky Derby and such a cinch to win the Flamingo Stakes that Hialeah would not accept wagering on a race that became known as 'The Chicken Flamingo'.
A quarter-crack kept him out of all three legs of the Triple Crown, but he still won 13 of 14 races that year, with wins in the Travers, Jockey Club Gold Cup, Woodward and Arlington Classic (in the world record time of 1:32.60 for a mile) among 12 stakes wins, and was voted Horse of the Year and the champion 3-year-old male.
At four, he only raced six times, winning the Metropolitan Handicap and Suburban Handicap at Aqueduct, but in a huge showdown in the Woodward with Dr. Fager and Damascus, the best 3-year-olds of 1967, he finished second, ten lengths behind the victorious Damascus.
The 1967 Woodward proved to be Buckpasser's final race, and it served as a bookend to the loss in his debut. Yet it was the 29 starts and 25 wins in between them that defined Buckpasser's greatness and earned him a spot in the Hall of Fame in 1970.
9. John Henry
(1977-84)
83-39-15-9 ($6,591,860 won)
101 points
There was no greater rags-to-riches story in the last 50 years than the saga of John Henry.
In his first 18 races, all on dirt, John Henry notched four wins and was running for $25,000 claiming tags.
But then on June 1, 1978, trainer Robert Donato decided to run Sam and Dorothy Rubin's gelding on turf and the rest was a script worthy of a Hollywood blockbuster.
Trained by Lefty Nickerson and Ron McAnally in 1979 and beyond, John Henry won that first turf race by 14 lengths and went on to win 30 of 50 starts on turf, earning $5.2 million and winning 25 stakes in those races.
In 1980, when John Henry won seven of ten turf starts on both coasts, he received the Eclipse Award as the year's best turf horse, a prize he would receive in four of five years.
The next year, John Henry built on that success and won eight of ten starts and was voted Horse of the Year for a resume that included wins in the G1 Santa Anita Handicap and Jockey Club Gold Cup on dirt and three G1 turf stakes.
Above all that, it was in 1981 that the 1990 Hall of Fame inductee gained international fame when he headlined the inaugural Arlington Million and prevailed by a nose over Europe's The Bart in the mile-and-a-quarter turf stakes.
The gelding continued to rack up wins and honors as he aged like a fine wine. He was voted the turf champion in 1983 and then won a second Horse of the Year title in 1984 when he won six of nine starts, including the Arlington Million for a second time, plus the Turf Classic, Sunset and Hollywood Invitational.
After matching a course record in winning the $900,000 Ballantine Handicap at The Meadowlands, excitement built for John Henry to headline the inaugural edition of the Breeders' Cup but an injury ended both his career and one of racing greatest rises from humble roots to unquestioned greatness.
8. Cigar
(1993-95)
33-19-4-5 ($9,999,815)
102 points (two 1st-place votes)
Cigar was the antithesis of John Henry.
His career started at three, when he finished seventh in his debut and then won a maiden race at Del Mar, both on dirt. Switched to turf after that by trainer Bill Mott, who was eighth in the TRC trainers poll, Cigar won just one of 11 starts on sod.
Switched back to dirt, the son of Palace Music turned into a Superman who would be called the "unconquerable, invincible, unbeatable" Cigar in his greatest win.
Owned by Allen E. Paulson, Cigar won 16 straight races on dirt, assembling a perfect ten-for-ten campaign in 1995 that was capped by a victory under regular rider Jerry Bailey (4th in the TRC jockeys' poll) in the Breeders' Cup Classic and rewarded with Horse of the Year and champion older male honors.
In 1996, Cigar traveled overseas and won the Dubai World Cup, and later matched Citation's record by prevailing in the Citation Challenge at Arlington Park for an historic 16th straight win.
The winning streak came to a shocking end in the Pacific Classic at Del Mar. Cigar won the G1 Woodward by four lengths after that, but lost by a head to Skip Away in the Jockey Club Gold Cup at Belmont Park.
For his final start, he raced in a third different country in the calendar year, heading to Woodbine in Canada for the Breeders' Cup Classic. The 2002 Hall of Fame inductee turned in a gallant performance, but wound up third, a nose and a head behind the victorious Alphabet Soup in a dramatic three-horse duel to the wire.
Cigar was nevertheless voted Horse of the Year and the champion older male for a second straight year, and the horse best known for winning, winning and more winning ended with career earnings of $9.9 million that were not surpassed until 2008 by Curlin (when U.S. dollars are used as the deciding currency).
7. American Pharaoh
(2014-2015)
11-9-1-0 ($8,650,300)
125 points
It was American Pharoah who finally ended the wait.
After Affirmed became the 11th Triple Crown champion in 1978, 37 years passed until the clock struck 12 and owner Ahmed Zayat's American Pharoah cruised to victory in the 2015 Kentucky Derby, Preakness and Belmont Stakes.
Trained by Bob Baffert, who was fourth in the TRC trainers' poll, American Pharoah was fifth in his career debut, but then rebounded to win the Del Mar Futurity and FrontRunner.
An injury knocked American Pharoah out of the Breeders' Cup Juvenile, but he was still voted the champion 2-year-old male of 2014.
Wins in the Rebel and then Arkansas Derby prepared American Pharoah for the Triple Crown and he was at his very best for the three 2015 classics. After winning the Kentucky Derby by a length, the homebred skipped to a seven-length victory on a soaked racetrack in the Preakness.
That set the stage for a date with destiny in the Belmont. Under jockey Victor Espinoza, American Pharoah controlled the pace and then pulled away in the stretch to majestically march to a 5½-length coronation that gave the sport its first Triple Crown winner in 37 years.
Now a megastar, American Pharoah returned in July to win the Haskell and then shipped to Saratoga for the Travers. One day after a public morning workout at the Spa that drew an incomprehensible 15,000 fans to the historic track, American Pharoah could not fend off Keen Ice's late kick and finished second in the Mid-Summer Derby.
The loss gave Baffert more than two months to get the 2015 Horse of the Year back on track for his final start in the Breeders' Cup Classic at Keeneland, and the Hall of Famer responded with one of his most impressive training jobs.
Facing older horses for the first and last time, American Pharoah closed out his legendary career by cruising to an utterly decisive 6½-length victory in BC Classic and proving once and for all he was well worth the wait.
6. Affirmed
(1977-79)
29-22-5-1 ($2,393,818)
183 points
The term 'heart of a champion' is greatly overused sports, yet it was an absolutely perfect fit for Affirmed.
He will always be remembered for his duels with Alydar in the 1978 Triple Crown, yet they do not tell the whole story of a fabulous rivalry and brilliant career.
Affirmed and Alydar met ten times – with Affirmed winning seven. They became fierce rivals during their 2-year-old season of 1977, clashing on six occasions that year. Affirmed's wins in the Laurel Futurity, Futurity, Hopeful and Youthful earned the Harbor View Farm colt the 2-year-old championship.
At three, trainer Laz Barrera (7th in the TRC trainers' poll) sent Affirmed to California to prepare for the Kentucky Derby and the Eclipse Award winner captured the Santa Anita Derby.
Matched against Alydar once again, the two rivals squared off in the Kentucky Derby and Affirmed fended off Alydar's late charge to win by 1½ lengths.
Alydar hooked Affirmed earlier in the Preakness, but the result was the same, with Affirmed winning by a neck.
That set the stage for their most famous clash. Alydar moved up to join Affirmed on the front end after a slow opening half-mile and they remained locked together for the final seven furlongs in perhaps the sport's greatest duel. In the final yards, it was Affirmed and jockey Steve Cauthen who grabbed a small lead and triumphed by a head in a heart-stopping finish to complete the Triple Crown sweep.
Alydar derived a small measure of revenge when he was awarded a victory in the Travers after Affirmed was disqualified and placed second in the colts' final meeting.
In the fall, Alydar was replaced by an even more formidable foe in 1977 Triple Crown champion Seattle Slew. The tenth Triple Crown winner beat Affirmed by three lengths in the Marlboro Cup and the 3-year-old was then fifth in the Jockey Club Gold Cup when his saddle slipped.
After two losses to start 1979, Affirmed reeled off six straight wins heading into his final race in the Jockey Club Gold Cup. That farewell start matched Affirmed against 3-year-old superstar Spectacular Bid and the younger horse learned the same lesson as Alydar.
Affirmed closed out his tremendous career by posting a three-quarters-of-a-length victory over Spectacular Bid in a memorable final display of class and courage.
5. Forego
(1973-78)
57-34-9-7 ($1,938,957)
224 points
It's a part of racing trivia that Forego and Secretariat clashed in the 1973 Kentucky Derby. The victorious Big Red was approaching his peak back then, while Forego was a big, gangly gelding who finished fourth.
Once Secretariat retired, the timing was right for Forego to fill the void. In 1974, the Lazy F Ranch colorbearer won eight of 13 starts, closing the year with victories in the Woodward, Vosburgh and Jockey Club Gold Cup to become Horse of the Year, not to mention the champion older horse and sprinter.
The next two years also belonged to Forego as he was named Horse of the Year in 1975 and 1976, while winning a combined 12 of 17 starts, capturing the Woodward, Brooklyn and Suburban in both years.
His most memorable win in that period came in the 1976 Marlboro Cup when he launched a furious rally and caught Honest Pleasure in the final stride.
In 1977, while trained by Frank Whiteley Jr. (9th in the TRC trainers poll) Forego won the Metropolitan Handicap for a second straight season and earned his fourth straight crown as the champion older horse.
He only raced twice as an 8-year-old in 1978 and was retired after finishing fifth in the Suburban, ending an illustrious career that featured 24 stakes wins and was anything but trivial.
4. Spectacular Bid
(1978-80)
30-26-2-1 ($2,781,608)
240 points (two 1st-place votes)
If not for a stray safety pin or a killer pace – take your choice - Spectacular Bid might have become the 12th Triple Crown champ 36 years before American Pharoah.
That shocking third-place finish in the 1979 Belmont Stakes was one of only a few days when things did not go according to plan for Spectacular Bid.
After winning the World's Playground Stakes at Atlantic City by 15 lengths, Spectacular Bid closed out his 2-year-old season with G1 wins in the Champagne and Laurel Futurity to earn year-end honors as the champion 2-year-old male
His dominance heightened at three as he won all five of his preps for the Kentucky Derby, including the G1 trio of the Blue Grass, Flamingo and Florida Derby by a combined 23½ lengths.
Sent off as a 3-5 favorite in the 1979 Kentucky Derby, the Hawksworth Farm colt notched a 2¾-length triumph in the Run for the Roses for trainer Bud Delp. An even easier 5½-length win in the Preakness followed, but Triple Crown hopes were dashed in the Belmont Stakes when the dual classic winner either suffered a foot injury after stepping on a safety pin or was victimized by a fast pace and poor ride by jockey Ronnie Franklin.
After the Belmont, Bill Shoemaker (No. 1 in the TRC jockeys' poll) rode Spectacular Bid in his final 13 starts and won 12 times.
The lone loss came to Triple Crown champion Affirmed in the 1979 Jockey Club Gold Cup.
At four, Spectacular Bid could not be touched and was named Horse of the Year. The 1982 Hall of Fame inductee won all nine of his starts, including the G1 Strub, Santa Anita Handicap and Haskell.
His final start came in the 1980 Woodward at Belmont when no one showed up to face him and he won in a walkover that definitively showed how he was in a league by himself.
3. Dr. Fager
(1966-68)
22-18-2-1 ($1,002,642)
278 points (seven 1st-place votes)
Few horses could match Dr. Fager in terms of class and speed. He won 18 of 22 starts, set a world record of 1:32.20 for a mile and was victorious by six lengths or more in nine races.
Minor problems limited Dr. Fager to five starts at two and kept him out of the Triple Crown races at three.
In 1967, he finished third behind Damascus and Buckpasser in the Woodward when he was softened by chasing a rabbit for the winner.
He prevailed in the Vosburgh to end the year and was named the champion sprinter of 1967.
It was in 1968 that everything fell into place for the Tartan Stable colt. Trained by John Nerud, Dr. Fager won seven of eight starts, all in stakes, and triumphed in the Suburban, Whitney, Vosburgh and United Nations on turf.
He also set a world record of 1:32.20 for a mile while winning the Washington Park Handicap under 134 pounds in a performance that epitomized the brilliant speed that was a hallmark of his career.
2. Seattle Slew
(1976-78)
17-14-2-0 ($1,208,726)
286 points (two 1st-place votes)
There were 25 years that separated Triple Crown winners Citation and Secretariat, yet fans had to wait a mere four years for a dazzling horse to duplicate Big Red's feat.
Seattle Slew raced only three times in 1976, but a 9¾-length victory in the G1 Champagne left no doubt he was the year's 2-year-old champion.
He picked up in 1977 where he left off, winning the Flamingo and Wood Memorial before registering a 1¾-length victory in the Kentucky Derby at prohibitive 1/2 odds for Tayhill Stable and trainer Bill Turner.
In the Preakness, the margin was 1½ lengths and then in the Belmont Stakes his sharp early speed turned the mile-and-a-half race into a mismatch as the undefeated colt won by four lengths.
A trip to the West Coast followed and Seattle Slew suffered the 1-2 punch of a loss in the Swaps Stakes and an illness that ended his Horse of the Year season prematurely.
At four he returned to top form and, in a battle of Triple Crown winners, he beat Affirmed by three lengths in the Marlboro Cup. A rematch did not go well for Affirmed, whose saddled slipped and finished fifth.
Though a hard-to-control Affirmed forced Seattle Slew through brutal early fractions, the 1977 Triple Crown winner showed his courage and determination by dueling with Exceller and losing by a nose.
Seattle Slew retired at the end of the 1978 season with a career record of just three losses in 17 starts and the respect of fans as a worthy successor to Secretariat.
1. Secretariat
(1972-1973)
21-16-3-1 ($1,316,808)
423 points (31 1st-place votes)
In some ways, the TRC poll played out like Secretariat's greatest victory. He received 31 of 45 first-place votes, 24 more than Dr. Fager who was second with seven first-place votes, and his total was the highest for anyone in the three polls.
He was also the only individual listed on all 45 ballots and only two of them ranked him lower than third.
The reasons for all of that acclaim are rather well-known.
Secretariat was not perfect. He lost five times in 21 starts, but when he was at his best, he was unbeatable.
The Meadow Stable colt was brilliant from the beginning. At two, he was fourth in his debut and won the Garden State, Laurel Futurity, Belmont Futurity and Hopeful and was named Horse of the Year and the champion 2-year-old male.
With huge expectations at three, Secretariat finished a startling third in the Wood Memorial in his final prep for the Kentucky Derby. Suddenly doubts surfaced about his ability to handle the ten-furlong classic distance, but decisive wins in the Kentucky Derby and Preakness pushed them aside.
He then turned in what was arguably the most impressive performance of the last 50 years – and more – when trainer Lucien Laurin's 'incredible machine' ran a hole in the wind of racing history and posted a unbelievable 31-length victory in world-record time in the Test of the Champion to become the sport's first Triple Crown winner in 25 years.
Weakened by a fever, he was defeated in the Whitney at Saratoga but more than atoned by beating an all-star collection of the best horses in training in the inaugural Marlboro Cup at Belmont Park.
Adding to his legacy, he made his last two starts in turf stakes and won by a combined 11½ lengths. His regular rider, Ron Turcotte, even commented earlier this year that he believed Secretariat was 10-15 lengths better on turf than dirt.
It's hard to believe those words from Turcotte, but accomplishing the unbelievable was a daily routine for Secretariat and the quality that made him racing's No. 1 superstar of the last 50 years.
The picture at the top of this article is Secretariat at Claiborne Farm, of course. As we said, there are no prizes for working that one out. Photo: Claiborne Farm
THE TRC INDUSTRY POLL
Top Ten Racehorses 1967-2017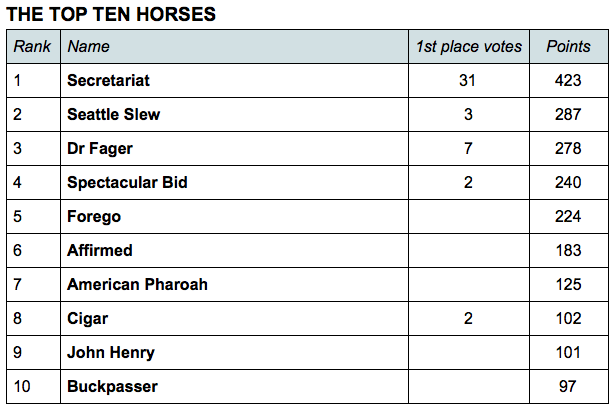 Other horses who received votes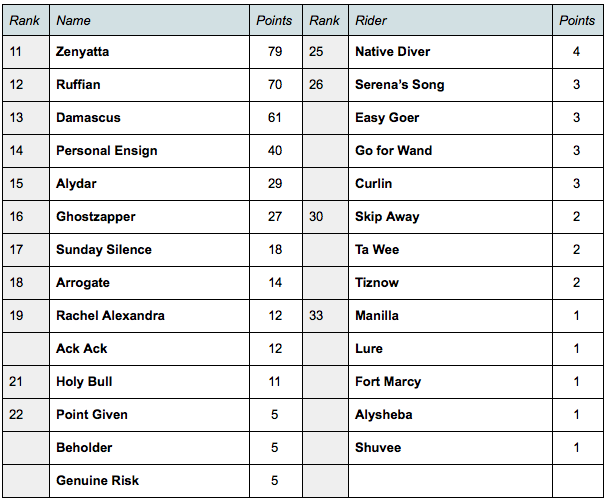 Points awarded on a 10-9-8-7-6-5-4-3-2-1 basis
The voters
Ed Bowen (Historian, President Grayson-Jockey Club Research Foundation)

Simon Bray (TVG analyst, former trainer)

Caton Bredar (TVG analyst)

Bill Christine (former Los Angeles Times writer)

Gary Contessa (trainer)

Dick Downey (The Downey Profile)

Tom Durkin (former track announcer)

Bob Ehalt (TRC correspondent)

Richard Eng (retired Las Vegas Review-Journal columnist)

Jim Gluckson (Breeders' Cup publicist)

Jane Goldstein (former Santa Anita publicist)

Luis Grandison (Spanish language announcer, NYRA)

Ed Gray (Boston Herald)

Amy Gregory (Keeneland publicist)

Charles Hayward (TRC President, former NYRA President)

G.D. Hieronymus (Director/Broadcast Services, Keeneland)

Barry Irwin (owner, Team Valor International)

Bob Kulina (former Monmouth Park President)

Joan Lawrence (NTRA publicist)

Don Little (owner, Centennial Farms)

Mac McBride (Del Mar publicist)

Ed McNamara (Newsday)

Richard Migliore (XBTV analyst, former jockey)

Bill Nack (former Sports Illustrated writer)

Martin Panza (Sr. VP of Racing Operations, NYRA)

Tom Pedulla (America's Best Racing)

Don Pierce (former jockey)

John Pricci (www.horseraceinsider.com, former Newsday racing columnist/handicapper)

Billy Reed (former Louisville Journal-Courier/Sports Illustrated writer)

Tom Robbins (Executive Vice President/Racing, Del Mar)

Chris Scherf (former Executive VP, TRA)

Todd Schrupp (TVG host)

Andy Serling (racing analyst, NYRA)

Samantha Siegel (owner, Jay Em Ess Stable)

Dan Smith (Del Mar publicist)

Lynne Snierson (former Arlington/Rockingham Park publicist)

Steve Specht (trainer)

Sonny Taylor (NYRA placing judge)

Eddie Truman (trainer)

Jeffrey Tufts (former linemaker, Santa Anita/Del Mar)

Michael Veitch (The Saratogian)

Donnie K. Von Hemel (trainer)

Hank Wesch (former San Diego Tribune writer)

Jon White (handicapper, Santa Anita)

Mike Willman (Santa Anita publicist)
Click here to find out which jockeys made the panel's top ten
Click here to find out who are the Top Ten trainers
Click here for the racing records of each of the top ten, courtesy of equineline.com