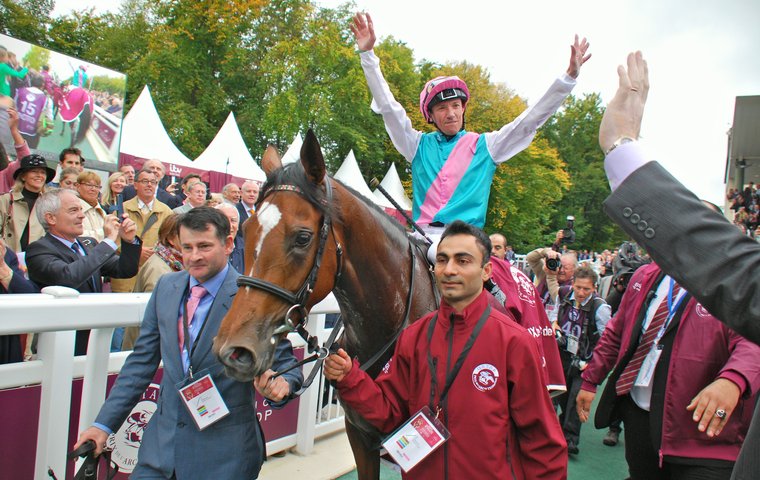 It wasn't all about the Arc last week - 11 Group races were run at Chantilly over the weekend, but there were another 51 elsewhere. No less than 27 of the 62 were Group or Grade 1s in what was one of the busiest weeks of the year at the elite level worldwide. Here are some of the biggest winners as a result, according to this week's updated TRC Global Rankings.

Team Enable
This is a golden era for fillies and mares. Following on from Treve, Found, Beholder, Songbird, Minding and La Cressonniere, we have 20-wins-in-a-row Winx, who will be going for a third Cox Plate in Australia later this month, the increasingly impressive Kiwi 4-year-old Bonneval, who beat Hartnell in the G1 Underwood Stakes at Caulfield on Sunday and is now favourite for the Caulfield Cup in just over two weeks, Ireland's four-time G1 scorer Winter, who ran out of stamina in the Arc but is still likely to be in the thick of it in the next month, and the likes of Stellar Wind, Abel Tasman, Lady Eli and the resurgent Paradise Woods in the U.S.
But for now they must all kneel before Enable.
Her fabulous Arc victory on Sunday meant everyone connected to her is a winner:
Frankie Dettori - gains 5 pts (still the world's third-ranked jockey)
John Gosden - also a 5 pt gainer (and still #4 in the world trainers' standings)
Juddmonte Farms - Enable's owners (and Arrogate's, and Frankel's) climb to joint #3 in the world rankings after a 7 pt surge.
Nathaniel - Enable's sire has 6pts more than he had last week, and is eight places higher in the world stallion rankings, now standing at #29. And he's still only a second-season sire (the second-highest ranked one in the world, of course - behind Frankel).
Frankie Dettori describes Enable as the best filly or mare - possibly even the best racehorse period - he has ever ridden, and trainer John Gosden has his fingers tightly crossed hoping the daughter of Nathaniel stays in training in 2018.
The ultimate target if she did race on would be for her to try to do a Treve and win a second Arc. But surely Royal Ascot should be a stop on the way. Dare we hope for this?
Prince of Wales's Stakes, Royal Ascot, June 18: Enable versus Winx
Team Shadwell
Just when you think Juddmonte are the ones to watch at the top of the owners' table, here comes Hamdan Al Maktoum on the outside. Juddmonte's 7 pt gain moved them up one place to world #3, but astonishingly they were caught by Sheikh Hamdan's Shadwell operation, who gained 11 pts and are now joint third with them.
The losers here are Al Shaqab Racing. They haven't done anything wrong - they've still got the same points total they had last week - but they've dropped from third to fifth because of the other two teams going into overdrive.
Battaash's four-length blitz of some of the fastest five-furlongers in Europe in Sunday's G1 Prix de l'Abbaye at Chantilly was the highlight of four Group or Graded wins for Sheikh Hamdan last week, which also featured Takaful in the G1 Vosburgh Stakes at Belmont, Taareef in the G2 Prix Daniel Wildenstein at Chantilly and the Frankel 2-year-old Elarqam in the G3 Tattersalls Stakes at Newmarket.
So up eight places goes retained first jockey Jim Crowley (+8 pts) to a career-high #26, up six places goes Battaash's trainer Charlie Hills (+5 pts) to #34, and up eight places to #69 goes Elarqam's trainer Mark Johnston (+4 pts).
The 'Fearsome Foursome'
They're almost a fixture in this sort of article, and there's been plenty written about their achievements at the weekend already on this site. For the record, though, Aidan O'Brien won five Group races, four of them G1s (+5 pts week on week), Coolmore Partners (+6 pts) won six Group or Graded races (five of them G1s - two in France, two in England and one in the U.S., Galileo (+4 pts) had two G1 winners in France, one in England and one in Australia, and poor old Ryan Moore (+3 pts) won just two G1s (one in France, one in England). They all strengthened their hold on their respective #1 positions, of course.
An interesting by-product of this phenomenal success of Team Coolmore is the advance of Moore's understudies. The superb Seamie Heffernan, for instance, won two G1s on Moore cast-offs and is now up to world #22, having gained 7 pts week on week.
And Donnacha O'Brien, who won just one G3 last week but featured prominently on a number of high-profile Ballydoyle mounts, is another 7 pt gainer and has climbed 16 places to #74 as a result.
War Front
You might almost include the Claiborne Farm stallion among the Coolmore beneficiaries such is his significance for the Irish operation. He's back up to world #9 now on the back of three Group and Graded victories last week, including a 1-2 with Ballydoyle juveniles in the G1 Middle Park Stakes at Newmarket and Avenge's win in the G1 Rodeo Drive Stakes at Santa Anita.
Dark Angel
A host of fine results both in Europe and America - chiefly Battaash at Chantilly and the juvenile filly Juliet Capulet at Newmarket - mean Yeomanstown Stud's standout has gatecrashed the top five.
He's developed into some stallion - he's responsible for the two highest-rated sprinters in the world (Battaash - RPR 128, Harry Angel - 127) - and now he's ranked #5 in the world (up from 6) after an 8 pt gain last week.
Kitten's Joy
You'll find all you need to know here about a fabulous week in Europe for America's top turf stallion, but we couldn't not include him in this list.
Jose Ortiz
Two Grade 1 wins (Takaful in the Vosburgh, Elate in the Beldame, both at Belmont) have put Ortiz into the top ten for the first time. He's up two places from 12 after gaining 5 pts.
Feargal Lynch
We predicted it here on Sunday after his momentous day at Laurel Park on Saturday, when his four-win haul included two Graded races. 'Watch out for a big rise for Feargal Lynch', we said, and sure enough he has soared 153 places up the jockeys' rankings to 205 after a 13 pt gain week on week.
Honourable mention …
… for Drayden Van Dyke, singled out just four weeks ago as a TRC Emerging Talent. The 23-year-old American illustrated his star quality once again on Saturday when he was aboard Mubtaahij, winner of the G1 Awesome Again Stakes at Santa Anita. Van Dyke gains 4 pts and is now world-ranked 90.
Click here for a list of last week's biggest TRC Global Rankings points gainers.
Click here for a list of the week's Group and Graded winners.