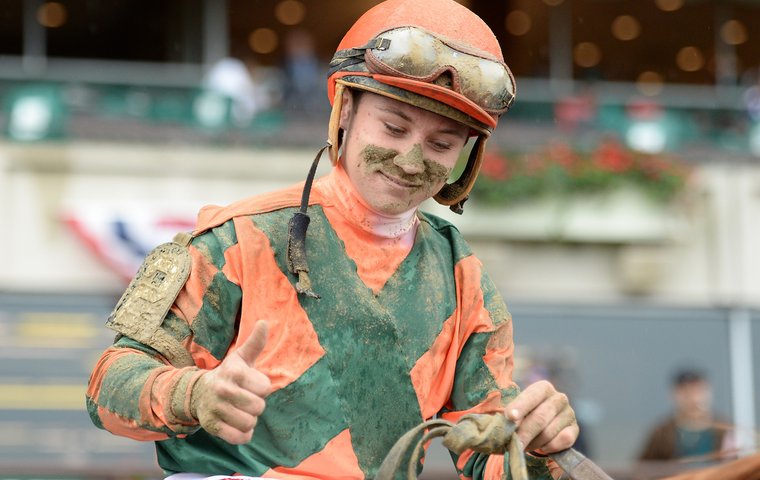 It's Drayden Van Dyke's 23rd birthday on Sunday, and he has a load more reasons to celebrate than might have appeared likely just three months ago.

California-based Van Dyke had been a rider to watch ever since his debut in the fall of 2013. Little more than 12 months later he won the Eclipse Award as America's leading apprentice jockey.
He continued to impress - and to ride plenty of winners, including four Grade 1s (Ring Weekend, Include Betty, Photo Call and Miss Temple City). And then it all came to a savage halt. On January 26 this year, Van Dyke suffered a double break of his right arm when the filly he was riding broke down and collapsed mid-race at Santa Anita.
After five tortuous months recovering, including reconstructive surgery to repair the arm, he finally returned to the saddle at the end of June. And it wasn't long before he was picking up where he had left off.
The five Graded stakes winners Louisville-born Van Dyke has ridden since include subsequent Travers Stakes winner West Coast for Bob Baffert (in the G3 Los Alamitos Derby) and two scorers at Del Mar last week - Munny Spirit in a G2 for trainer Doug O'Neill and Cambodia in a G2 for longtime supporter Thomas Proctor.
That gave Van Dyke, or DVD as we shall call him, a nine-point week-on-week gain in the world jockey rankings, elevating him 21 places to a career-high 95th. That puts him #20 among riders based in the U.S., which we like to think is a better reflection of his effectiveness and potential than the more conventional list, which has him at #92 in North America based on earnings.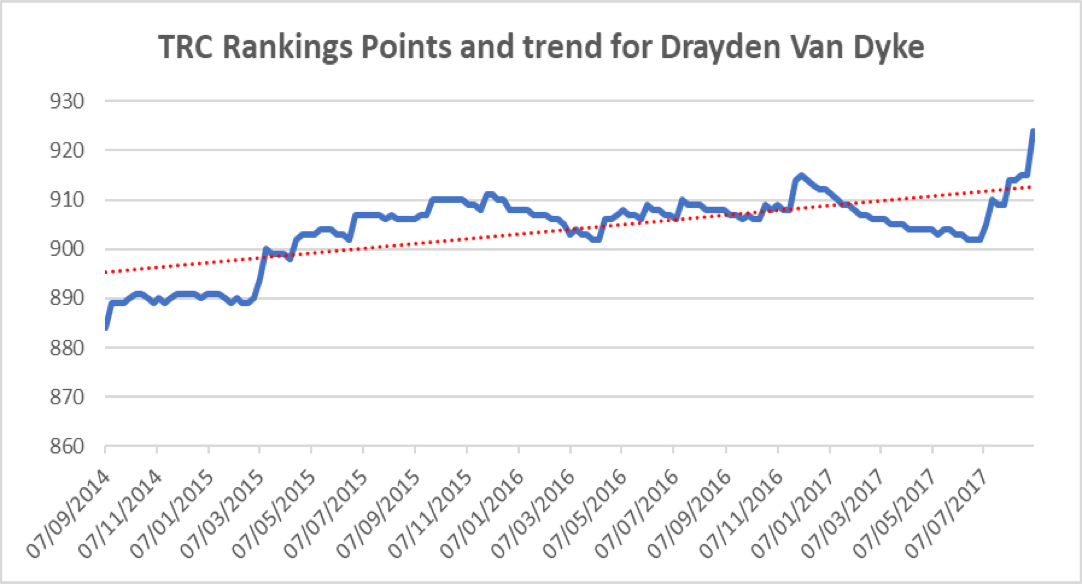 Notice the graph here of his progress since the start of the current TRC Global Rankings three-year window. It mirrors pretty exactly the highs and lows of his career so far. The then 19-year-old DVD entered the standings in 2014 at #491 with 884 ranking points. A steady upward trajectory of achievement took him to a peak of #124 (with 915 points) in December 2016.
It's easy to spot that peak on the graph, and the subsequent slow tumble (to #171 by the end of June) during those five months of inactivity. And it's even easier to see the point where DVD returned to the saddle and began an even steeper trajectory upwards
Certainly the TRC algorithm that drives the rankings has seen enough to consider the youngster is already clear of many of the riders ahead of him in the money list. And, with the support of the likes of Proctor, O'Neill, Baffert, Graham Motion and Jerry Hollendorfer - and jockey Mike Smith, it's a pretty safe bet that this TRC Emerging Talent will become an increasingly important rider in the future.
Other TRC Emerging Talents
Pierre-Charles Boudot
Katelyn Mallyon
Callan Murray
Candice Bass-Robinson
Click here for a list of last week's biggest TRC Global Rankings points gainers.
Click here for a list of the week's Group and Graded winners.