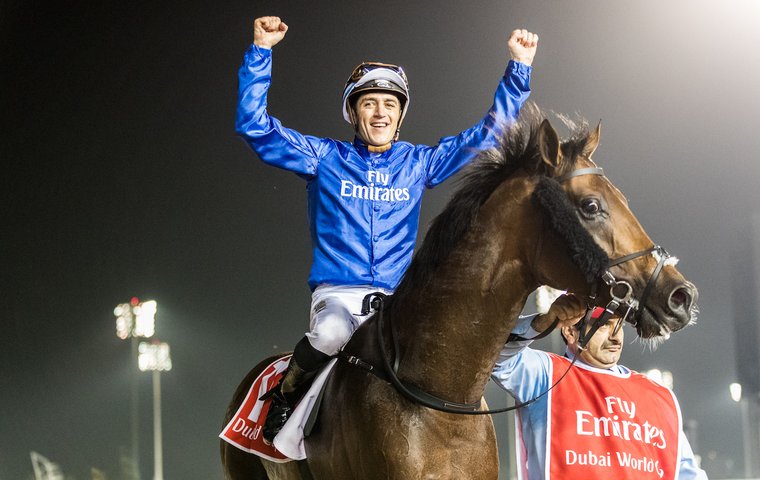 Amid a blur of booming fireworks, high-flying aerialists and a collision of dozens of languages and cultures, the 23rd the Dubai World Cup program yielded several intriguing scenarios to ponder going into the rest of the season and the future at large.

Foremost is perhaps a return to the simple notion that a good horse can run on anything, and there is no more inspiring result than a runner proving himself at the highest levels on varying surfaces and anywhere in the world.
Both Godolphin's Dubai World Cup winner Thunder Snow — one of four winners on the night for the blue team and such a delight to Sheikh Mohammed that he broke into a spontaneous dance during the trophy ceremony — and Coolmore's thrilling 3-year-old Mendelssohn performed brilliantly on dirt after earlier excelling on turf.
They thus have marked themselves as exceptional horses who can achieve in international settings and hopefully will have much more to give, both in racing and eventually at stud, while also encouraging others to take a chances on both dirt and turf.
Other major takeaways from the world's richest day of racing, a $30 million extravaganza held in the sprawling lap of the globe's largest racing temple, Meydan Racecourse, included:
The superior mastery of jockeys Christophe Soumillon and Ryan Moore;

A return to center stage by Godolphin trainer Saeed bin Suroor after a period in which he had struggled with not receiving the stable's best horses;

The continuing impact of American-bred speed on global racing;

An ongoing demonstration of female power in mixed competition, even if there were no filly or mare winners on the night, and

A pronounced bias toward speed that has developed on the Meydan dirt track that proved difficult, although not impossible, to overcome.
First and foremost, Thunder Snow and Mendelssohn undoubtedly were the brightest stars of this eclectic show.
THUNDER SNOW: HOW'S THIS FOR VERSATILITY?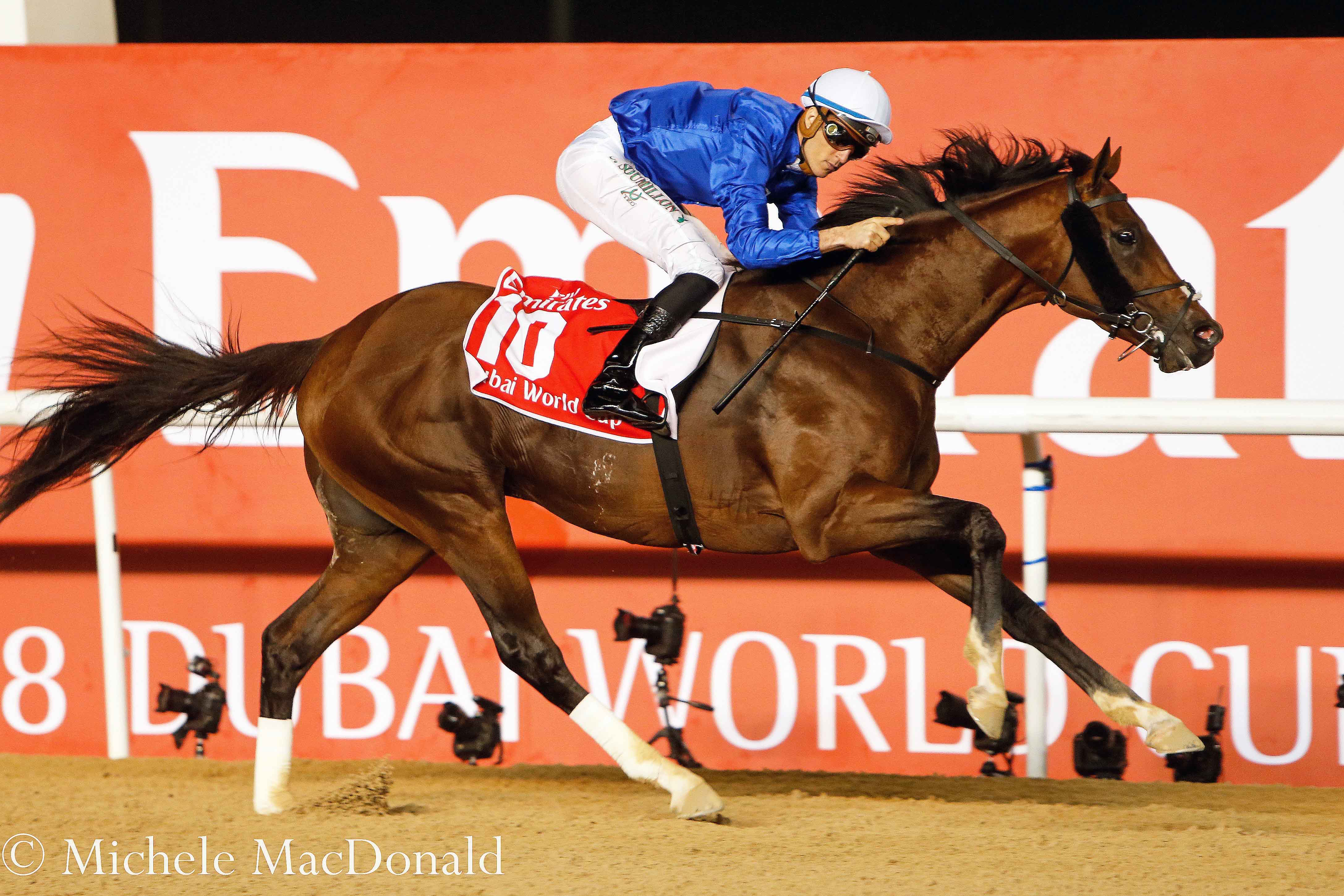 Thunder Snow, a two-time G1 winner on grass who famously pitched a fit in last year's Kentucky Derby as he departed the gate bucking and had to be pulled up, left two American dirt champions in his wake as he barreled around the 2000m of the Dubai World Cup unthreatened under a bold front-running Soumillon ride.
A giddy Soumillon reported that he was surprised not to be challenged early by the likes of American 3-year-old champion West Coast, and that he had to keep Thunder Snow focused coming down the stretch, knowing that the colt can be quirky.
"When I came in the straight, I could feel nobody was following me [see video above]. I knew I had to concentrate because when he sees the big screen, he can do something sometimes," Soumillon said, referring to the Derby bucking.
Thunder Snow defeated runner-up West Coast by 5¾ lengths in track record time of 2:01.38 for the 2000m. West Coast finished a neck in front of his Bob Baffert-trained stablemate Mubtaahij, who had finished second in the 2016 Dubai World Cup and was fourth in the race last year.
BREEDERS' CUP CLASSIC IS THE TARGET NOW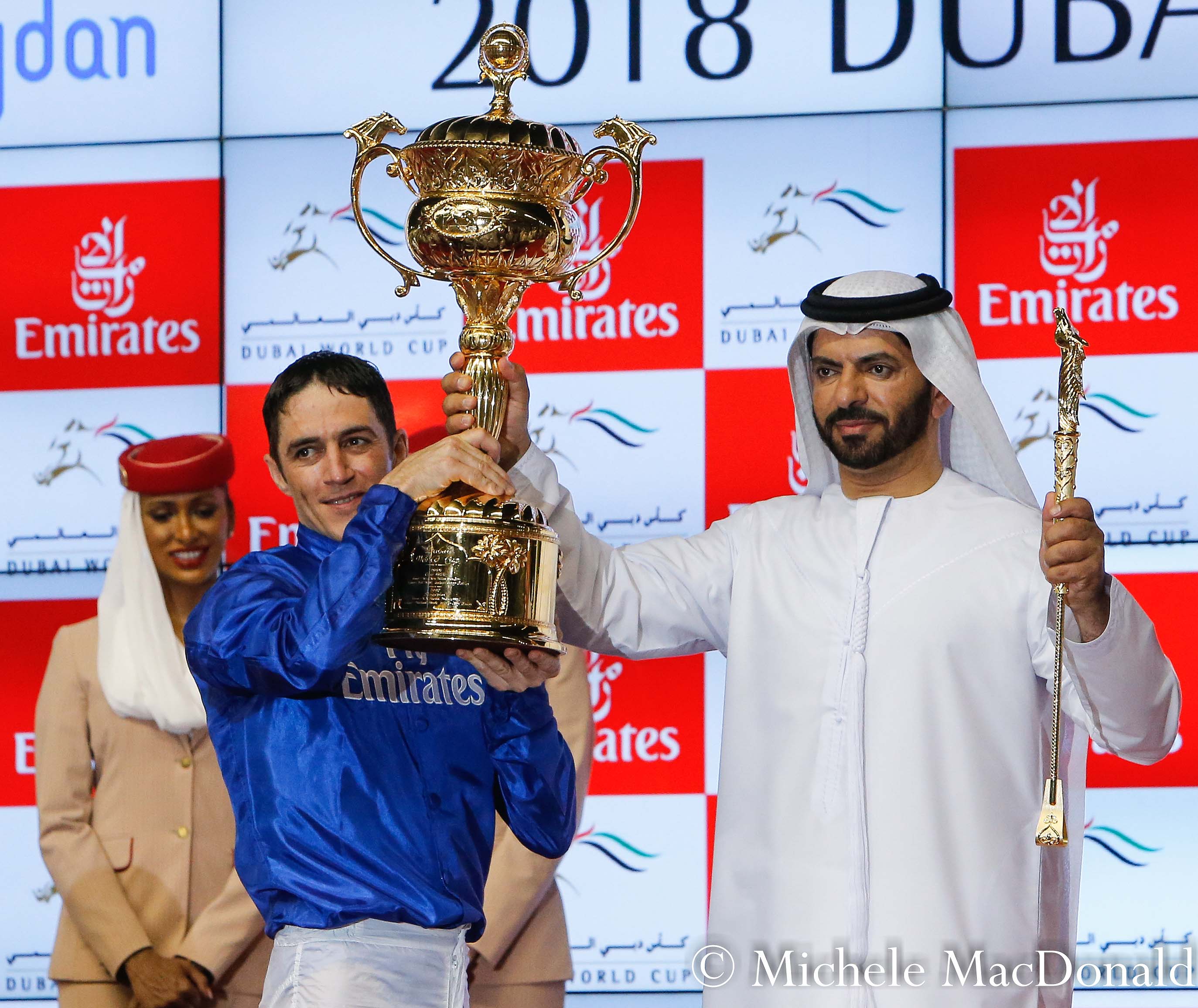 Looking ahead, Bin Suroor reported that he wants to eventually take Thunder Snow back to the United States, and the Breeders' Cup Classic this autumn could be a goal.
Just the thought of going back to Churchill Downs for that race made Soumillon cover his face with his hands and laugh at the memory of the Derby debacle, but Thunder Snow's ability, when he chooses to employ it, is no laughing matter.
He has now won seven of 18 starts and placed seven times while banking a sum calculated at $8,381,476 by Equibase and at £6,302,421 by the Racing Post based on relevant exchange rates. That figure will make him 19th in the TRC list of highest earners in world Thoroughbred racing history, putting him second only to Highland Reel among European horses.
A son of Australian-bred Helmet, by Exceed and Excel, Thunder Snow is from the female family of American champion It's In The Air and the remarkable Irish Derby-winning filly Balanchine.
MENDELSSOHN: 'HE'S GOING TO GET EVEN BETTER'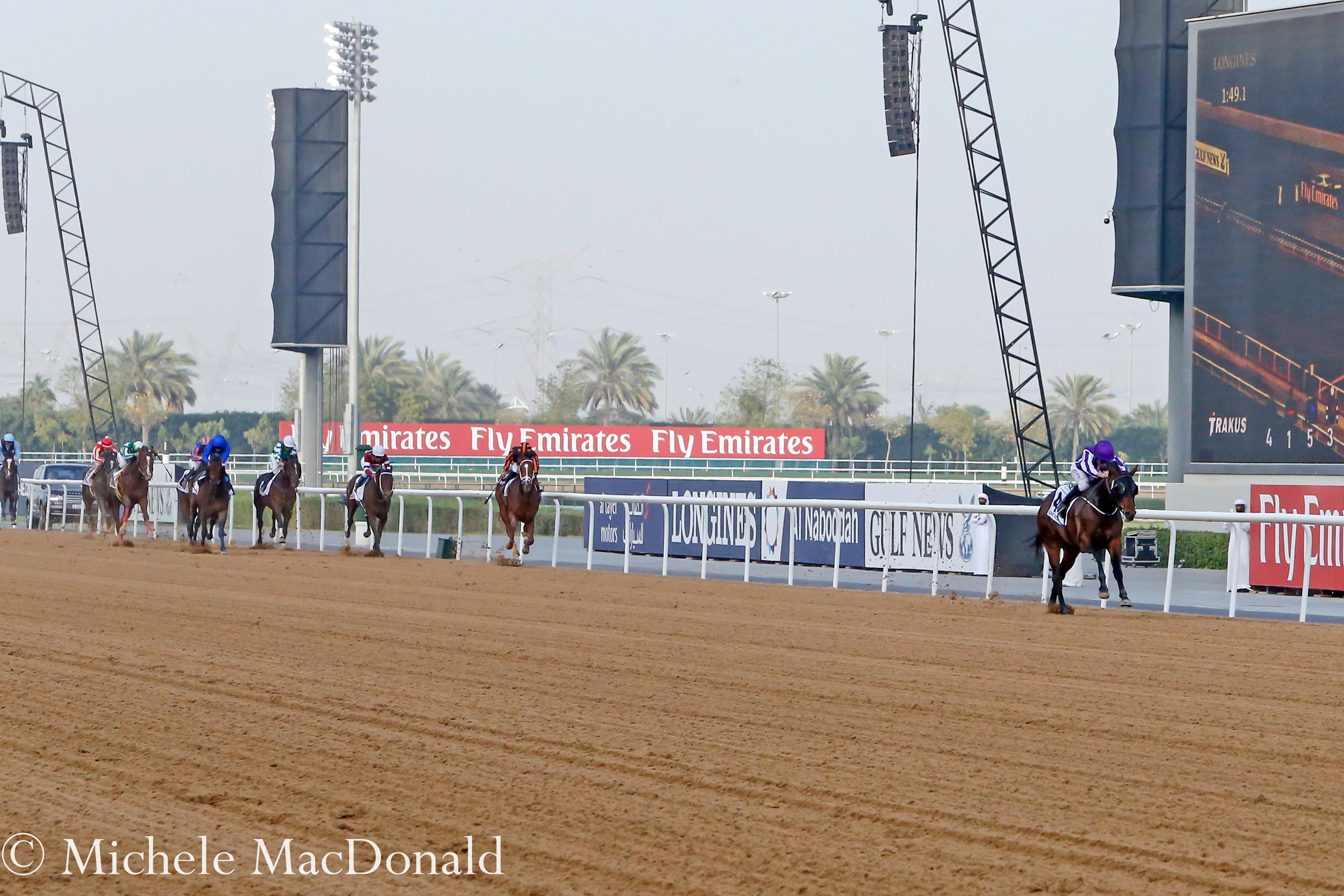 Yet there are few individuals that can match the pedigree excellence of Mendelssohn, who delivered a scintillating 18½-length romp in the $2 million UAE Derby, his first start on dirt (see video below). He set a track record for the 1900m (about 9½ furlongs, roughly equivalent to the distance of the Preakness Stakes) of 1:55.18 and now has run farther than any of his anticipated rivals for the upcoming Kentucky Derby.
Coolmore paid $3 million for Mendelssohn when he was offered as a yearling. He is a son of the late brilliant sire Scat Daddy and a half brother to multiple champion Beholder and to G1 winner and top sire Into Mischief, whose son Audible won the Florida Derby hours after Mendelssohn's tour de force.
"We will look forward to going to Kentucky with him now," said trainer Aidan O'Brien of Mendelssohn, who earned enough Kentucky Derby qualifying points to guarantee a spot in the starting gate for the Run for the Roses. "He is a terrific horse, really very exciting."
A mid-May foal, Mendelssohn is well known for his whinnying while training, and the colt came back to the Meydan winner's circle while loudly announcing his arrival. O'Brien has described him as still "babyish" but jockey Moore said he is a very impressive classic candidate.
"You'd have to go a long way to see a better performance than that," Moore said of his UAE Derby experience. "He's a horse with a lot of speed. He still feels like there's more physical improvement in him, there's more strengthening to come — he's going to get better. He's grown up a lot, but he's still learning."
Mendelssohn won last year's Breeders' Cup Juvenile Turf and the possibilities for him are basically unlimited due to his versatility. He is now favorite for the Kentucky Derby virtually across the board with British bookmakers at a general 5/1.
MOORE AND SOUMILLON: GETTING IT DONE NO MATTER WHAT THE SURFACE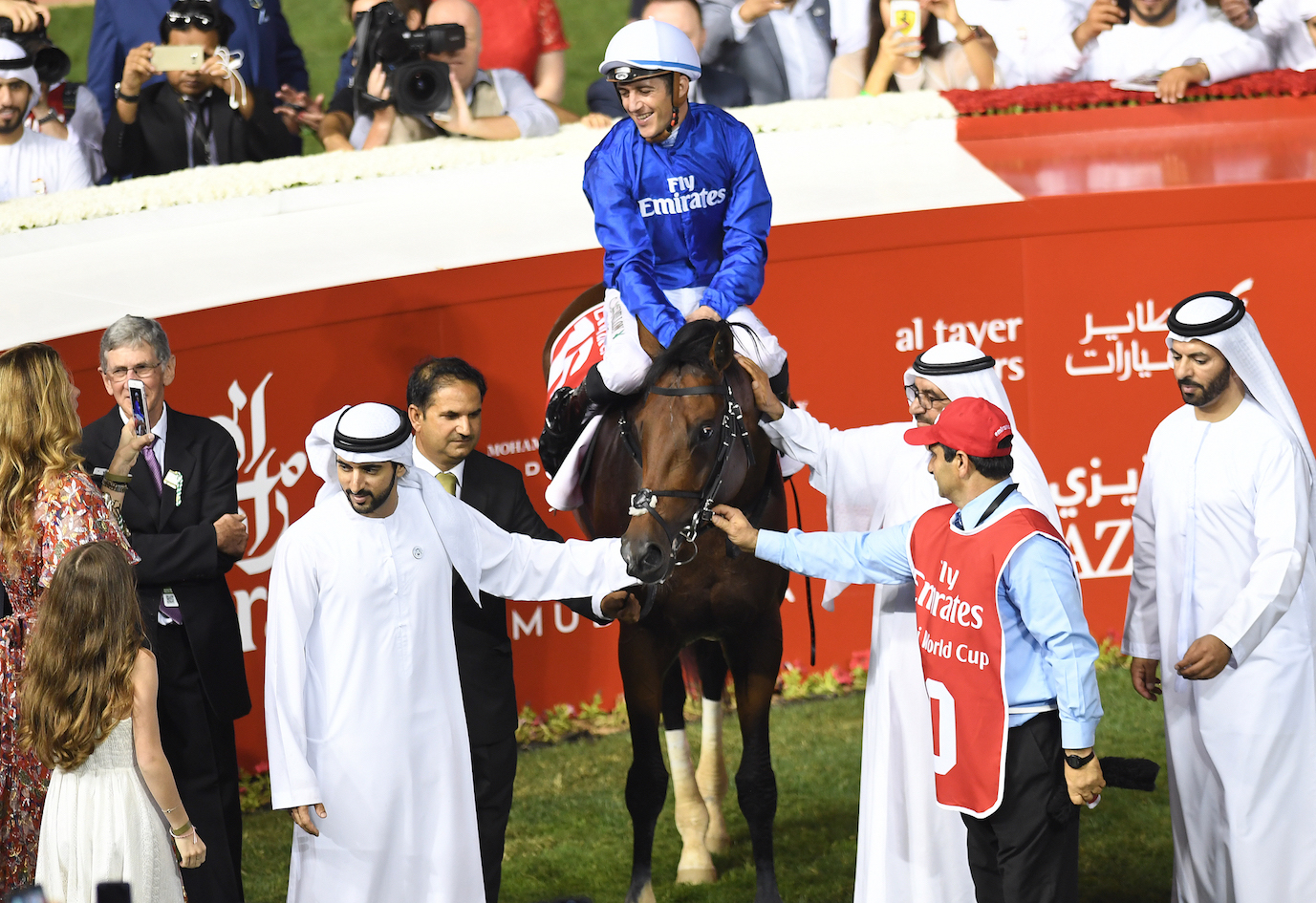 Likewise, Moore and Soumillon proved yet again that they are unmatched riding wizards no matter the track. Together, they took home half the trophies of the Dubai World Cup program's eight Thoroughbred races, with Soumillon also piloting the Aga Khan's Vazirabad to an unprecedented third win in the $1 million Dubai Gold Cup, and Moore also steering home Heavy Metal to victory in the $1 million Godolphin Mile.
World-ranked 8, Soumillon, a nine-time champion rider in France, is coming off a year in which he set a European record with 306 winners, while Moore, the world #1, produced in 2017 perhaps the finest year by a jockey in history. While they have distinctively different personalities, with the flamboyant Soumillon declaring that there would be a big party after the Dubai World Cup, and the shy Moore typically avoiding any spotlights, they share the innate ability to connect with their horses and get the best out of them.
BIN SUROOR: IS HIS STABLE ON THE UPSWING AGAIN?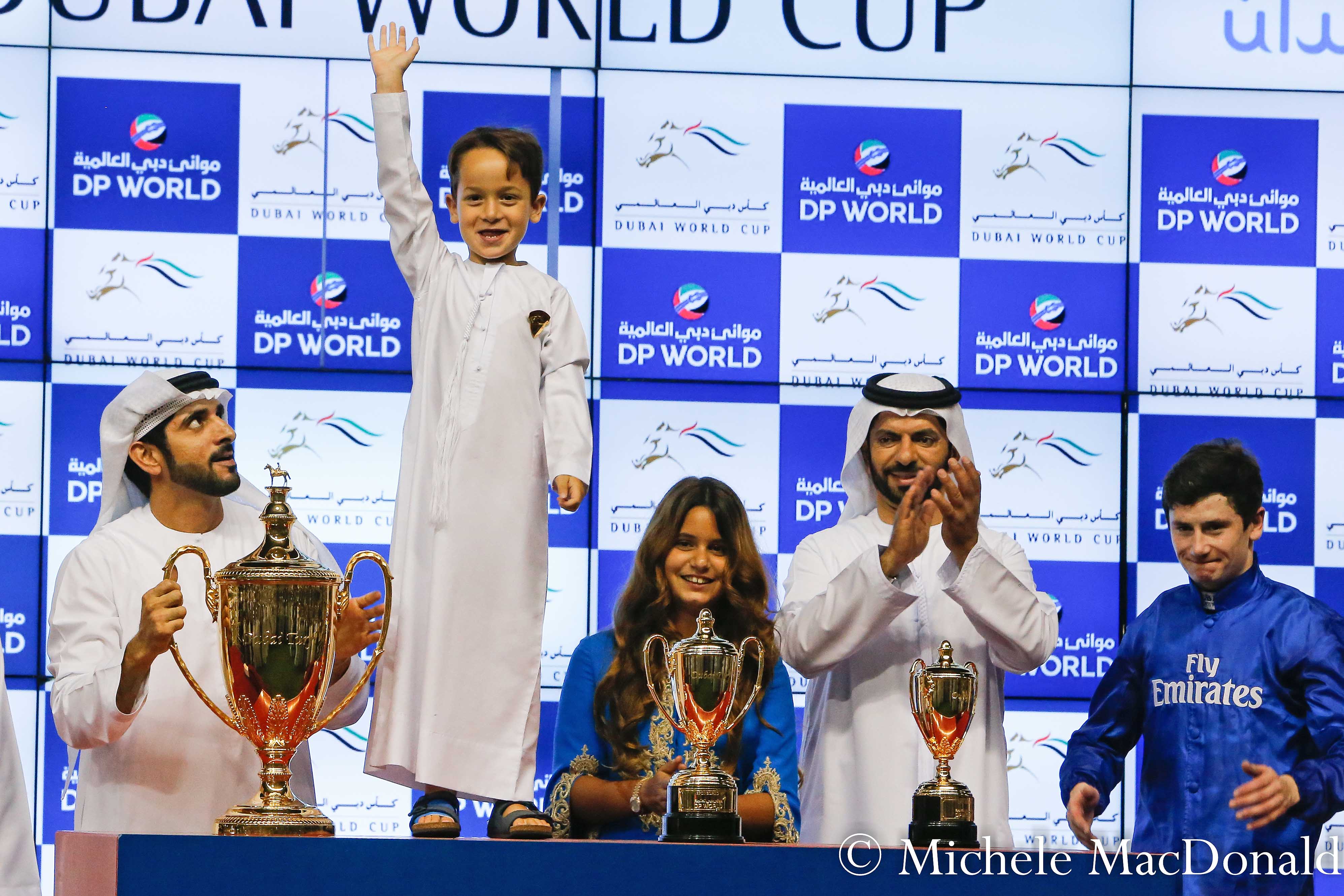 Another star on the Dubai World Cup program was Bin Suroor, who returned to glory by marking an incredible eighth win the World Cup, which for long was the world's richest race until the last two runnings of the owner-funded Pegasus World Cup Invitational Stakes.
Bin Suroor's complaints last year that he had been mistreated by Sheikh Mohammed's former top advisor, John Ferguson, in the allotment of Godolphin's young horses led to Ferguson's resignation. With Thunder Snow and $6 million Dubai Turf winner Benbatl, Suroor celebrated a huge night at Meydan, perhaps an indication that his stable is on the upswing again.
"We have the best owner in Sheikh Mohammed. He is the best leader and gives us the best horses. It is a brilliant win," an ecstatic Suroor said while waving the gold whip he received as the winning Dubai World Cup trainer.
BENBATL: 'EUROPE NEEDS TO SEE HIM'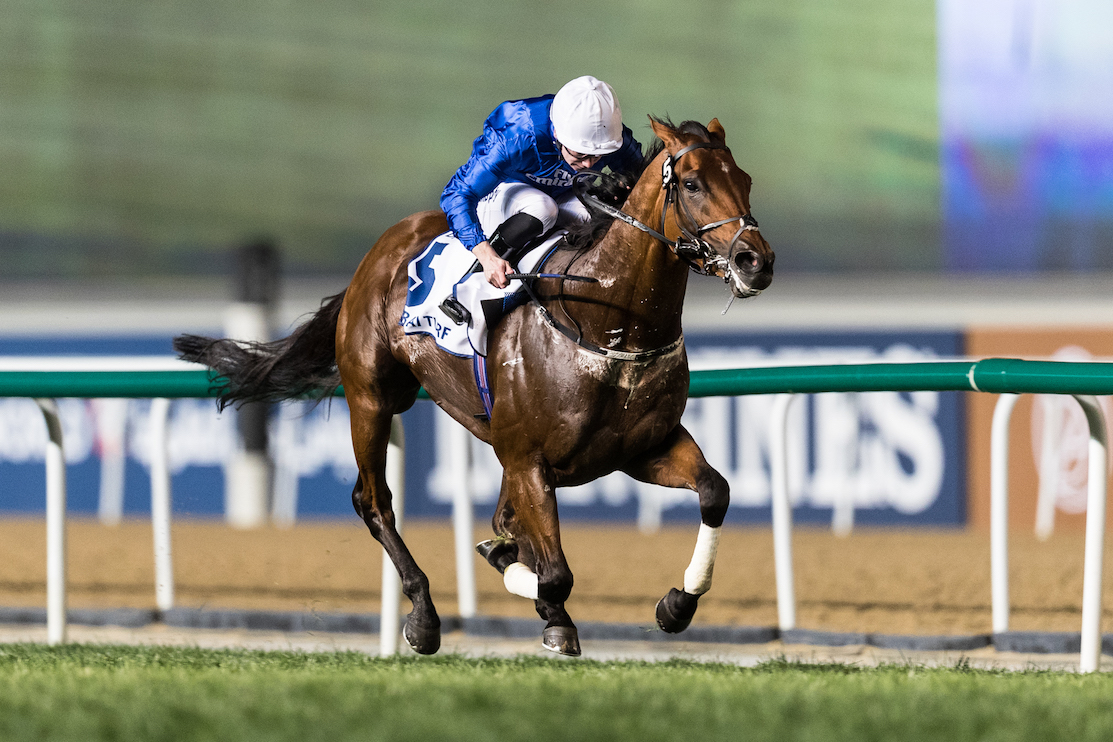 In addition to celebrating his eighth Dubai World Cup win, Suroor marked his sixth training triumph in the rich Dubai Turf. He said Benbatl would go on to Royal Ascot, since "Europe needs to see" the son of Dubawi.
TWO FOR APPLEBY TOO AS GODOLPHIN DOMINATE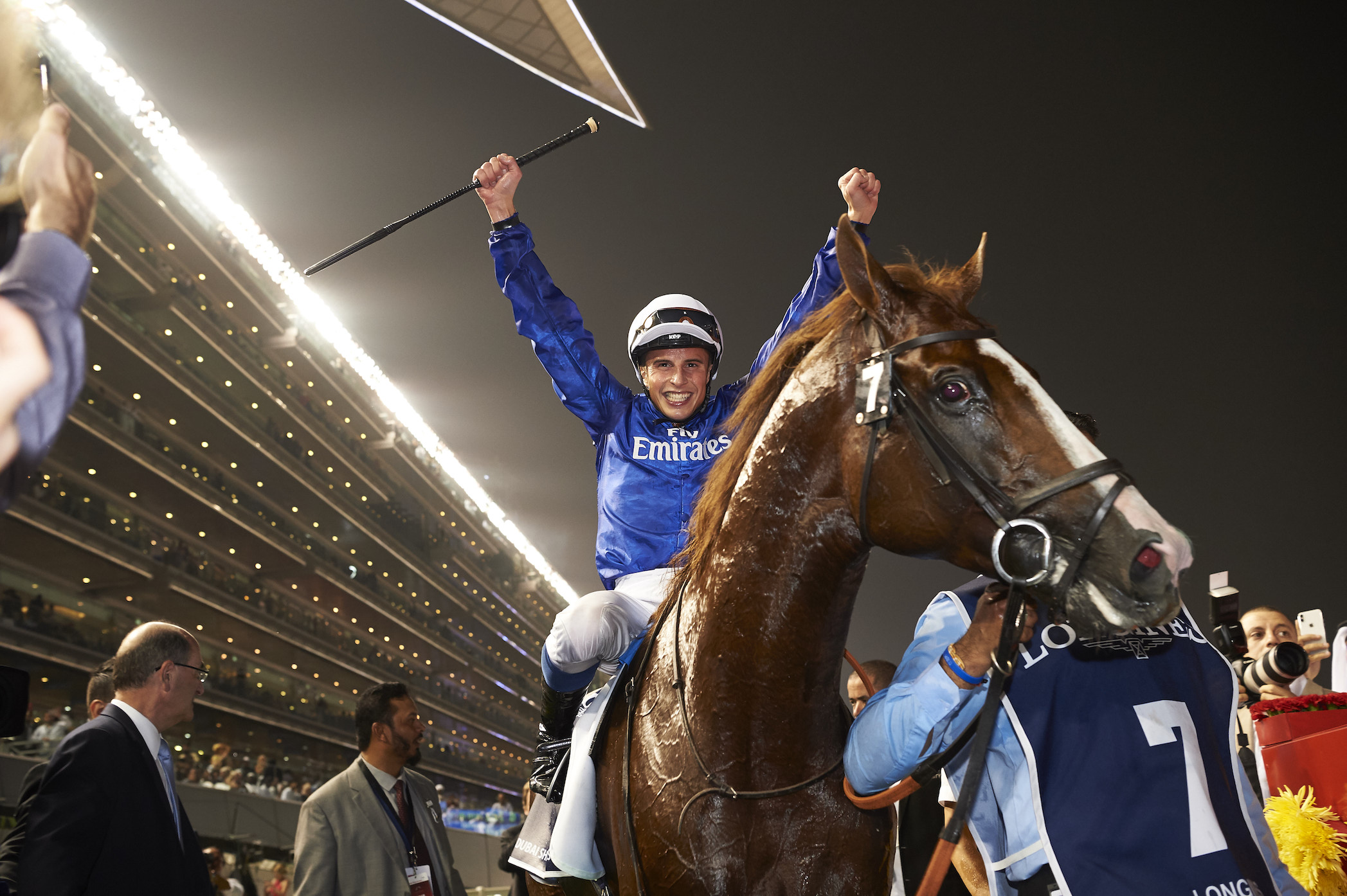 Overall, Godolphin scored four big wins at Meydan, with Charlie Appleby registering his first two Dubai World Cup card triumphs via Jungle Cat in the $1 million Al Quoz Sprint and Hawkbill in the $6 million Dubai Sheema Classic.
A SHOWCASE FOR U.S. SPRINTING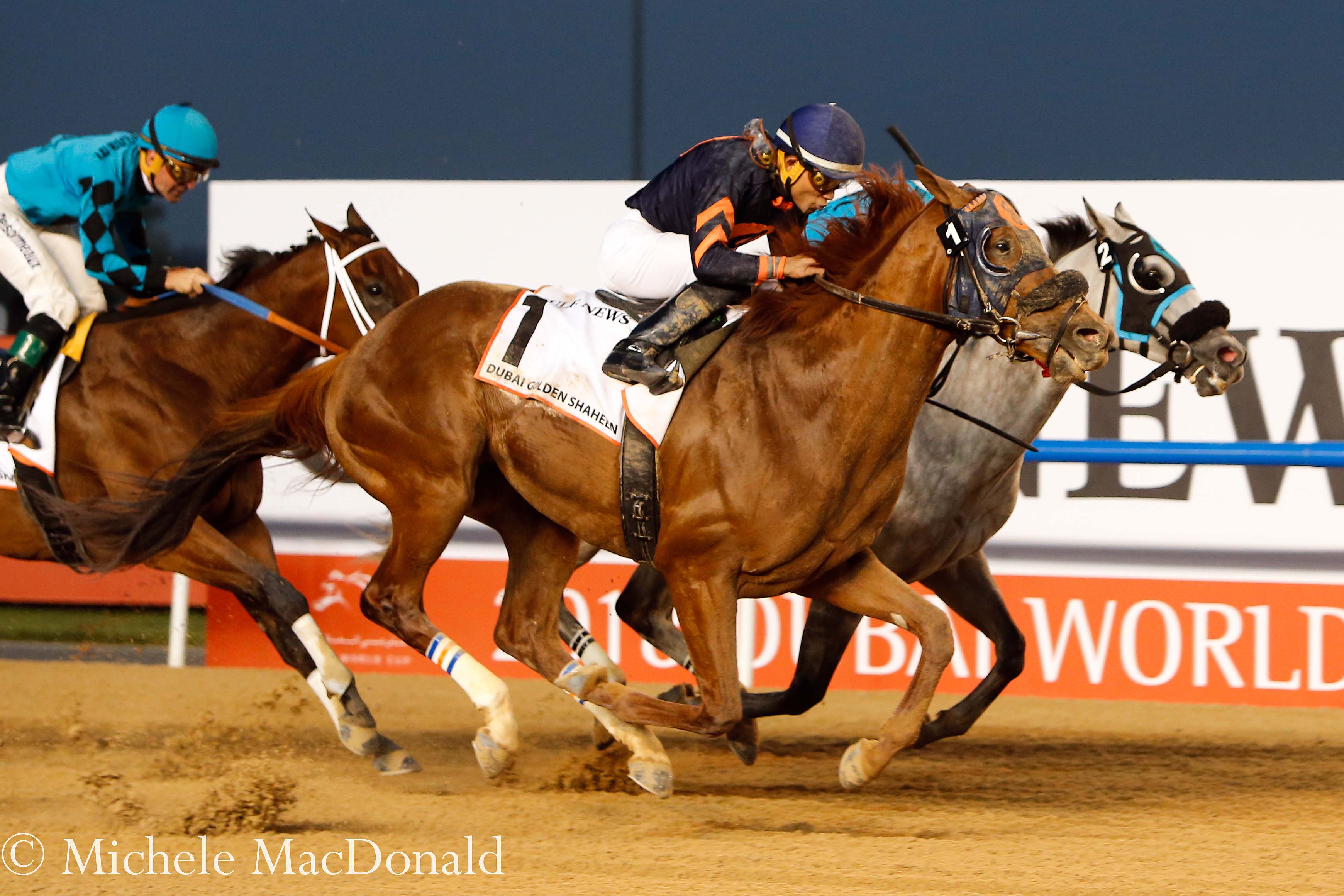 Meanwhile, American sprinters also left their mark. Mind Your Biscuits led home a 1-2-3 finish in the $2 million Dubai Golden Shaheen at 1200m, getting up to defeat front-running X Y Jet by a head with 2017 American champion sprinter Roy H just three-quarters of a length back in third.
And, while Godolphin took home the Al Quoz Sprint trophy, Peter Miller's American duo of Stormy Liberal and Conquest Tsunami ran admirably in the 1200m grass dash, finishing second and third, respectively. Miller also sent out Richard's Boy, who finished sixth of 13 runners in the race.
"All three ran great. I couldn't be happier," said Miller. "As for Stormy Liberal, it was great to see him run to form. He just got beat."
Winner of the Breeders' Cup Turf Sprint, Stormy Liberal fared poorly on his trip to Hong Kong last December and struggled home 11th in the Hong Kong Sprint. His Dubai performance against Jungle Cat, an experienced runner on the course, impressively redeemed his credentials as an internationally competitive sprinter.
FILLIES AND MARES: WHO SAYS THEY CAN'T COMPETE AGAINST THE BOYS?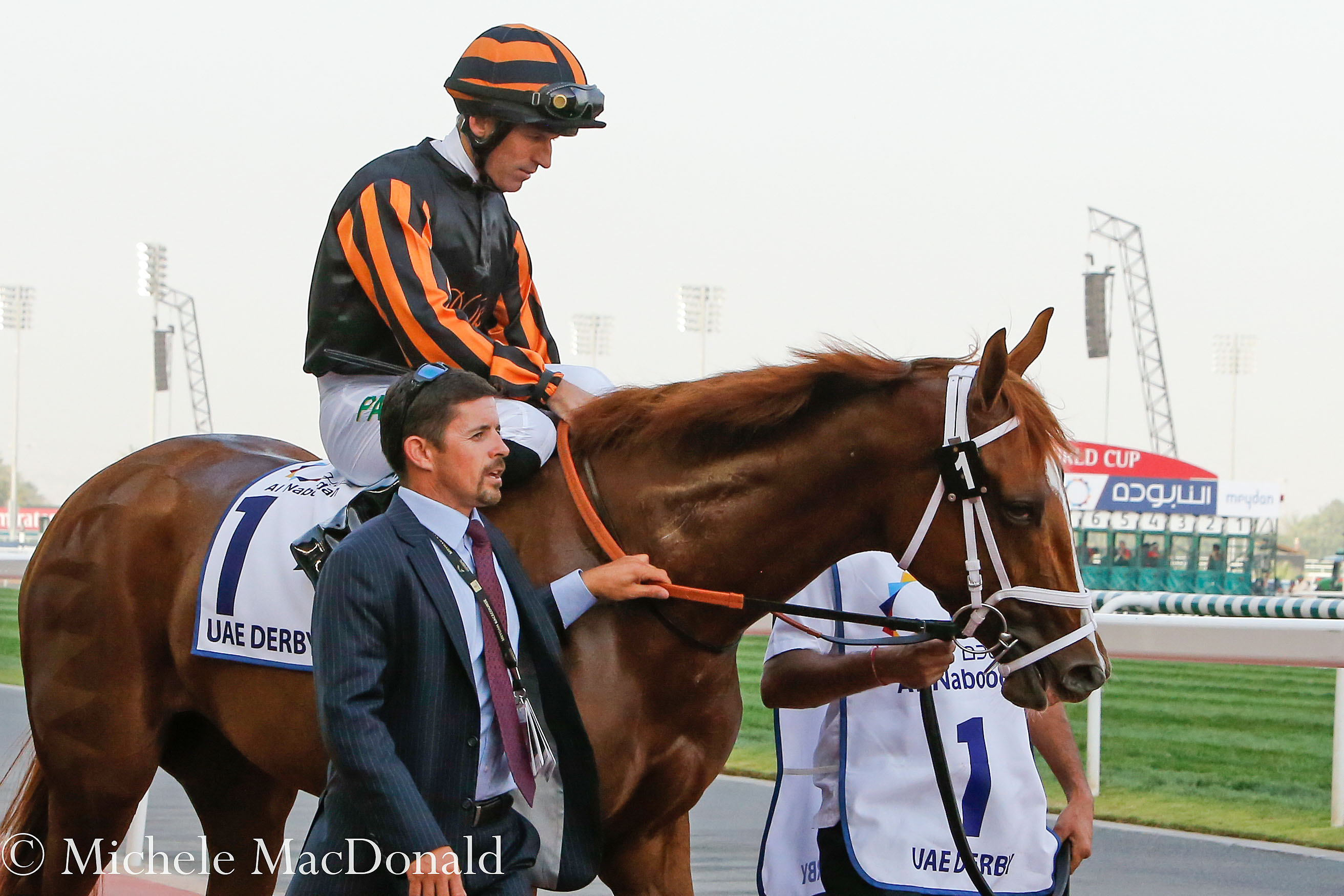 Likewise, several fillies and mares also ran well on the night, even if winless, and showed yet again how special it can be when owners decide to test them in open competition.
Last year's Dubai Turf heroine Vivlos, a daughter of Deep Impact, earned second in this year's edition of the race after having to rally from behind and unable to catch winner Benbatl, who had been forwardly placed. Another Japanese-bred filly, Deirdre, finished in a dead-heat for third.
And, while no one was going to dethrone Mendelssohn in the UAE Derby, the filly Rayya was the one who prevailed over the other 11 runners, including multiple American stakes winner Reride, who was third, and Godolphin's UAE 2000 Guineas winner Gold Town, who finished fourth.
American champion older filly or mare Forever Unbridled was perhaps not at her best, according to jockey Mike Smith, after being off the track since her Breeders' Cup Distaff win, but she still finished fifth in the World Cup, ahead of the likes of Breeders' Cup Turf winner Talismanic and multiple G1-placed colt Gunnevera.
DIRT TRACK SPEED BIAS: IT'S TIME IT WAS ADDRESSED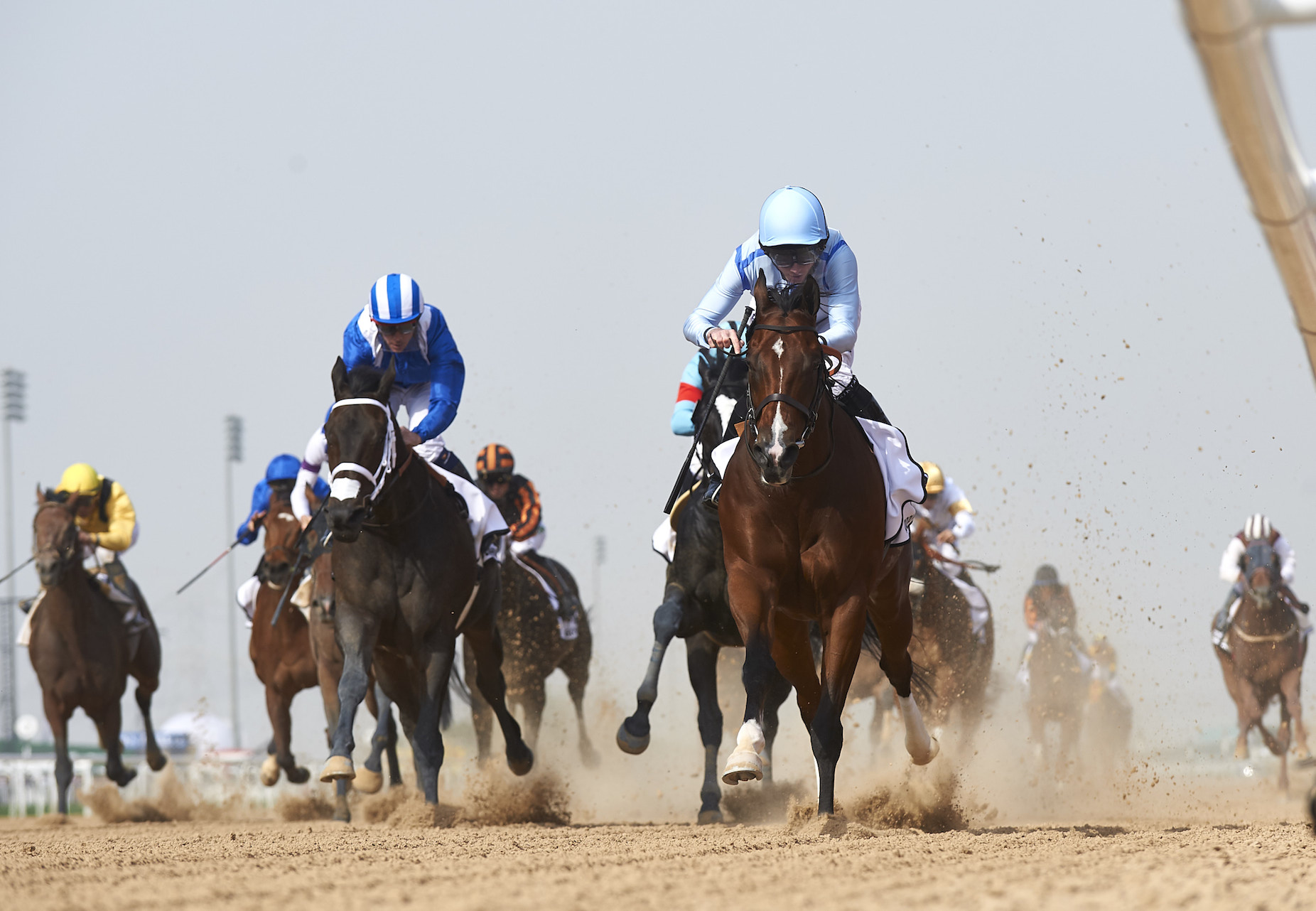 A final thought on World Cup night, which, as always, was a colorful spectacle unlike any other in the world, complete with a "half-time" entertainment program of aerialists and dancers on a rollaway stage: the dirt track's speed bias should be addressed.
It's true that Mind Your Biscuits was able to overcome a sluggish start and run down X Y Jet, who raced just off early leader Jordan Sport, but other dirt races yielded front-running winners in Thunder Snow, Mendelssohn and Godolphin Mile winner Heavy Metal.
A hefty 75 percent of Thoroughbred races at recent Meydan meetings before the World Cup card that were conducted on a fast dirt surface were won by horses who held the lead after four furlongs, according to a report in Racing Post. That kind of skewed result is always questionable.
With a rich history that has given us so many unforgettable moments of brilliance — including Arrogate's phenomenal run from last early to best Gun Runner last year to stamp himself as the leader of the 2017 World's Best Racehorse Rankings — the World Cup program should always strive to create an environment where all runners have an equal chance to perform to their ultimate abilities.
Hopefully, with the best possible surfaces in addition to the highest prizemoney packages, the Dubai World Cup will long continue to deliver extraordinary performances that will live on in sporting history.