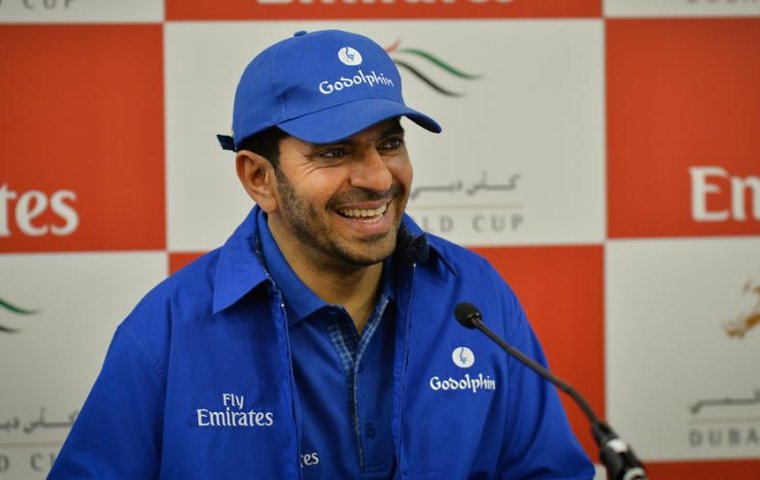 There aren't many people who know more about winning on Dubai World Cup night than Saeed Bin Suroor. The Godolphin trainer has won what was until last year the world's richest race no less than seven times, and he heads back there on Saturday with the enigmatic Thunder Snow.

The 4-year-old is one of eight runners for the Emirati handler at Saturday's showpiece meeting, an important day for all involved with Godolphin.
When we go along to meet him, just six days before the race, at his Al Quoz training base in the heart of Dubai, all is quiet. A morning mist gives an almost surreal quality to proceedings as the team bound for the big day trot past in single file, bedecked in the trademark Godolphin blue. Appearances matter here, and Bin Suroor and his team are never less than impeccably turned out.
The former policeman, currently tenth in the TRC Global Trainers' Rankings, has had a typically good Dubai World Cup Carnival, with 14 winners, but he missed out on the leading trainers' accolade for the first time - to Godolphin colleague Charlie Appleby, who celebrated a treble on Super Saturday on March 10. (Appleby lies fourth in the TRC rankings at the moment.)
Best chance of a winner
If that hurt, Bin Suroor, who turns 50 in November, doesn't let on. In fact, he rarely gives away much at all, although a faint smile suggests he is keener on two of his World Cup team than the others - Darley home-breds Thunder Snow and Benbatl. Even so, he's realistic about his chances.
"World Cup night is important for people in the UAE, and in the past we've done good," he says, from behind dark sunglasses and under a Godolphin cap. "This year it's tough as the best horses are coming from all over the world. If we could win one race, that would be great for us."
He nominates Benbatl, winner of the G3 Hampton Court Stakes at Royal Ascot before two smooth wins, including a G2, in Dubai, as his best chance of a winner. He is one of three runners for the handler in the $6million Dubai Turf, along with Leshlaa and the filly Promising Run. It is Dubawi colt Benbatl, though, who gets him excited, despite having been beaten last time out in the G1 Jebel Hatta on Super Saturday.
"He's improved physically again, but it is a very tough race, as usual," he says of the nine-furlong Dubai Turf. "Last time the draw [ten] didn't help him, really, and I could see that when he jumped from the stalls he wasn't happy, and he was wide throughout the race. Then he looked like he was going to win, but just got beaten on the line.
"He's good. But we need something more from him in this race. If he wins or runs well then he'll be exciting for the big races in Europe."
What of Thunder Snow, who won the UAE Derby 12 months ago before famously bucking his chance away in the Kentucky equivalent? The Helmet colt was second, beaten by the re-opposing North America, in the G1 Maktoum Challenge on Super Saturday.
"He's doing good, but he didn't show us what we needed in his last run and we were disappointed with him," Bin Suroor said of the horse who has won him two French G1s. "But we'll forget that race and he's been well and happy, fresh, since. If we can get a good draw and keep away from the kickback, that will help a lot."
New batch 'looking good'
The veteran trainer, the only man to have won Dubai World Cups on both Tapeta [African Story in 2014] and dirt, is unconcerned about an apparent speed bias on Meydan's main track on Super Saturday.
"It's about the pace, the dirt is nice, we don't complain about that, but it depends on the pace and where the jockeys put the horses," he says.
With the flat season already underway in Europe, Bin Suroor and his team will depart for their Snailwell Road base in Newmarket shortly after the World Cup meeting.
It was well documented that his unhappiness with his 2-year-old allocation last year led to an eventual parting of the ways with longstanding adviser John Ferguson. Happily for the trainer, the class of 2018 looks a whole lot smarter.
"The horses that came this year, thank God, I think they're sound," says Bin Suroor. "Last year they were unsound, like 50 horses were unsound, backwards, but this year they're looking good and I'm excited for the 2018 season – hopefully we can find some stars.
"This game is a very tough game, but we are lucky in that Sheikh Mohammed supports us with some nice horses. But it's always up and down, sometimes we have stars, sometimes we are quiet, but we're always solid and we try our best."
In the past, Bin Suroor's best has been enough to score him at least one win in all bar four of the 22 runnings of the Dubai World Cup meeting. We will find out on Saturday whether it is good enough this year.