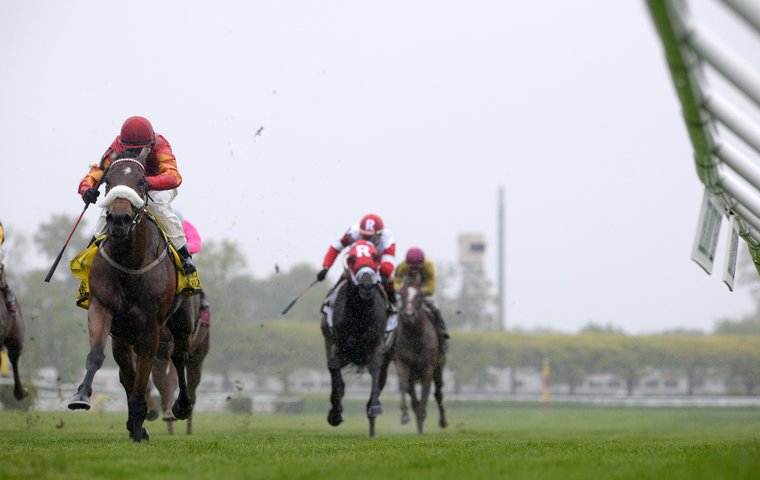 Once again it's left to Dermot Weld to show the way. The eight-times champion trainer in Ireland, renowned global trailblazer, unsurpassed master of putting a plan into place, did his research, spotted an opportunity on Saturday and took dead aim at one of America's most famous races.

The resulting easy six-length victory of his progressive 5-year-old Zhukova in the G1 Man o' War Stakes at Belmont Park netted a winner's prize of $240,000, brought a talented mare into Breeders' Cup reckoning, added another paragraph to Weld's fabulous international résumé - and underscored the apparent reluctance of his counterparts in Europe to look a gift horse in the mouth.
In truth, the opportunity was not difficult to spot. The Man o' War may be named after possibly America's greatest runner, and there may be a more-than-healthy purse on the table, but it's been a relatively soft target for years.
None of the last four winners (Wake Forest, Twilight Eclipse, Imagining and Boisterous) would have struck much fear into European hearts had they shipped over to contest a decent prize at, say, Royal Ascot, and none ever earned a Racing Post Rating (RPR) beyond 117, which would struggle to be particularly competitive in a respectable European G1.
Golden era
And, of course, the Man o' War is not alone. Dirt racing in America is soaring at the moment. Even before this year's 3-year-old pecking order confirms itself, California Chrome, American Pharoah, Arrogate, Beholder, Songbird and the like have been headlining a golden era. But the competition on turf is in a poor place.
The prize money numbers for turf racing in the U.S. are way beyond the levels on offer on the other side of the Atlantic, particularly in Britain. Yet the standard of runners is way behind. America's turf riches are vulnerable.
Here's a look at the last three winners of 20 top U.S. Grade 1 turf contests (excluding the Breeders' Cup races), and the RPRs they achieved for their victories.
WHAT IT TAKES TO WIN A TURF G1 IN THE U.S. THESE DAYS
Race

Track

Month

Prize fund

Distance

Last 3 winners

RPR

Gulfstream Park Turf

Gulfstream

Feb

$350k

1m1f

Almanaar
Lukes Alley
Mshawish

110
113
110

Frank E Kilroe Mile

Santa Anita

March

$400k

1m

Bal A Bali
What A Vew
Ring Weekend

114
116
111

Maker's 46 Mile

Keeneland

April

$300k

1m

American Patriot
Miss Temple City
Jack Milton

114
113
110

Turf Classic

Churchill Downs

May

$500k

1m1f

Divisidero
Divisidero
Finnegan's Wake

115
115
106

Man o' War

Belmont

May

$400k

1m3f

Zhukova (Ire)
Wake Forest
Twilight Eclipse

115
108
111

Gamely

Santa Anita

May

$300k

1m1f

Illuminant
Hard Not To Like
Miss Serendipity

108
104
111

Shoemaker Mile

Santa Anita

June

$400k

1m

Midnight Storm
Talco
Obviously

116
115
118

Just a Game

Belmont

June

$700k

1m

Celestine
Tepin
Coffee Clique

114
111
106

Manhattan

Belmont

June

$1m

1m2f

Flintshire
Slumber
Real Solution

119
110
116

United Nations

Monmouth

July

$327k

1m3f

World Approval
Big Blue Kitten
Main Sequence

112
108
113

Diana

Saratoga

July

$500k

1m1f

Dacita
Hard Not To Like
Somali Lemonade

111
109
109

Beverley D

Arlington

Aug

$700k

1m1½f

Sea Calisi
Watsadachances
Euro Charline (GB)

111
109
112

Secretariat

Arlington

Aug

$450k

1m2f

Beach Patrol
Highland Reel (Ire)
Adelaide (Ire)

106
118
112

Arlington Million

Arlington

Aug

$1m

1m2f

Mondialiste (GB)
The Pizza Man
Hardest Core

115
115
118

Sword Dancer

Saratoga

Aug

$1m

1m4f

Flintshire
Flintshire
Main Sequence

119
118
113

First Lady

Keeneland

Oct

$400k

1m

Photo Call
Tepin
Dayatthespa

115
120
113

Joe Hirsch Turf Classic

Belmont

Oct

$500k

1m4f

Ectot
Big Blue Kitten
Main Sequence

119
115
114

Flower Bowl

Belmont

Oct

$500k

1m2f

Lady Eli
Stephanie's Kitten
Stephanie's Kitten

114
110
109

Shadwell Turf Mile

Keeneland

Oct

$1m

1m

Miss Temple City
Grand Arch
Wise Dan

112
114
116

Queen Elizabeth II

Keeneland

Oct

$500k

1m1f

Time And Motion
Her Emmynency
Crown Queen

106
106
112

Matriarch

Del Mar

Dec

$300k

1m

Miss Temple City
Stormy Lucy
La Tia

107
107
104

Of course, it's not actually as simple as that. Some of these winners may have been able to perform to a higher level had that been required. Nobody's suggesting that Wise Dan, for instance, wasn't capable of better than 116 (his peak rating, in 2013, was 130, which would have been good enough to win most G1s anywhere in the world). And there's a huge cost associated with shipping a European horse across the Atlantic and getting it to the gate fit and healthy. But let's not pretend it's too difficult, that it needs a visionary of Dermot Weld or Aidan O'Brien proportions to get something going.
O'Brien, who has firepower to spare, is one of the few other European trainers that have taken advantage of the possibilities Stateside - with considerable success (11 Breeders' Cup wins, plus 12 other U.S. Grade 1s).
All this, of course, is significant now because of the new effort from the New York Racing Association, which operates Belmont, Saratoga and Aqueduct, to attract more turf runners from Europe. Central to the initiative is an innovative program that will boost the purses for maiden and allowance races at a mile and a quarter and beyond on the turf by as much as $15,000 each during Belmont Park's spring/summer meet. One of the hopes is that ultimately this will help improve the standard of turf racing in the U.S.
NYRA Senior Vice President of Racing Operations Martin Panza said the idea was born during a trip to England, when he heard complaints from trainers about miniscule purses for maiden and allowance races and began to formulate a plan that would make shipping European horses to America even more enticing.
The new program means there are now opportunities for runners of a wide range of abilities. The hope is that teams in Europe will understand the possibilities, take a leaf out of the Dermot Weld book of modern racehorse career management, and start looking for animals suitable for such a venture.