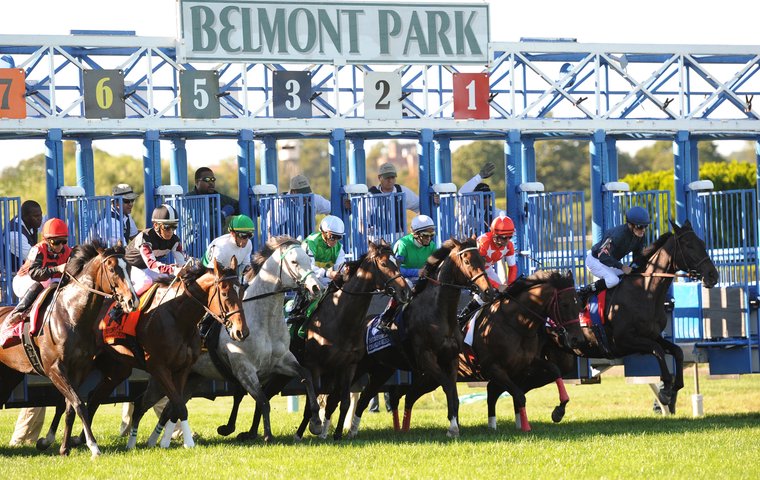 The old notion that money makes the world go around might remind the musically inclined of the old movie/play 'Cabaret'. These days, with all due respect to Liza Minnelli, the New York Racing Association is putting a new twist on that phrase.

In the coming weeks, and perhaps years, NYRA Senior Vice President of Racing Operations Martin Panza is hoping that money will convince foreign horseman to travel around the world and head to New York to take advantage of an innovative program that will boost the purses for maiden and allowance races at a mile and a quarter and beyond on the turf by as much as $15,000 during Belmont Park's spring/summer meet.
"This program allows horses to run for about $270,000 in a maiden race and two allowance races, which is stakes money," Panza said. "We'll try to run them consistently and, if we can get large enough fields, we'll card them more often."
The incentives, which apply to races for both fillies and colts, consist of pumping up purses for maiden races and first and second level allowance races to $90,000 across the board, with maiden races jumping from $75,000 and the two allowance races increasing from $77,000 and $80,000, respectively.
Long-term goal
"I think it's a good idea" said Hall of Fame trainer Bill Mott. "I don't know if you can create the horse population for them overnight, but long-term people can prepare for it and run their horses in the races. It's definitely worth the effort."
While New York horsemen will benefit in the short-term from the extra cash up for grabs, the long-term goal is to open the eyes of owners and trainers on distant shores, where longer-distance turf races are far more popular than in the United States, and to also create richer and more numerous opportunities for the offspring of a small but growing number of turf sires in the United States.
Panza said the idea was born during a trip to England, when he heard complaints from trainers about miniscule purses for maiden and allowance races and began to formulate a plan that would make shipping European horses to America even more enticing.
"We looked at the purses in Europe, and they are running for no money," Panza said. "There's a lot of big owners in Europe. We fully understand the stakes program in Europe and the desire to participate in those stakes races, but there are a lot of horses that are just going to be allowance horses, not a stakes horse, and why run for very small purses when we're not that far away and our purses are very large."
Europeans 'further along'
To compare the purses in Europe with Belmont's $90,000 maiden race, two maiden races at Newmarket in England last week carried a purse of about $10,000 each in U.S. dollars. Two maiden races on Monday at Navan in Ireland offered $13,000 each in purse money and a pair of recent maiden races at Saint-Cloud in France were worth $32,000 apiece.
"If we can get 50 or 60 more European horses over here, it would allow us to go from offering 15 of these races a year to 30," Panza said. "That's a great thing and those 30 winners are going to feed our stakes program. It's a division we can work on. The Europeans are so much farther along from a breeding standpoint with horses like Galileo. They have more staying horses and staying races, but this seemed like something that could work in New York.
"Our turf season lasts about six months and, if we can pull those horses to us, they're going to go someplace else for the winter and it will benefit other tracks if they choose to write those types of races. This can benefit the entire American racing industry."
Since the program was only rolled out last week, Panza does not expect an immediate bump in field size for the distance turf races. As a reflection of that, a $90,000 optional claimer for fillies and mares in Belmont's condition book for April 28 did not fill. It was the first of six distance maiden or allowance races on turf for males and females in a condition book that runs through May 14.
Track well suited
In the coming weeks, for males, there is a maiden race on May 12, a first-level allowance on May 11, and a second-level allowance on May 3, all at a mile and a quarter. The other two races for fillies and mares, both at a mile and a quarter, are a first-level allowance on May 4 and a maiden race on May 10.
Panza says he intends to keep the program in place for at least two or three years at Belmont's spring/summer meet to give it every chance to succeed at a track well suited for it with a mile and a half oval and two turf courses. He also said he will actively promote the program in the fall so that European horsemen will have plenty of time to line up horses for next year's races.
"When you increase purses, people in Europe will think about shipping their horses to the United States," said Christophe Clement, the French-born trainer of two-time U.S. turf champion Gio Ponti. "If you're adding that much money to purses, it's an incentive to keep your horses in New York. But it also makes sense for Americans to go to Europe, spend $75,000 on a horse and bring him back here because you can get all of your money back with a couple of wins."
In all likelihood, with that much money on the table and more awareness, by next year Panza will not have to twist arms to fill the fields for those races.
Highly competitive
"I have congratulated Martin Panza on this initiative," said Garrett O'Rourke, Juddmonte Farms' General Manager of U.S. Operations, "and I think we can avail of the opportunity with the quantity of quality turf horse that (Juddmonte owner Prince Khalid Abdullah) breeds, especially by our stallions like Frankel, Dansili, Oasis Dream, Bated Breath, Mizzen Mast, and the prospect of offspring of Kingman and partnership stallions here in the United States in Noble Mission and Flintshire.
"Turf racing is highly competitive and obviously offers bettors bigger fields and more value. Owners usually enjoy turf runners for longer and can buy them for much cheaper prices at the sales. I am surprised that most top U.S. owners don't set their budgets to keep turf horses as 20-30 percent of their stables. It is that much fun and that lucrative.
"It will be exciting to have more options for our horses. It will be financially helpful for a big stable like that of Prince Khalid's, and it is commendable to see NYRA recognizing this niche and being a frontrunner for such a good idea."
Those, of course, were sweet words for Mott, one of several American trainers Juddmonte employs.
"Now I have to talk to Juddmonte about sending me more horses," he said.
The timing of the increased purses also coincides with news that Fasig-Tipton has introduced The Turf Showcase, a sale featuring yearlings best suited for the turf, on Sept. 10 in Lexington, Kentucky.
More interest in turf champions
In addition, U.S. farms are showing more interest in standing turf champions. For example, Juddmonte's Flintshire, last year's champion turf male, is now standing at Hill 'n' Dale in Kentucky, and Calumet Farm's roster of stallions includes Breeders' Cup Turf winners English Channel and Red Rocks, 2015 male grass champion Big Blue Kitten and Americain, winner of the two-mile Melbourne Cup.
"NYRA's action to increase purse structures in turf racing is certainly a positive for many racehorse owners and stallion operators alike," said Jak Knelman, Calumet's director of stallions.
"NYRA boasts some of the best turf courses in the county and this move certainly will continue to attract the top turf horses in North America and abroad. With this move, along with the likes of the inaugural Fasig-Tipton turf sale, the market is trending with increased interest in turf racing. Fields are over-filling on the turf and handle continues to be very high for turf racing."
It is Panza's hope that increased interest in turf sires and NYRA's inflated purses will complement each other.
"In the United States, going long on the turf is something we haven't been breeding for," Panza said. "But we're seeing more of it and there are more and more turf races. We have purse money we can utilize so it makes sense for us to put this in place and offer it for at least a couple of years and then we'll look back and analyze it."
Popular races
Panza hopes is that a few years down the road the turf program will prove to be as successful as purse enhancements were for NYRA's slate of 2-year-old races at Belmont's spring/summer meet.
"We boosted purses for our 2-year-old program in the spring and the number of 2-year-olds racing at Belmont grew from 66 in 2013 to more than 210 last year, so we know the concept works. People like to bet on these turf races and, if we can help an owner or trainer or bloodstock to find a niche for themselves, that's what we're here for. We want to help people to make money in this game and here's an opportunity to do it. I can see people looking for a horse by Kitten's Joy who is running at a mile but can also run at a mile and a half and then bringing him to New York."
Aside from the 2-year-old program, Clement is optimistic that the emphasis on longer-distance maiden and allowance races will be as successful as two G1 mile and a quarter turf stakes for 3-year-olds Panza added to the NYRA calendar, the $1.2 million Belmont Derby for colts and the $1 Belmont Oaks for fillies on Belmont's Stars and Stripes Day. The two races attracted a combined 26 starters last year, with six of them having last raced in Europe.
"When Martin put the Belmont Oaks and Derby on the stakes schedule, people were skeptical, but they have become popular races," said Clement, who is 12th all-time among North American trainers with career earnings of more than $115 million. "It's okay to do different things and try new things. In today's world, for New York to stay No. 1, they have to try new things. We're lucky that Martin likes to think outside of the box."
Nor does it hurt that he understands how money makes the world – and horses – go round.