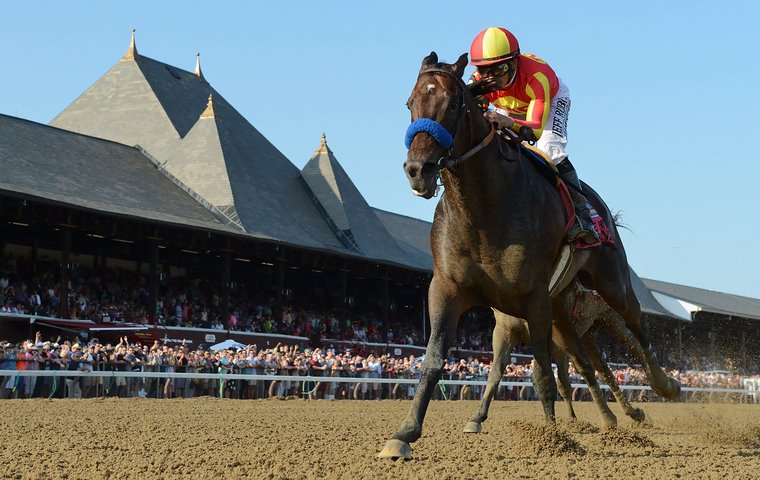 In less than five weeks, either McKinzie or Saturday night's impressive Pegasus World Cup winner Mucho Gusto could become the second highest-earner Bob Baffert has ever trained. Victory in the new $20 million Saudi Cup would send the winner soaring past all except one in the staggering list of champions that have had the benefit of the Hall of Famer's renowned tutelage.

Top of the pile, according to TRC figures, is Arrogate, whose bank balance of more than £13.6 million (we convert the numbers to British pounds for international comparison) is largely down to wins in the Breeders' Cup Classic, the Pegasus and the Dubai World Cup.

McKinzie's pot would swell from just over £2.5m to more than £10m - well clear of any other ex-Baffert trainee - should he run off with the winner's prize of $10m at the acclaimed King Abdulaziz racetrack in Riyadh on February 29. Much Gusto's career earnings rose to nearly £2m after his dominating performance at Gulfstream, so a Saudi Cup win would catapult him to just under £10m all-time.

Both horses appear to have major chances. McKinzie, last seen running second to Vino Rosso in the BC Classic at Santa Anita in November, is a close second favorite behind Maximum Security in early betting markets. And Mucho Gusto, who gets an automatic invitation after winning the Pegasus, is now disputing third favoritism with Midnight Bisou.

But, huge pay check or not, is either horse really good enough to rank as one of Baffert's best? The trainer himself has already given the thumbs up to McKinzie. "I think he's one of the top ten horses I've trained," he has been quoted as saying.

Here Todd Sidor rates the Baffert greats of the past, and wonders if McKinzie particularly will soon be worthy of a place among them.

The colt is named for Brad McKinzie, a former Los Alamitos Race Course executive and classmate of Baffert's at the University of Arizona, when both were attending its Race Track Industry Program. A close family friend of the Bafferts, McKinzie also convinced the trainer of Quarter Horses in the 1980s to relocate to Southern California to train Thoroughbreds.
McKinzie, who passed away at age 62 in August 2017 from renal carcinoma, was the chief architect, with owner Dr Ed Allred, behind Los Alamitos adding Thoroughbred meets in 2014 to help California fill the void in the racing calendar created by the closure of Hollywood Park.
As a 30-year racing executive at Los Alamitos, he made other contributions to racing, including expansion from a five-furlong track to a one-mile oval, adding 700 stalls onsite to accommodate Thoroughbreds, and developing a widely used workers' compensation system for backstretch workers.
Knowing the colt, owned by the familiar Baffert partnership of Karl Watson, Mike Pegram and Paul Weitman, would be named for his close friend, Baffert knew he had better pick out a "good one" at the Keeneland Yearling Sale.
He broke his maiden by 5½ lengths over eventual stakes winners Majestic Eagle and Midcourt, and stakes-placed Calexman and Shivermetimbers. The partnership can now reflect he had chosen well.
Certainly, talent-wise McKinzie can easily be considered one of Baffert's ten best. When he has won outright, his wins have been impressive. In the G1 Whitney Stakes and G1 Pennsylvania Derby, which were his closest margins of victory of just under two lengths, he appeared to be pulling away as he crossed the wire, increasing his one-length stretch gap by another length. In his other outright stakes wins, he won the G3 Sham Stakes by 3½, and the G1 Malibu Stakes and the G2 Alysheba Stakes by 4¾ lengths.
While in all but one of his starts McKinzie has finished no worse than second, this has occurred in six of 14 races. In three of these, the losses came to the finalists for the Champion Older Male Eclipse Award: Mitole in the G1 Metropolitan Handicap, Vino Rosso in the Breeders' Cup Classic; and a finalist for Champion Two-Year-Old Male with Bolt d'Oro in the San Felipe, where McKinzie crossed the line first, but was placed second for interference in the stretch.
Baffert's skills
The other three losses came to the unfortunate Breeders' Cup Dirt Mile winner Battle Of Midway, G1 Santa Anita Handicap winner Gift Box, and the ill-fated multiple G1-placed colt Mongolian Groom in the G1 Awesome Again Stakes. These may have been horses turning in top career performances, but they can only be characterized as good, not great horses.
One advantage McKinzie has in his favor is that his career-best performance in the Whitney Stakes was his first race back after a two-month spacing between races. Another top performance, in the Pennsylvania Derby, was also coming off a seven-month layoff.
His next race is scheduled four months after the Breeders' Cup, and one of Baffert's many skills is conditioning his horses to run in peak form off a layoff. Another advantage is that nine furlongs appears to be the colt's best distance.
Let us look at a baker's dozen of Bob Baffert's top champions and their accomplishments to see the awesome company McKinzie keeps:
1. American Pharoah
He won more top races than any other Baffert runner, finishing with a career-best eight G1s from nine entered, the first Triple Crown winner in 37 years, and the only Grand Slam winner when he added the Breeders' Cup Classic. By setting a track record in his swansong - only the second Breeders' Cup Classic winner to do that in this race - American Pharoah cemented himself as the trainer's top racehorse so far.
2. Point Given
Baffert's third runner to take two-thirds of the Triple Crown, he was brilliant in his Belmont Stakes win, where he ran the fifth fastest time for the race, and the fastest for the 21st century. He is also one of 12 horses to win the Belmont-Travers double in the last 70 years.
3. Justify
He shattered Apollo's curse by not only winning the Kentucky Derby without running as a 2-year old, but the Triple Crown. His remarkable campaign of a mere 112 days had him face nine horses in the Kentucky Derby field who had earned 100 points or more entering the contest, up from seven in 2017, 2016 and 2013. Justify also faced 35 different competitors, which is the most of any horse winning the Triple Crown (American Pharoah had faced 31).
4. Silver Charm
The winner of four G1s and eight other Graded stakes. Half of those eight were in races that were or would become G1s. Running 24 times, he had 12 wins, seven places, and three shows.
5. Lookin At Lucky
One of six colts to win Champion Two-Year-Old and Champion Three-Year-Old titles since the establishment of the Eclipse Awards in 1971, and one of two in the last ten years. In 50 years, every other horse in this category is in or will be in Thoroughbred racing's Hall of Fame.
6. Arrogate
He won four G1 races, but his wins were each spectacular in their own right. He broke a 37-year-old Travers Stakes and track record set in 1979 by General Assembly in the same race. He won the Breeders' Cup Classic in only his second stakes race. He set a track record in the first-ever Pegasus World Cup for the then world's top purse of $12 million. And finally, after breaking poorly on an off track at Meydan, he rallied from last to first to win the Dubai World Cup.
7. Silverbulletday
She won five G1 races, 13 graded stakes overall, competing 21 stakes in three years of racing, where she was off the board only twice, once being the Belmont Stakes. She was a Two-Year-Old and Three-Year-Old champion female and only the second horse to win the Breeders' Cup Juvenile Fillies and Kentucky Oaks double.
8. Congaree
A winner of five Gs, he was a finalist for Horse of the Year, Champion Older Male Horse and Champion Male Sprinter with his coast-to-coast campaign in 2003. While he did not win any awards, he demonstrated grit and versatility, becoming the first and only horse to win the G1 Cigar Mile back to back.
9. Captain Steve
The Dubai World Cup was still in its infancy in 2001 having been run five times with three UAE-based winners and two North American-based winners. Captain Steve leveled the score with his win over the track in the fastest time yet to be recorded for a winner from the United States at the old Nad Al-Sheba Racecourse.
10. Game On Dude
This winner of six G1 races holds the record in the Santa Anita Handicap for wins at three. His final edition of that race was clocked at 1:58.17 to set the stakes record. This time is the fastest time in any ten-furlong dirt race in California since 1980, when Spectacular Bid set the world record at 1:57.80. In fact, it is the second fastest time ever recorded in California with Quack's time of 1:58.20 in 1972 being the third fastest.
11. Real Quiet
Before American Pharoah's Triple Crown win, he was the Baffert horse to come closest to winning the Triple Crown, losing by just a nose to Victory Gallop in the 1998 Belmont. He was the second of nine champion 3-year olds trained by Baffert. He closed out his racing career winning the G1 Pimlico Special and the G1 Hollywood Gold Cup.
12. Indian Blessing
She is one of Baffert's multiple Eclipse-winning mares, having won as Champion Two-Year-Old Filly and the following year, at three, Champion Female Sprinter. A winner of five G1s, she was the first of the three 3-year olds to win the Champion Female Sprinter Eclipse Award.
13. Abel Tasman
She is a winner of six G1s, including the Kentucky Oaks, G1 Acorn Stakes and G1 Coaching Club American Oaks, and Bob Baffert's second Three-Year-Old Champion Female.

McKinzie's 5-year old campaign begins with the inaugural Saudi Cup, now the world's richest race. It will answer just where he fits in Bob Baffert's stable of great horses.
Until then, where do you think he fits?

Todd Sidor, an attorney by trade, has produced equine law seminars, and continues to be active in racing partnerships. His more than two decades' passion and respect for the sport of horse racing will always make him, first and foremost, a racing enthusiast.