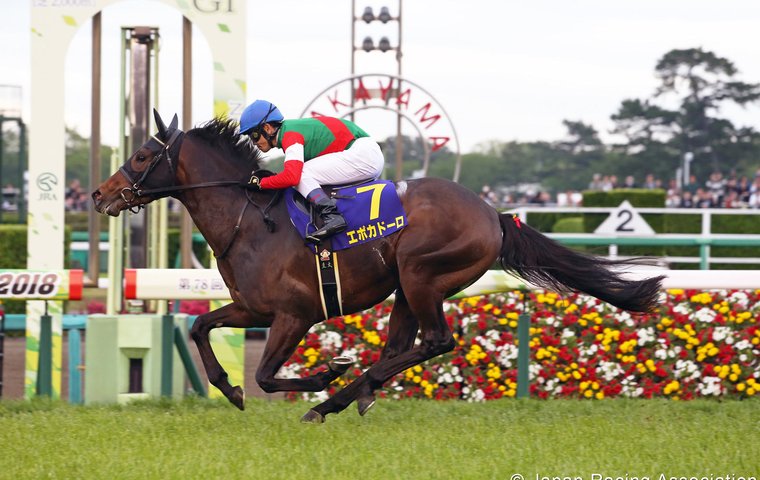 To date, his sons and daughters have raced just 12 times in Graded races. Five of those have been wins; two have been seconds. We've had occasion before to speculate that Orfevre could be on his way to becoming a great sire. After the events of the last two weekends, that doesn't look to be much in doubt.

At the beginning of the year, there would have been no prizes for suggesting that the former Japanese Horse of the Year and Triple Crown winner would have produced his first classic winner by mid-April. Orfevre had already sired a G1 winner - the filly Lucky Lilac - and she was set to go off an odds-on favourite for the opening classic of the campaign, the G1 Oka Sho (Japanese 1000 Guineas), at Hanshin on April 8.
In the event, Lucky Lilac couldn't quite cope with Almond Eye, but that merely postponed the celebrations for the team behind Orfevre at Shadai Stallion Station. Just seven days later, his son Epoca d'Oro made amends with a powerful two-length triumph in the G1 Satsuki Sho (Japanese 2000 Guineas) at Nakayama last Sunday (see video below).
That lifted him 37 places to #116 in the TRC Global Sires' Rankings, unnaturally high for a stallion so early in his career. Enough, you would have thought, to ensure he sits ahead of every other second-season stallion in Japan. Except that you would be wrong.
Orfevre needed that Guineas victory just to keep pace with another first-crop standout, the 2013 Japanese Horse of the Year, Lord Kanaloa, who also stands at Shadai.
Between the pair of them, Orfevre and Lord Kanaloa are lighting a new fire under an already red-hot Japanese breeding industry. Suddenly there is a twin threat to the dominance of Deep Impact, champion sire there for the last six seasons (and another Shadai resident).
The new boys have already outpointed the old stager (admittedly Deep Impact is only 16) in rounds one and two of the Japanese 2018 classic campaign - Almond Eye, who held off Lucky Lilac in that 1000 Guineas last week, is a daughter of Lord Kanaloa. So that's a first and a second for Orfevre in the first two classics, and a first and a fourth for Lord Kanaloa (his son, Stelvio, was fourth in the 2000 Guineas).
The best poor Deep Impact could do was a fifth in the 2000 and a fourth in the 1000, although it should be remembered that his champion 2-year-old of last year, Danon Premium, who would have been favourite for the 2000, is currently on the sidelines after a setback. Should he return to top form, his rivalry with Epoca d'Oro could be a feature of the season.
Lord Kanaloa, a brilliantly fast five-time G1 winning son of King Kamehameha out of a Storm Cat mare, was champion first-season stallion in Japan in 2017, and he has always appealed as a source of precocious stock. Indeed, he is already being patronised by Arrowfield Stud in Australia, and recent events can only increase that appeal.
Expect Orfevre too to attract interest overseas, particularly in Europe. He may have a strong staying pedigree (he is by the dual mile-and-a-half G1 winner Stay Gold, a son of Sunday Silence) and he may have won the Japanese St Leger, but that sort of thing hasn't stopped influential European concerns looking to the similarly endowed Deep Impact, and enjoying the subsequent fruits (think Saxon Warrior, September and Galileo mares).
Unlike Lord Kanaloa, Orfevre's stock will invariably need time and a distance of ground. That may not endear them to some breeders, but for those looking for strong non-Northern Dancer outcross alternatives, he may turn out to be a golden option.
Click here for a list of all last week's biggest TRC Global Rankings points gainers.
Click here for a list of all the week's Group and Graded winners.