It will come as a surprise to no-one that family connections abound in the world jockeys' rankings. As well as many other relationships, the Top 500 includes no less than six pairs of siblings currently active - a new duo has entered the standings this week, which is why we're focusing on this here - but can you guess which pair is top of the pile?

Your first guess may be the Ortiz brothers from the United States - but you'd be wrong. Jose and Irad Jr are certainly riding high (they lie tenth and 22nd respectively in this week's table) but their total ranking points together puts them significantly behind two brothers from the stricken horse racing nation of Italy.
Mirco Demuro's outstanding last two seasons in Japan have elevated the 38-year-old to world #3, and his little brother, 25-year-old Cristian, isn't doing badly either - at #38, he's the third-highest French-based rider in the standings. Their joint total puts them 33 points ahead of the Ortizes.
As the chart below shows, the two pairs of brothers are well clear of the third-placed duo, former world #1 Nash Rawiller and his younger (and currently higher-ranked) brother Brad, who head the other four sets of siblings, who are all from Australia.
The new pair are Regan Bayliss, 20, a TRC Emerging Talent, who is already well established in the rankings, and his 23-year-old brother Jake, who surged into the Top 500 after riding Volpe Veloce to victory in the G1 Sistema Railway Stakes at Ellerslie in New Zealand on New Year's Day.
SIBLINGS IN THE TRC GLOBAL JOCKEYS' RANKINGS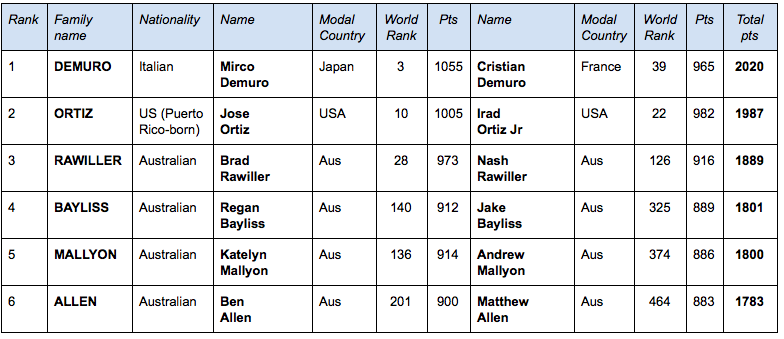 There are in fact seven pairs of brothers in the jockeys' 500 - but we're discounting Donnacha and Joseph O'Brien because Joseph hung up his riding boots more than two years ago. His success on horses trained by father (and world #1) Aidan was such that even now he is still ranked 148. His 19-year-old brother, the youngest jockey in the standings, is #78. Between them, they have 1845 points, which would put them third in the table above.
Joseph, of course, has risen to #112 in the trainers' rankings, thanks in no small part to the Melbourne Cup win of Rekindling.
Other families with notable representation in the rankings include:
The Colletts (New Zealand)
Aussie-based Jason Collett is at #126 (916 points) and his cousin, Alysha, who rides mainly in New Zealand, is #399 (885 points). Aunt Trudy Thornton is ranked 348 (887 points). And expect an appearance in the Top 500 at some stage from her daughter, Sam Collett, who hasn't had the opportunity in Group races yet but is currently leading the NZ Premiership (with Alysha fourth and Trudy 14th).
The Schofields (Australia)
Fifty-year-old Glyn Schofield is going strong at #64 in the standings (944 points), and his son, Chad, 23, is at 464 (883 points).
And let's not forget the world's top-ranked rider, Ryan Moore, who is also part of a big racing family, although he is the only flat jockey among them. His father is trainer and former jump jockey Gary Moore, his brothers Jamie and Joshua are successful jump jockeys, and sister Hayley is an amateur rider (and TV commentator).
Click here for a list of all last week's biggest TRC Global Rankings points gainers.
Click here for a list of all the week's Group and Graded winners.