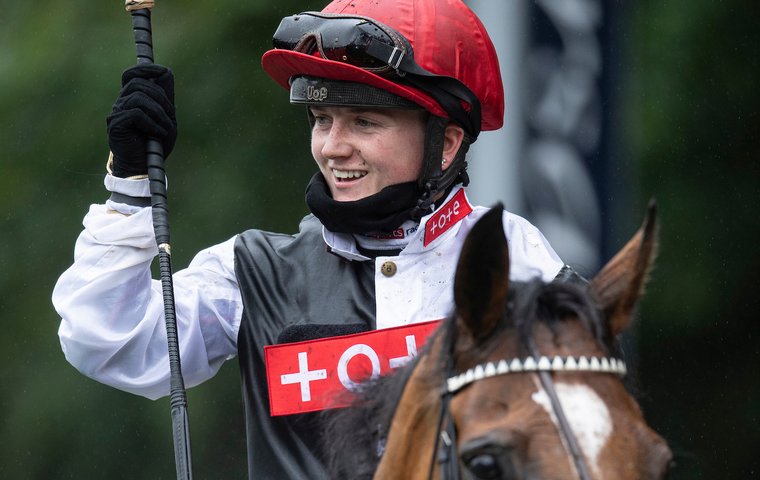 Charlie Appleby's return to world #1 is the inevitable headline act in the latest update of the TRC Global Rankings, but we will be concentrating elsewhere in this slot this week.

Appleby forged clear of John Gosden after a hatful of great results last week, spearheaded by the G1 Prix Jean Prat win at Deauville on Sunday of last year's European champion 2-year-old, Pinatubo. It looks as though 2020 may not be a write-off after all for the colt so many went so wild about last season.
Perhaps, just perhaps, the ratings people got their numbers significantly wrong when he took the G1 National Stakes by nine lengths at the Curragh last September. They're suckers for nine-length winning margins in G1s, these handicappers. But hindsight tells us the rest of the bunch in that particular race may not actually have been up to much, and maybe they were getting over-excited.
It wasn't Pinatubo's fault, though, nor Appleby's, and the trainer has to be applauded for getting the son of Shamardal back into the winner's enclosure after a couple of plucky yet ultimately disappointing placed efforts in the 2000 Guineas at Newmarket and the St James's Palace Stakes at Royal Ascot. They showed he is clearly no wonder horse after all, but he did illustrate on Sunday he's still a force to be reckoned with, and he'll surely be a leading contender come the Breeders' Cup Mile in November.
But we're not here to dwell on Pinatubo, nor his sire, for that matter, who has clawed his way up to world #3 through a tight logjam in the rankings between third and sixth, courtesy of the Jean Prat hero and two other Group winners at the weekend.
Nor is William Buick our centre of attention this time despite a whopping eight-point gain that took him up to world #4, flip-flopping ironically with Zac Purton in the week in which the Aussie chalked up one of his finest achievements - taking the Hong Kong title for the fourth time after a pulsating, season-long tussle with Joao Moreira (currently world-ranked 26).
Buick, of course, rode Pinatubo, as well as three other Group winners, two for Appleby, including a horse who is now disputing early favouritism for the 2021 Newmarket 2000 Guineas, Master Of The Seas, also for Appleby, also for Godolphin but this time by world #1 sire Dubawi. Oh, and Buick partnered Queen Elizabeth's quality juvenile Tactical to G2 success in the July Stakes at the Newmarket July Festival, if we can still call it a festival when there's nobody watching it at the racecourse, no public anyway.
Her Majesty, incidentally, is a new entry at 336 in the owners' category. Enthusiastic and often extremely successful Classic-winning owner and breeder that she has always been, she would, of course, have experienced many, many lengthy stints in our rankings throughout her reign, which reaches an incredible 25,000 days tomorrow, had they existed at the time.
Sparking week
Brad Cox isn't a focus of this article either, even though he's now up two places to world #6 in the trainers' table after a sparkling week (seven points gained) that included Monomoy Girl's G1 victory in Belmont's Ruffian Stakes and the Indiana Oaks-Derby G3 double at Indiana Grand.
And you'd be wrong if you fancied we'd make a big fuss of Kieren Fallon's 21-year-old son Cieren Fallon (same pronunciation, different first letter) for winning his first G1 and thus making his debut in the TRC standings. He comes in at #292. Oxted, the horse last year's British champion apprentice partnered to July Cup glory at Newmarket on Saturday, had been his first Group winner a month earlier, taking a G3 on the other course at 'Headquarters'.
Ultra worthy though all these high achievers were last week, my focus is in another direction entirely - on female jockeys, which won't surprise anyone at all familiar with the stuff I have been writing about on TRC over the years.
The excuse this time comes in the collective shape of two of the most exciting young European riders around - Hollie Doyle from Britain and Mickaelle Michel from France, who both recorded their first Group/Graded wins last week and consequently are now both in the TRC jockeys' standings for the first time.
These are not jockeys without a profile already. Indeed, anyone not familiar with the nuances of our rankings would probably assume they were somewhere in there anyway. But you need significant competition in Group/Graded races for that, so they weren't.
Doyle, 23, who last year set a British record for wins by a female rider in a calendar year - 116, and last month became just the third woman ever to ride a Royal Ascot winner, enters the chart at #364 after taking the G2 Princess of Wales's Tattersalls Stakes at Newmarket.
Michel, 24, who was runner-up no less in the history-making men-versus-women jockey challenge in Riyadh on the eve of the Saudi Cup back in February, and swept all before her in a record-breaking stint in Japan pre-Covid, was in Italy on Sunday, when she triumphed in a G3 at Capannelle. She debuts at #406.
There's more about her here on horseracingplanet.com.
Yet, in common with all females riding in jurisdictions that aren't Australia or New Zealand, neither of them have had much opportunity in Group or Graded competition. Hopefully that will improve over time as new generations of owners and trainers understand that a woman on the back of a runner doesn't compromise its chances, and can often be a real benefit. But don't bet on it, even though the best female riders have been doing more than enough for years to bury that particular prejudice.
Meanwhile, in a world far, far away, where they're so used to seeing female jockeys in big-race winner's circles that it doesn't even warrant a mention, there was a joyous first Group win for a less celebrated woman rider - 39-year-old Jade Darose, who drove home the ten-year-old Jungle Edge to a G3 success at Caulfield in Melbourne. She too enters the rankings at #406.
The arrival of Doyle and Michel means there are now six women riding in the Northern Hemisphere in our top 500. The South has 17 - 12 in Australia and five in New Zealand, as you can see here: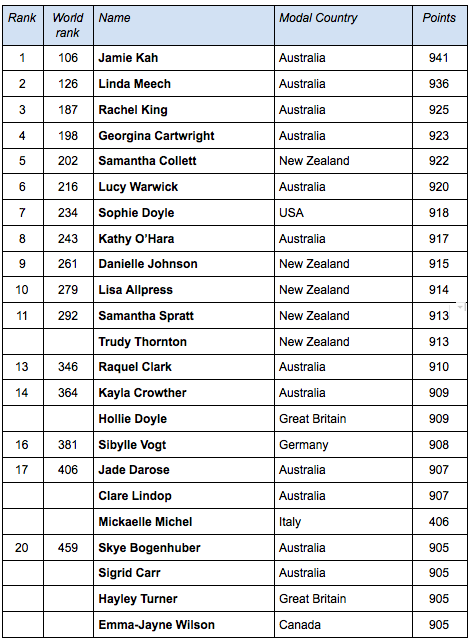 Doyle may have joined the esteemed Hayley Turner as the only UK-based representatives of their gender in the list but she is in fact only the third highest-ranked British woman in the world - behind Rachel King, who moved to Australia because of the extra opportunities there), and U.S.-based Sophie Doyle (no relation of Hollie's, but sister of world #20 James Doyle).
As a point of interest, there are now 23 women in the 500, which may not sound a lot but is in fact the highest figure since our rankings were first published nearly four years ago. The last time we carried this list, soon after the crisis began, just 18 women qualified.
The increase, though, may be more an effect of the coronavirus pandemic - with rider movement restricted and connections forced to use the local talent more than usual - than a sign of modern enlightenment.