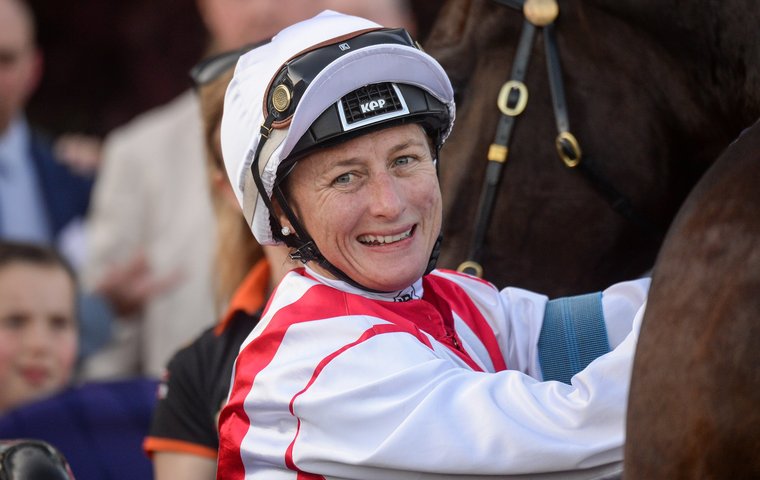 It's something of a reluctant old process, we know, but slowly, almost surely, the racing world is starting to take women jockeys at least a little bit seriously.

It may be a bit of a stretch to describe what's happening in Saudi Arabia tomorrow as a landmark event along the road to female empowerment, but the unique seven-a-side men-v-women jockey challenge at the impressive King Abdulaziz racetrack in Riyadh is certainly not intentioned merely as a gimmicky sideshow, and nor is it a cheeky bit of PR to show that the Saudis are slightly more progressive in the women's rights arena than a lot of people believe.
Rather, it will confirm what we should already know - that top female riders are just as capable in the saddle as top male ones.
If more evidence of that were needed, we need look no further than this week's update to the TRC Global Rankings, taking in the results of Group and Graded races around the world in the seven days up to last Sunday. In a racing environment dominated by play-it-ultra-safe owners and trainers, women jockeys get precious few opportunities to ride in contests at that level.
Yet last week they won four of them.
First up we must note former New Zealand champion Danielle Johnson, the week's top climber across the rankings (+10pts), which pushed her up to #254, making her the seventh highest ranked woman in the world. Johnson was as rock-solid as you'd expect winning the G1 Haunui Farm Group One Classic at Otaki on 5/2 favourite Avantage. The 28-year-old has been an asset in the saddle for some years, yet has been eerily absent from our rankings for most of their existence. She gets plenty of rides, just not in the races that count towards the standings.
Hers was one of the two top-level races around the world (out of six) that didn't go the way of the men.
The other went to the planet's #1-ranked woman, the superb Linda Meech (+6pts), who is now at #98 after landing the Neds Oakleigh Plate at Caulfield in Melbourne on 11/1 shot Pippie. Watch the video below and then say a man would have done better!
Of course, Meech, like the other two Group-race winning females last week, Rachel King (+4pts, moves up to #145 after a G2 win at Rosehill) and new entry Georgina Cartwright (#334 after a G3 score at Moonee Valley), have the advantage of plying their trade in Australia, which, along with New Zealand, offers vastly more opportunities for women jockeys than any country in the Northern Hemisphere, as you can see from the chart at the foot of this article.
Which brings us neatly back to the four-race STC International Jockeys Challenge on Kingdom Day in Saudi Arabia tomorrow.
Another renowned former NZ champion, Lisa Allpress, is the only rider from south of the Equator in the team taking on the men, who feature the likes of Frankie Dettori, Ryan Moore and Mike Smith. Of the 18 women jockeys currently with enough points to warrant a place in the TRC top 500, just three are from the North, and two of tose (U.S.-based Brit Sophie Doyle and Germany-based Swiss Sibylle Vogt) will be competing at Riyadh.
That's not to say the others on the team - France's Mickaëlle Michel (currently riding in Japan) and Coralie Pacaut, Britain's all-weather champion apprentice Nicola Currie and famed Canadian star Emma-Jayne Wilson - are in any way inferior. They're not. They just haven't been given the right opportunities.
WORLD'S HIGHEST RANKED FEMALE RIDERS