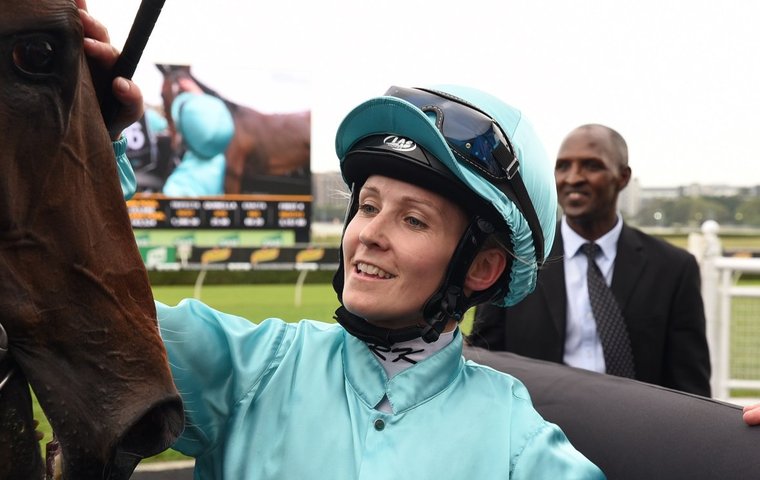 Rachel King is a classic example of two things: how hard work and perseverance can pay off if you keep at it, and how female jockeys have a massively better chance of succeeding if they are riding in Australia or New Zealand.

King, 27, is British. She rode with some success in her homeland, with 27 wins on the flat and over jumps during five years as an amateur and a period as an apprentice.
She had some great times. Just look at the picture below of her enjoying the moment after winning an 'amateur lady jockeys' hurdle' on a rainswept winter's day at Ludlow racecourse in England in December, 2012.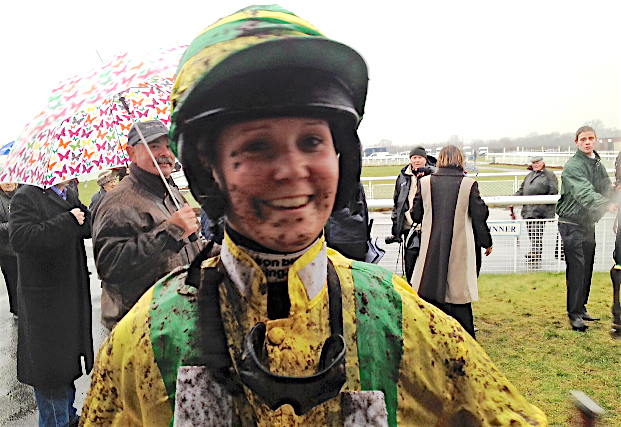 It all changed a few months later, when she went on a short holiday to Australia. She decided to stay, to see if things would be any better for an aspiring jockey there. They were. But she had to knuckle down before she got the chances she craved.
Apprenticed to the Gai Waterhouse/Adrian Bott training partnership, King was put to work without getting a ride for several months. Eventually, she began to get a few opportunities, first at country and provincial tracks, more recently at the big city tracks like Randwick and Rosehill (Waterhouse and Bott are based in Sydney).
She began to impress. "She has a great nature with horses and they just run for her," Bott told the Sydney Morning Herald last June. "She is a very good judge of speed, which is so important to us. She is going to get a lot of chances in the next year because she knows our horses very well."
King has now ridden 174 winners, 27 of them for Waterhouse and Bott, and her mounts have earned over A$6 million in prize money. Last Friday she partnered her first Group winner when Lanciato took a seven-furlong G3 at Newcastle racecourse north of Sydney for trainer Mark Newnham. King had been placed several times in 25 previous Group-race rides (all in the last six months), and the TRC algorithm is sufficiently impressed to push her up into a tie for #283 in the world jockeys' rankings.
Ironically, she now has one point more than her boyfriend, fellow rider Blake Spriggs.
This week's rise puts King comfortably into the top ten of female jockeys worldwide in the standings, which measure success in Group and Graded races worldwide.
Click here to see the table showing how the top females ranked at the end of the January. You will notice there were only 16 in the top 500, and that 13 of those are based in either Australia or New Zealand.
Which explains why King is unlikely to return to ride in the UK anytime soon.
"If I was to go back home I would have to stop riding," she told the Sydney Morning Herald. "I wouldn't be able to have a career back in England. It is just a struggle. I don't see there is a place for female jockeys over there."
And later she told the Melbourne Herald-Sun: "My intention was to go back to England and ride over there. But I realised there are more opportunities for the girls here, so I changed my plans. I would be happy if I had five rides in a week at home, whereas here I can sometimes have five rides in a day."